This Easy Baked Reuben Casserole has corned beef, sauerkraut, Swiss cheese, rye bread and creamy dressing. Like the classic sandwich in casserole form! This family favorite is perfect for a quick dinner on St. Patrick's Day and definitely comfort food!
Jump to:
If you like reuben sandwiches, you'll probably love this easy reuben casserole. It has everything you find in the classic sandwich -- corned beef, sauerkraut, Swiss cheese and Thousand Island dressing on rye. The only difference is that you add everything to a casserole dish and bake it!
This is another easy recipe I found in my mom's old collection, and I have to admit that I almost didn't make it. See, I'm not a fan of Swiss cheese, and the kids aren't huge sauerkraut fans. And, I honestly prefer ranch dressing over Thousand Island.
But, the more I thought about the flavors in this baked reuben casserole, the more I wanted to give it a try. Plus, I wanted a quick and easy dinner to make on the weekend, and this easy recipe was exactly what I needed.
You can make this corned beef and sauerkraut casserole for St. Patrick's Day dinner instead of a corned beef dinner.
I make corned beef in the Instant Pot -- super easy! Or, use leftover corned beef to make Reuben casserole bake the next day.
Ingredients
You only need a few simple ingredients for this Reuben casserole recipe. You can find them in your grocery store or online:
Sauerkraut
Ground black pepper
Sea salt
Sliced corned beef -- leftover corned beef or sliced meat from the deli counter
Swiss cheese
Thousand Island dressing
Rye bread -- with caraway seeds or without
Butter
How to Make Reuben Casserole
Basically, all you do is assemble the ingredients in a baking pan, bake it, and you're done. It doesn't get much easier than that!
First, you want to grease the casserole dish with nonstick cooking spray. Then, rinse and drain your sauerkraut.
I do the same when I make kielbasa and sauerkraut since we like it less sour. You can skip rinsing the kraut if you like.
I also squeeze out extra liquid before adding the sauerkraut to the bottom of the baking dish.
I like to add salt and pepper to the sauerkraut, since I like to season each layer. And, I just think that sauerkraut tastes so much better when it has some salt and pepper added!
Corned beef is salty, so you can omit the salt if you like.
Next, place the sliced corned beef in an even layer over the sauerkraut.
The original recipe for corned beef casserole didn't specify the amount of cheese and dressing to use, so I just guessed.
My version uses sliced Swiss cheese, but you can use shredded cheese if you want. The only thing that really matters is that the cheese goes over the corned beef.
Then, spread the Thousand Island dressing over the cheese.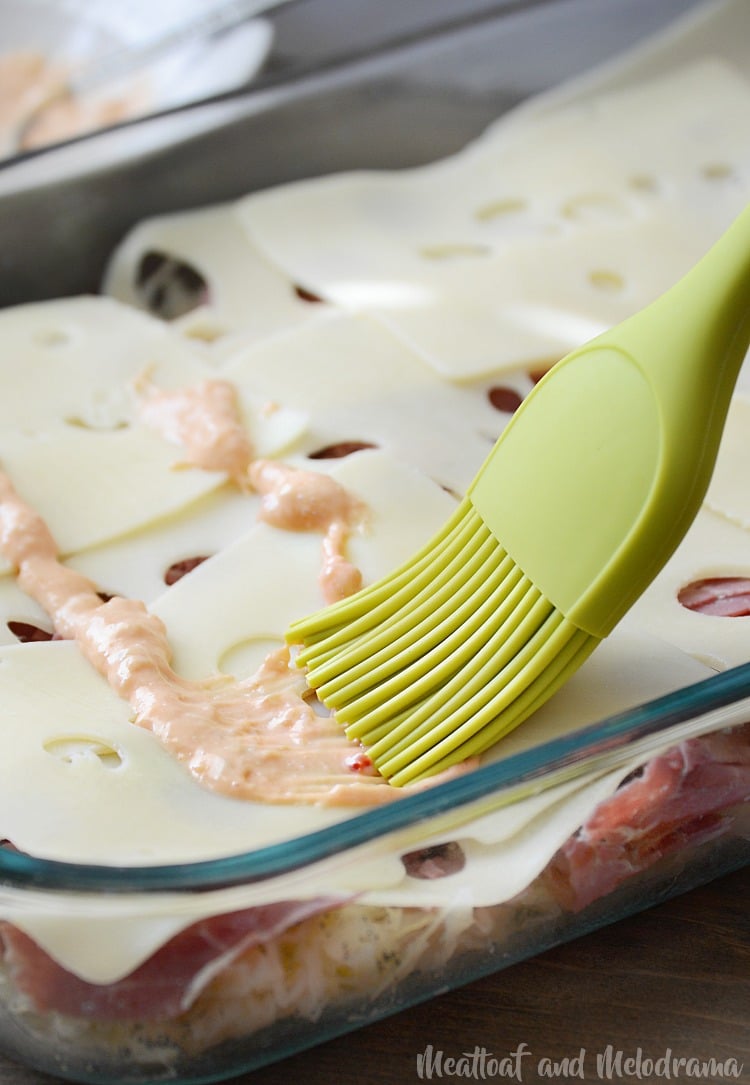 I used Russian rye bread to top off the casserole and mimic the sandwich.
And, because I didn't want the bread to be too dry, I added some melted butter over the top.
The original rueben casserole recipe called for bread crumbs, but I just tore the slices of rye bread into large pieces, which was so much easier!
The slices work just fine, but if you want to be more precise, cut the bread into rye bread cubes instead.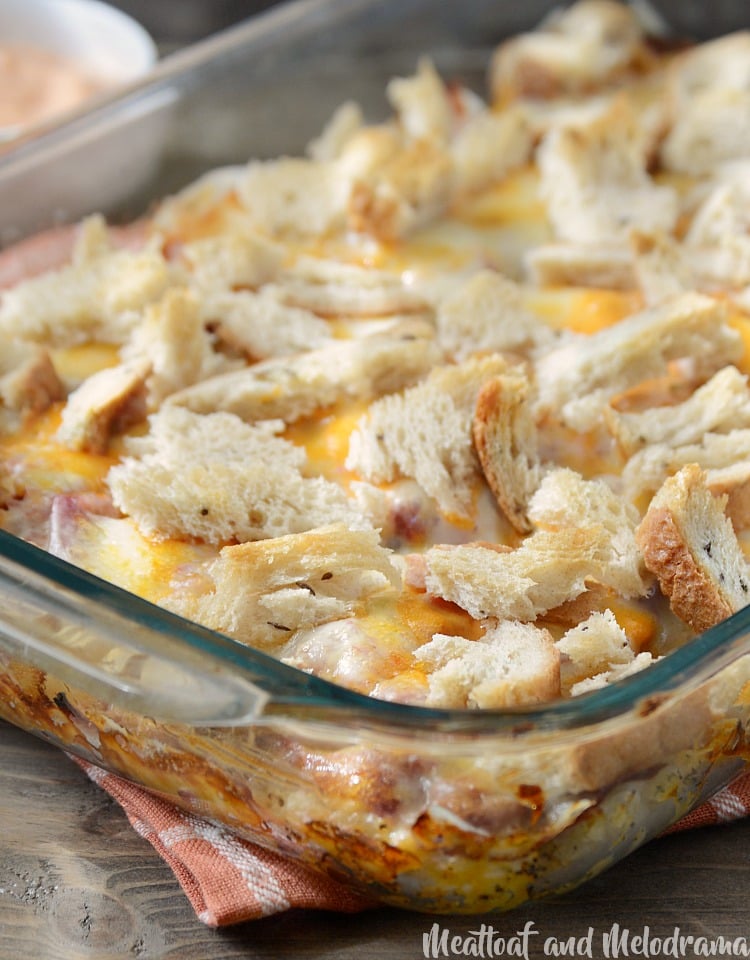 Cooking Time
Heat oven to 350 degrees. Bake the casserole for 30 minutes or until the casserole is bubbling and the bread is a light golden brown.
I always bake corned beef casserole uncovered, but if the bread is getting too dark, you can cover it with aluminum foil until the entire casserole is done.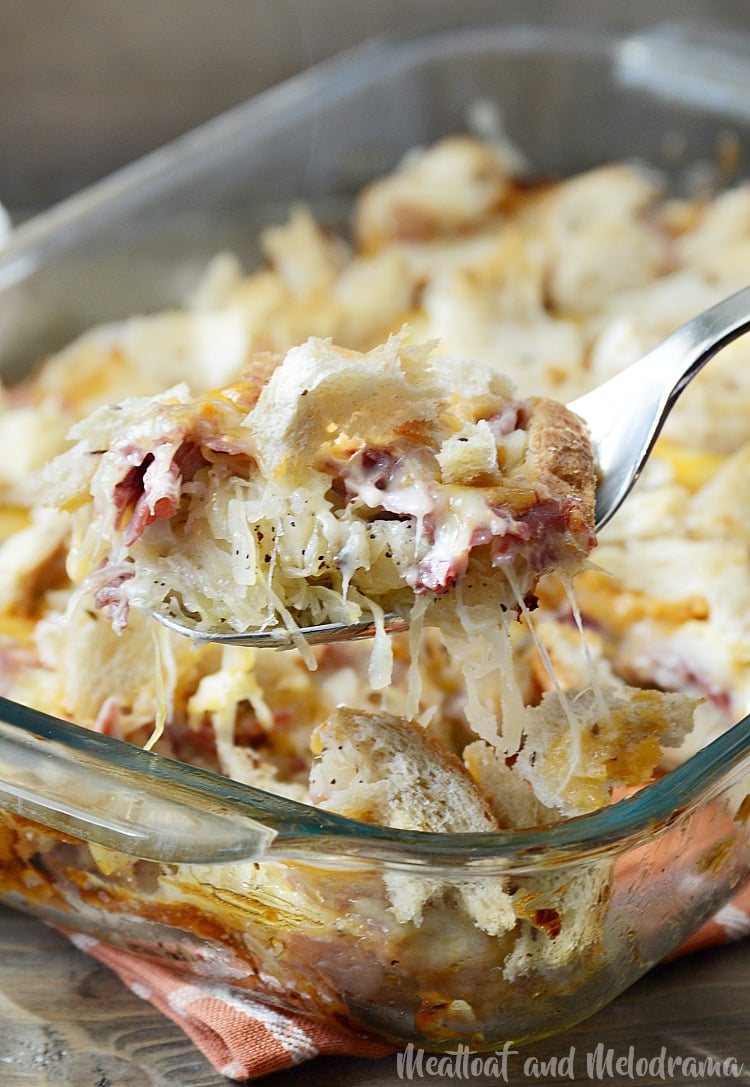 And you know what? I loved this easy baked reuben casserole, and so did my family. It's the perfect way to enjoy a reuben without getting your hands dirty!
Honestly, even the picky eaters had no complaints, which really surprised me! They ate every bit of it, sauerkraut, Swiss cheese and all!
Variations
There are a couple great ways to customize this delicious reuben casserole to your liking!
I like to use Russian rye, but any kind of rye--dark or light rye bread--will work. Pumpernickel bread is also a favorite!
Instead of thousand island dressing, add your favorite sandwich sauce. Russian dressing and mustard both pair well with the tangy sauerkraut.
Substitute Swiss cheese for provolone cheese, cheddar cheese, or a blend.
For a little extra texture, add a layer of rye bread or bread crumbs at the bottom of the pan. This will also help hold your reuben casserole together better! Or, throw some caraway seeds on top of the casserole.
Serve the casserole with a little bit of worcestershire sauce, cream cheese, or mayonnaise.
How to Store and Reheat
Store any leftover reuben casserole in an airtight container in the refrigerator, where it'll last for 3 to 4 days.
For longer storage, you could freeze the casserole, but the bread might get soggy if you do this.
Baked casseroles are great for making ahead of time--it's just so easy to grab some for a quick meal on busy weeknights! Reheat individual portions of your reuben casserole in the microwave.
Recipe
Easy Baked Reuben Casserole
This Easy Baked Reuben Casserole has corned beef, sauerkraut, Swiss cheese, rye bread and creamy dressing. Like the classic sandwich in casserole form! This family favorite is perfect for a quick dinner on St. Patrick's Day and definitely comfort food!
Ingredients
1

pound

sauerkraut, rinsed and drained, with most of the liquid squeezed out

½

teaspoon

ground black pepper

1

teaspoon

sea salt

1

pound

sliced corned beef, torn into large pieces

12

slices

Swiss cheese

¼

cup

Thousand Island dressing

6

slices

rye bread, torn into smaller pieces

2

tablespoons

melted butter
Instructions
Preheat oven to 350 degrees

Grease a 9 X 13-inch baking dish with cooking spray, oil or butter

Spread the sauerkraut evenly over the bottom of the baking dish, and season with sea salt and pepper

Layer the corned beef over the sauerkraut

Layer the Swiss cheese over the beef

Spread the dressing evenly over the cheese, and top with rye bread

Drizzle the melted butter over the bread

Bake for 30 minutes, remove from oven, slice, and serve warm
Notes
You can use leftover corned beef or sliced deli meat in this recipe.
Substitute provolone cheese for Swiss cheese if desired.
Nutrition information is estimated. Please do your own calculation to fit special diets.
Nutrition
Calories:
269
kcal
Carbohydrates:
11
g
Protein:
20
g
Fat:
16
g
Saturated Fat:
8
g
Cholesterol:
62
mg
Sodium:
1039
mg
Potassium:
130
mg
Fiber:
2
g
Sugar:
2
g
Vitamin A:
370
IU
Vitamin C:
6.7
mg
Calcium:
306
mg
Iron:
2.1
mg
First published in 2017 and updated in 2022.
I hope you enjoy this quick and easy reuben casserole recipe as much as we did! A classic reuben really has some of the best flavors -- reuben lovers and the whole family alike will love this great recipe!
For more easy recipes, healthy breakfasts, and easy dinners that taste of home, be sure to subscribe to the newsletter and follow me on social media!
If you love this corned beef and sauerkraut recipe as much as we do, please leave a star rating and comment!
Happy Cooking,