Grandma's Kielbasa and Sauerkraut recipe is an easy dinner made with smoked sausage and seasoned sauerkraut baked until hot and delicious. Your whole family will love this budget friendly meal, and it's easy enough for busy weeknights!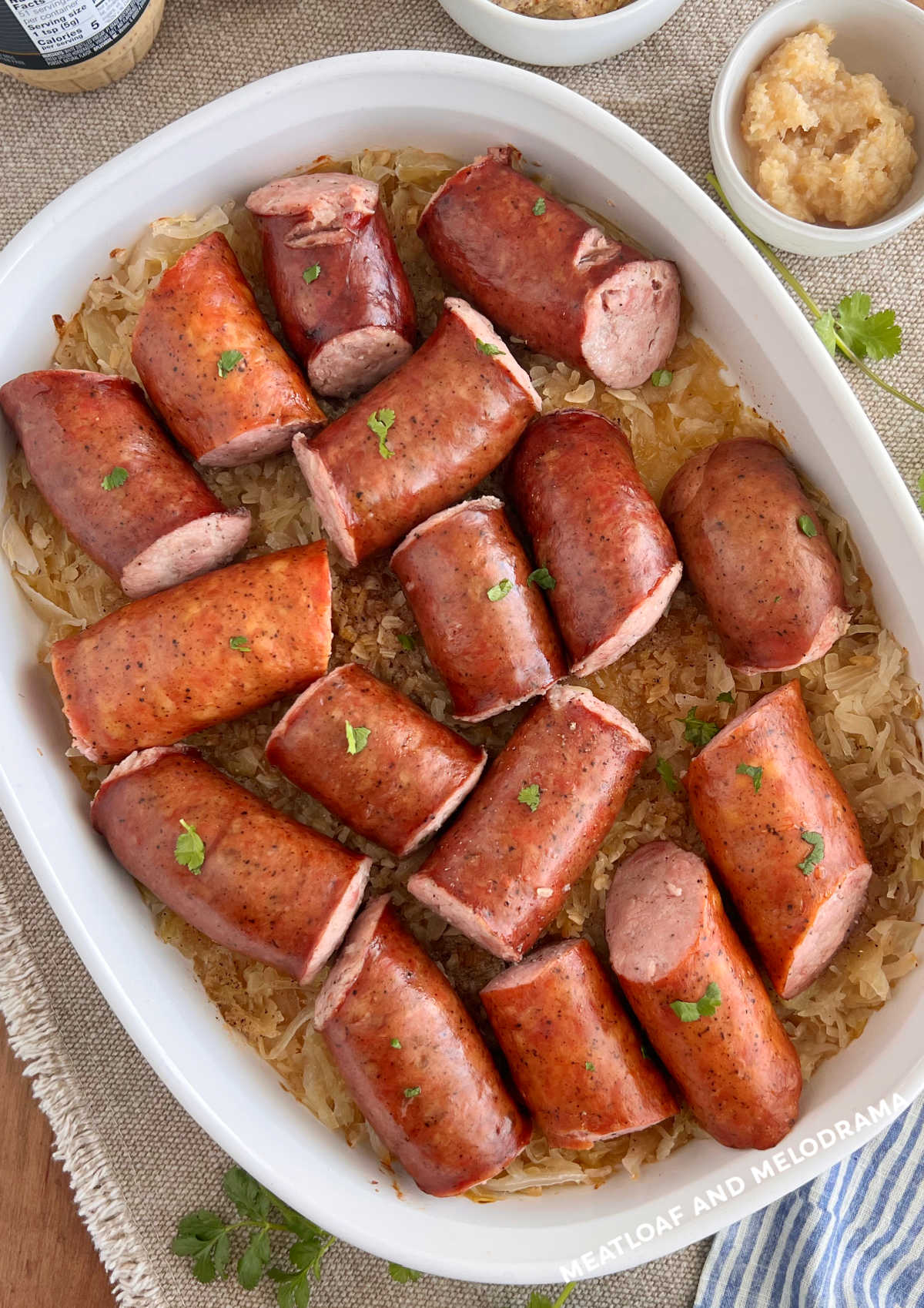 My grandma's kielbasa and sauerkraut recipe is hearty Polish comfort food. But, you don't have to be Polish to enjoy this easy recipe.
It's good cheap eats that's perfect when you need a quick and easy dinner. I have a lot of easy kielbasa recipes on the blog, like Polish sausage dogs and baked kielbasa and pierogies, but this simple recipe is a family favorite.
My grandma used to bake her Polish sausage with sauerkraut and caraway seeds. I changed this recipe a little as my kids don't like the seeds, but you can always add them if you want.
We have an amazing Polish grocery store not far from us that makes absolutely delicious homemade kielbasa. I love this stuff, but any smoked sausage works for this recipe!I
Ingredients
You only need a few simple ingredients for kielbasa and sauerkraut. You can find them in most grocery stores, your local Polish deli, or online:
Kielbasa smoked sausage -- any brand
Jar sauerkraut -- Any brand, but try to get a large jar
Brown sugar -- adds sweetness
Dried minced onions -- or use chopped onions
Garlic powder
Black pepper
Butter cut into smaller pieces
Water or broth
How to Make Kielbasa and Sauerkraut
First, preheat your oven to 350 degrees f. Then, spray a baking dish or casserole dish with cooking spray. If you don't have cooking spray, a little olive oil will work just fine.
Next, drain and rinse your sauerkraut. This step is actually optional, but it removes a lot of the sourness from the kraut.
My family likes milder sauerkraut, but you can skip rinsing if you want the full flavor.
After rinsing the sauerkraut, squeeze as much liquid out as you can. Then, place the sauerkraut in an even layer on the bottom of the casserole dish.
Season the sauerkraut with garlic powder, minced onions, brown sugar and pepper. You can add salt, to taste, or let people add salt later. Instead of minced onions, you can add fresh chopped or sliced onion, if you prefer.
Smoked sausage has plenty of salt already, so I usually don't add any before baking.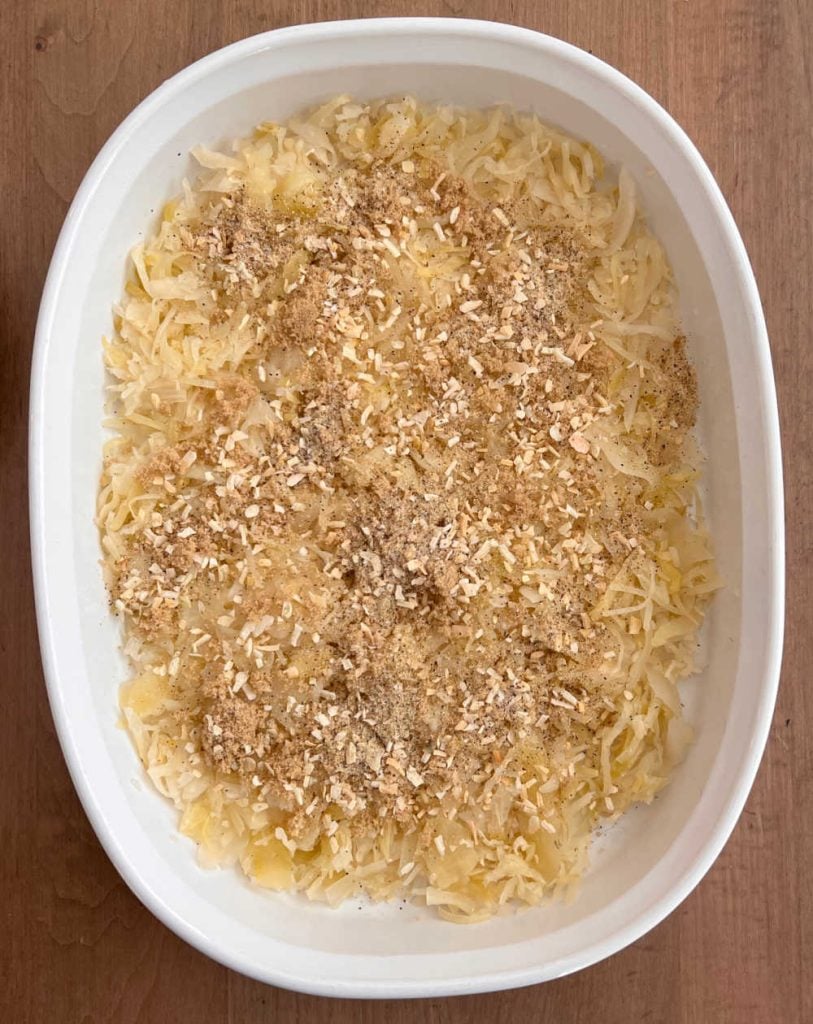 Place butter evenly on the sauerkraut layer. Then, place sliced kielbasa over the sauerkraut. Add the water, broth or apple juice.
I like to cut the ropes of sausage into smaller pieces so they're easier to serve. But, I keep them large enough so that they don't over cook.
You can slice up the kielbasa into smaller pieces, but it will cook much faster.
Cook Time
Cover the baking dish with aluminum foil. Then, place it into the oven and bake for 45 minutes to 1 hour.
The sausage is already cooked, but it does need to be reheated to 160 degrees for safety. The total cook time may vary depending on your oven and the kind of sausages you use.
Larger links will take longer to cook.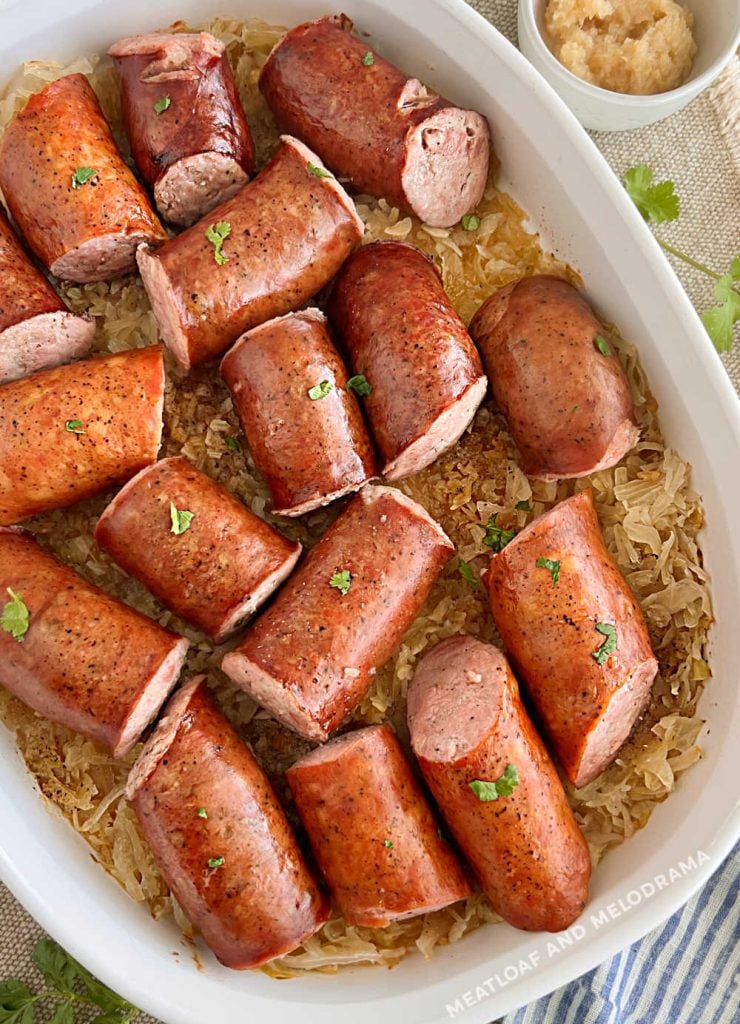 What to Serve with it
So, what to serve with this kielbasa sauerkraut dish? You can keep it simple with a side of peas, broccoli or green beans. One great thing about this meal is that it's low carb--so having a veggie side dish keeps things healthy!
Or, serve with pierogi or mashed potatoes. You can also make kielbasa sandwiches! Just slice kielbasa a bit larger, add some bell peppers, and your favorite condiments!
Variations
This kielbasa recipe is super simple, so there are many ways to customize it to your preferences!
To offset the tangy sauerkraut, add some chopped granny smith apples or sweet apples to the dish. Sweet onions also work well with the smoky kielbasa flavor profile.
Their natural sweetness dulls the sauerkraut's sour edge without removing its bold flavor. My kids aren't a fan of sauerkraut typically, but they love it served this way!
For even more flavor, don't just use water for cooking the sauerkraut. I usually add a little broth--you can use chicken broth, vegetable broth, or whatever kind you prefer--in with the water. Or, add a splash of beer or apple juice.
Caraway seeds are often used in Polish cuisine, so sometimes I like to throw some in with the sauerkraut mixture.
How to Store
Store any leftover kielbasa and sauerkraut in an airtight container in the refrigerator, where it'll keep for 4 to 5 days. For longer storage, you can freeze it in a freezer safe container.
Reheat individual portions of kielbasa in the microwave. Larger portions can be rebaked in the oven on medium heat.
Or, you can enjoy the kielbasa cold! My daughter actually prefers cold kielbasa with ketchup. I would warm up the sauerkraut though!
Recipe
Grandma's Kielbasa and Sauerkraut Recipe
Grandma's Kielbasa and Sauerkraut recipe is an easy dinner made with smoked sausage and seasoned sauerkraut baked until hot and delicious. Your whole family will love this budget friendly meal, and it's easy enough for busy weeknights!
Ingredients
2

pounds

kielbasa

smoked sausage

1

28-oz jar

sauerkraut

2

tablespoons

brown sugar

1

tablespoon

dried minced onions

1

teaspooon

garlic powder

½

teaspoon

black pepper

2

tablespoons

butter

cut into smaller pieces

¼

cup

water
Instructions
Preheat oven to 350°, and grease a baking dish with cooking spray

Slice larger ropes of kielbasa into smaller pieces, about 3 inches long

Rinse and drain sauerkraut, then place on bottom of baking dish

Season with brown sugar, onions, garlic and pepper, and add water

Place butter evenly over sauerkraut, and top with kielbasa

Cover with aluminum foil and bake for 45 minutes or until sausage is cooked to 160 degrees, according to meat thermometer
Notes
Nutritional values are approximate and will vary with type of smoked sausage used.
You can add sliced onions, apples and caraway seeds for more flavor.d
Nutrition information is estimated. Please do your own calculation to fit special diets.
Nutrition
Calories:
409
kcal
Carbohydrates:
5
g
Protein:
16
g
Fat:
35
g
Saturated Fat:
14
g
Polyunsaturated Fat:
4
g
Monounsaturated Fat:
16
g
Trans Fat:
1
g
Cholesterol:
87
mg
Sodium:
1021
mg
Potassium:
287
mg
Fiber:
1
g
Sugar:
3
g
Vitamin A:
88
IU
Vitamin C:
2
mg
Calcium:
19
mg
Iron:
2
mg
I hope you enjoy this kielbasa sausage and sauerkraut dinner as much as my family does! The savory flavors of the smoked kielbasa and sour sauerkraut make for a perfect hearty meal!
For more quick cooking dinners, sausage recipe ideas, and one dish meal ideas, be sure to subscribe to the newsletter and follow me on all your favorite social media platforms!