Hi friends! Weeknights are rushed in our house, and I'm always looking for quick and easy meals to serve my family. I've gotten creative with leftovers, but with a table full of picky eaters, the food has to taste good. Luckily, these easy chicken burrito bowls can be made in a matter of minutes, and best of all, my family loves them!



Burritos are frequently on the menu here, and my kids devour them in a matter of minutes. In fact, I'm pretty sure that they'll eat almost anything if it's served in a wrap.

Personally, I'm a fan of burrito bowls. You get all of the tasty filling, and it's just a little bit lighter. I usually order a burrito bowl whenever we eat out at Chipotle's, but it's just as flavorful and a lot cheaper to make our own.

The key is to start with cooked chicken. You can use leftovers or pick up a rotisserie chicken, or you can even use some precooked frozen meat. It's a huge time saver, and that's what we're going for here. Add a can of black beans, some frozen or canned corn and instant rice, and you're good to go!


Ingredients for Easy Chicken Burrito Bowls
3 cups cooked chicken, chopped

6 cups cooked rice

1 can of black beans, rinsed and drained

1 cup yellow or white onions, chopped

2 cups shredded cheese

1 Anaheim pepper or jalapeno pepper, seeded and diced

1 tablespoon taco seasoning mix

Juice of 1 lime

2 tablespoons olive oil

Salt and pepper, to taste

Arugula, shredded lettuce, diced tomatoes and sour cream for garnish
Directions
Saute the onions and peppers in the olive oil in a large pan over medium heat, until soft.
Add the chicken, black beans, corn, seasoning mix, salt, pepper and lime juice, and cook until heated through.
Fill serving bowls evenly with rice, and top with chicken mixture.
Garnish with remaining ingredients and extra lime juice, if desired.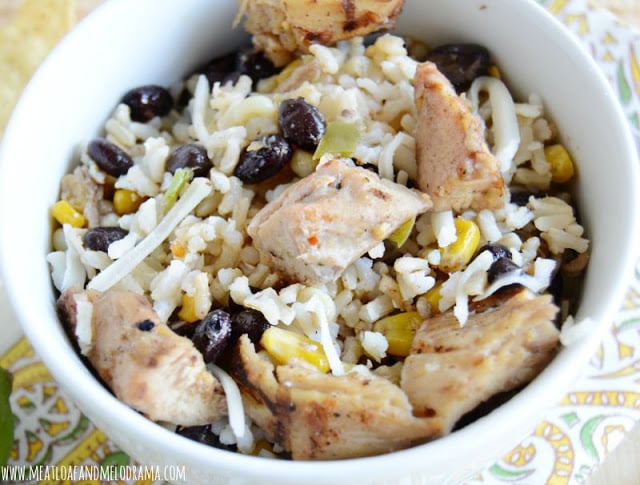 The kids usually add shredded lettuce to their bowls, but I'm partial to arugula. I just love the peppery flavor, so I use it in place of lettuce whenever I can.
This makes enough for the seven of us, and sometimes, we even have a little bit left over for lunch, especially since the younger kids have smaller bowls.

Do you have any kitchen shortcuts or time-saving meal ideas to share? I'd love to hear them.

Have a super day!
You Might Also Like