Hello Everyone!

It's the first of September already — can you believe it?! We had a brief cool spell last week, and then it got hot again. Sigh. Anyway, what better way to cheer up than to indulge in some serious chocolate therapy? The kids and I whipped up these easy chocolate crinkle cookies today, and they were amazingly good. And, the best part is they are super quick and easy to make.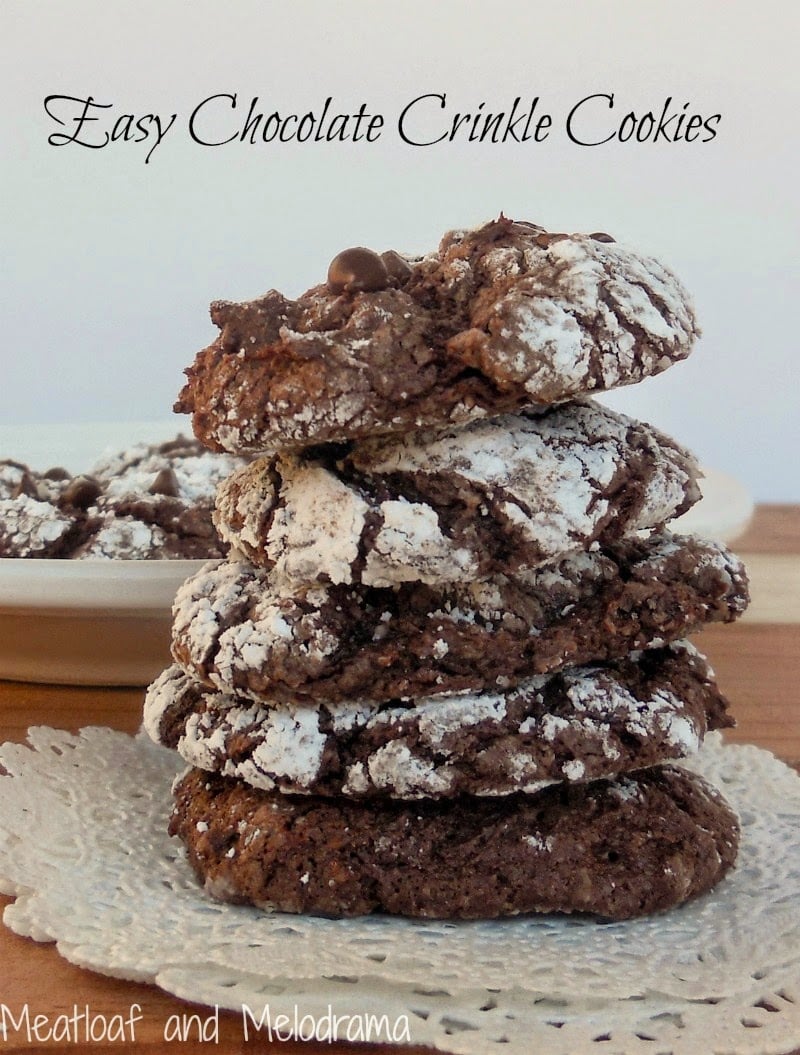 Some of you may have heard of this recipe before, but it was new to me. We had one box of chocolate cake mix, and I thought I would use it to make cookies instead of another cake. While I was looking for some inspiration, I came across several cake mix recipes that use Cool Whip instead of oil and water. So, we had cake mix, and we had Cool Whip left over from making poke cakes, and I just had to give this recipe a try.

If you want to make some easy chocolate crinkle cookies, you'll need:
One box of your favorite chocolate cake mix

One small container of Cool Whip

One egg

Powdered sugar

One teaspoon cinnamon

Mini chocolate chips
Actually, the cinnamon and chocolate chips are optional, but I think they add a little something to the taste. All you have to do is combine the cake mix, Cool Whip, egg and cinnamon. Then, add the chocolate chips, and mix well. Scoop up a teaspoonful or so of dough and roll it in the powdered sugar until it's well coated. Then place the dough ball on a lightly greased cookie sheet.

Repeat the process until the dough mixture is completely used up, and bake the cookies at 350 degrees for about 12 to 15 minutes. The exact time will depend upon your oven.



The dough is very messy. I think the hardest part of the recipe was getting the chocolate goo off of our hands. But, that's a minor annoyance, and you won't mind once you taste these little morsels!



The texture is soft and cakey, the edges are just slightly crisp, and the powdered sugar adds an extra bit of sweetness — awesome. We made the cookies this afternoon, and as of tonight, there are still a few left — amazing!

Have you ever made Cool Whip cookies, or are you more of a purist when it comes to baking? I love baking from scratch, but I also enjoy a shortcut now and then.

Thanks for stopping by. Have a sweet day!

Dee 🙂

Sharing At:
Treasure Box Tuesday, Tickle My Tastebuds, Whimsy Wednesday, Wow Us Wednesdays, Wow Me Wednesday, Whatever Goes Wednesday, Full Plate Thursday, Feathered Nest Friday, Freedom Fridays, Foodie Friday, Foodie Fridays, Flaunt It Friday, I Heart Nap Time, Say G'Day, Best of the Weekend, DIY Sunday Showcase, Inspiration Monday, Monday Funday, Metamorphosis Monday, Tweak it Tuesday , Inspire Me, The Scoop, The Southern Special, Thursday Favorite Things, Pretty Pintastic