Make this Easy Chocolate Peanut Butter Fudge in just a few minutes. It's smooth, creamy and perfect for the holidays or anytime you want a sweet treat!
Easy chocolate peanut butter fudge is loaded with semi-sweet chocolate, creamy peanut butter and topped off with mini peanut butter candies. If you're craving the classic mix of chocolate and peanut butter, you'll love this quick and easy treat!
My oldest baby came up with this easy recipe for chocolate peanut butter fudge last summer. She wanted to bring a quick and easy no-bake treat to the office potluck at her summer job, and since she's a huge fan of anything to do with chocolate and peanut butter, she made this fudge. It was a huge hit with her co-workers, so I asked her to make some for us.
Even though we're in the middle of making tons of sweet treats for Christmas, this is one of those easy desserts that you can enjoy all year long. But, it's perfect for holiday parties and cookie exchanges. And, it makes a delicious homemade gift for the chocolate-peanut butter lover in your life!
One of the best things about this easy fudge is that it's practically foolproof, and you really can't mess it up. Plus, you only need a few simple ingredients, and it only takes about 10 minutes to make. Can't beat that!
Making this chocolate peanut butter fudge is super easy, and the base is made with a mixture of chocolate chips and sweetened condensed milk that you can melt together in the microwave. You don't have to stir it over and over like some of the more complicated, old fashioned fudge recipes.
Once the chocolate mixture is melted, you pour it into a prepared pan, and then, you swirl in some softened peanut butter. We didn't want two separate layers for the fudge, so my daughter used a knife to gently mix the two together. Then, she used a toothpick to swirl the peanut butter into the chocolate a little more.
She smoothed the top with a spatula, and then she added some cut chocolate peanut butter candies over the top. This is optional, but it adds an extra layer of chocolate peanut butter flavor!
You can let the fudge cool in the fridge or on your counter. Our kitchen is pretty warm, so we popped the fudge into the fridge. We're an impatient bunch, especially when chocolate is involved, and we wanted to taste the fudge as soon as possible!
Honestly, this fudge is incredible! It's not too sweet, and the peanut butter isn't overwhelming. It's just right!
Looking for More Easy Fudge Recipes?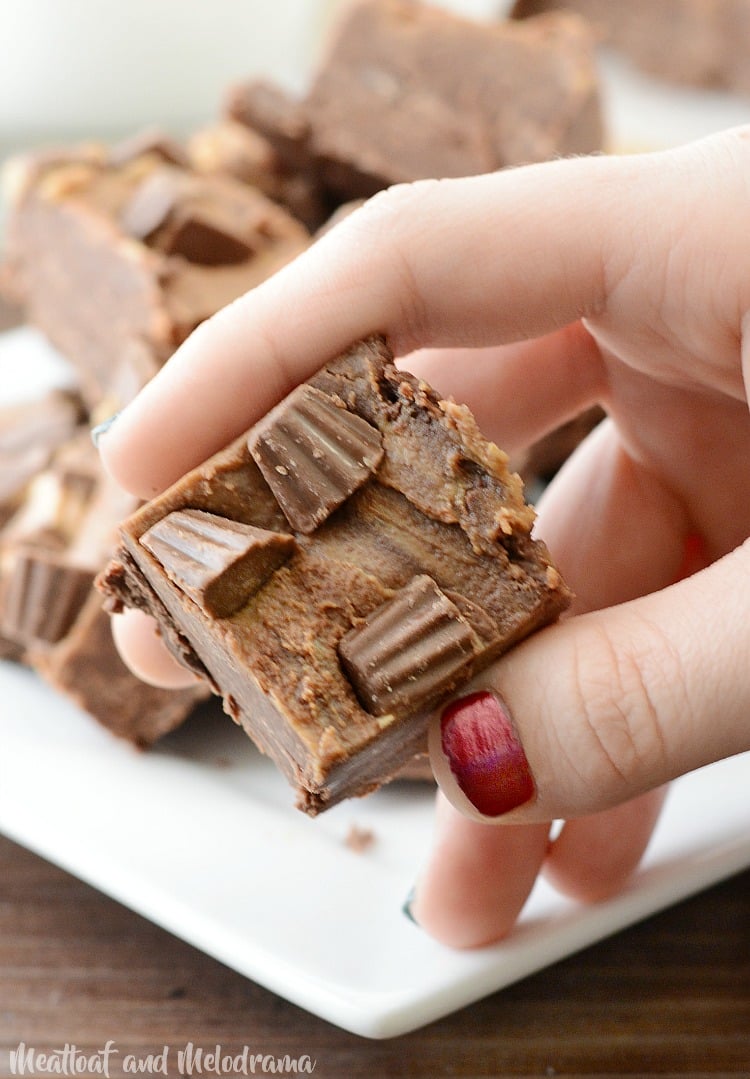 Recipe for Easy Chocolate Peanut Butter Fudge
Easy Chocolate Peanut Butter Fudge
Easy chocolate peanut butter fudge takes less than 10 minutes to make. It's a combo of semi sweet chocolate, creamy peanut butter and is topped with crushed chocolate peanut butter candies for extra flavor.
Ingredients
4

tablespoons

creamy peanut butter

3

cups

semi sweet chocolate chips

1

14-ounce can

sweetened condensed milk

1

teaspoon

vanilla extract

1/4

cup

mini chocolate peanut butter cups, chopped
Instructions
Spoon peanut butter into a small mixing bowl, and heat in microwave for about 30 seconds or until pourable. Set aside.

Add the chocolate chips and sweetened condensed milk to a large mixing bowl, stir, and heat in the microwave in 15-second increments, stirring in between, until smooth and melted

Pour chocolate mixture into foil-lined, greased 8 X 8 or 9 X 9 square pan

Pour peanut butter over chocolate, swirl together, and smooth top with spatula

Top with chopped mini peanut butter cups, and allow to cool completely and firm up before cutting into 1-inch squares

Store in a covered container in cool place
Notes
We used chopped Reese's mini peanut butter cups to top the fudge, but you can use any brand or omit completely
Nutrition
My family absolutely loved this easy chocolate peanut butter fudge. I hope you enjoy it as much as we do!
Shared at Weekend Potluck
Happy Munching,