Fantasy Eggnog Fudge is made with white chocolate, eggnog and marshmallow creme. It's rich and creamy with a hint of spice and perfect for the holidays!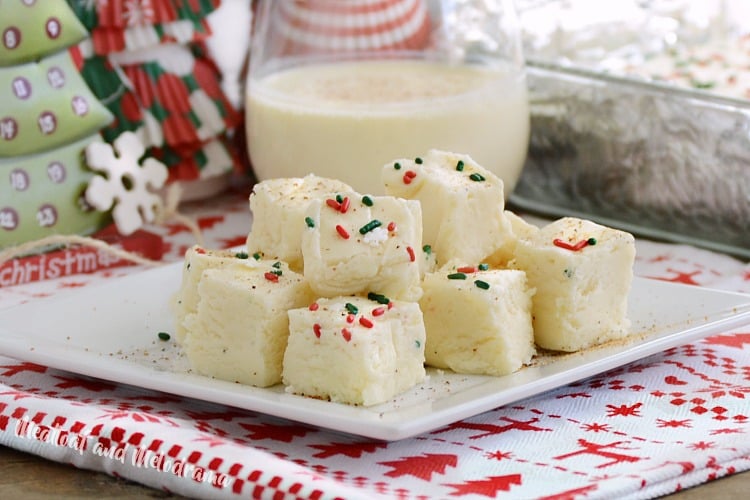 This recipe for Fantasy Eggnog Fudge is a variation of the classic Fantasy Fudge. It's made with white chocolate, eggnog and marshmallow creme, plus a few other ingredients, and it's perfect for the holidays. If you like eggnog, you'll love this easy eggnog fudge!
Back in the day, my mom's neighbor used to send over a plate of Fantasy Fudge every Christmas, complete with the recipe card attached. It was super sweet, and even a little piece of this fudge went a long way!
Personally, I'm not a huge fan of super sweet treats. Don't get me wrong, I love chocolate and all, but I don't really like anything too sweet -- know what I mean? Usually, the kids and I make one-bowl Easy Chocolate Peppermint Fudge for Christmas, but, I found the Fantasy Fudge recipe when I was sifting through my mom's old recipe collection, and I decided to use the base recipe to make eggnog fudge.
We're huge eggnog lovers in my house, and we usually try to make a new recipe using eggnog every year. The kids have been begging me to try making eggnog fudge, so guess what? Yep, that's eggnog recipe we're going with this year!
Our first try was a complete disaster. I actually threw the whole pan out, and that's something that almost never happens! I can usually always salvage a bad recipe and make it edible, but not this time.
So, we ended up subbing white chocolate for milk chocolate and eggnog for the evaporated milk in the original fudge recipe. We also added a little bit of nutmeg. The result is a sweet, creamy fudge that's perfect for Christmas!
The eggnog flavor isn't super strong. It's a little more subtle, but you can definitely taste it.So even if you're not a huge fan of eggnog, you'll probably like this fudge.
This is an easy fudge recipe, and you don't need a candy thermometer or any special equipment to make it. But I do have some tips for making eggnog fudge!
Use foil and non-stick spray so that the fudge doesn't stick to the pan
Stir continuously to prevent the mixture from scorching
Boil for exactly 5 minutes
Allow to cool completely before slicing
Looking for more recipes that use eggnog?
Recipe for Fantasy Eggnog Fudge
Recipe
Fantasy Eggnog Fudge
Fantasy Eggnog Fudge is a blend of white chocolate, eggnog and marshmallow creme that's perfect for the holiday season!
Ingredients
3

cups

granulated sugar

¾

cup

butter

⅔

cup

eggnog

2

cups

white chocolate chips

1

7-oz jar

Marshmallow Creme

1

teaspoon

vanilla

½

teaspoon

nutmeg

holiday sprinkles for decorating (optional)
Instructions
In a large heavy-bottomed saucepan, add the sugar, butter and eggnog, and bring to a rolling boil over medium heat, stirring constantly

Let mixture boil for 5 minutes, and continue stirring as it thickens

Remove from heat, and stir in the white chocolate, marshmallow cream and vanilla

Continue stirring until mixture is well combined, thick and no longer shiny

Pour mixture into foil-lined and greased 9x9-inch baking pan, and allow to cool completely

Cut into 1-inch (or smaller) pieces to serve
Nutrition information is estimated. Please do your own calculation to fit special diets.
Nutrition
I hope you enjoy this delicious fantasy eggnog fudge as much as we do! Sharing this recipe at Weekend Potluck!
Happy Holidays,