Easy Crock-Pot Chicken Noodle Soup is made entirely in the slow cooker so that you can enjoy a bowl of homemade comfort food without all of the work!
Is it possible to have too many slow cookers? I kind of doubt it. I have a small one, which is perfect for holding dips and appetizers, especially on game days or parties. I also have 4-quart slow cooker, which I got for practically nothing on Black Friday -- score!
But the slow cooker I use the most is definitely the 7-quart one. I use this for soups, stews, roasts and our favorite holiday hams. I've even made peach cobbler in the Crock-Pot. So when my favorite small appliance broke down, we pretty much ran out and bought a new one right away -- gotta love those holiday sales!
Just in time, because my little boy came down with his third nasty cold since school started, so I made a big batch of chicken noodle soup in the Crock-Pot. A long time ago, in a galaxy not that far away, I used to make homemade chicken soup completely from scratch, on the stove -- just like my mom and her mom and her mom's mom did. Chicken soup and I go waaay back.
It's amazing stuff, but it takes a lot of time. So, this slow cooker soup is a lot easier and honestly tastes just as good. And if you have the basic ingredients on hand, you can throw this soup together in a pinch.
I usually always have frozen chicken breasts on hand, so that's what I normally use. If I plan ahead, I'll pick up fresh chicken the night before. And during soup season, I also stock up on organic chicken broth and the other ingredients. It makes life a LOT easier!
Making the soup is super simple -- couldn't resist saying that! There are tons of recipes for Crock-Pot chicken soup, but mine is slightly different. I like to let the chicken cook by itself first and then add the broth. It's just a personal preference. If you want, you can add the chicken and broth at the same time.
About an hour before you're ready to eat, just throw in some egg noodles or your favorite pasta, and when they're soft, you're ready to eat.
Serve the chicken soup with some rolls, crusty bread or crackers, and you've got yourself one comforting meal!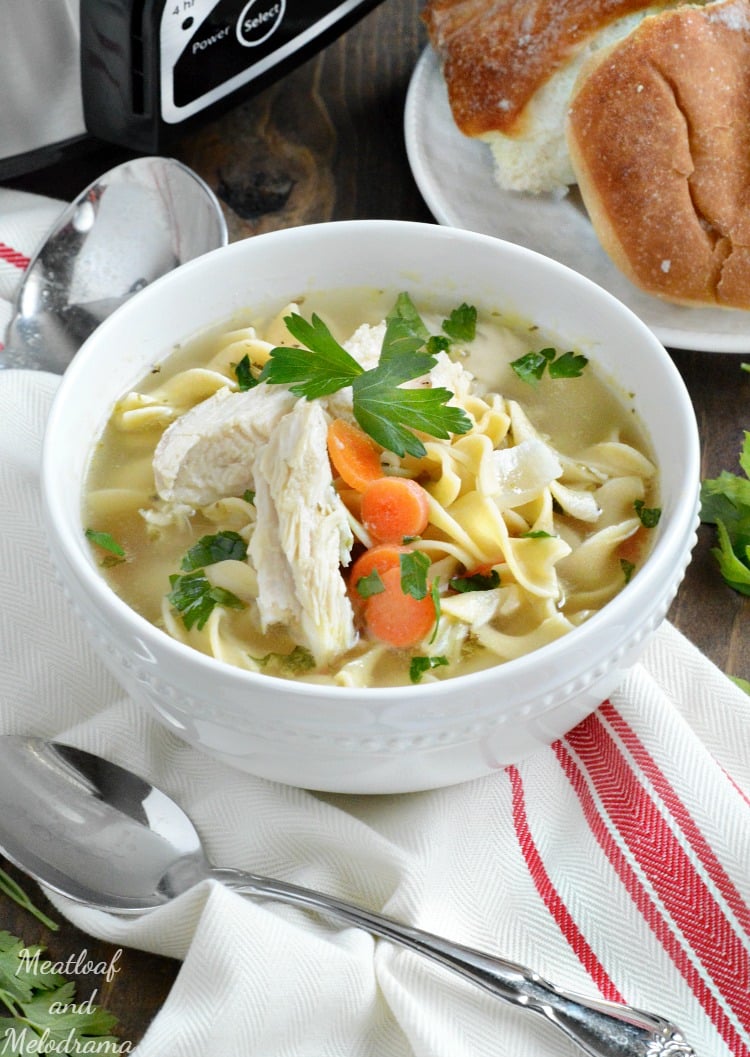 How to Make Easy Crock-Pot Chicken Noodle Soup
Recipe
Easy Crock-Pot Chicken Noodle Soup
The easy way to make homemade chicken noodle soup in your slow cooker
Ingredients
1

tablespoon

olive oil

½

cup

white or yellow onions, chopped

2

pounds

chicken breasts

1

cup

baby carrots, thinly sliced

2

stalks

celery, chopped

3

cloves

garlic, finely chopped

2

teaspoons

sea salt

1

teaspoon

ground black pepper

1

tablespoon

dried Italian seasoning blend

2

32-oz cartons

low-sodium organic chicken stock

1

tablespoon

fresh parsley, roughly chopped
Instructions
Pour the olive oil in a 6 or 7-quart slow cooker
Add the onions, chicken breasts, carrots, celery, salt and pepper, and cook on high for 3 hours

Remove chicken and shred with forks or cut into large pieces

Pour chicken broth into Crock-Pot, and add chicken and Italian seasoning

Add about 4 cups of dried egg noodles and fresh parsley about an hour before you're ready to eat. Cover, and let cook until noodles are soft

Season with additional salt and pepper, if needed

Serve, and refrigerate or freeze leftovers
Notes
You can add broth in the beginning when you add the chicken if you want,and you can use either fresh or frozen chicken
Nutrition information is estimated. Please do your own calculation to fit special diets.
Nutrition
My family loves this Easy Crock-Pot Chicken Noodle Soup, and I love having the leftover soup for lunches.
Have you ever made soup in the slow cooker?
Happy Cooking!