Easy Lemon Bars have the perfect balance of tart and sweet with a delicious shortbread crust. An easy lemon dessert recipe for spring and summer!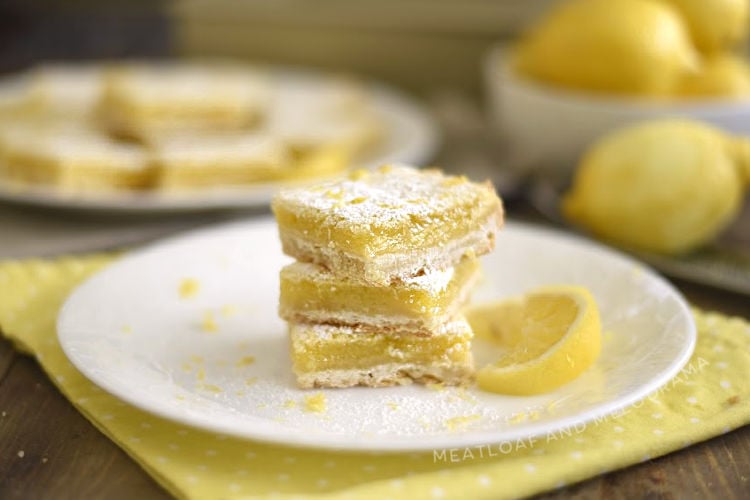 This is my grandma's lemon bars recipe, and it makes the BEST lemon bars ever! They have a delicious, slightly sweet shortbread crust topped with a tart lemon curd center and a dusting of powdered sugar on top -- the perfect blend! If you like lemon desserts, you'll love these easy lemon bars!
My grandma's recipe is actually called lemon squares, but we always called them bars. Since they're made in a 9X13 pan and cut into a bar shape, I guess that makes sense. It's a super simple recipe made with just a few ingredients that you probably already have on hand.
If you don't have fresh lemons, get them! You need fresh lemon juice and zest to to give these old fashioned lemon bars an extra burst of lemony flavor, or zing.
You'll also need a zester, grater or microplane for the lemon zest. If you have a food processor or stand mixer -- great! But you don't need any fancy cooking gadgets to make lemon bars. Grandma didn't have them!
How to make lemon bars with a shortbread crust
The fun thing about old fashioned handwritten recipes is that they're short, to the point, and they assume you know what they mean. So the directions for making the shortbread crust just say to form as a pie crust, which is great if you understand that. But don't worry -- I rewrote the recipe so that it's much easier to understand.
Start with cold butter -- It's essential for a flaky shortbread crust. Then, use a pastry cutter, 2 knives or forks to cut the butter into the flour and sugar. It will look like lumpy sand, but that's what you want!

Next, press the crust mixture into a prepared baking pan. I love using parchment paper because it makes it easy to remove the bars. But, you can grease the pan or use foil if you want.
Make sure the crust is pressed tightly against the sides of the pan. It helps keep the lemon curd from spilling over the crust.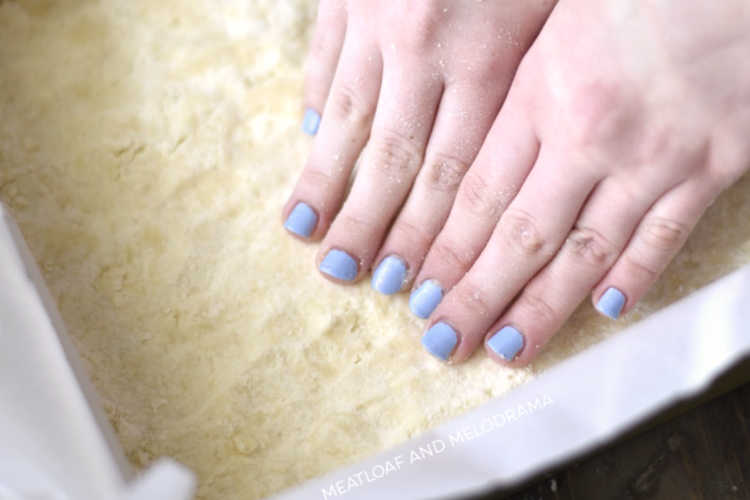 While the crust is baking, make the lemon curd. You'll probably need 3 medium lemons to get the right amount of juice and zest.
How much juice can you get from 1 lemon?
I usually get about 2 tablespoons of juice from 1 lemon, but be prepared, and have 4 lemons ready -- just in case. To get more juice from the lemon, roll them back and forth at room temperature before slicing. And, zest the lemon before you slice it -- otherwise it's way too messy!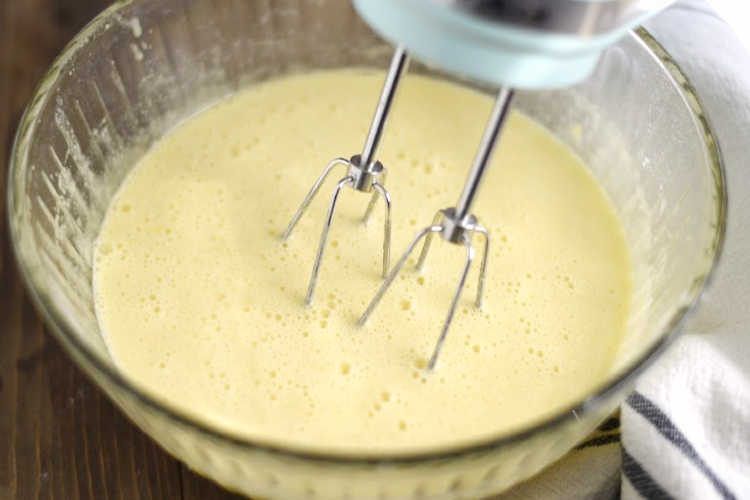 When the crust is light golden brown, it's done. Pour the filling on the crust right away -- as it cools, the crust will shrink a little, and you don't want filling spilling out over the edge. The filling will be a pale yellow color when it's done -- it's bright yellow when you slice it!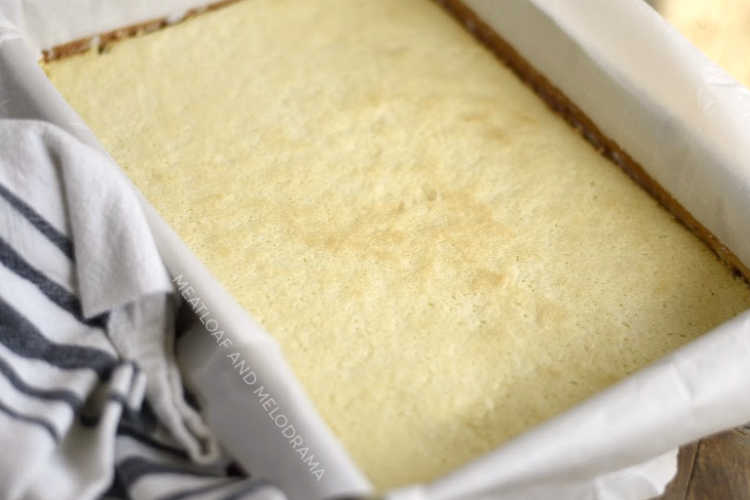 I like to sprinkle some sifted powdered sugar over the lemon bars when they're still warm. This way it sticks to the bars. You can add more before serving, if you want. Let the lemon bars cool down a little, then pop them in the fridge for an hour or so before cutting.
You can try cutting them while they're still warm, but they're so much easier after they cool down and firm up. And, they're cool and so refreshing when you eat them cold!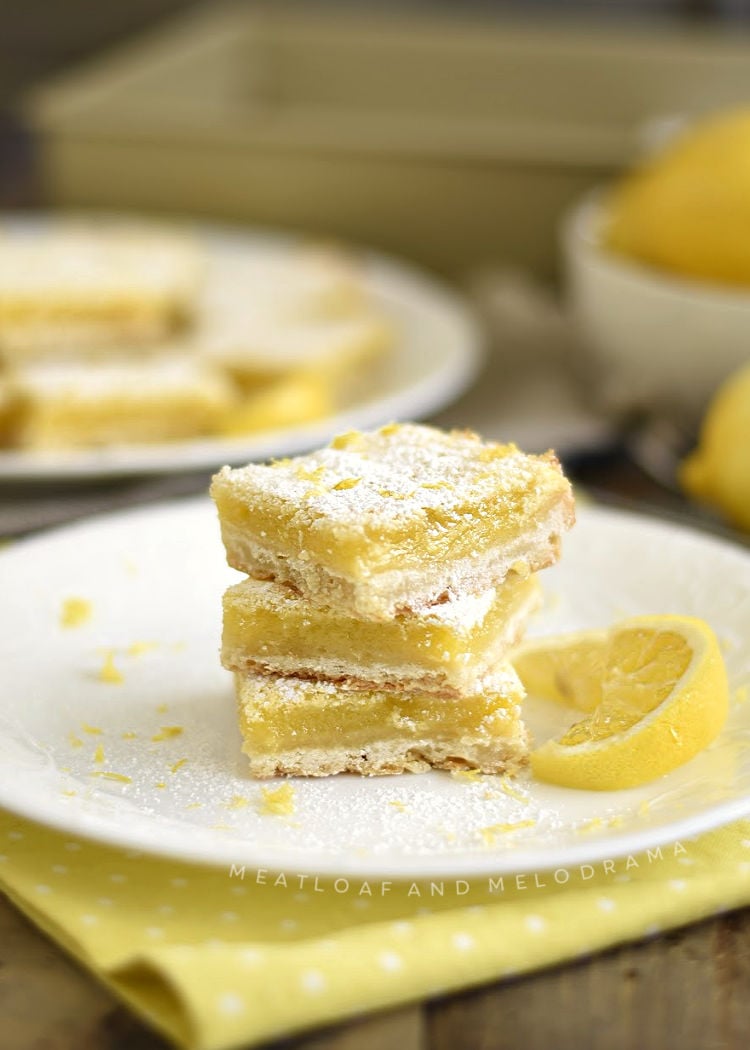 Do lemon bars have to be refrigerated?
Yes. You do need to store the bars in the fridge, especially if it's warm in the house.
How long do lemon bars last in the fridge?
Homemade lemon bars are best if eaten in 3 to 4 days. But, they probably won't last that long -- people eat these right up! You can wrap them up and freeze for longer storage.
More Lemon Dessert Recipes
Easy Lemon Bars Recipe
Recipe
Easy Lemon Bars
Easy Lemon Bars have the perfect balance of tart and sweet with a delicious shortbread crust. An easy lemon dessert recipe for spring and summer!
Ingredients
For the shortbread crust
1

cup

butter

2

cups

flour

½

cup

powdered sugar

plus more for dusting on top of bars

¼

teaspoon

salt
For the lemon curd filling
4

eggs

2

cups

granulated sugar

6

tablespoons

flour

6

tablespoons

lemon juice

from about 3 to 4 medium lemons

1

tablespoon

lemon zest

you can use more for extra lemon flavor
Instructions
For the shortbread crust
Preheat oven to 350 degrees

Prepare a 9X13 baking pan by lining with parchment paper or greasing with cooking spray or butter

Cut butter into small squares in large mixing bowl.

Add flour and powdered sugar and use pastry cutter or 2 forks or 2 knives to cut butter into flour mixture until texture is coarse and crumbly

Press mixture evenly into prepared cake pan, making sure edges are pressed tightly up against sides of pan

Bake for 20 minutes or until light golden brown. While crust is baking, prepare filling
For lemon filling
Add eggs to large mixing bowl, and beat with mixer until slightly foamy

Mix in the sugar, 1 cup at a time, then add flour, and mix well

Add lemon juice and zest, and mix thoroughly

Remove crust from oven, and pour filling evenly over crust

Bake for 20 to 25 minutes or until top is set and springs back lightly when touched. Don't let the top get too brown

Remove from oven, and run a knife or spatula around the edges of crust while still warm. Sprinkle sifted powdered sugar lightly over crust, if desired, and allow to cool

For best results, refrigerate for at least 1 hour before cutting into bars. Keep refrigerated until ready to serve. Add additional powdered sugar, if desired, before serving
Nutrition information is estimated. Please do your own calculation to fit special diets.
Nutrition
Calories:
225
kcal
Carbohydrates:
34
g
Protein:
1
g
Fat:
9
g
Saturated Fat:
5
g
Cholesterol:
24
mg
Sodium:
110
mg
Potassium:
23
mg
Sugar:
23
g
Vitamin A:
285
IU
Vitamin C:
2.1
mg
Calcium:
5
mg
Iron:
0.7
mg
I hope you love these easy lemon bars as much as we do!