This Glazed Lemon Blueberry Muffins recipe with fresh blueberries, lemon zest and a sweet lemon glaze makes the best blueberry muffins. These delicious muffins are moist, fluffy and super easy to make!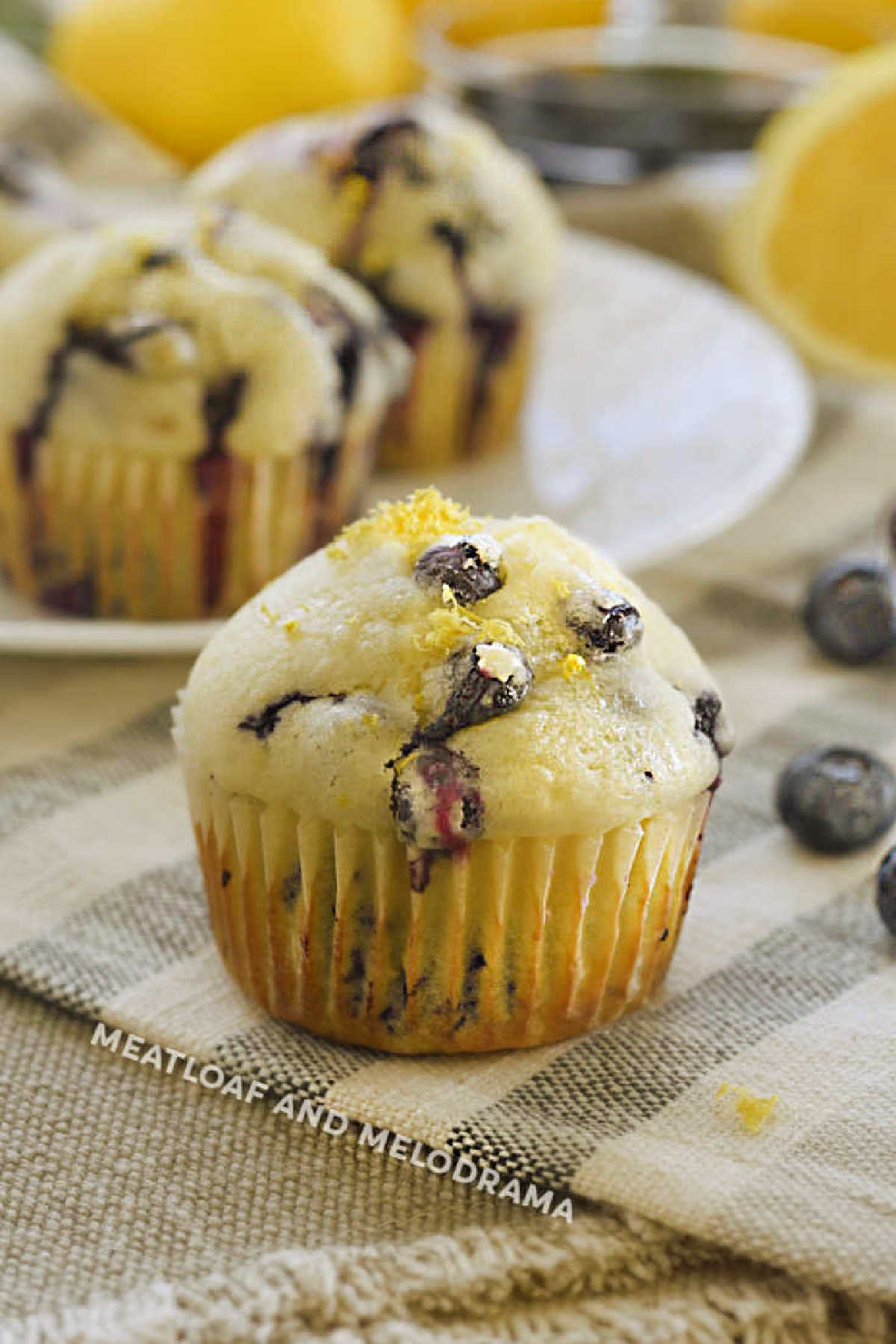 Jump to:
If you're looking for an easy blueberry muffin recipe, you're going to love this one! This easy recipe for blueberry muffins with lemon glaze makes light, fluffy muffins that aren't heavy at all.
Bursting with juicy blueberries, these moist muffins have a zest lemon flavor that makes them one of our favorite muffin recipes. I make this lemon blueberry muffin recipe with lemon juice and lemon zest for maximum lemon flavor.
My blueberry muffins are a little tart, a little sweet, and simply delicious. Everyone loves them!
My kids love having muffins for breakfast. But these homemade muffins are also perfect as a morning snack or afternoon snack with a cup of coffee or tea.
And while they're not quite as easy as my cake mix blueberry muffins, even beginning bakers can make these muffins.
Ingredients
You only need a few simple ingredients for this glazed lemon blueberry muffin recipe. You can find them in your grocery store if you don't have them at home.
All purpose flour
White sugar
Sea salt
Baking powder
Vegetable oil, melted coconut oil, or melted butter -- Oil makes a moist muffin, but butter adds wonderful flavor.
Milk -- I use 2 percent milk, but whole milk is fine
Egg -- 1 large egg
Lemon juice -- for the muffins and the glaze
Lemon zest -- for the muffins and muffin tops
Fresh Blueberries
Powdered sugar -- for the glaze
We've been making these blueberry muffins for years. You can see the step by step process in the video, but it's very simple. The first time, I used coconut oil, but I have made this same recipe using butter and vegetable oil -- all with great results.
How to Make Lemon Blueberry Muffins with Lemon Glaze
First, just mix your flour, sugar, salt and baking powder in a large bowl. Then, mix your choice of vegetable oil, milk, egg, fresh lemon juice and lemon zest in a separate bowl.
Next, pour the dry ingredients into the wet ingredients mixture.
Use a hand mixer or a stand mixer to blend the batter so that it's nice and smooth.
Be sure not to over mix the batter. Over mixing will create tough, dense muffins that do not have that fluffy, moist texture.
Once the batter is well combined, fold in some ripe, juicy blueberries with a rubber spatula.
Don't mix them in with an electric mixer, as this will cause the blueberries to burst and break, creating a blue mixture.
Pro tip -- The best way to avoid the blueberries from sinking is to fully dry them with a paper towel. There's no need to coat the berries with flour if they are completely dry.
I also like to add most but not all of the blueberries to the batter. Then, I add more to the top of the muffins right before baking.
Next, spoon the batter into a muffin pan. I like to use a cookie scoop or measuring cup for this step, but a spoon will work just as well.
To make clean up easier, I highly recommend lining your muffin tin with paper liners or parchment paper. The blueberry juice bubbles out of the muffins, and things get messy!
Then add some more blueberries on top. This is an optional step, but the addition of extra blueberries enhances the flavors and makes the muffin tops colorful and pretty.
Cook Time
These quick and easy muffins take just about 15 minutes to bake -- 18 minutes tops. To tell when they're fully baked, insert a toothpick into the center of the muffins.
If the toothpick is clean, they're done! If the toothpick has some batter stuck on it, the muffins need a little extra bake time.
Once the muffins are out of the oven, let them cool on a wire rack. Now, it's time to glaze them.
Lemon Glaze
In a small bowl, combine the fresh lemon juice and powdered sugar. Using a spoon, drizzle some glaze on the top of the muffins.
Try to prevent the glaze from running down the side and reaching the bottom of the muffins. This will leave you with soggy bottoms!
For some more fresh flavor, I like to add extra lemon zest on top of the glaze. This also makes the muffins more colorful.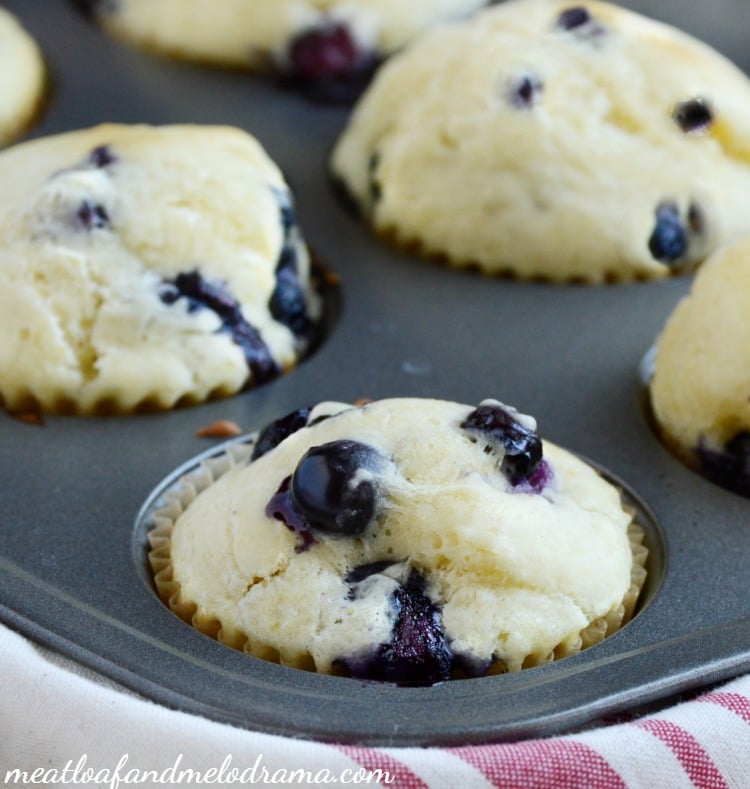 Recipe Variations
There are a couple of ways to customize this best lemon blueberry muffin recipe.
You can make these muffins with frozen blueberries if you want. No need to thaw the blueberries first! I prefer using fresh blueberries though because frozen ones can turn the batter blue.
Use your favorite oil or butter. If you're using coconut oil, just make sure the oil is completely melted, otherwise there will be chunks of unmelted oil in your batter.
You can use lemon extract if you wish, but it will take away from the fresh flavor.
Try my glazed lemon strawberry muffins for something completely different!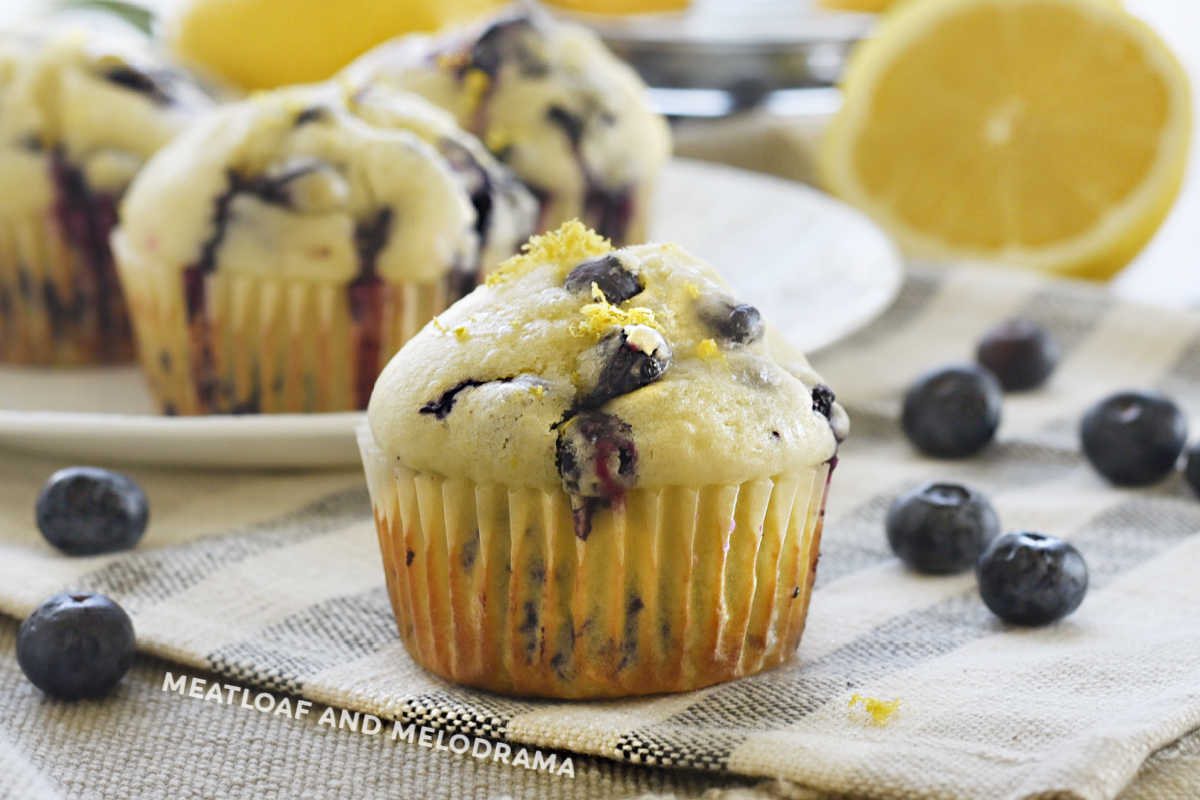 How to Store
Because of the glaze, these muffins should be stored in the fridge, where they'll last for up to four days. Just put them in an airtight container or on a plate covered with plastic wrap or aluminum foil.
You can store these muffins at room temperature, but the glaze may get mushy if the room is warm.
These muffins can even be frozen for longer storage -- up to 3 months for best taste. Be sure to skip the glaze if you are freezing them. You can glaze muffins after they thaw out.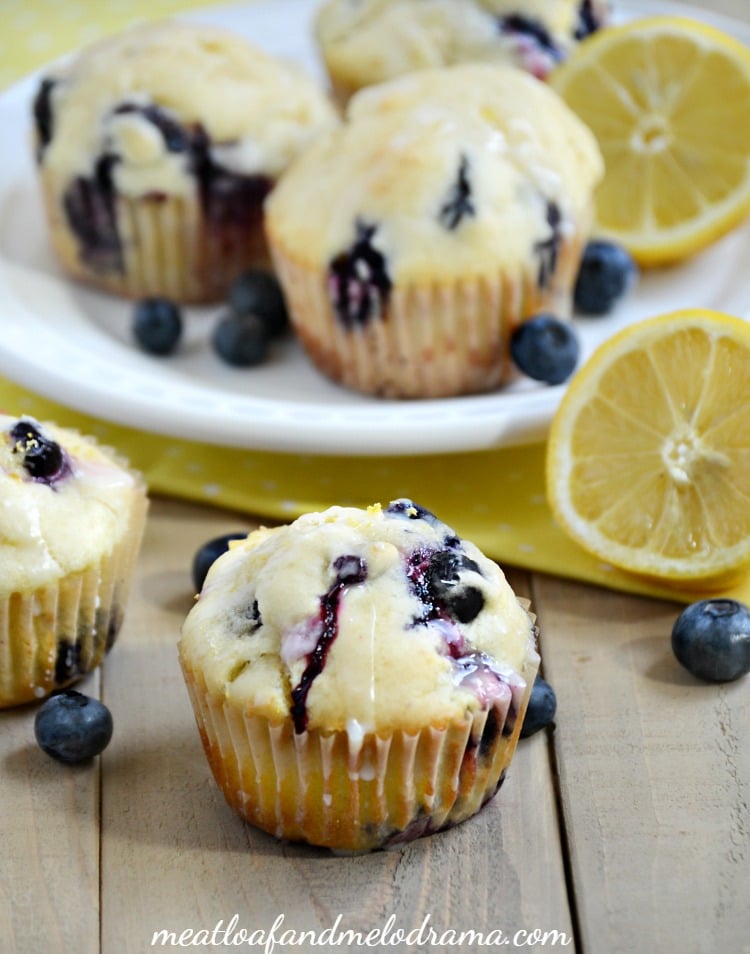 It's a huge timesaver during school days and a nice treat during the summer -- whenever the kids happen to wake up!
Expert Tips
The best way to line your muffin tin is to use parchment paper cups. They make cleanup way easier, and the batter doesn't stick to the cups, unlike with cupcake liners.
Don't over mix the batter!
Always zest your lemon before slicing and juicing it.
Pat blueberries dry before adding to batter to avoid sinking blueberries.
Use a cookie scoop to evenly disperse the batter into the muffin cups.
Bake these muffins on the middle oven rack. You don't want to bake them too high because then the sides and top will burn too quickly.
Use a microplane to zest your lemons.
Recipe
Glazed Lemon Blueberry Muffins
This Glazed Lemon Blueberry Muffins recipe with fresh blueberries, lemon zest and a sweet lemon glaze makes the best blueberry muffins. These delicious muffins are moist, fluffy and super easy to make!
Ingredients
For the Muffins
2

cups

all-purpose flour

½

cup

sugar

½

teaspoon

sea salt

3

teaspoons

baking powder

¼

cup

vegetable oil, coconut oil, or melted butter

1

cup

milk

I used 2 percent

1

egg

2 ½

teaspoons

lemon juice

1

tablespoon

lemon zest

6

oz

fresh blueberries

washed and any stems removed
For the Glaze
¼

cup

powdered sugar

1

tablespoon

fresh lemon juice
Instructions
Preheat oven to 400.

In a large mixing bowl, mix the flour, sugar, sea salt and baking powder, and set aside.

In a small mixing bowl, beat the egg slightly, and stir in the oil, milk and lemon zest.

Stir in the lemon juice

Pour the liquid mixture into the flour mixture, and mix with a hand mixer until batter is smooth

Stir in the blueberries

Pour batter into lined muffin cups, and bake for 15 to 18 minutes or until toothpick inserted into center of muffins comes out clean

Remove from oven, and set aside

In a small bowl, mix the lemon juice with the powdered sugar, and lightly drizzle glaze over the tops of the muffins. Add extra zest if you have it

Enjoy!
Notes
Do not over mix muffin batter.
You can use melted coconut oil, vegetable oil or melted butter.
Use paper or parchment paper baking cups for easy clean up.
This recipe makes 12 large muffins with large muffin tops. For smaller muffins, use another muffin tin and don't fill muffin cups as high. You can use a mini muffin tin for mini muffins, as well.
Nutrition information is estimated. Please do your own calculation to fit special diets.
Nutrition
Calories:
142
kcal
Carbohydrates:
30
g
Protein:
3
g
Fat:
1
g
Saturated Fat:
1
g
Cholesterol:
15
mg
Sodium:
113
mg
Potassium:
167
mg
Fiber:
1
g
Sugar:
13
g
Vitamin A:
48
IU
Vitamin C:
2
mg
Calcium:
73
mg
Iron:
1
mg
More Lemon Recipes
Have a bunch of lemons to use up? Try our favorite Creamy Lemon Chicken Piccata! It's super easy and absolutely delicious!
Love lemons? Try our Easy Lemon Bars, Instant Pot Lemon Blueberry Cheesecake or Lemon Blueberry Bagel Breakfast Casserole.
Recipe was published first in 2016 and last updated in 2022.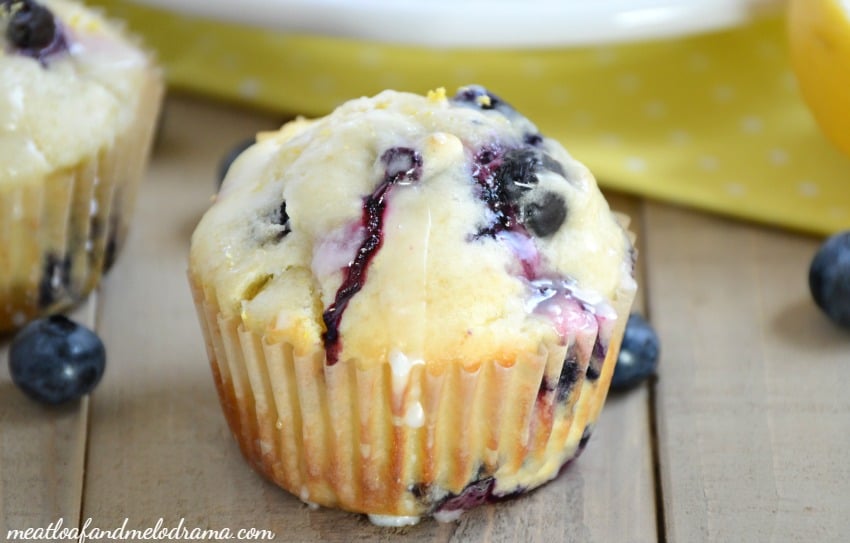 I hope you enjoy these lemon blueberry muffins as much as we do! They definitely are a family favorite and a reader favorite, too!
For more easy recipes, muffin recipes and great recipes to try, be sure to sign up for the newsletter and follow me on social media.