Glazed lemon blueberry muffins are bursting with sweet blueberries and topped with a tangy lemon glaze. They're easy to make and perfect for breakfast, brunch or a tasty snack anytime.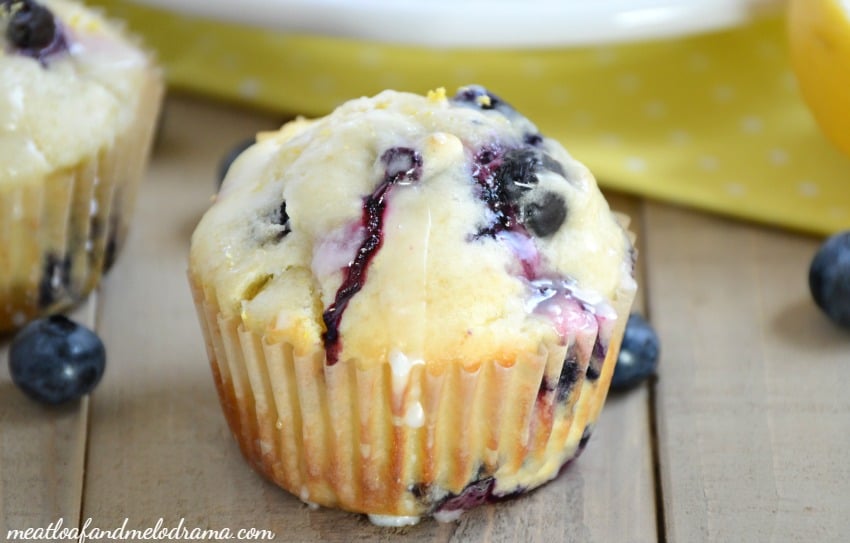 My kids love having muffins for breakfast, and we usually bake a batch or two on the weekends. We usually serve them with eggs and either bacon or sausage, and then we save the leftover muffins for the rest of the week.
This is a huge timesaver during the school year, when mornings are rushed.
In the summer, the kids can grab one for breakfast whenever they happen to wake up. Of course, the teens wake up so late that they end up having the muffins for a snack after lunch — must be nice!
We probably make banana muffins more than anything, and in the fall, it's all about pumpkin. But since we're coming into blueberry season, I thought it would be the perfect time to make lemon blueberry muffins.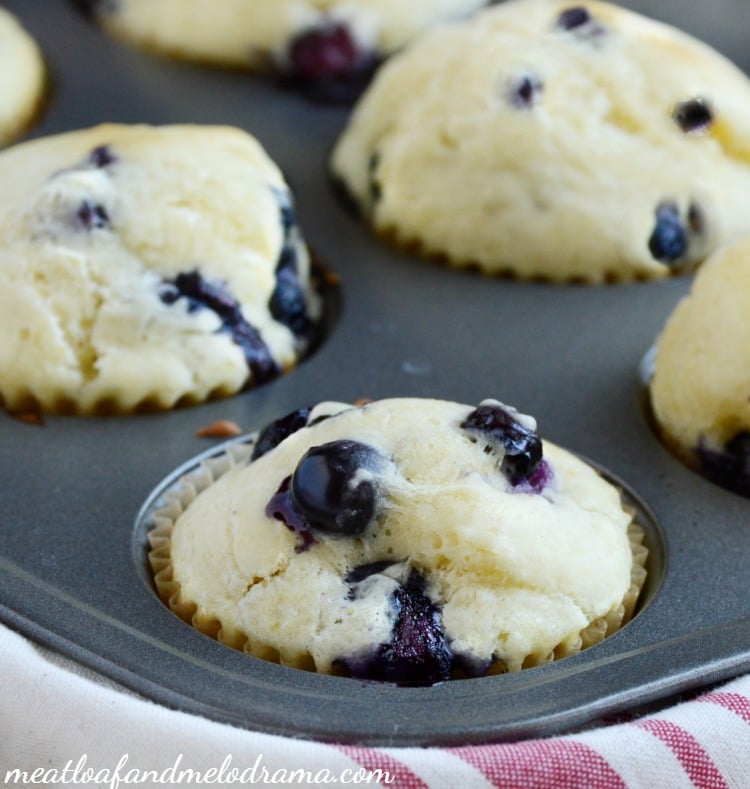 I love when blueberries are in season. Sure, you can get frozen berries any time, but there's nothing like fresh juicy ripe blueberries! I use them in salads, over ice cream, in cereal and in yogurt. We even like to eat them straight up.
I don't bake with them that often, but the Hubs bought a bunch of these berries on sale, so yeah — muffins!
This recipe makes light, almost fluffy muffins that aren't heavy at all. And instead of vegetable oil or butter, I use coconut oil.
You can really taste the lemon, but it's not overly powerful. I also top the muffins with a little bit of lemon glaze for an extra burst of flavor. This step is optional, but it really enhances the flavor.
And, it makes the tops nice and glossy, which makes you want to dig right in!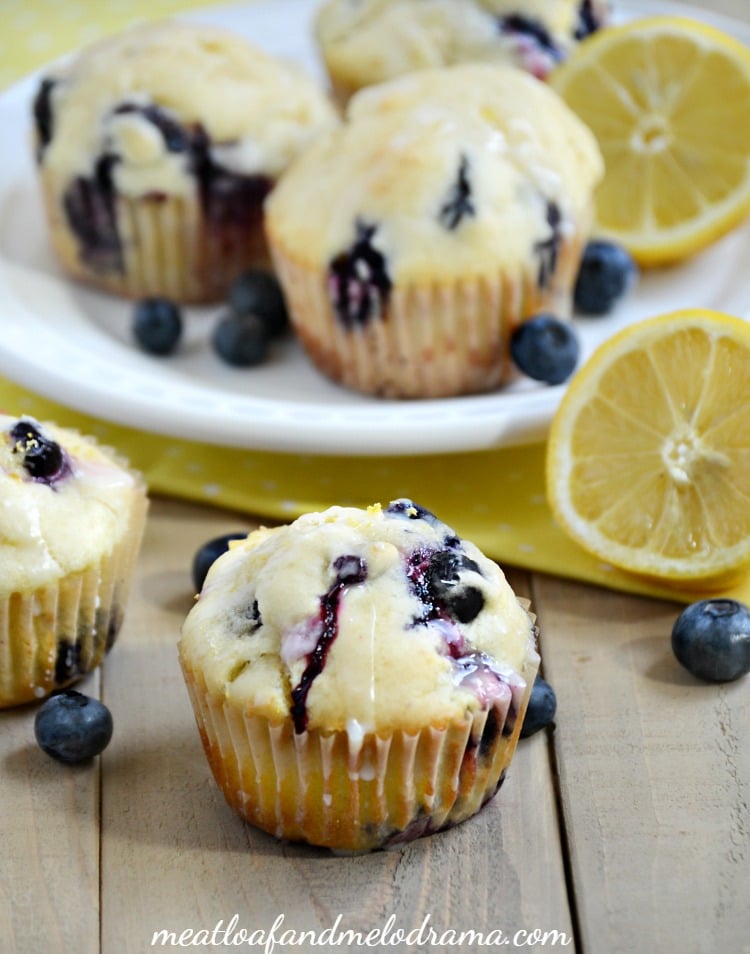 I use this same recipe to make lemon cranberry, or actually, dried cranberry muffins, but I like the fresh blueberries better. The muffin tin gets a little messy from blueberry juice, but it cleans up easily.
And it's so worth the mess!
Can I use vegetable oil in place of coconut oil in this recipe?
You can definitely use vegetable oil or butter if you want! Just use the same amount in the recipe.
Can I use frozen blueberries instead of fresh?
I love fresh blueberries, but you can make these muffins with frozen blueberries!
How to Make Glazed Lemon Blueberry Muffins
Glazed Lemon Blueberry Muffins
Homemade glazed lemon blueberry muffins are bursting with fresh blueberries and topped with a tangy lemon glaze
Ingredients
For the Muffins

2

cups

all-purpose flour

½

cup

sugar

½

teaspoon

sea salt

3

teaspoons

baking powder

¼

cup

coconut oil

1

cup

milk

I used 2 percent

1

egg

2 1/2

teaspoons

lemon juice

1

tablespoon

lemon zest

6

oz

fresh blueberries

washed and any stems removed

For the Glaze

1/4

cup

powdered sugar

2

tablespoons

fresh lemon juice
Instructions
Preheat oven to 400.

In a large mixing bowl, mix the flour, sugar, sea salt and baking powder, and set aside.

In a small mixing bowl, beat the egg slightly, and stir in the coconut oil, milk and lemon zest.

Stir in the lemon juice

Pour the liquid mixture into the flour mixture, and mix with a hand mixer until batter is smooth

Stir in the blueberries

Pour batter into lined muffin cups, and bake for 15 to 18 minutes or until toothpick inserted into center of muffins comes out clean

Remove from oven, and set aside

In a small bowl, mix the lemon juice with the powdered sugar, and lightly drizzle glaze over the tops of the muffins

Enjoy!
Nutrition
Loved this recipe?
Leave a comment or share on social media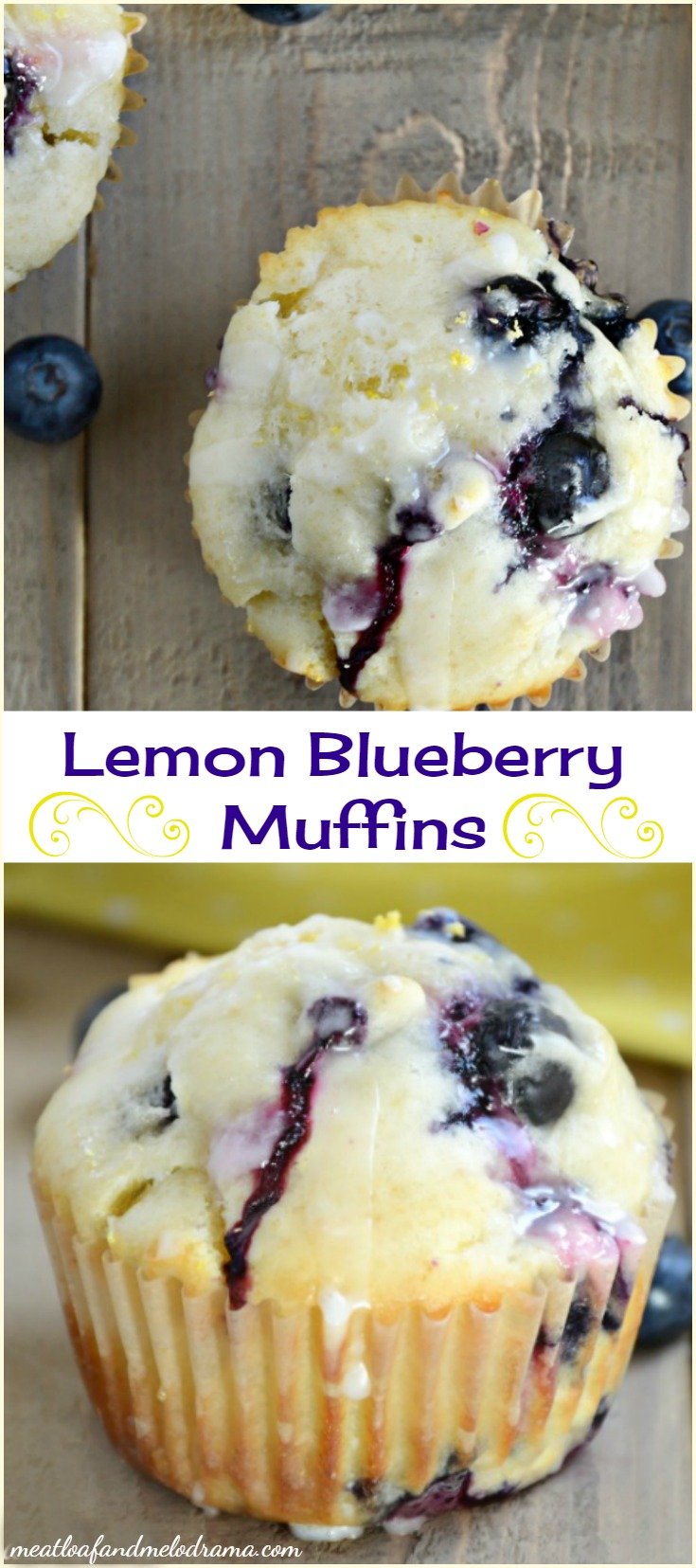 If you get a chance, I hope you'll give these easy glazed lemon blueberry muffins a try. If you like lemons and blueberries, I think you'll love these.
Have a happy day!