Hi Friends!

My family loves snacking on nachos, and I don't know if it's mainly a regional thing, but you can find them just about anywhere around here. I usually see them listed as appetizers on most menus, and they're also a tasty late-night snack. But if you dress them up enough, you've got a quick and easy main dish. These easy loaded nachos are super simple to prepare, and they make a terrific kid friendly meal that the adults love too!




I'm not talking about the liquid cheese-topped nachos that you can get at the movies or the ball game, although those are definitely filling. I'm talking about crispy tortilla chips piled high with cheese and just about everything else you can think of and baked until the cheese is gooey and melted. That kind!

We had loaded baked nachos on New Year's Eve and during the Super Bowl, but they're great any time you want something quick, tasty, informal and filling. And did I mention they're kid friendly?


Ingredients for the meat mixture
1 or 2 pounds of ground beef

1 small can of black beans, drained and rinsed

1 large onion, diced

1 jalapeno pepper, chopped thin

Your favorite taco seasoning

Salt and pepper, to taste
I usually cook two pounds at a time, but you can use one pound if you need to. Just brown the ground beef along with the onions and peppers, and drain off the extra fat.
Add the black beans, taco seasoning, salt and pepper and simmer until fully cooked.
Now, it's time to put the nacho platter together!
Ingredients for the nachos
Tortilla chips

Shredded cheese ( I like to use a large bag of Mexican blend.)

Sour cream

Chopped tomatoes

Jalapenos for garnish, if desired
I just start out with a large platter and cover the bottom with a generous layer of tortilla chips.

Next, add enough shredded cheese to cover the chips, and add a layer of the meat mixture and more shredded cheese.




You can stop at this point if you want to keep it small. Or if you're feeding a crowd, add another layer of chips, cheese and meat. Then, top with more cheese and bake at 350 degrees until the cheese is melted and bubbly. Or, you can use your microwave if you really want to get dinner in a hurry!

Now if it was just me, I would add some cilantro, chopped red onions and diced avocado on the top! But, I keep it simple for the picky eaters in the family and serve the other things on the side. Shredded lettuce is always good too.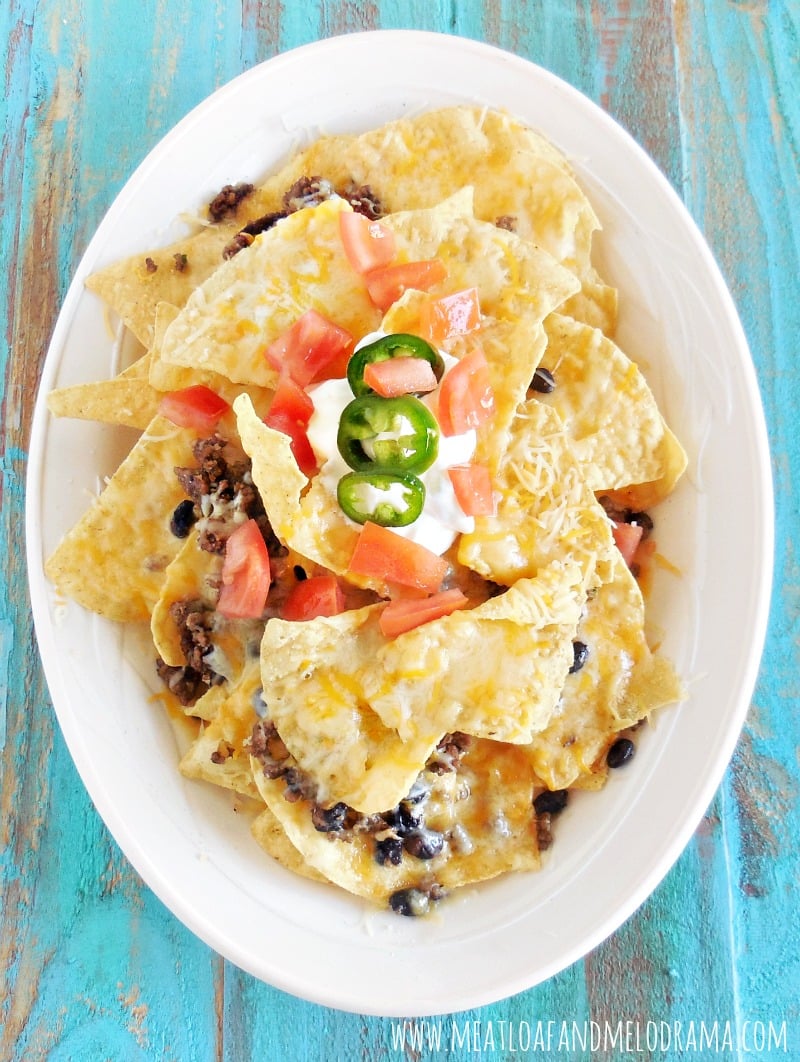 That way, everyone can dig in and not pick the other stuff out! Oh, the jalapenos are for me, but I can easily take those off.



I like to save the leftover beef and use it on another night for nachos or for very quick and easy burritos. It's better than fast food and cheaper than eating out. Plus the kiddos have nothing to complain about -- yea!!

I sometimes make our favorite bean dip and serve it on the side. It goes great with the nachos, but it's not actually in them. Gotta please the picky ones!

Do you have a favorite quick and easy meal that your whole family loves?

Thanks so much for stopping by. Have a wonderful day!


You may also like