Easy OREO Puppy Chow is crunchy, sweet, salty and fun to snack on. Once you start nibbling, it's hard to stop!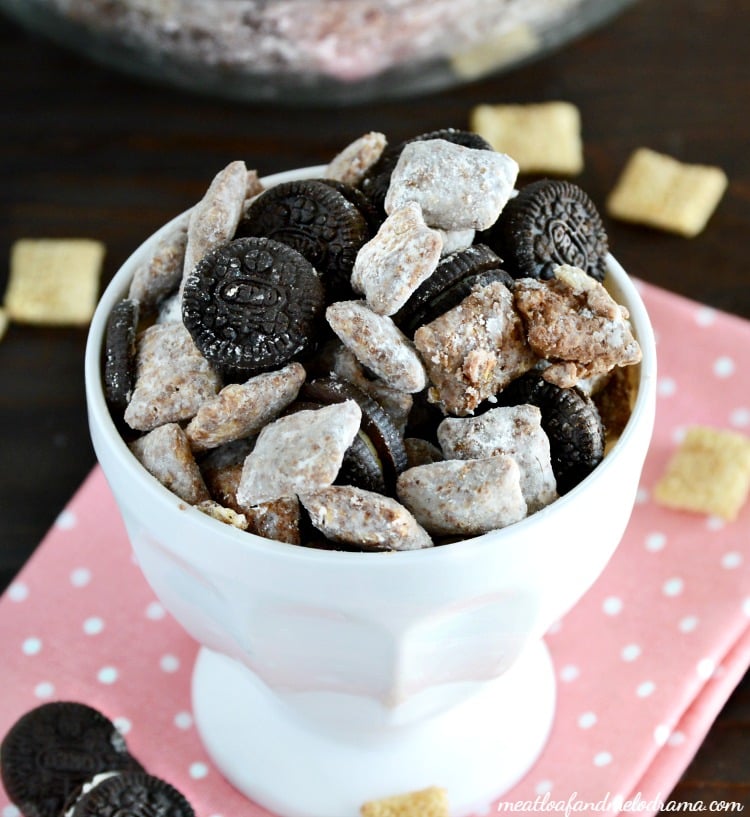 One look at today's post, and I think you can tell that I have puppies on the brain lately. And actually, our newest family member was the inspiration for this recipe. I usually post at least one easy dinner recipe each week, but to tell the truth, this has been a very lazy week for me in terms of cooking.
It's been hot and slightly humid, and after chasing after our incredibly energetic little fur baby all day and spending time with the kiddos, I haven't felt creative at all. We had leftover spare ribs from our 4th of July feast one night, salad the next, and today, we just ordered pizza. Sigh.
But it's only temporary -- I promise.
So anyway, it seemed like the the perfect day to make a big batch of puppy chow for a snack -- for us humans, not the pups! You may know this as muddy buddies. It's basically Chex cereal, peanut butter, chocolate and powdered sugar. It's super easy to make, and the kids love it.
You can make different variations of the basic mix, which is what we did here. We used two different kinds of Chex cereal, and we also added mini OREO cookies since the puppy is mostly black with some white spots. My youngest actually suggested this as a name, but Bailey won out. And, we all really like OREOs.
Making the puppy chow is easy and fun. When it comes time to coat the mix with powdered sugar, you put all the ingredients into a large zip-top bag and shake, shake, shake. You can even do a little dance if you want!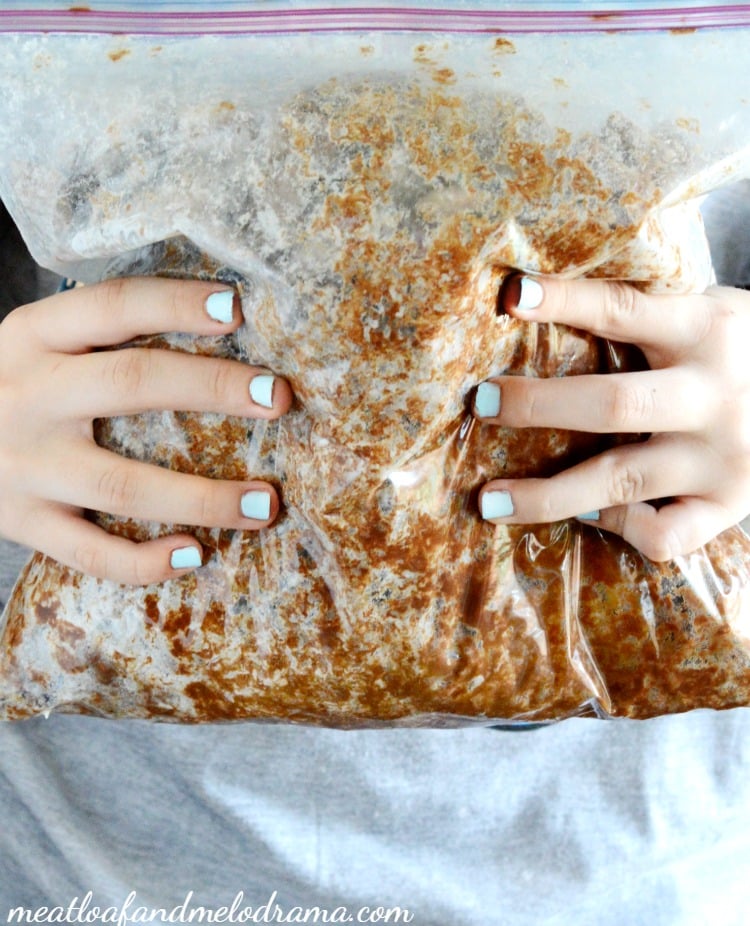 How to Make Easy OREO Puppy Chow
Easy OREO Puppy Chow
Easy Puppy Chow, or Muddy Buddies, made with Chex cereal and mini OREO cookies
Ingredients
4

cups

Chex rice cereal

5

cups

chocolate Chex cereal

½

cup

smooth peanut butter

¼

cup

butter

1

teaspoon

vanilla extract

1

cup

semi sweet chocolate chips

2

cups

powdered sugar

2

cups

mini OREO cookies
Instructions
In a large mixing bowl,heat the butter, peanut butter, chocolate chips and vanilla in the microwave for about 1 minute or until completely melted

Stir in the Chex cereals, and mix until completely coated with chocolate mixture

Transfer the cereal mix to a large zip-top bag, add the powdered sugar, and shake until fully coated

Pour into a large bowl, add the mini OREOs, and place in refrigerator to cool

Enjoy!
Nutrition information is estimated. Please do your own calculation to fit special diets.
Nutrition
Calories:
149
kcal
Carbohydrates:
139
g
Protein:
16
g
Fat:
20
g
Saturated Fat:
8
g
Cholesterol:
11
mg
Sodium:
863
mg
Potassium:
585
mg
Fiber:
15
g
Sugar:
48
g
Vitamin A:
1340
IU
Vitamin C:
14.6
mg
Calcium:
263
mg
Iron:
36.7
mg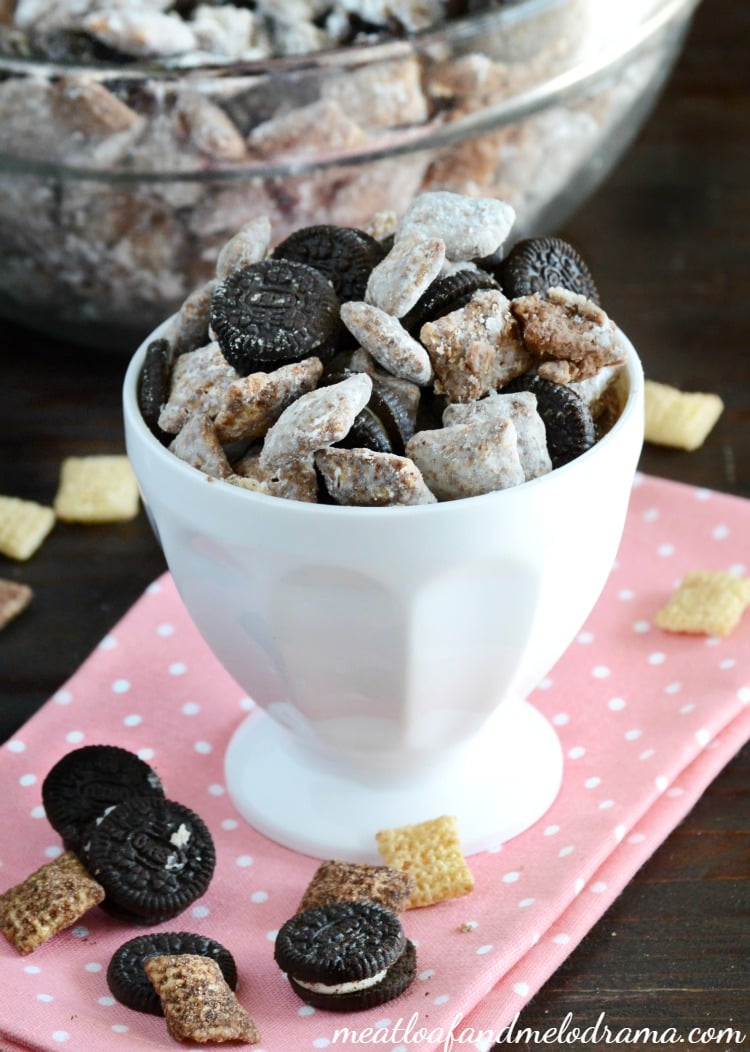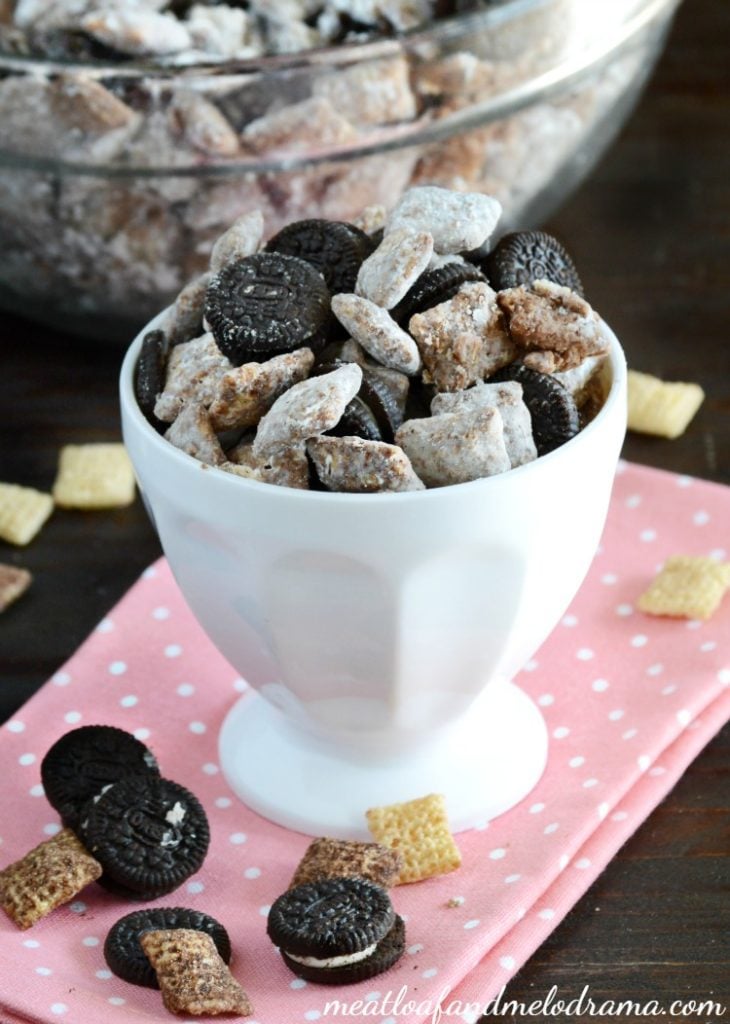 This isn't the same as Cookies and Cream puppy chow That recipe is slightly different, and to be honest, I'm not a huge fan of that flavor. This one is just mainly extra OREO cookies to the basic recipe, but the flavor is awesome!
Someone wishes she could actually have a taste, poor puppy!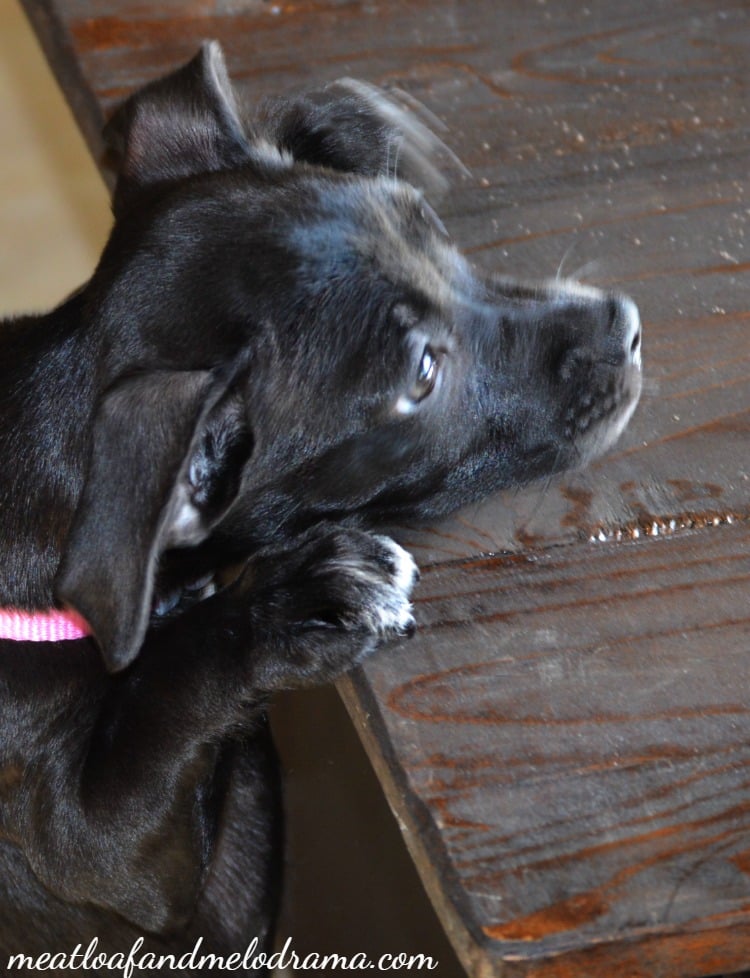 She already know that good stuff happens when Mom takes out the camera. And, whenever I go into the kitchen, she runs after me -- smart pup!
So, if you want an easy snack for the kids, a party or for yourself, try this easy OREO puppy chow. But be warned -- It's slightly addicting!
Have a super day, friends!

Sharing At