Easy OREO Puppy Chow (Muddy Buddies) made with Chex cereal, peanut butter, chocolate, powdered sugar and Oreo cookies is a delicious salty sweet snack for humans. Once you start munching, it's hard to stop!
Jump to:
This Oreo puppy chow recipe is a fun twist on the traditional puppy chow recipe made with Chex cereal. You may know this as muddy buddies. It's basically Chex cereal, peanut butter, chocolate and powdered sugar. It's super easy to make, and the kids love it.
We started making this Oreo snack mix when we brought our new puppy home -- a few years ago now. Since we have 2 black and white dogs, it's definitely a family favorite!
You can make different versions of classic muddy buddies, which is what we did here. We used two different kinds of Chex cereal, and we also added mini OREO cookies since the puppy is mostly black with some white spots.
My youngest actually suggested this as a name, but Bailey won out. And, we all really like OREOs.
This salty sweet snack is definitely meant for humans, not dogs. Some people call it puppy chow because the coated cereal resembles Purina puppy chow. For more puppy chow recipes, try my White Chocolate Puppy Chow and Fall Puppy Chow next!
Oreo Muddy Buddies Ingredients
There are just a few simple ingredients in Oreo muddy buddies. You can find them in your local grocery store.
Rice Chex cereal -- I use chocolate Chex cereal, which has a mix of chocolate and plain rice cereal
Peanut butter -- Creamy peanut butter coats the cereal
Chocolate chips -- Semi sweet chocolate chips as milk chocolate chips are too sweet for this recipe
Powdered sugar -- or confectioners' sugar, adds sweetness
Vanilla extract -- adds flavor
Butter -- to melt with the chocolate chips
Mini Oreos -- mix into the puppy chow. Break some up and leave some whole.
How to Make Oreo Puppy Chow
First, melt chocolate, butter and peanut butter in a large microwave-safe bowl. Heat the mixture in 30-second intervals, mixing after each interval.
It usually takes 1 minute 30 seconds in my microwave.
Then, stir the vanilla extract into the chocolate mixture.
Next, add the rice Chex to the melted chocolate. Use a spatula or large spoon to stir well until the cereal pieces are fully coated with the chocolate.
Making the puppy chow is easy and fun. When it comes time to coat the mix with powdered sugar, you put the chocolate-coated cereal into a large zip-top bag and shake, shake, shake.
You can even do a little dance if you want! My kids love helping with this part!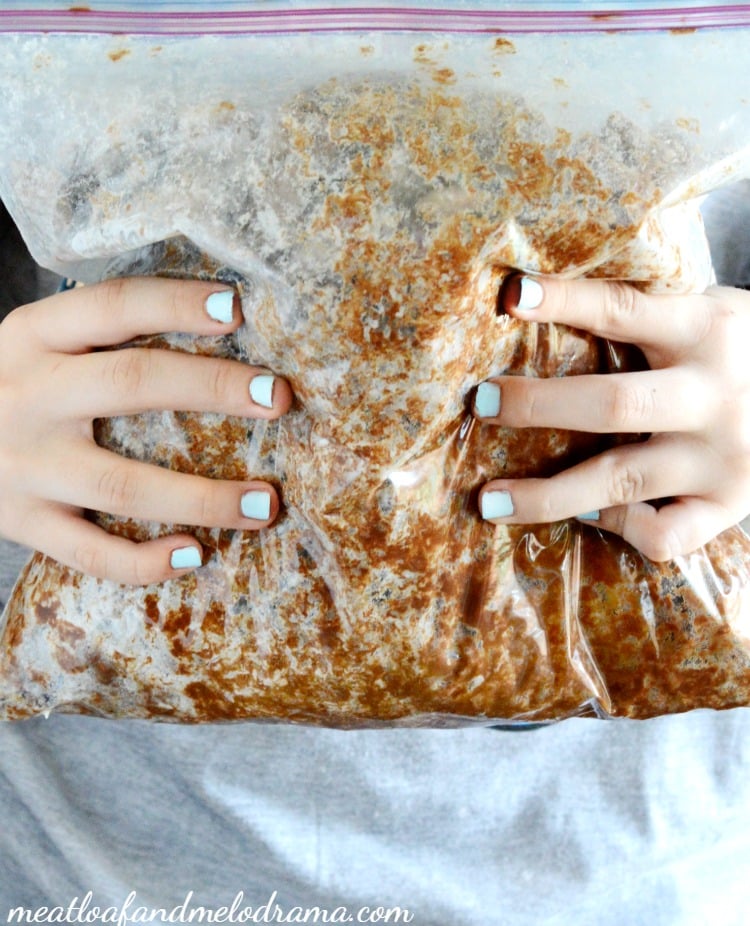 Finally, pour the coated cereal into a large bowl. Add the mini Oreo cookies, and stir the mixture well.
On a side note, this isn't the same as Cookies and Cream puppy chow. That recipe is slightly different, and to be honest, I'm not a huge fan of that flavor. This one is just mainly extra OREO cookies to the basic recipe, but the flavor is awesome!
How to Store Oreo Puppy Chow
Store the puppy chow in an airtight container at room temperature. You can refrigerate the mixture if your house is too warm.
It keeps for about 1 week before the cereal starts to get soft. You can freeze muddy buddies for up to 3 months in a freezer-safe container.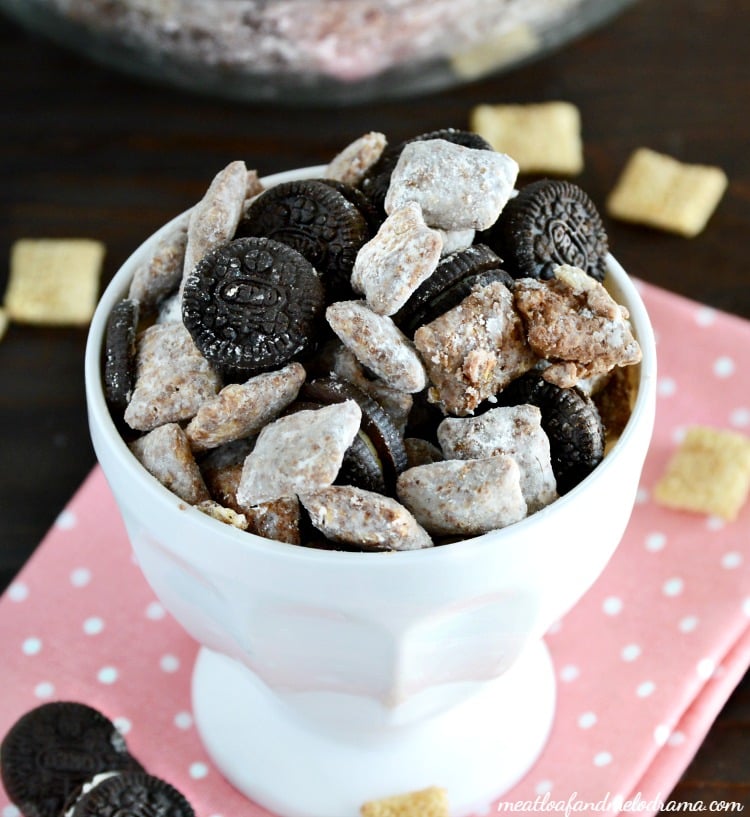 Recipe Variations
Use white chocolate chips or chopped up cookies and cream candy bars in place of semi-sweet chocolate chips. This will give you more of a cookies and cream muddy buddies.
For even more Oreo flavor, crush up some of the chocolate sandwich cookies, and add the crumbs to the powdered sugar.
Use different flavor Oreos instead of regular Oreos. Golden Oreos or chocolate Oreos are great choices.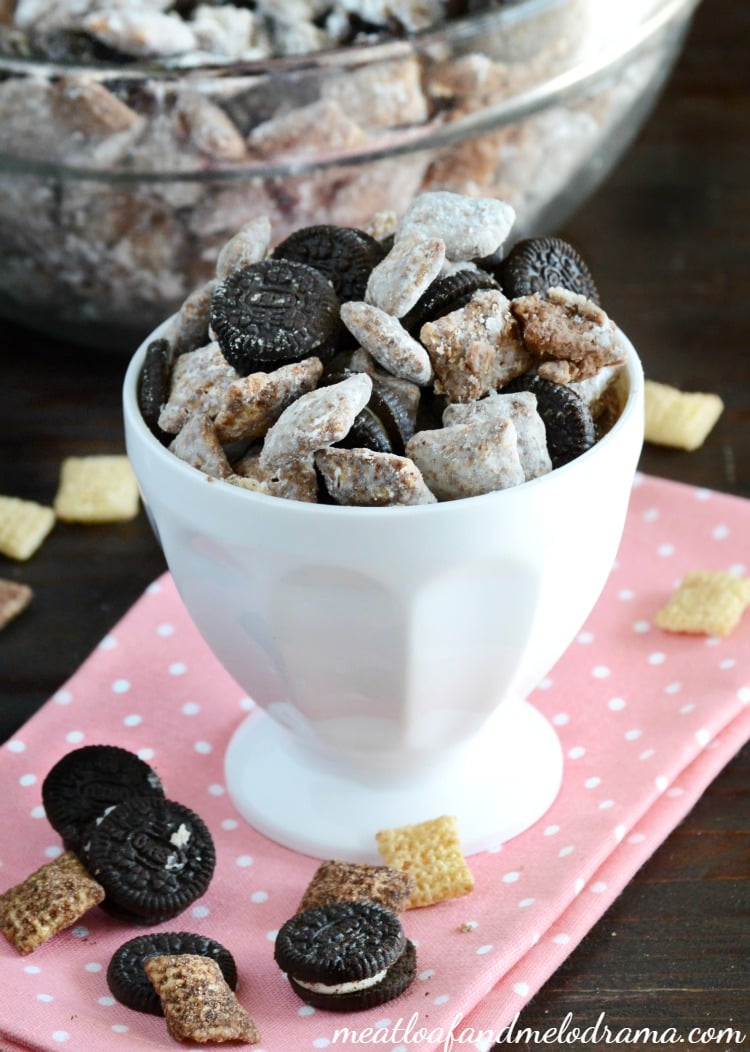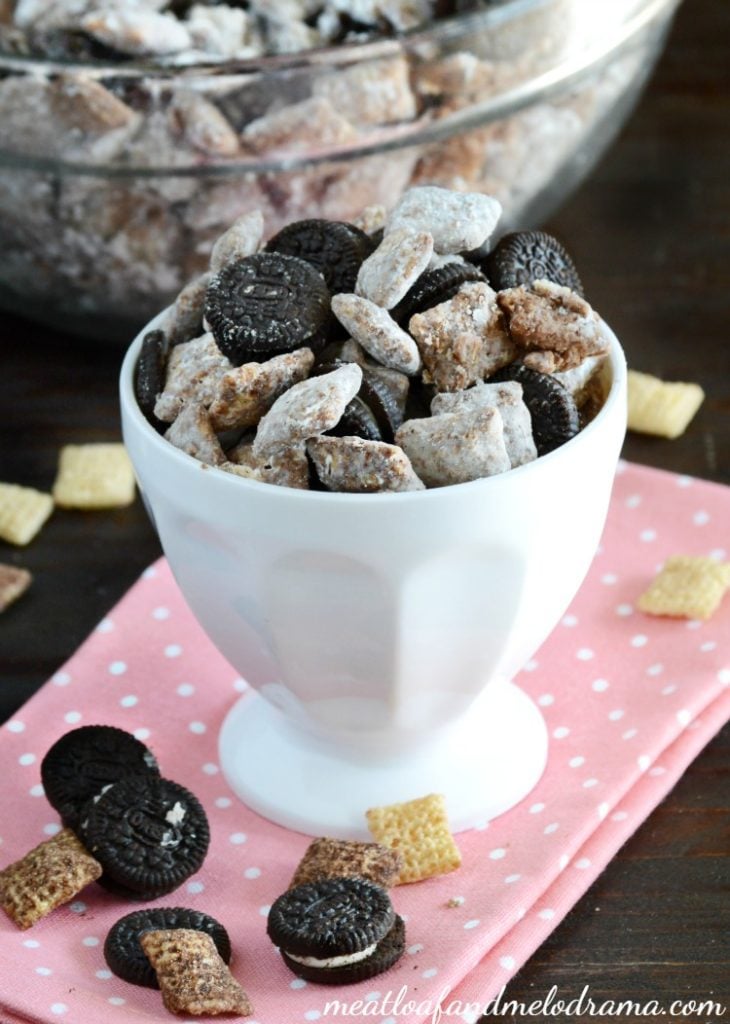 Expert Tips
Always microwave chocolate chips in intervals so that they melt evenly.
If you don't want to use a microwave, use a double boiler on the stove.
Use a large resealable plastic bag to coat the cereal with powdered sugar. Just don't forget to close it!
Recipe
Easy OREO Puppy Chow
Easy OREO Puppy Chow (Muddy Buddies) made with Chex cereal, peanut butter, chocolate, powdered sugar and Oreo cookies is a delicious salty sweet snack for humans. Once you start munching, it's hard to stop!
Ingredients
9

cups

Chocolate Chex rice cereal

½

cup

smooth peanut butter

¼

cup

butter

1

teaspoon

vanilla extract

1

cup

semi sweet chocolate chips

2

cups

powdered sugar

2

cups

mini OREO cookies
Instructions
In a large mixing bowl, heat the butter, peanut butter, chocolate chips in the microwave in 30 second intervals, stirring after each interval until melted

Stir in vanilla, then stir in the Chex cereal, and mix until completely coated with chocolate mixture

Transfer the cereal mix to a large zip-top bag, add the powdered sugar, and shake until fully coated

Pour into a large bowl, add the mini OREOs, and allow to cool. Store in airtight container
Notes
Cook time may vary with different microwaves. It takes about 1 minute 30 seconds to melt chocolate mixture in mine. Always melt chocolate in 30-second intervals, not all at once.
Use a double boiler on the stove if you don't have a microwave.
Use a large Ziploc bag to easily coat the cereal. You can do this in batches if needed.
Nutrition information is estimated. Please do your own calculation to fit special diets.
Nutrition
Calories:
149
kcal
Carbohydrates:
139
g
Protein:
16
g
Fat:
20
g
Saturated Fat:
8
g
Cholesterol:
11
mg
Sodium:
863
mg
Potassium:
585
mg
Fiber:
15
g
Sugar:
48
g
Vitamin A:
1340
IU
Vitamin C:
14.6
mg
Calcium:
263
mg
Iron:
36.7
mg
Someone wishes she could actually have a taste, poor puppy!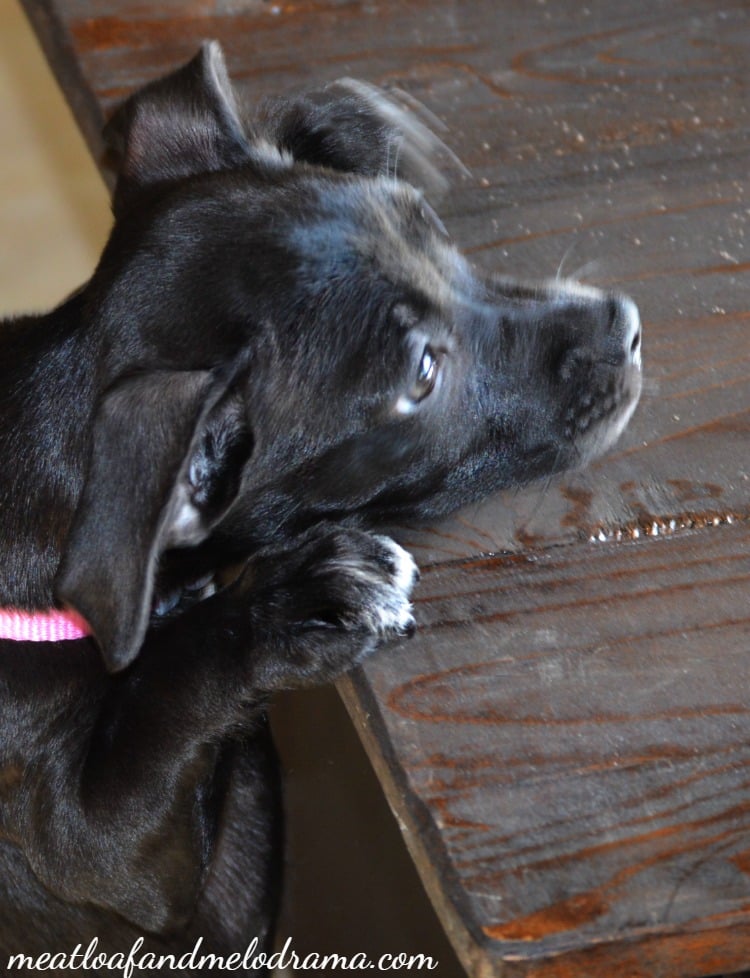 She already know that good stuff happens when Mom takes out the camera. And, whenever I go into the kitchen, she runs after me -- smart pup!
So, if you want an easy snack for the kids, a party, movie night or for yourself, try this easy OREO puppy chow. But be warned -- It's slightly addicting!
For more easy recipes and easy desserts, sign up for the weekly newsletter and follow me on social media.

Recipe published in 2016 and updated in 2023.