Grilled tequila lime chicken tenders are tender, juicy and loaded with flavor. Marinate them for an hour or two, and they take less than 20 minutes to make.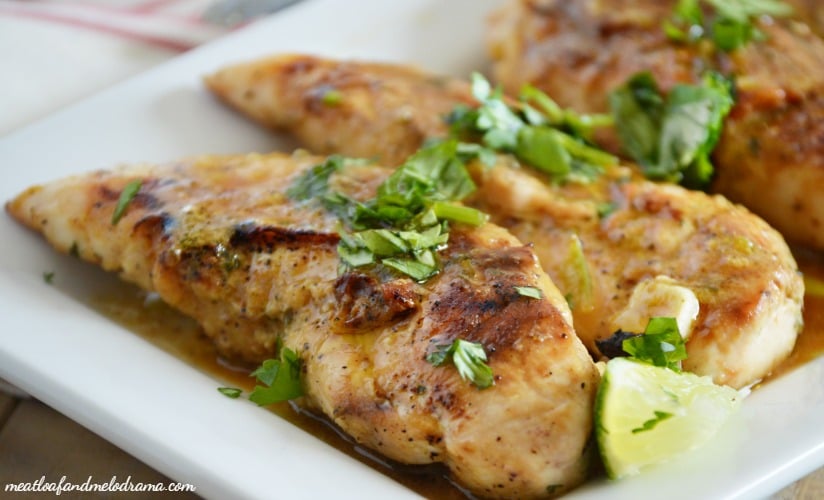 We've had amazing weather lately, and so our grill is working overtime. While most of the country is celebrating the start of grilling season, here in Arizona, it's usually getting too hot. Needless to say, I'm loving this weather, and we're spending as much time as we can outside.
We probably grill chicken more than anything, followed by beef and sometimes pork. The Hubs even grills bacon on the weekends, which is so much easier than frying it.
Usually, we have chicken with barbecue sauce -- it's the kids' favorite. But sometimes, I'll make a simple olive oil and citrus marinade and sauce. Cilantro lime is one of my favorites, and it goes so well with chicken.
But today, we decided to be slightly more adventurous, and I made tequila lime sauce and marinade, instead.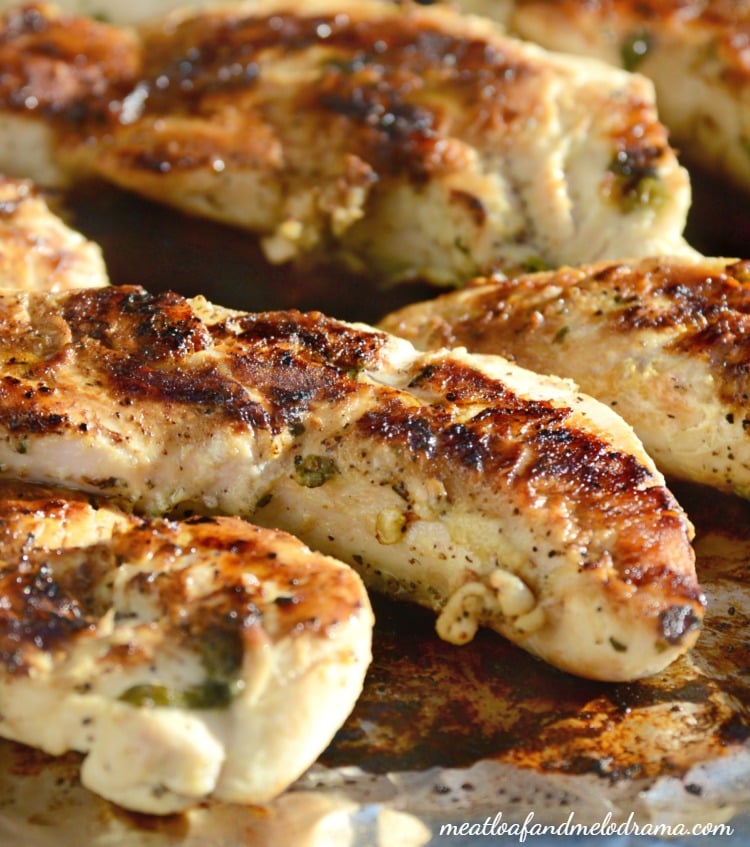 The tequila gives the chicken a little extra kick, and the alcohol burns off so that it's fine for the kiddo. I also added some diced jalapeno pepper, garlic and fresh cilantro. Believe me, there's definitely a ton of flavor going on here!
In this particular recipe, I used boneless skinless chicken tenders. There was an awesome sale at the store the other day, and we stocked up on fresh tenders. These are so easy to work with, and they cook so much faster than other cuts of meat. But, you can always use boneless skinless chicken breasts or thighs, if that's what you have.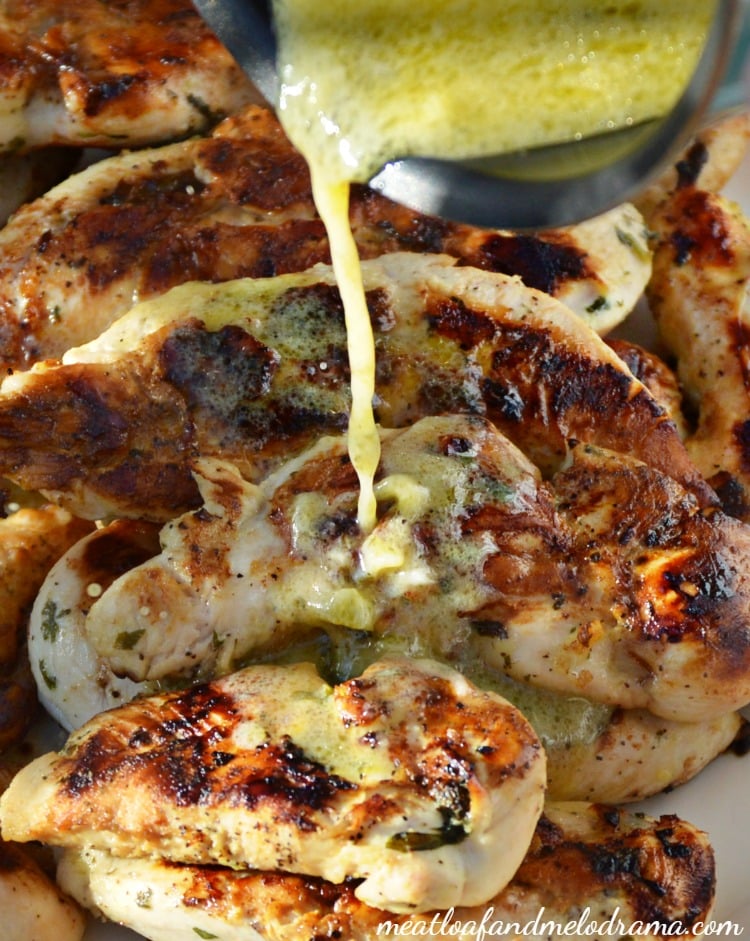 The longer the chicken marinates, the better it tastes, but in a pinch, any amount of time is fine. I saved the leftover marinade, heated it on the stove to kill off bacteria from the raw chicken, and then, we poured this sauce all over the cooked tenders.
The result is amazing! Honestly, you have to give this recipe a try.
And if you don't want to use alcohol, just leave the tequila out and maybe add some lemon juice to the mix, instead.
How to Make Grilled Tequila Lime Chicken Tenders
Recipe
Grilled Tequila Lime Chicken Tenders
Grilled Tequila Lime Chicken Tenders is an easy grilled chicken recipe that is ready in less than 30 minutes
Ingredients
2 1//2

pounds

boneless skinless chicken tenders

1 ½

teaspoons

sea salt

½

teaspoon

ground black pepper

¼

cup

tequila

¼

cup

olive oil

¼

cup

orange juice

2

whole limes

3

cloves

chopped garlic

1

tablespoon

chopped cilantro

1

tablespoon

chopped jalapeno pepper
Instructions
Sprinkle salt and pepper over the chicken, and place in a large zip-top bag

Add the remaining ingredients, and marinate in the refrigerator for 1 or more hours

Heat grill, and cook tenders over heavy duty aluminum foil for about 8 minutes per side or until internal temperature reaches at least 165 degrees

Heat leftover marinade until bubbling. ( You can add more olive oil, orange juice and lime juice if you need to. )

Transfer cooked chicken to a platter, and pour sauce over the chicken

Serve immediately
Nutrition information is estimated. Please do your own calculation to fit special diets.
Nutrition
Calories:
107
kcal
Carbohydrates:
1
g
Fat:
9
g
Saturated Fat:
1
g
Sodium:
581
mg
Potassium:
20
mg
Vitamin A:
20
IU
Vitamin C:
5.2
mg
Iron:
0.1
mg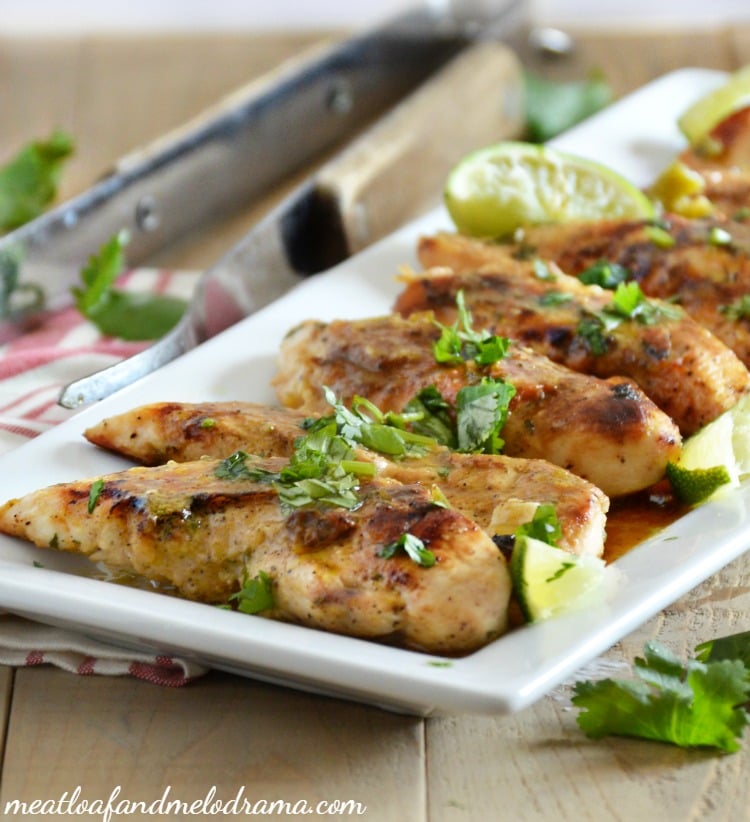 These grilled tequila lime chicken tenders were incredibly juicy and not dry at all. And the flavor? Sublime. Best of all, they only take about 15 to 20 minutes to cook. I'm more than fine with that.
I served the chicken along with corn, baked potatoes and a big old bowl of homemade guacamole -- simple but so satisfying!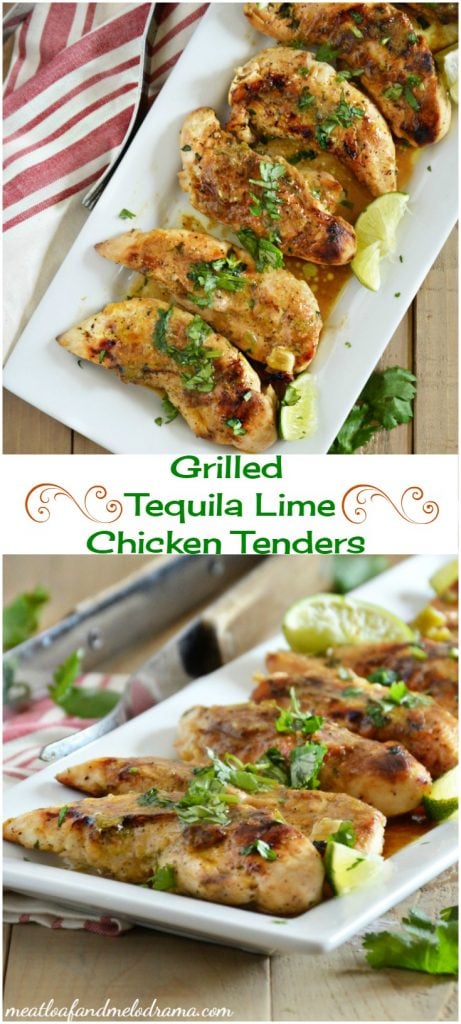 Not only is this a quick and easy summer dinner the first time around, but you can also use the leftover chicken in sandwiches, salads, tacos or just about anything. And that definitely works for me!
Have a super day!