Haluski and Kielbasa, cabbage and noodles, is a super easy dinner made with buttery egg noodles, fried cabbage and smoked sausage. Pittsburgh comfort food!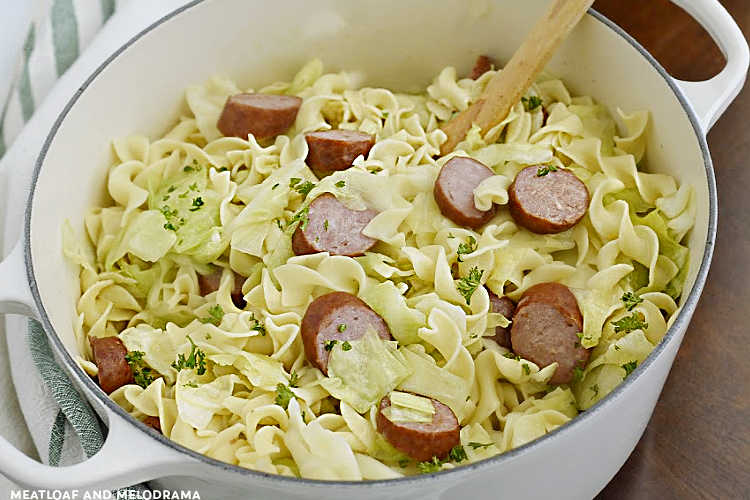 This easy recipe for fried cabbage and noodles is comfort food, plain and simple! If you're from Pittsburgh or related to someone from the 'Burgh or you've ever been to the 'Burgh, chances are good that you've had haluski!
I originally published this recipe way back in 2013 and again in 2015. I've updated it for new pictures and instructions as of February 2020.
What is Haluski
Haluski is basically just chopped cabbage or strips of cabbage pan fried with onions and egg noodles in butter. Lots of butter!
Some people start out with bacon and use the grease instead of butter. Sometimes, I'll use olive oil, but I never leave out the butter!
My family is from Pittsburgh, and I grew up eating haluski. Since adding meat is optional, we usually saved it as a meatless meal for Holy Supper at Christmas Eve or during Lent. Next to homemade pierogi, this is hands-down my favorite family recipe!
Traditional Slovak, Polish, Ukrainian Recipe
Like so many ethnic recipes, the origin of haluski is debatable. Some say it's Slovak, some say Polish, Ukrainian, Russian or Rusyn.
Traditional Slovak haluski or halusky is made with homemade noodles or dumplings. My grandma and mom usually used egg noodles, and that's what I use today.
I guess you can call this traditional Pittsburgh version. But, you definitely do not have to be from Pittsburgh or Eastern Europe to enjoy fried cabbage and noodles!
How to Make Haluski with Kielbasa
Fried noodles and cabbage is super easy to prepare. Just fry up some onions in lots of butter, or olive oil.
Then, add your sliced kielbasa. Cook until it's just starting to brown, then remove and set aside.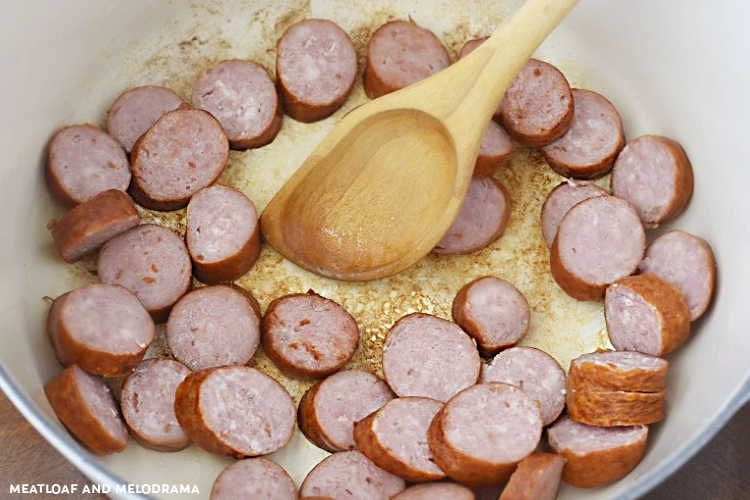 Add your cut cabbage, and cook until it starts to get soft. You'll be surprised how fast cabbage cooks down, so don't worry if it seems like there's too much!
I like to leave the cabbage on the crunchy side. But, you can cook it longer if you want it softer.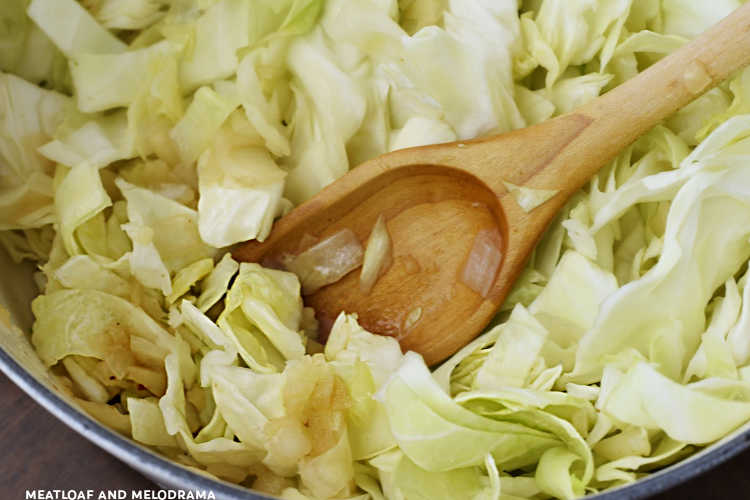 Now, it's time for the egg noodles. You can cook them ahead of time and use the same large pot to fry the noodles and cabbage. Sometimes, I use my Instant Pot to cook the noodles -- whatever works!
Add butter as you cook the noodles, then add the kielbasa back in. I have to confess that I use a LOT of butter when I make haluski -- like a whole stick.
Sometimes, I'll mix in some olive oil if I need more, and this just keeps the noodles from getting dry and makes a nice sauce, along with the onion.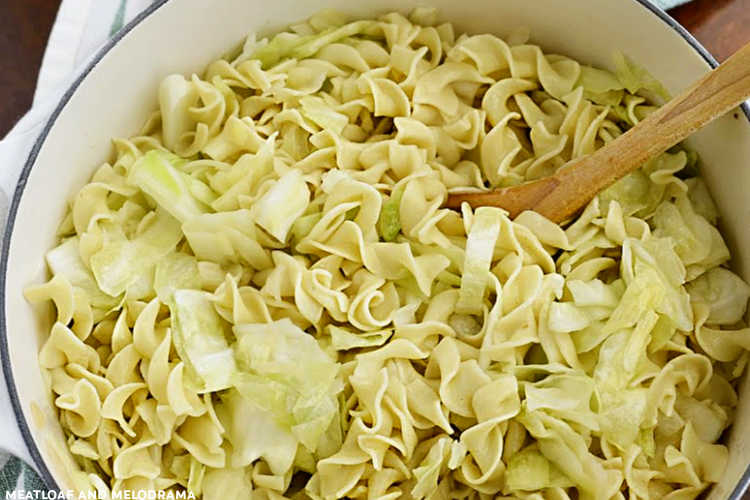 What to Serve with Haluski
Traditionally, it's a meatless meal, although my grandma and mom always served fish or fish sticks on the side. Kielbasa, of course, goes very well with noodles and cabbage.
We also add sour cream or cottage cheese. Don't knock it -- this is actually a very tasty combo! You can also add some peas and serve Polish or Russian rye bread on the side.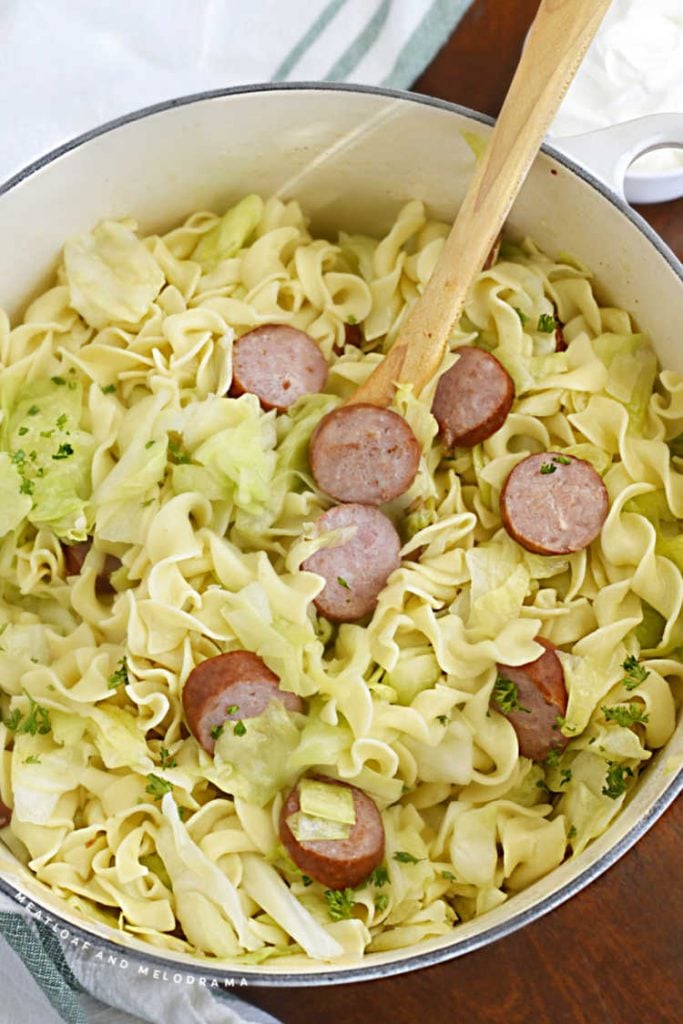 Haluski and Kielbasa (Cabbage and Noodles) Recipe
Recipe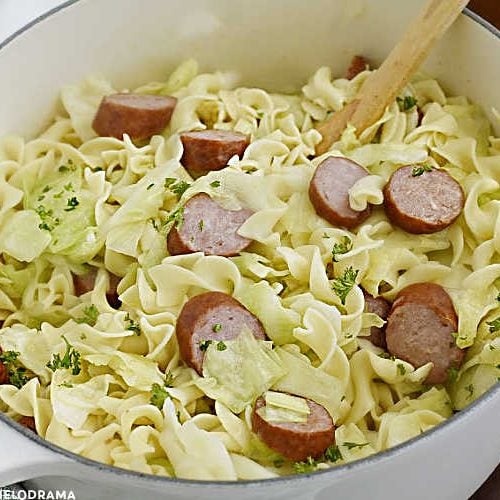 Haluski and Kielbasa (Cabbage and Noodles)
Haluski and Kielbasa, cabbage and noodles, is a super easy dinner made with buttery egg noodles, fried cabbage and smoked sausage. Pittsburgh comfort food!
Ingredients
12

ounces

egg noodles

½

cup

Butter for frying

1 stick

1

yellow or white onion

chopped

1

pound

kielbasa cut into thin slices

1

Head of cabbage

washed and roughly chopped

salt and pepper

to taste
Instructions
Boil the egg noodles in salted water until just al dente, drain, rinse and set aside.

In a large frying pan or Dutch oven, melt 1 to 2 tablespoons butter or oil, and cook onions until soft.

Add the kielbasa, and cook until just browned. Remove to a plate, cover, and set aside

Add the cabbage, and cook until slightly soft.

Mix in the egg noodles, adding butter as you go, and cook until warm and heated through. Stir in cooked kielbasa, and add more butter, if needed

Season with salt and pepper, to taste
Notes
You can leave out the kielbasa for traditional haluski.
Serve with sour cream or cottage cheese and/or peas.
Nutrition information is estimated. Please do your own calculation to fit special diets.
Nutrition
Calories:
387
kcal
Carbohydrates:
31
g
Protein:
13
g
Fat:
24
g
Saturated Fat:
11
g
Cholesterol:
85
mg
Sodium:
502
mg
Potassium:
361
mg
Fiber:
4
g
Sugar:
4
g
Vitamin A:
394
IU
Vitamin C:
35
mg
Calcium:
59
mg
Iron:
2
mg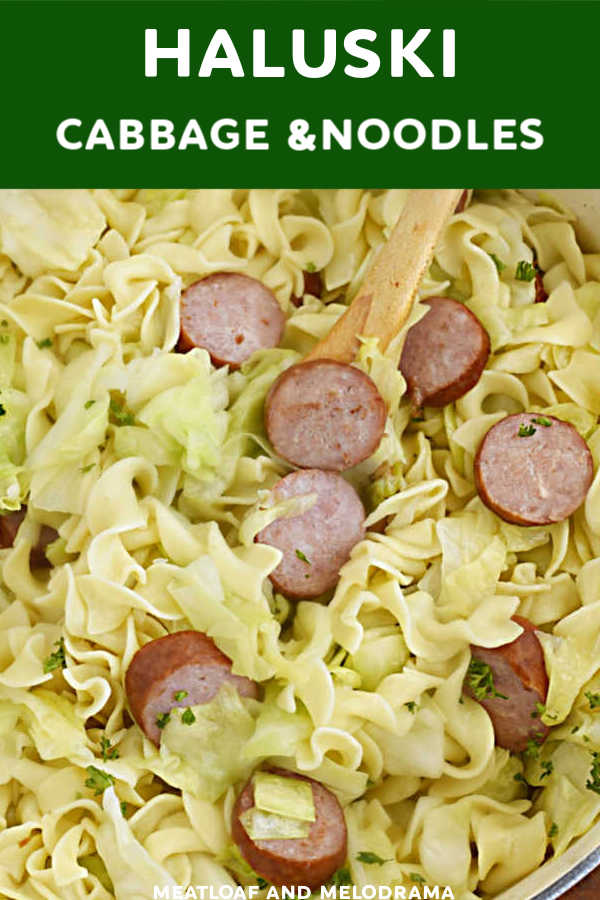 Variations on Cabbage and Noodles
If you have an Instant Pot, try making Instant Pot Cabbage and Noodles. Cutting out carbs? Try Fried Kielbasa and Cabbage without the noodles!