Instant Pot Cabbage and Noodles with kielbasa - Haluski - is a simple dinner of with buttered egg noodles, cabbage, onions and smoked sausage. Easy and so good!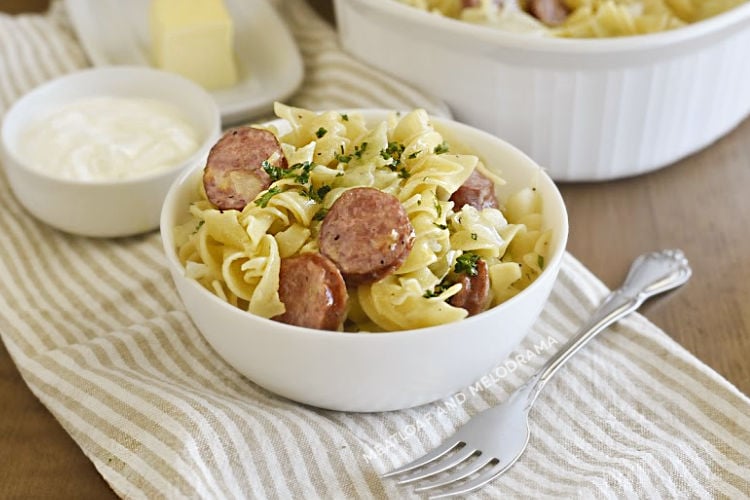 I am super excited to share this pressure cooker fried cabbage and noodles recipe with you today! Made with egg noodles, cabbage, Polish sausage and lots of butter, this Slovak Haluski is old world comfort food and even has its own cult-like following.
I grew up on my grandma's Haluski, and my kids love it as much as I do. Traditional Haluski is fried on the stove, but cooking it in the Instant Pot is much easier and saves time. Honestly, nothing really compares to fried noodles and cabbage, but this Instant Pot recipe comes soooo close!
You guys, I've been perfecting Haluski in the pressure cooker for quite a while now, and I finally got it right. You just have to make a couple adjustments to the classic recipe, but it really does work! Trust me on this.
Growing up, we had noodles and cabbage as a side dish with fish or kielbasa. My recipe uses kielbasa, so this is basically a one pot meal -- my favorite!
How to Make Fried Cabbage and Noodles with Kielbasa (Halusky) in the Pressure Cooker
The base for Haluski is chopped onions fried in butter -- We're talking lots of buttah! It's the best smell in the whole world!
I usually have a stick of butter cut up, and I gradually use the whole stick throughout the recipe. You can add a little olive or vegetable oil, as well. You can cook the onions longer to caramelize them, but for the Instant Pot version, I usually cook them just until they're soft, along with the kielbasa.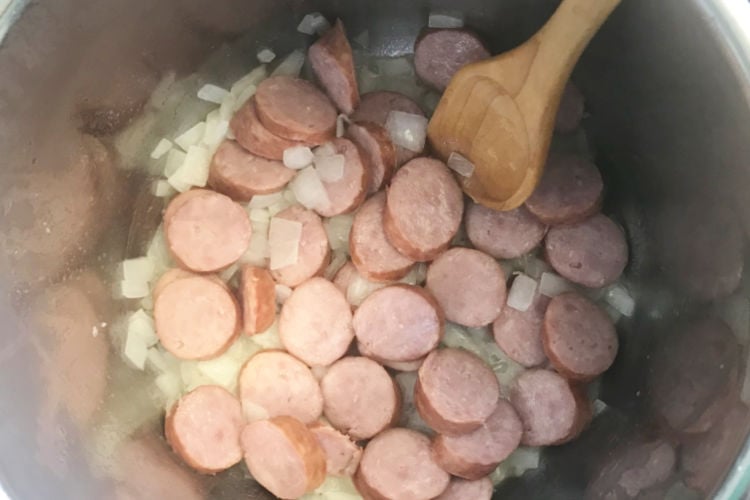 Deglaze the pot, if you need to, with some of the water you'll be adding later. Then, add your sliced cabbage over the meat.
You want to slice the cabbage in large chunks to prevent it from cooking down too much. I usually quarter the cabbage and cut out the core.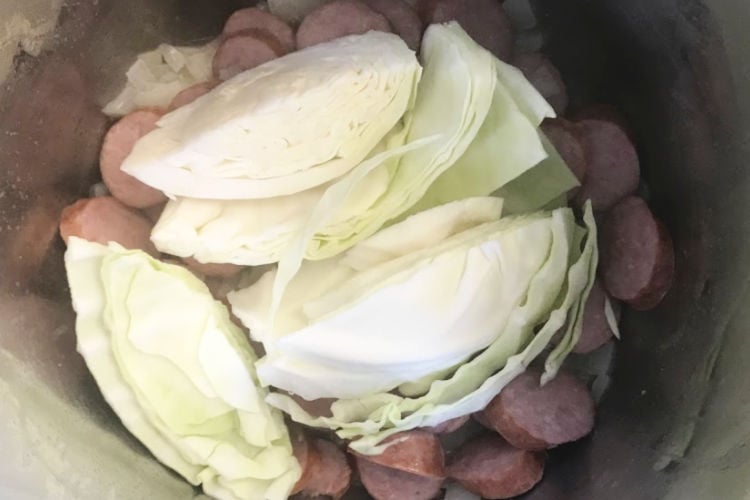 Next, add your egg noodles over the cabbage, and dot with more butter. Then, pour 2 cups of water over the egg noodles, and pressure cook it.
I've made Haluski in both the 6 quart and 8 quart. Everything fits better in the 8 quart, but it takes longer to reach pressure and release, so the noodles and cabbage ended up slightly overdone. I was able to cram everything into the 6 quart, and I liked the results a lot better.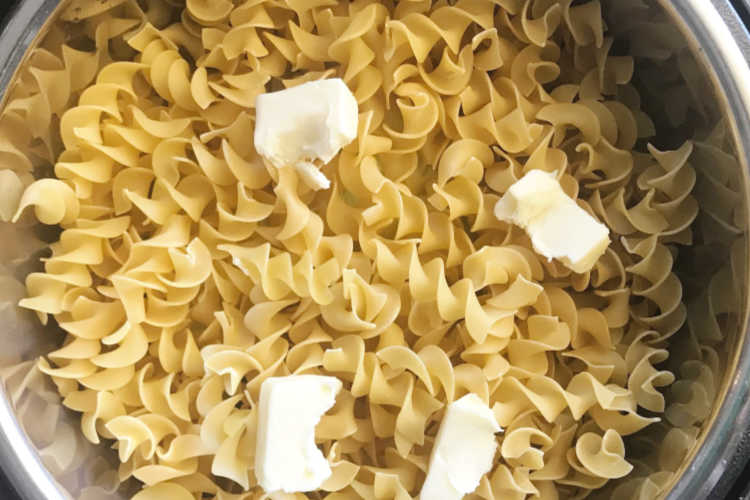 After pressure cooking, start stirring the Haluski. You'll find the noodles aren't completely cooked yet, but as you stir them into the hot liquid, they'll finish cooking and be just right! You can also hit the Saute button and cook off some of the extra liquid if you want.
You also want to stir in the remaining butter and use enough salt and pepper as you need to. This is maybe the only recipe where I don't give exact amounts on the seasoning because people tend to have strong feeling on how this dish should taste!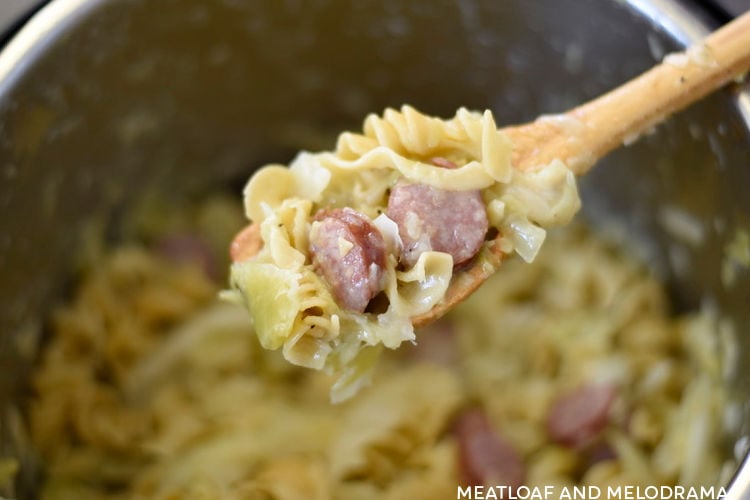 I like to dump everything into a large casserole dish to help cool the noodles and cabbage down so that they don't overcook. The remaining liquid should be absorbed as the dish cools down.
What to Serve with Haluski
Serve the cabbage and noodles with sour cream or cottage cheese if you want. Or eat it just like this.
You might also serve some peas as a side dish or mixed into the pot at the end. Add some rye bread and pickles to round out the meal, and this will take you right back to Baba's kitchen in Pittsburgh!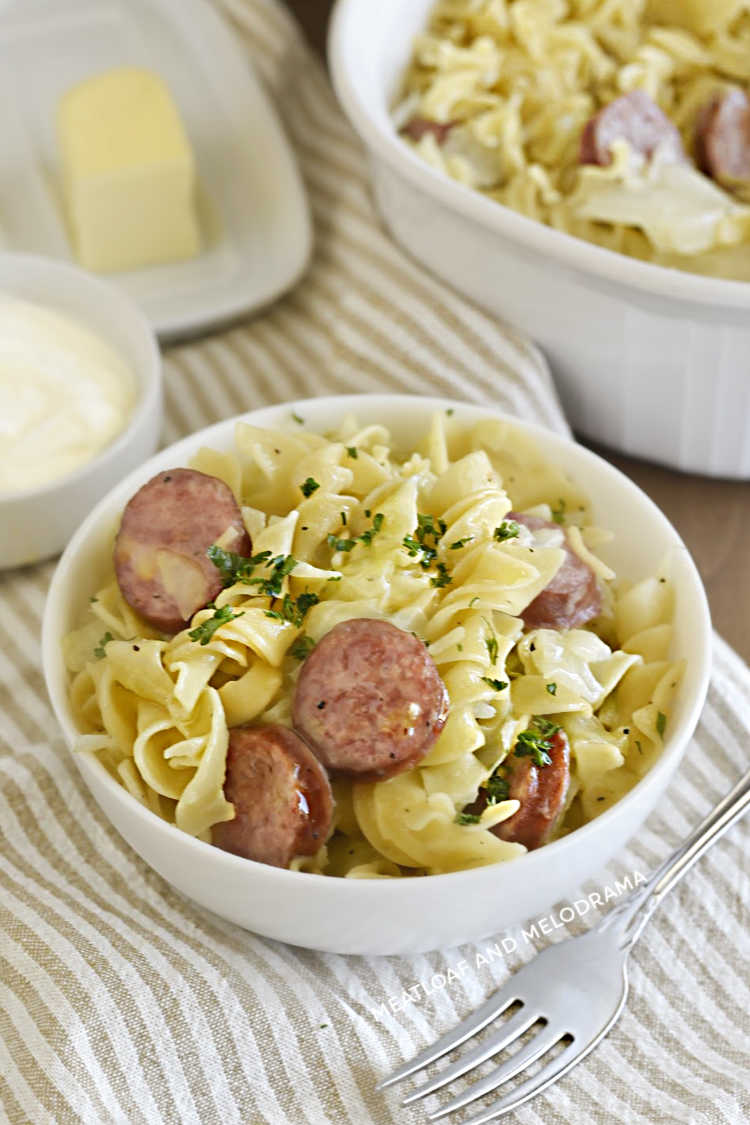 Pin to save the recipe!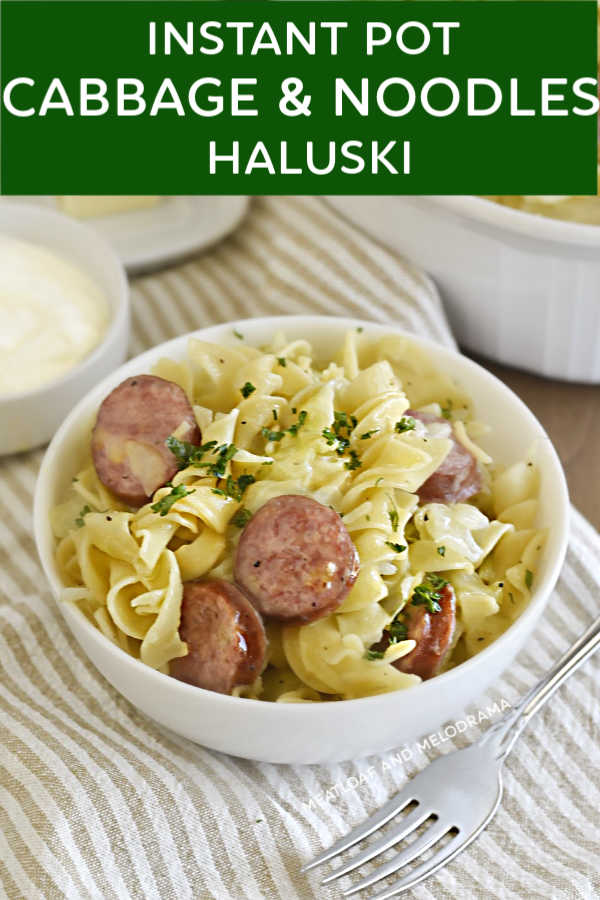 Similar Recipes You Might Like
Instant Pot Cabbage and Noodles Recipe
Recipe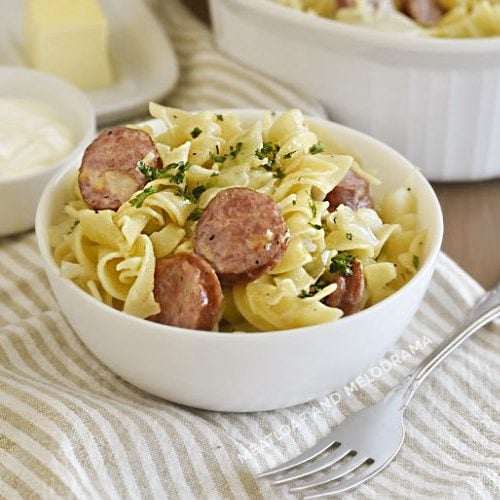 Instant Pot Cabbage and Noodles
Instant Pot Cabbage and Noodles with kielbasa - Haluski - is a simple dinner of with buttered egg noodles, cabbage, onions and smoked sausage. Easy and so good!
Ingredients
1

stick

butter

divided

1

medium

onion

chopped

1

rope

kielbasa smoked sausage

sliced

1

small

cabbage

cored and sliced

1

pound

extra wide egg noodles

2

cups

water

salt and pepper

to taste
Instructions
Hit SAUTE on the Instant Pot, and when it reads Hot, add 1 tablespoon of butter, the onion and kielbasa, and cook until onions are slightly soft

Hit CANCEL, and use some of the water to deglaze pot, if necessary

Add the sliced cabbage, then egg noodles and then, the water. The water won't cover the noodles, but this is fine. Add 3 tablespoons of butter over the noodles

Place the lid on the pressure cooker, make sure vent is on Sealing position, then hit PRESSURE COOK for 2 minutes. Pot will take a few minutes to reach pressure, then begin cooking

When pot beeps, do a quick or gradual quick release if liquid squirts out. When pin drops, remove lid, and hit CANCEL to turn pot off.

Noodles will not be fully cooked, but start stirring everything together, and they will soften and cook as you mix them with the liquid from the pot. Hit SAUTE and cook for 1 or 2 minutes to help reduce extra liquid if needed.

Hit CANCEL, stir in remaining butter, and add salt and pepper to taste

Pour Haluski into a serving bowl or platter, and serve with sour cream or cottage cheese, if desired
Notes
Recipe was tested in both the 6 quart and the 8 quart Instant Pot electric pressure cookers and can be made in either one without any adjustments to the ingredients or time.
Be sure to use extra wide or wide noodles for best results.
You can add more meat if you like. You can also transfer contents to a skillet to fry and crisp up the Haluski after pressure cooking.
Nutrition information is estimated. Please do your own calculation to fit special diets.
Nutrition
Calories:
278
kcal
Carbohydrates:
38
g
Protein:
8
g
Fat:
11
g
Saturated Fat:
6
g
Cholesterol:
62
mg
Sodium:
107
mg
Potassium:
248
mg
Fiber:
3
g
Sugar:
4
g
Vitamin A:
380
IU
Vitamin C:
27
mg
Calcium:
51
mg
Iron:
1
mg
I hope you enjoy this pressure cooker Haluski recipe as much as we do!