Homemade Cheddar Potato Pierogi is my grandma's recipe for traditional Ukrainian pierogi filled with cheesy potatoes and topped with butter and fried onions. Make them for Christmas, Lent or anytime you're craving authentic pierogies!
This is hands-down the best recipe for pierogi dough I've ever made, and I've tried several pierogi recipes over the last few years. The dough is easy to work with, and the cheesy filling is loaded with flavor. If you want to make homemade cheddar pierogi, this is the recipe for you!
I got this recipe for pierogi from my grandma, who got if from her Baba, and so on up the family tree. Grandma would come over every Christmas Eve, and my mom and I would spend all morning helping her make these cheesy potato dumplings to eat for Holy Supper that evening.
My family is a mix of Ukrainian - Ruthenian - Polish - Russian heritage, but these pierogi, or pedohe as we used to call them, are from my grandma's Ukrainian side. My Polish relatives filled their pierogi with a mix of farmer's cheese and mashed potatoes, but Grandma always filled hers with cheddar cheese mashed potatoes.
She also made a few sauerkraut pierogi, but I absolutely hated these when I was young. I wouldn't mind these now, but my kids would never go for that! So, we stick with the cheddar potato version.
Making pierogi isn't hard -- You're basically making a simple filled pasta. But, it takes a lot of time and energy to complete the whole process, but it's easier if you have as much help as possible. For us, it's definitely a family project, but I'm beyond thrilled that I can hand this recipe down to my own kids. And honestly, we have a lot of fun in the process!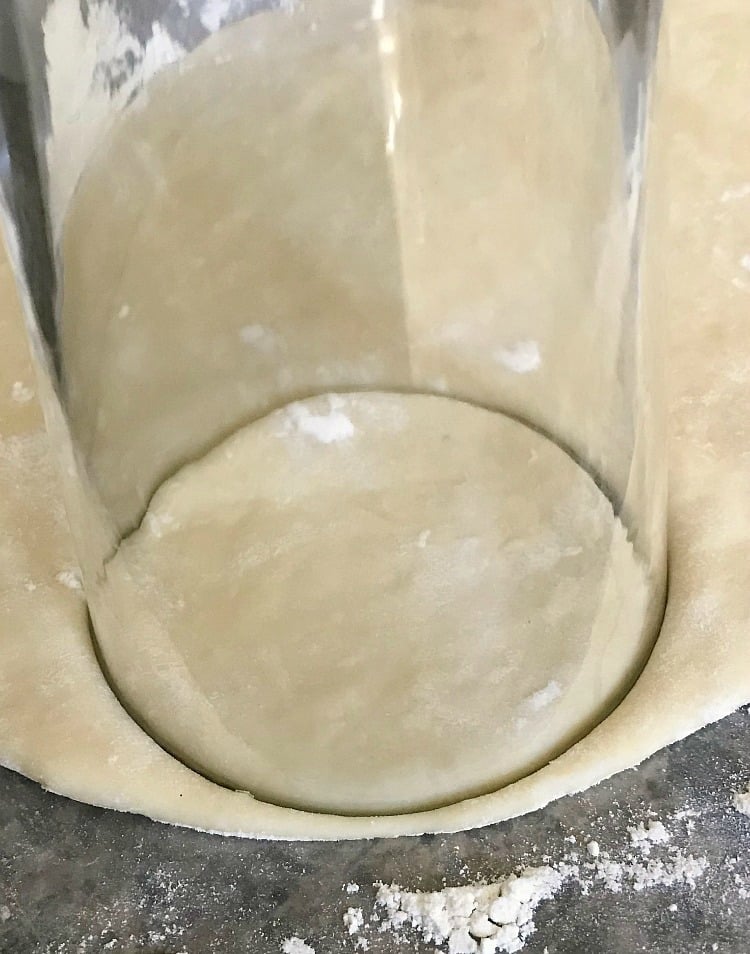 This recipe for pirogi dough uses potato water left over from boiling the potatoes for the filling. So, cooking the potatoes is the first step. I use Yukon Gold potatoes, and I leave the skins on while boiling them. It's a cinch to peel the potatoes while they're warm!
You mash the warm potatoes with shredded cheddar cheese, set them aside to cool, and then, you can start the dough. Like I said, this dough is so easy to work with, and it comes together in no time.
You need to let the dough rest for about 20 minutes after you're done kneading it. Then, roll it out, and use a drinking glass or cookie cutter to cut circles out of the dough.
Use a tablespoon to scoop out some of the cheddar potatoes, and place a spoonful in the center of the circle. Next, you fold the edges together, and pinch, pinch, pinch the dough so that it's completely closed.
One of my girls made up a little song and dance about pinching the pierogi dough when she was younger. Good times! Seriously though, it's a great way for kids to get involved in the kitchen!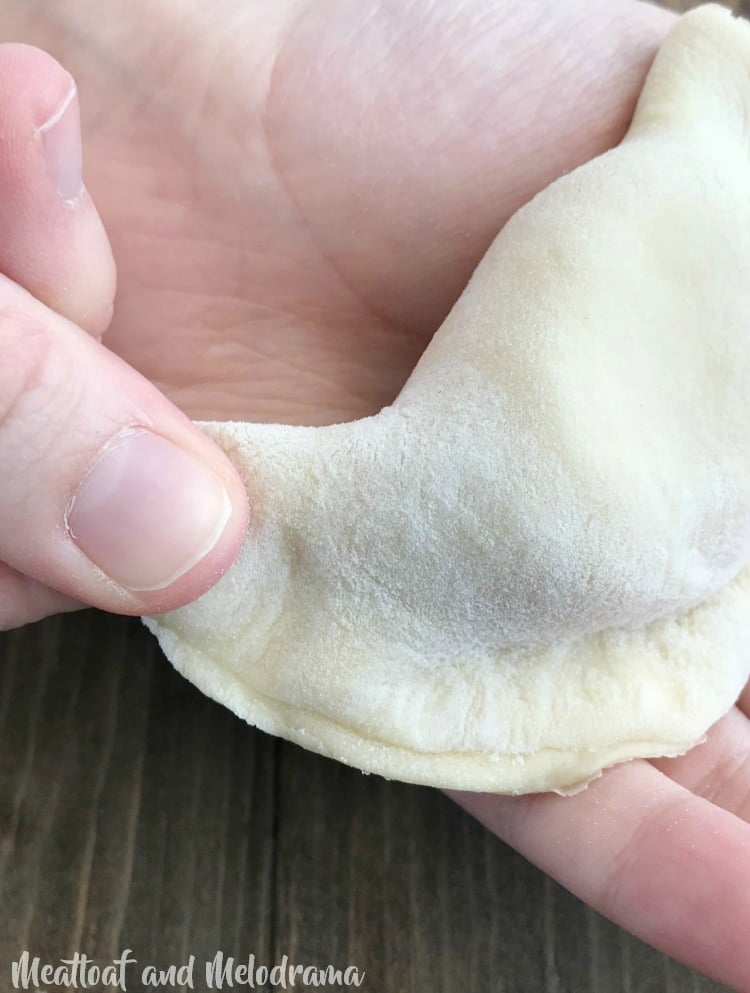 Next, you boil the pierogi in a nice big pot of water. When they rise to the top, they're done. You could stop at this point, since they're technically cooked. But, you really, really, should take it a step further.
We like to fry the boiled pierogi in a large skillet filled with melted butter and fried onions, which really makes the pierogi taste incredibly delicious! I prefer my pierogi a little soft in the center, while the Hubs prefers his crispy. So, I make them both ways, and everybody is happy.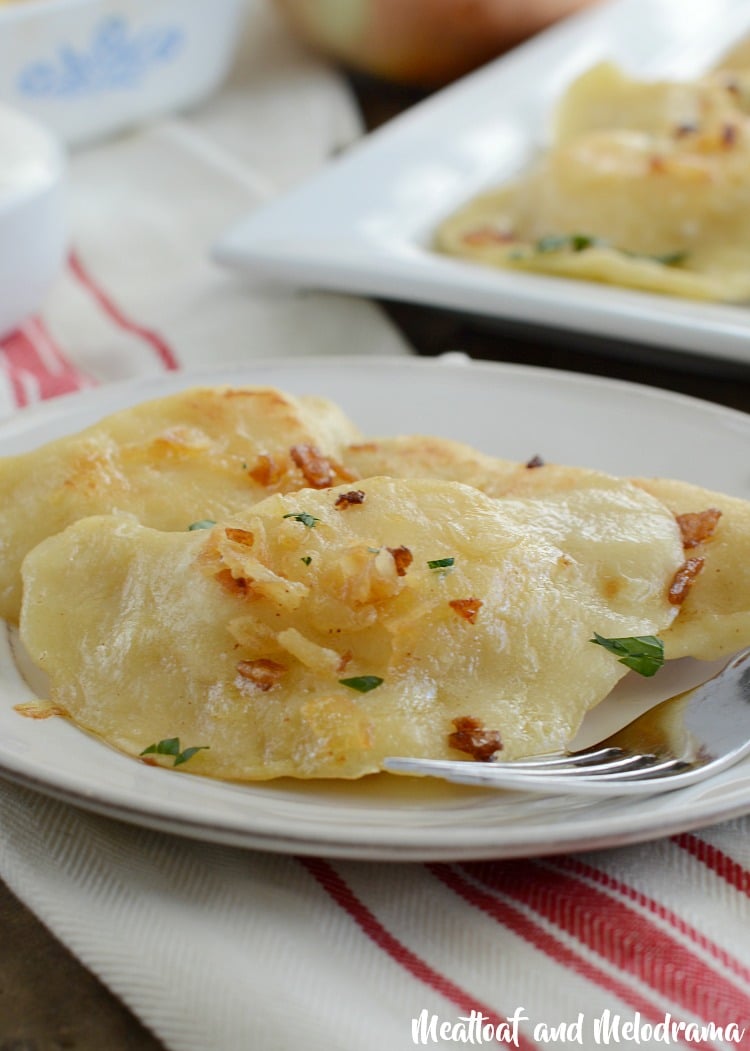 If you haven't guessed by now, this is not a low-fat recipe! But, don't let that stop you from making and eating homemade pierogi! It's definitely a treat!
Tips for Making Homemade Cheddar Potato Pierogi
Use Yukon Gold potatoes for the filling, and boil the potatoes with the skin on for easy pealing
Reserve 1 cup of potato water for the dough
Knead the dough until it's no longer sticky, and your hands are clean after handling the dough
Allow at the dough to rest for at least 20 minutes before rolling
Keep dough covered to prevent drying out
Dip fingers in water to help seal the dough while forming the pierogi
Freeze pierogi after you make them to cook later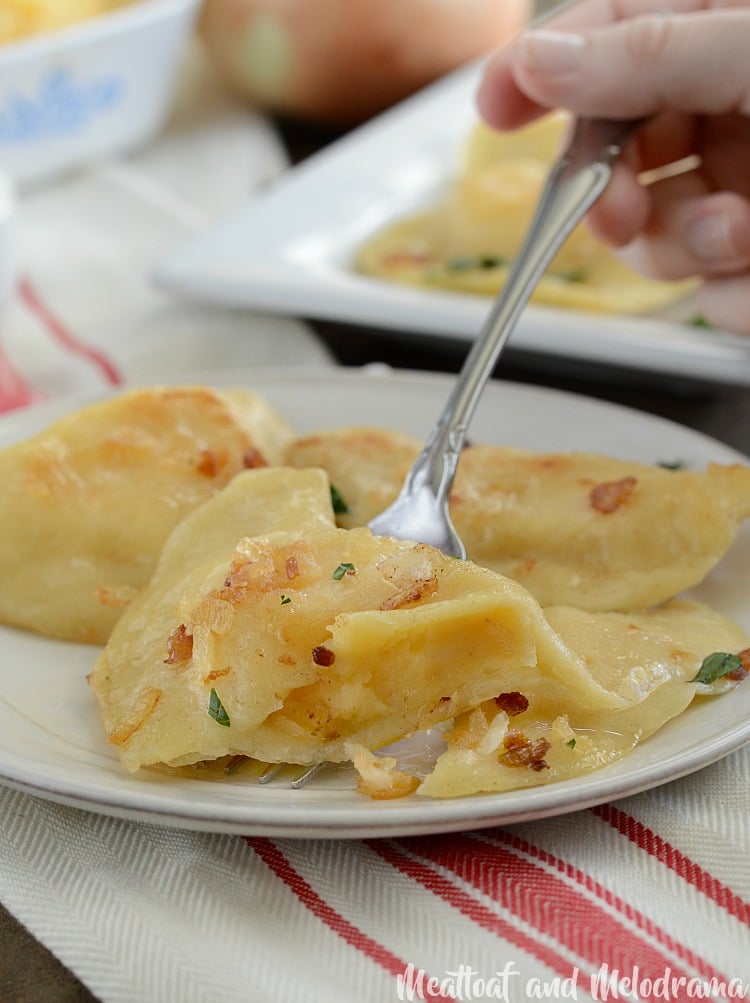 Recipe for Homemade Cheddar Potato Pierogi
Homemade Cheddar Potato Pierogi
An authentic Ukrainian recipe for homemade cheddar potato pierogi filled with cheddar cheese potatoes and topped with melted butter and fried onions
Ingredients
For the Pierogi Dough
5

cups

flour

1

teaspoon

sea salt

2

eggs

1

tablespoon

butter, softened

1

cup

lukewarm potato water

½

cup

milk
For the Cheddar Cheese Potato Filling
5

Yukon Gold potatoes

3

cups

shredded sharp cheddar cheese

½

cup

milk (optional)

1

teaspoon

sea salt

½

teaspoon

ground black pepper
Instructions
For the Filling
Add potatoes to a large pot, add enough cold water to completely cover potatoes, and boil in salted water until fork tender

Reserve 1 cup of water, drain, peel potatoes, add cheese, salt and pepper, and mash with fork or potato masher until blended. Add the milk to make potatoes creamier, if needed. Season with additional salt and pepper, if needed
For the Dough
In a large bowl, stir the flour and sea salt together, and push aside to form a well in the bowl

Add eggs in the center, then the butter and milk, and start mixing dough with fork

Gradually add the potato water, and mix until dough starts to form. Add enough water to form a ball, and knead until no longer sticky. Add more water if too dry or more flour if dough is still too sticky

Wrap dough ball in plastic wrap, and refrigerate for 20 minutes to rest

Divide dough into 4 separate pieces, and keep covered to prevent drying out

Roll out one piece at a time on a floured surface, and cut out circular shapes with a drinking glass or round cookie/biscuit cutter

Place a tablespoon full of potatoes in center of dough, fold ends over, and pinch together, using water to help seal dough

Place pierogi on lightly greased cookie sheet until dough is used up, and keep covered until ready to boil

Boil pierogi in salted water, a few at a time, until they float to surface

Remove with slotted spoon, and serve or fry with butter and onions before serving
Nutrition information is estimated. Please do your own calculation to fit special diets.
Nutrition
I hope you enjoy our family's recipe for homemade cheddar potato pierogi as much as we do!
Shared at Weekend Potluck
Happy Cooking,