Hi Friends! I don't do much baking when the weather starts to warm up, except at special occasions and of course, breakfast. The kids, and well all of us, really, love being able to grab a muffin or a slice of banana bread before heading out the door in the morning. In fact, we tend to make banana bread about once a week. So yesterday, I decided to try a little spin on our usual recipe, and I made some awesome Chocolate Chip Banana Bread Muffins instead!

I've been using the same basic banana bread recipe for years and years. The original one came from one of my mom's old cook books, and I've just tweaked it over time. I think every cook has a favorite recipe for banana bread, and although I've tried a few others, I keep going back to this one. So, it just seemed natural to take the same recipe and bake it in a muffin pan instead. And, I'm so happy to say that this worked!

My helpers insisted on adding some chocolate chips to the mix. And since I can't say no to chocolate, I agreed. I also added a pinch of cinnamon and sugar to the top of each muffin right before baking, just for some additional texture and flavor.

Oh, and I poured the batter all the way to the top of the pan so that the muffins would be extra big -- yum!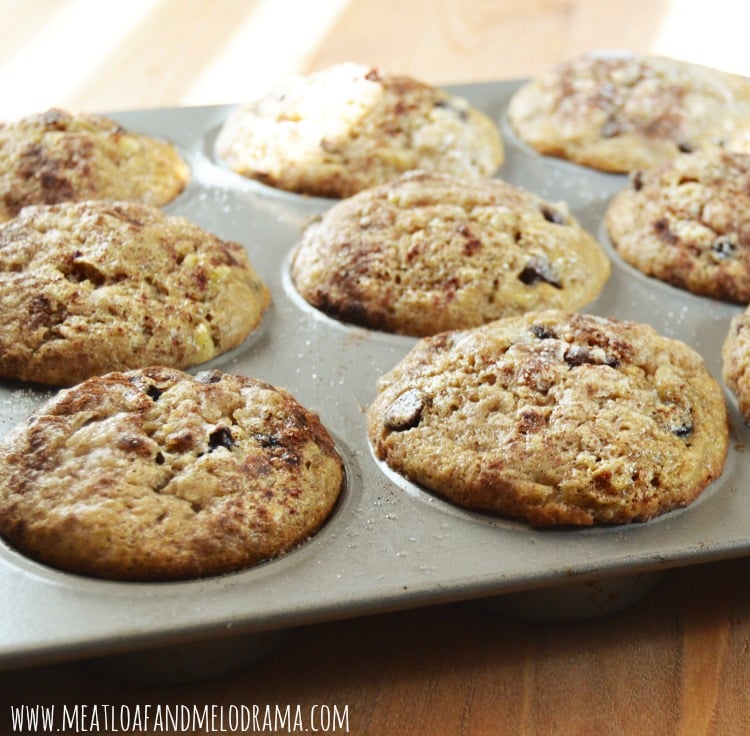 Ingredients
1 ¾ cup all-purpose flour

⅔ cup white sugar

2 teaspoons baking powder

1 teaspoon baking soda

Dash sea salt

1 teaspoon cinnamon

½ teaspoon vanilla extract

⅓ cup melted butter

3 mashed ripe bananas

2 eggs, beaten

2 tablespoons milk

1 cup semi-sweet chocolate chips ( more chips may have jumped into the bowl.)


Directions
Preheat oven to 350 degrees.
Grease muffin pan with butter.
Mash bananas, and set aside.
In medium bowl, add the flour, sugar, baking powder, baking soda, salt and cinnamon, and mix together.
Add the eggs, milk, vanilla, melted butter and bananas, and mix until combined.
Add the chocolate chips, and pour batter into the greased muffin pan. Top with additional cinnamon and sugar, if desired.
Bake at 350 degrees for about 20 minutes, or until a toothpick comes out clean.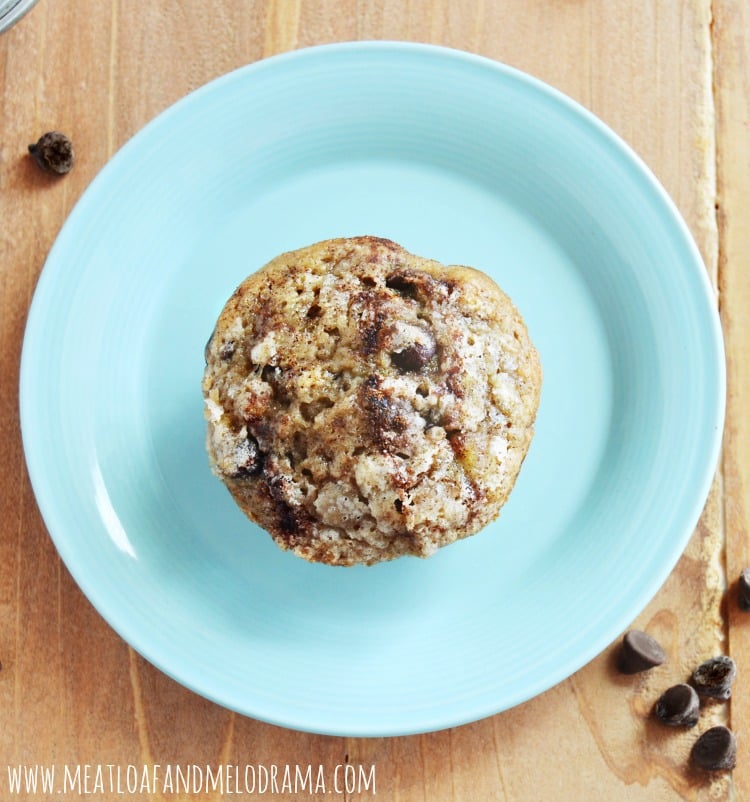 Like I said, these muffins are huge, and they're perfect for a quick breakfast or even a snack.
We got 12 chocolate chip banana bread muffins out of this recipe, and even though they tasted pretty good right after they came out of the oven, they were even tastier the next day. Gotta love that extra banana flavor!
Thanks so much for stopping by!
You May Also Like