Cranberry Apple Chicken Salad Wraps are loaded with chicken, apples and dried cranberries in a creamy dressing. They're perfect for a light lunch or dinner!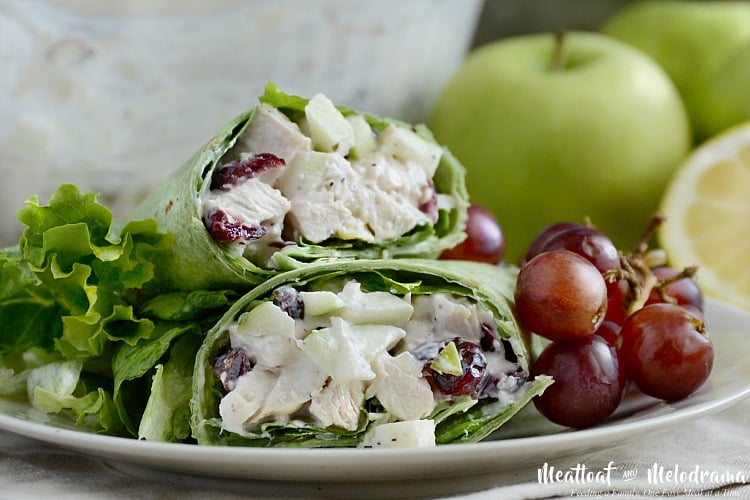 There was a time, not long ago and not too far away, when my kids absolutely avoided salad in any way, shape or form. Seriously, the mere mention of salad would make them gag and moan! Luckily, the little buggers got over it because we now have salad for dinner at least once a week, especially in the summer!
They say that if you keep on serving your kids a certain food, eventually they'll learn to like it, or at least, accept it. And that's pretty much what happened here. Of course, you'll have your die-hard haters. My pickiest eater is now a teen, and she still won't touch zucchini without putting up a fight. She even tries to hide the offending veggie under her plate or in her napkin! Sigh.
Anyway, that never happens when I make chicken salad, especially Southwest chicken salad or our favorite easy cranberry apple chicken salad. It's crunchy, creamy, a little sweet and slightly tart, with just a hint of cinnamon. It's absolutely delicious, and it's positively bursting with flavor.
Originally, I made this chicken apple salad with sour cream in the dressing. I also added walnuts for extra crunch. But since I like to change things up now and then, I've been leaving out the walnuts, and I've also been using organic plain yogurt instead of sour cream. Personally, I think this version is even better!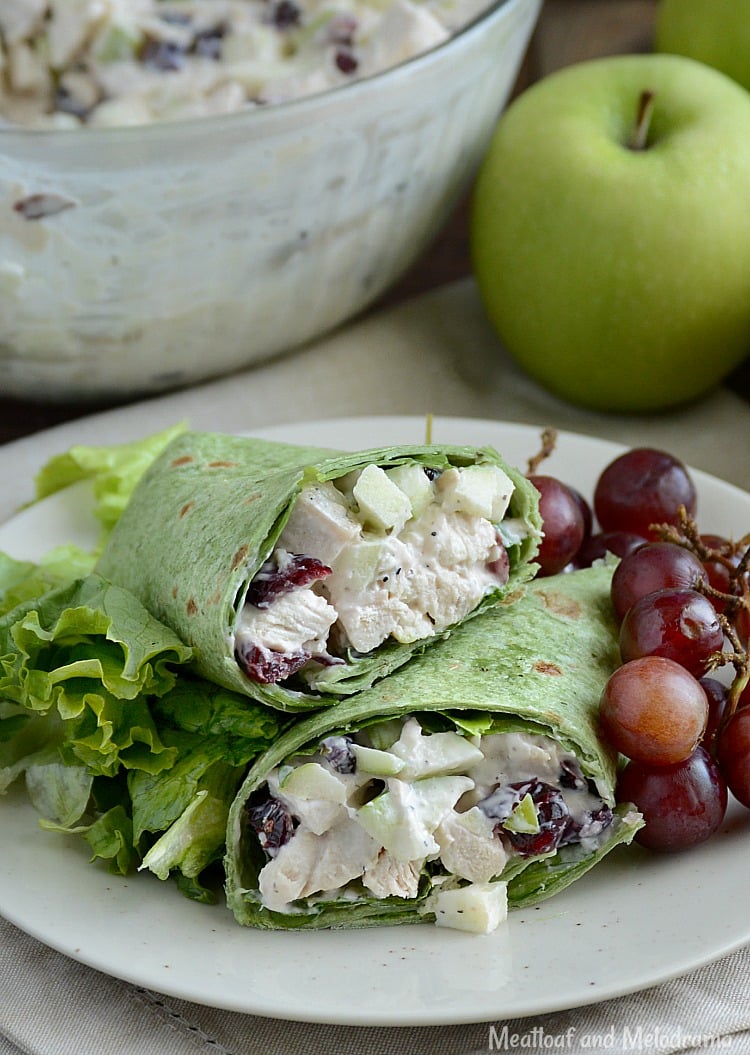 This chicken salad tastes amazing on a croissant roll, but I think it's even better in a wrap. I use spinach tortillas, add a little leafy green lettuce and some chicken salad, roll it up and eat it up! You will need to start out with cooked chicken, so you need to plan ahead.
To make cooked chicken for salads and sandwiches, you can:
Bake chicken breasts the night before or in the morning
Use rotisserie chicken from the store
I usually ty to meal prep and bake a few chicken breasts on the weekend or the night before I need them, but in a pinch, buying rotisserie chicken is the easy way to go. After that, just make the salad, assemble the wraps, and you're good to go.
You can have chicken salad wraps for a light dinner, or you can pack them in school lunches. My kids love having these babies for lunch!
How to Make Cranberry Apple Chicken Salad Wraps
Cranberry Apple Chicken Salad Wraps
Chicken salad with apples and dried cranberries in a light and creamy yogurt-mayo dressing are rolled up in veggie tortillas for a light lunch or dinner anytime
Ingredients
½

cup

yogurt

½

cup

mayonnaise

1

teaspoon

Dijon mustard

½

teaspoon

sea salt

¼

teaspoon

ground black pepper

¼

teaspoon

ground cinnamon

3

small

cooked boneless skinless chicken breasts cubed

2

diced Granny Smith apples, washed, cored and diced

1

tablespoon

lemon juice

1

cup

dried cranberries

green lettuce

spinach/vegetable tortillas
Instructions
Add yogurt, mayo and mustard to a large bowl, and mix until well combined

Stir in the sea salt, pepper and cinnamon

Add the chicken and apples, and drizzle with lemon juice

Add the dried cranberries, and mix well

To assemble wraps, place some lettuce and chicken salad on individual tortillas, and roll them up, burrito style
Nutrition
Calories:
176
kcal
Carbohydrates:
19
g
Fat:
11
g
Saturated Fat:
1
g
Cholesterol:
8
mg
Sodium:
249
mg
Potassium:
78
mg
Fiber:
1
g
Sugar:
15
g
Vitamin A:
50
IU
Vitamin C:
2.8
mg
Calcium:
23
mg
Iron:
0.2
mg
I hope you give these easy cranberry apple chicken salad wraps a try. Let me know what you think!
Happy Munching,

Sharing at Weekend Potluck