Hi Friends!

The kiddos are home for Thanksgiving break, so we've been having fun with a few easy projects. They're happy to be on vacation, but the contentment only lasts a short time, and then they start getting on each other's nerves, and we all know what happens then -- no peace for mom! But this time, I stocked up on crafting and baking supplies to keep them occupied, at least for a little while.

Before Halloween, we made some spider web plates, using window clings -- the easiest DIY decorative plate craft ever! Well, I recently picked up some Christmassy window clings from the Dollar Tree, and we used these to make our own Christmas plates.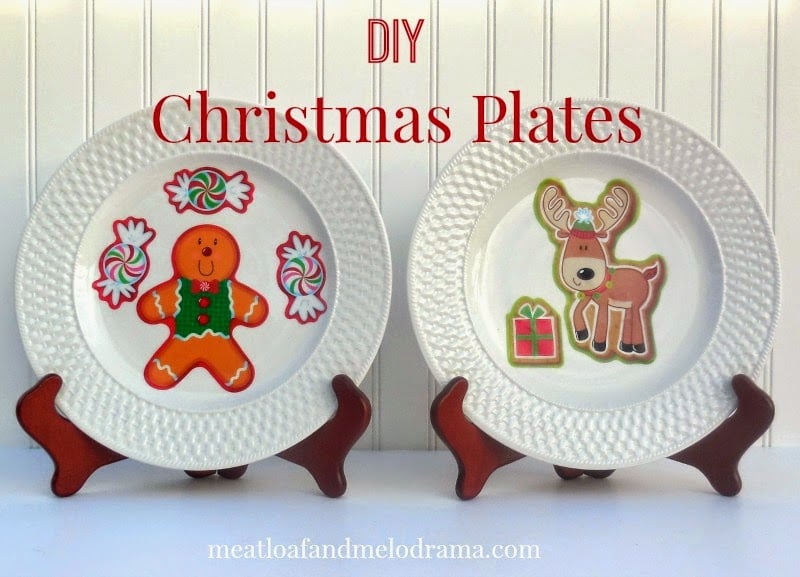 I like to decorate the inside of the china cabinet with a few plates for each season or holiday. I have a reindeer plate that one of the girls made a few years ago, and I always put this up for Christmas. But, I could never find anything else that matched it in terms of style and colors -- in my budget, anyway.



So, when I saw these cute window clings, I thought they would be perfect for decorating plates -- and windows too! I used the same white plates as I did for the spider plate. And, since the clings are removable, I can just wash the plate and use it if I need to.



I let the kids play around with the designs for a little bit, until they were happy with the results.


One of the plates now has a cute reindeer with a pretty present.
The other plate has a little gingerbread man and some peppermint candies.

Remember the story of the gingerbread man? That's one of the stories we read during the holiday season, and it always cracks the kids up -- and me too!



I might have the kids decorate some smaller plates with more of the clings, but I have another idea for those. Most of the other clings will find a new home on the mirrors and sliding glass door.

They look nice in the china cabinet too, but I couldn't really take a picture because I still have my fall plates up, and that would be awkward, even for me. One more week, and the Christmas decorations go up!

So if you want to make your own decorative Christmas plates, grab some window clings, and you're good to go! Thanks so much for stopping by. Have a super day!