This post was sponsored by Tradewinds Slow-Brewed Iced Tea as part of the Mom It Forward Blogger Network. However, all thoughts and opinions are my own.
These DIY summer cork coasters are easy to make and perfect for holding iced tea or your favorite summer beverages.
I think I've told you before how much I enjoy summer -- definitely not the heat, but the slower pace of life and the chance to spend extra time with the kids. My youngest daughter, aka the Diva, is the crafter of the family. I enjoy crafts, but honestly, she's way better at creating things than I am, and she has a lot more patience too. She has a summer bucket list of crafts she wants to make, and these cute DIY coasters were on the top.
Now usually, I'm a coffee drinker, but I don't enjoy iced coffee. I don't know why, but I just can't really get into coffee unless it's served hot. But with the record-breaking temperatures Phoenix has been enjoying lately, I can barely manage to drink a full cup in the morning. And that's not good, friends, because I need my caffeine.
Growing up, my parents always made a huge jar of sun tea and kept it in the fridge every summer. You could just refill your glass whenever you wanted. The only problem is that I'm the lone tea drinker in the house, and I'll usually make a single serving of tea and just dump it into a glass filled with ice. But honestly, it doesn't taste the same.
So having a big old gallon of Tradewinds Slow Brewed Iced Tea in the fridge is perfect for me. These teas are made with real tea leaves and slow brewed so they have tons of flavor.
And these cute little coasters are perfect for holding my glasses of tea!
How to Make DIY Summer Cork Coasters
Supplies needed:
Cork board
Scissors or sharp knife
Pencil
Paint
Brushes
Clear medium for protecting the paint
The Diva and I made a quick trip to the craft store and found some thin squares of cork. You could probably also use pre-cut cork shapes if you can find them. She drew circles and triangles on the cork with a pencil, and then she cut the shapes out with scissors.
Next, she painted the shapes to look like fruit. She let me help with this part!
When we were done painting, we used a clear sealer to protect the paint. It also adds a little bit of gloss to the coasters, which is nice.
So, we ended up with a lime, a lemon, a watermelon wedge and a slice of pepperoni pizza. Tweens love their pizza!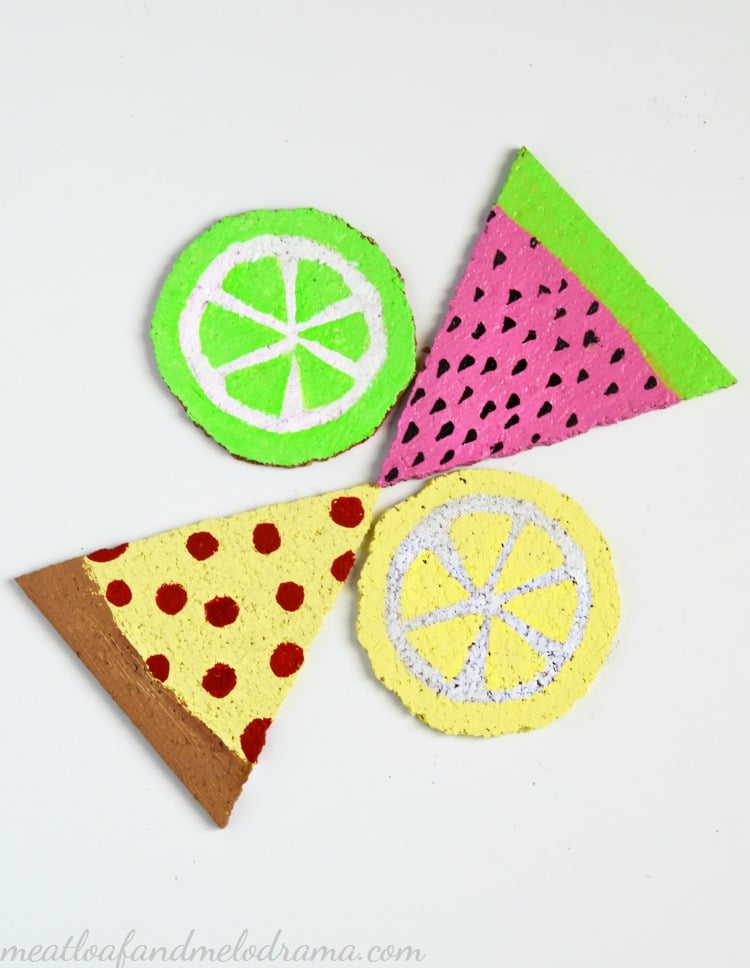 Aren't they super cute?!
You can easily do this project in an afternoon, and once the finish dries, you're good to go.
I was sipping on a tall glass of Tradewinds Slow Brewed Unsweet Tea while we were crafting and just enjoying the moment. During the school year, we don't have a lot of free time, so this was nice. And now that these DIY summer cork coasters are done, I don't have to worry about rings on the furniture --yea!
I like the unsweetened tea because it tastes just like the sun tea my parents make. But, it comes in several other flavors, and I'll definitely be trying them out.
Happy Summer!

Sharing at
TT&J, Met Monday