Make this DIY love in a mug Valentine's Day gift with Sharpie markers, candy and a coffee cup.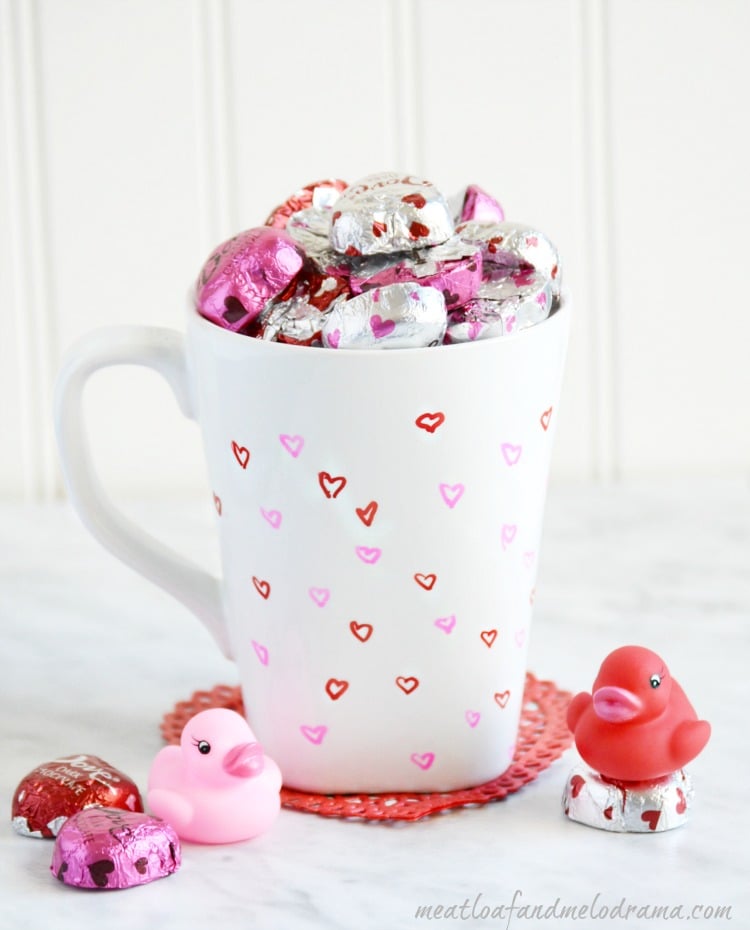 It's been a long time since I shared anything crafty, but Valentine's Day is coming up, and I'm thinking about DIY gifts for Valentine's Day.
Well actually, this pretty Sharpie mug was my little Diva's idea, and she was nice enough to let me help! She is also the one who suggested calling this craft the Love in a Mug, which I think is pretty darn cute!
We made DIY painted coffee mugs for Valentine's Day last year, but we used regular paint pens instead of Sharpie markers. The paint lasted a long time, but recently, I've been noticing that the design is fading, and that's not good.
I washed those mugs by hand for a long time, and I think the paint started wearing away when I began washing them in the dishwasher.
So, when my daughter suggested making another painted mug, I decided to change the design and use oil-based Sharpie markers to see if this made a difference. Here's what we did.
How to make a DIY Love in a Mug Valentine's Day Gift
Supplies Needed
White ceramic coffee mug

Oil-based Sharpie Markers

Wrapped candy to fill the mug
First, you'll have to wash the mug or mugs if you want to make more than one. I know that's probably a no-brainer, but I'm trying to be as specific as possible here.
Then, just draw whatever design comes to mind, using the Sharpie markers. We decided to make something super easy this time around, and we drew little pink and red hearts in random places all over the mug.
You can't get much easier than that!
Next, I put the mug into the oven and baked it at 300 degrees for about 30 minutes. This is to set the paint, and although I don't know if this step is absolutely necessary, I did it last time, and I think it helps.
After the mug cooled off, I filled it with wrapped chocolate candy, and the little love in a mug gift was ready to go!
We may have also sampled one or two of the chocolates, just to make sure they tasted good enough to give as a gift, and they did!
You can fill the painted coffee cup with anything -- it doesn't necessarily have to be chocolate, although chocolate is awesome, in my opinion.
You might try small bags of coffee, tea or anything else your favorite person might like. And, I think this Love in a Mug would make a fun Valentine's Day teacher gift too!
Have you ever made a hand-painted Sharpie mug before? How did it go?
Happy crafting!

Sharing At
TT&J, Inspiration Monday, Met Monday, The Scoop, Wow Us Wednesday