Hi Everyone!

Happy New Year! One of my resolutions this year is to be more organized, and one of the first areas that I need to get in order is my desk — surprise, surprise! I have so many odds and ends that seem to find a home on top of my desk, so after I get rid of the extra junk, I want to make it easier to find what I need. Now, you all know how much I love repurposing things, especially glass jars. So, I decided to make a desk organizer out of old jars and mason jars.



This craft was so simple — in fact, it was a lot easier than cleaning off my desk, which I'm still working on! I had two old mason jars that I had previously spray painted for a guest post and used as vases. I needed one more jar, so I went through my stash and chose a former salsa jar. I wanted to glam it up to match the others, so I gave it a couple of quick coats of Rust-Oleum matte spray paint.



I wanted a flat finish because I was planning on using gold accents, and I thought this would be a tad more sophisticated.



When the jar was dry, I used some of the kids' old stickers as a guide for applying gold dots. I used paint pens, just because this was easier than using a brush. One of my assistants kindly helped with this part.



Whenever I paint jars, I always like to add some ribbon or rope around the edge — just for a little extra something! This time I added some black and white twine.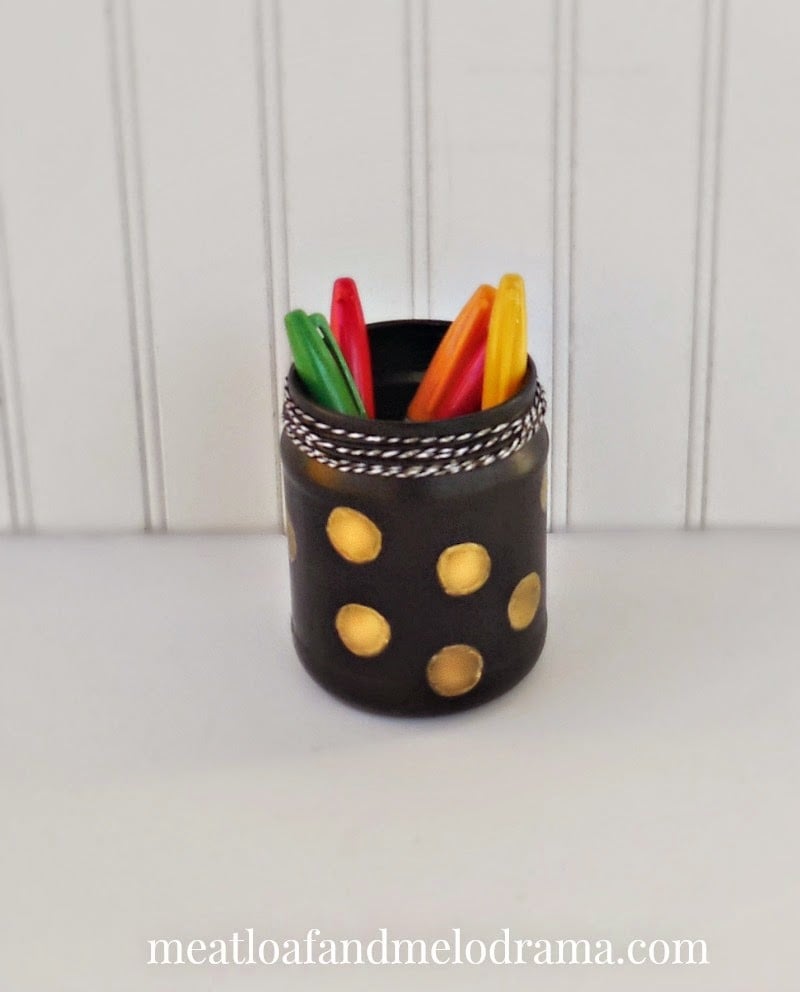 Because I thought it would be too cool to have a group of jars, I added a large gold mason jar for scissors and a letter opener and smaller copper-colored jar for more pens. I placed them in a star basket that I found at a thrift store last year. It was kind of a grungy gold color, and I glammed it up with gold spray paint. So, what do you think?



I love that I was able to create a glam desk organizer for free. Well, technically this cost a few dollars when the items were originally purchased, but making the organizer didn't cost a dime — gotta love repurposing!!

What have you recycled lately?


You might like these similar posts: