DIY Scrap Wood Apples are fun to make and perfect for early fall decorating. All you need is wood blocks, twigs, paint and yarn, and you're done!



It's been so busy here that I've been sorely lacking in the crafts and home decor area. But fall has always been my favorite season, and I'm feeling inspired to spruce up our space a little.

I just love working with wood, and I even made some rustic wood pumpkins and Jack o' lanterns last year. Since I think it's still a little early for pumpkins, I decided to make some wood apples instead.


How to Make DIY Scrap Wood Apples
Supplies Needed
Wood blocks cut from a 2x4
Acrylic paint

Glue

Twigs

Colored twine

Sand paper
Directions
First, I had Hubby trim the wood for me. Two of the pieces were the right size, but I wanted to have one that was a little shorter. Since he was conveniently trimming some bushes at the time, I also had him cut the branches into little apple stems.
Sometimes, I'm amazed that he doesn't run when he sees me approaching!
Then, I sanded off the rough edges, and glued the stems to the wood blocks with a little glue. I used Tacky Glue, but any glue is fine.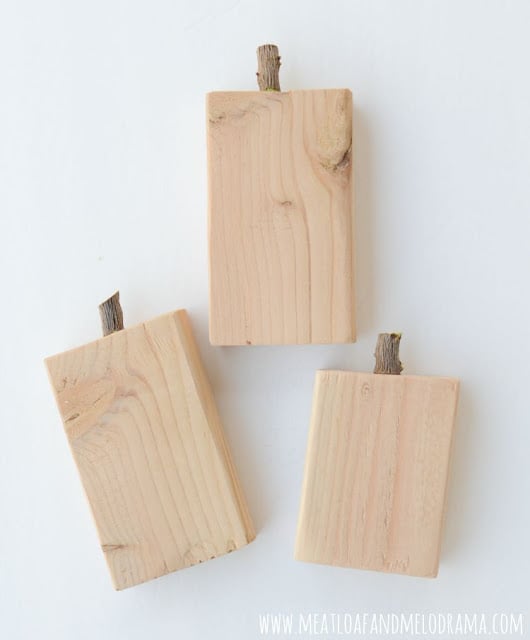 Now it was time to paint the wood -- my favorite part! I used apple green for one of the blocks and bright red for the other two. Then, I added some yellow highlights to one of the red blocks. I have a basket full of apples on the kitchen counter, and I was using that as my inspiration.
I decided not to distress the apples this time. You can see that the wood is still a little bit rough, so that was enough for me.
Next, I tied some green twine around the wood stems. Gotta have some leaves on the apples.
That's all there is to it. And voila -- Now you have some colorful rustic wood apples!
And best of all, these apples won't rot, so you can leave them up throughout fall if you want.
If you don't have any scrap wood, you can buy a 2X4 and cut it down or have it cut for you at the store. We have tons of wood in our garage from various projects, so that's where I go first.
Have you started any fall projects yet?
You Might Also Like