You can easily propagate houseplants from cuttings instead of buying more plants. Pothos are super easy to grow in a jar of water!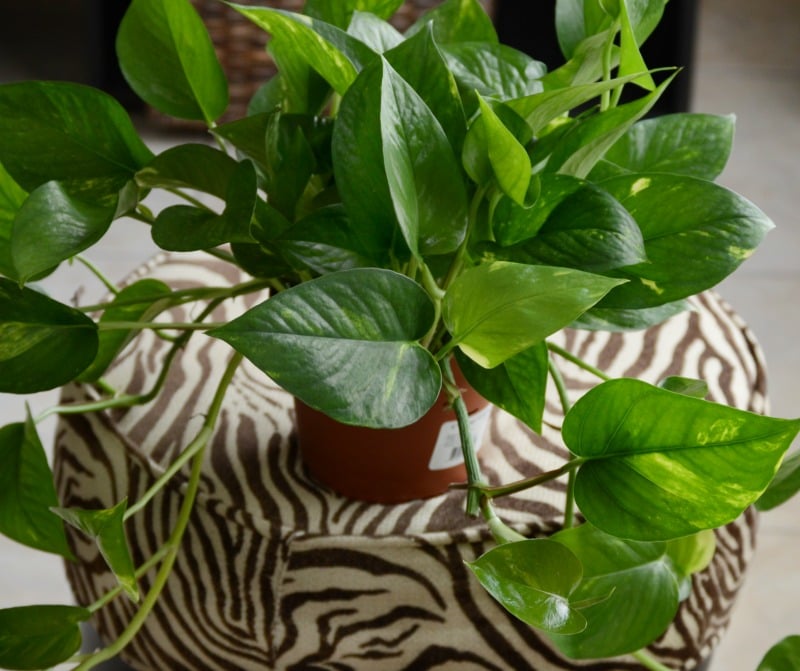 Meet Audrey. She's a houseplant -- a pothos, to be exact. I don't normally name the plants around here -- just the kids and the pets. But Audrey was different from other plants. She was a lot bigger, and she had two long stems that reminded me of arms.
Yes, I do have an active imagination!
So, I named this plant Audrey, after the plant in Little Shop of Horrors. Instead of allowing Audrey to grow even longer arms, the Hubs suggested using cuttings to grow more plants -- little Audreys!
The Hubs is the plant whisperer in our house, unlike me. I grow the kids, and he does the plants, which works out well for both of us!
We have several houseplants, and he's done a superb job of keeping them alive and well. He's even grown plants from cuttings before, and they're perfectly fine.
How to Propagate Houseplants from Cuttings
If you want to propagate houseplants from cuttings, you'll need:
Scissors

Glass jars

Water
First, you take a stem and cut just below the little bumps known as root nodes. One of my kids is a plant lover like her dad, and she did the honors here.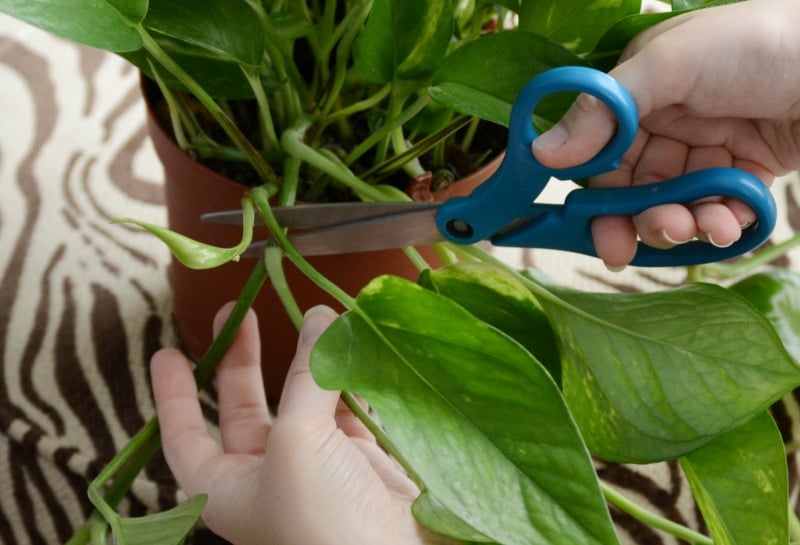 After cutting the stem, snip off the lowest two leaves. The stem will be in the water, and you don't need the leaves under water. The new roots should start growing from around the cut stem.
Our plants took about a week to start growing roots.
Then, you just fill a jar or two with water and add the cuttings to the jar. I pretty much collect glass jars, so we always have some around the house. You could also use a large drinking glass or a vase.
I put the glass jar into a little pail. It's more attractive than a clear jar with stems in it! And, that's all there is to growing plants from cuttings, or rather, growing a pothos from cuttings. Other houseplants may be trickier, but these plants are super easy to work with.
We haven't even planted the other cuttings. They're still growing in plain old water, and they're thriving.
And, Audrey looks fantastic with her new do. She has a nice spot by the window,which keeps her healthy and content, and it shows!
I found this old bucket at the thrift store, and it makes an awesome planter!
Have you ever tried growing your own plants from cuttings?
Have a Super Day!

Sharing At
Met Monday, Wow Us Wednesday, TT&J