Diy twine covered Easter eggs are easy to make and add a fun rustic touch to your Easter and Spring decor. Grab some cheap plastic eggs from the Dollar Store or reuse old eggs that you already have, and you're good to go!
Easter is early this year, and it's already warm here, so I'm definitely thinking about spring. I don't do much decorating after Christmas is over, but once spring rolls around, I get the urge to nest again. Actually, I don't go all out, but I do like do add a few pops of color here and there. And, spring crafts are always fun to make, especially if they don't cost a lot and are pretty simple to put together.
And, these twine eggs definitely fall into both categories!
I first made these eggs last year and shared them at PinkWhen, so now I'm dusting them off again -- literally -- and adding some spring decor to the house.
How to Make DIY Twine Covered Easter Eggs
Supplies needed
Plastic eggs ( you can get them from the Dollar Store or re-use the ones you may already have)

Glue

Colored twine

Burlap ribbon

Scissors

Wet paper towels for wiping hands
First, you dab a good amount of glue on one end of the egg. You have to use a thick glob so that the twine will stick, and this dries clear, so don't worry about it showing. Then, press one end of the twine in the glue, and hold it until it begins to stick.
Then, you start winding the twine around in small, tight circles, adding more glue as you go along. Keep pressing the twine and let it stick to the egg before you move on. Once you start wrapping the twine around the egg, it gets a lot easier.
Make sure to wrap the twine strands as close together as you can, and push the twine up as you keep wrapping it around the egg.
Once you get to the other end of the egg, wrap the twine in a tight circle again, cut the end, and glue it to the end of the egg. Once the glue dries, you can add a little burlap ribbon around the center, just for a little extra decoration.
When the eggs were all done, I set them into one of my grandmother's old Desert Rose bowls, which I always take out and display around Easter.
And, that's all there is to making DIY twine covered Easter eggs! This year, I might make a few more in different colors, but I'm crushing on all things aqua lately, so we'll see.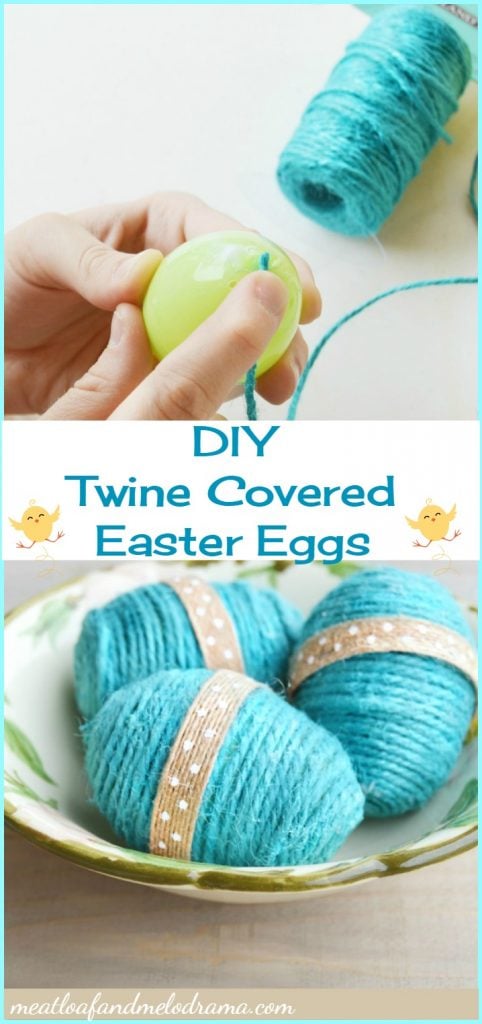 This is also a fun craft to do with the kids, and it's actually easier having a helping hand or two.
Happy Crafting!

Sharing at
The Scoop, Wow Us Wednesday, Weekend Retreat, TT&J, Thoughts of Home