Make your own DIY Valentine door hanger for Valentine's Day, using scrap wood and paint. It's a fun way to say hello to your guests!
I don't do a lot of decorating for Valentine's Day, but I always like to have something cute on the front door. And I definitely don't spend much money on Valentine's Day decorating since the season is so short. I was going to make a quick wreath, but the Hubs offered to make a wooden heart, instead. He made a pumpkin from scrap wood for fall that turned out great and really looked like it came from an old pallet. And last year, he made a heart out of wood slices from one of our trees, so I jumped at the offer.
We have a lot of wood that is left over from other projects, so it's easy for the Hubs to make things on the spur of the moment. If you don't have tools or the desire to cut wood, I've seen similar plain wood pieces in craft stores that you can just buy and paint. And honestly, if it was just me, I would definitely go this route!
How to Make a DIY Valentine Door Hanger
Supplies
1 x 3 wood fence boards, cut to desired size

Coping saw

Wood glue

Sand paper

Paint

Smaller thin heart
The Hubs cut, trimmed and sanded the wood and spaced the pieces out so that they looked like pallet wood. Then, he attached the boards together with a long board on the reverse side.
Now, the rest of the project was in my hands! Well, actually the kiddos wanted to help too.
First, we painted the heart with white paint. I used interior flat paint since we had a lot left over from a painting project, but you can use any kind here.
Then, we painted three of the boards light pink.
I found a small heart-shaped piece of balsa wood in the craft store, and we decided to give it the glam treatment. My little Diva is a huge fan of anything pink and glam, and she wants this in her room when Valentine's Day is over.
We gave it a thin coat of white paint to cover up the wood grain. Then, we painted over this with two coats of metallic gold paint. We both love those hearts with the word hello on them, so I took a stab at hand lettering to write the word on the heart.
This part was the most time-consuming part of the whole project, just because I was so out of practice. I write on our chalkboard all the time, but it's a lot different when you're trying to paint and you don't want to mess up and start over.
It's not perfect -- far from it! But, it'll do!
I glued the hello heart onto the larger heart, and this project was done. Well, I had the hubs insert two screws into the back of the boards so that I could attach a ribbon first, and then it was done!
I'm not a huge fan of pink, but I love the way this DIY Valentine door hanger turned out. It's all ready to add a bit of rustic glam to the front of the door, and after that, it will probably end up in the girls' room. And we'll make something else next year!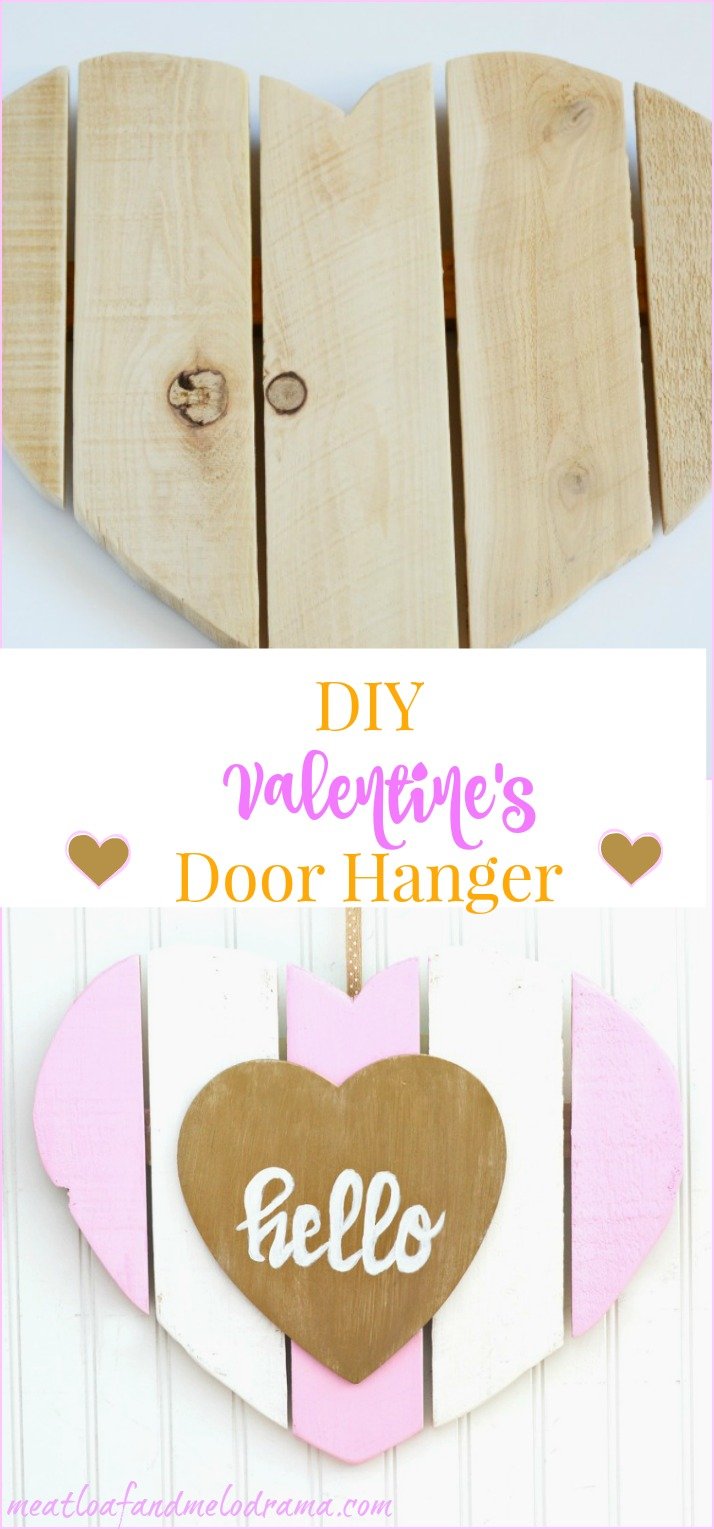 Happy Crafting!

sharing at
Inspiration Monday, Met Monday, The Scoop, Wow Us Wednesday, Weekend Retreat, TT&J, Share It One More Time