This Easy Cucumber Dill Dip is cool, creamy and has a touch of sriracha sauce for extra kick. Serve it with fresh veggies for a delicious appetizer!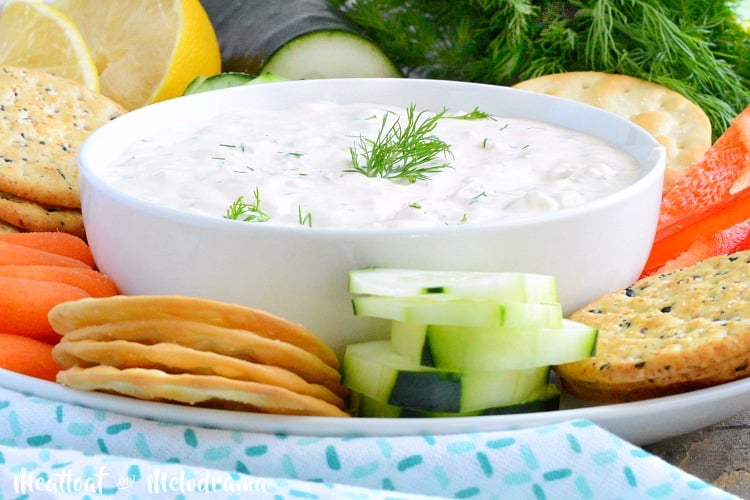 I found this recipe for cucumber dill dip in my grandma's huge collection of recipes, and I finally got around to trying it out. I love a good dip recipe -- chip dips, veggie dips -- it doesn't really matter. I love them all! My grandmother made everything from scratch, but my mom usually bought dips from the store.
My kids love dipping chips and veggies as much as I do, so I started making my dips from scratch. In fact, this is how I got them to start liking raw fruits and veggies! Homemade dips are really easy to make, and they taste way better than anything you can get from the store.
I love cucumbers, and I absolutely love the fresh flavor of dill -- the scent is intoxicating! So when I found this cucumber dill dip recipe, I knew I had to try it ASAP!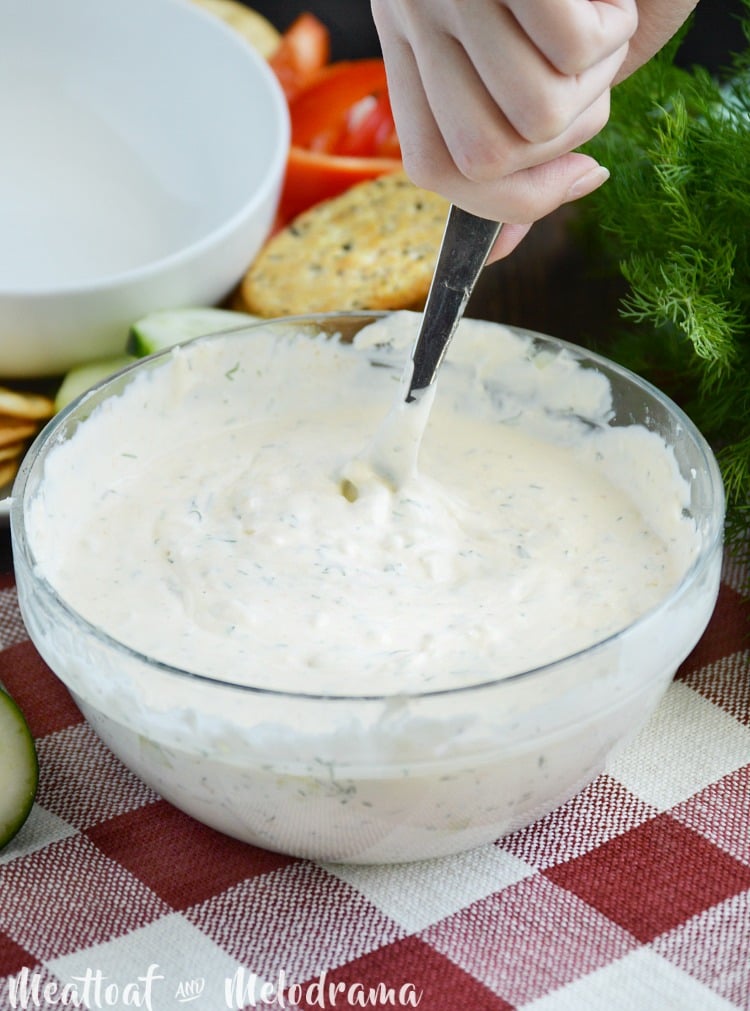 This dip recipe is super easy, and you probably have most of the ingredients you need already. I like to keep cucumbers on hand for snacking, so I only had to buy some fresh dill.
Originally, I meant to follow the recipe as closely as possible, but as usual, I ended up changing a few things. Instead of using scallions, I added dried minced onions. I just think they add more flavor. I also used one large cucumber instead on two medium ones, and I added some sea salt.
And finally, I added sriracha sauce instead of the hot pepper sauce mentioned in the original recipe. Since this is a retro recipe, I'm thinking that most people would have used Tabasco Sauce or something like it. But since I had sriracha on hand, that's what I used.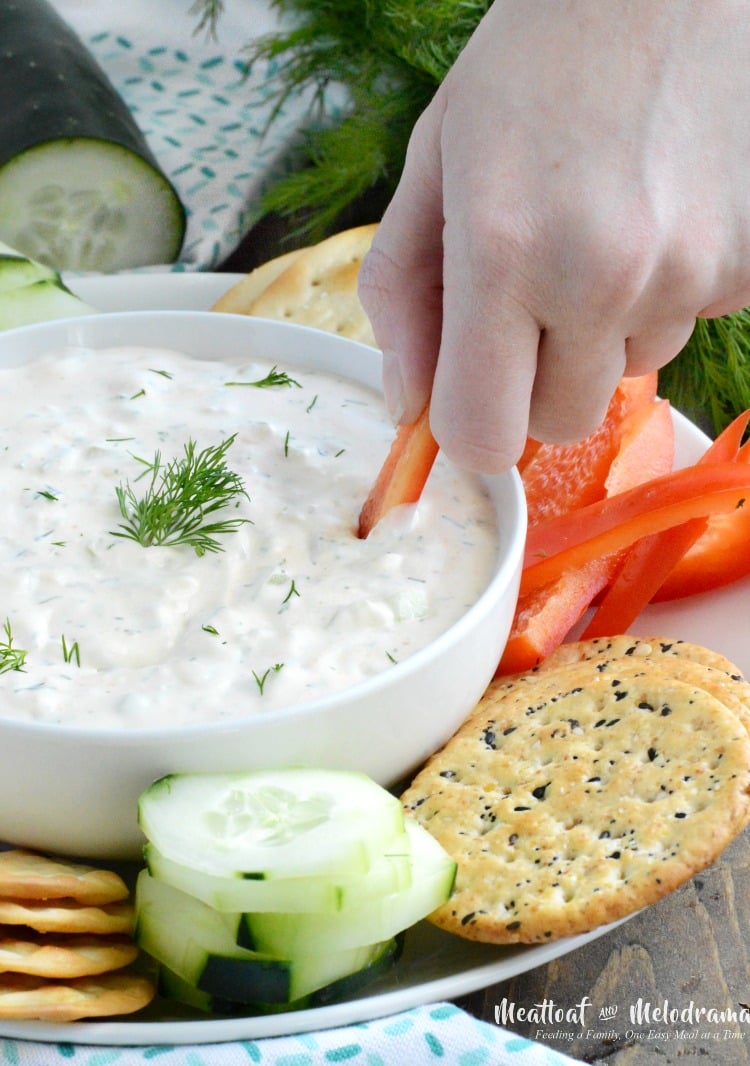 Actually, the sriracha adds just the tiniest bit of heat, so it's more of a flavor boost. It just gives the dip a little something extra, know what I mean? So if you're thinking it might be too spicy, don't worry. My kids had no problem with it!
I cut up some fresh veggies and added a few crackers to go with the dip, and I served it to the kids for an after school snack. They loved it!
How To Make Easy Cucumber Dill Dip
Recipe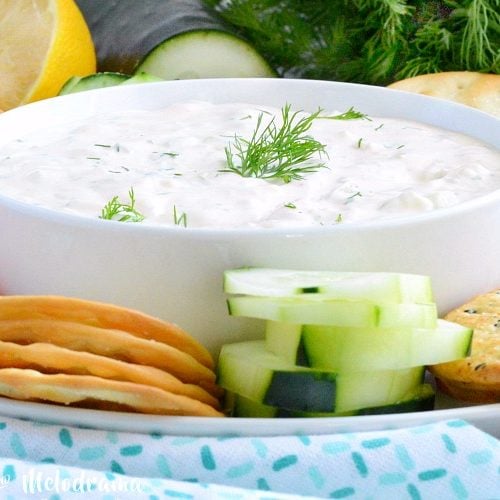 Easy Cucumber Dill Dip
Easy Cucumber Dill Dip is a cool, creamy dip made with fresh dill, cucumbers and a little bit of sriracha sauce for extra flavor. It's perfect for potlucks, parties and picnics!
Ingredients
1

8-oz package

cream cheese, softened

1

cup

mayonnaise

2

teaspoons

chopped fresh dill

1

large

cucumber, peeled, seeded and chopped

1

teaspoons

dried minced onions

1

tablespoon

lemon juice

1

teaspoon

sriracha sauce

½

teaspoon

sea salt
Instructions
In a medium-sized bowl, beat the cream cheese with a hand mixer until smooth

Add the mayonnaise, and beat until creamy

Stir in the remaining ingredients, cover and refrigerate until ready to serve
Notes
The flavors are even better after the dip sits in the fridge for a little while.
Nutrition information is estimated. Please do your own calculation to fit special diets.
Nutrition
Calories:
157
kcal
Carbohydrates:
1
g
Fat:
16
g
Saturated Fat:
2
g
Cholesterol:
9
mg
Sodium:
270
mg
Potassium:
50
mg
Sugar:
1
g
Vitamin A:
35
IU
Vitamin C:
2.1
mg
Calcium:
7
mg
Iron:
0.1
mg

This easy cucumber dill dip is perfect for parties, potlucks or any spring or summer gathering. Serve it with fresh veggies, chips or crackers and it makes a delicious appetizer!
My family loved it, and I hope you do too!
Happy Snacking,