This 4 ingredient peanut butter cookies recipe without brown sugar and without flour makes the best peanut butter cookies! These easy flourless peanut butter cookies are soft, sweet and melt in your mouth!
If you're looking for peanut butter cookies recipes without brown sugar and without flour, you have to try this one!
These flourless peanut butter cookies are super easy to make, and they're naturally gluten free. This easy cookie recipe makes soft peanut butter cookies that positively melt in your mouth!
Making peanut butter cookies without flour was originally my oldest kiddo's idea. But, I'm always up for trying out new cookie recipes with few ingredients, so we decided to give it a go.
These unbelievably tasty little morsels don't contain flour, but they do have a little bit of unsweetened cocoa powder, which adds just a hint of chocolate and really enhances the peanut butter flavor.
If you love peanut butter desserts, try my chocolate peanut butter fudge, chocolate peanut butter ritz cookies or chocolate peanut butter bars.
Ingredients
You only need 4 simple ingredients to make this easy peanut butter cookie recipe. If you don't already have the ingredients at home, you can find them in your local grocery store:
Creamy peanut butter -- crunchy doesn't work as well.
Granulated sugar
Unsweetened cocoa powder
Eggs
How to Make Peanut Butter Cookies Recipe without Brown Sugar
First, preheat your oven to 350 degrees f. Then, line baking sheets with parchment paper or foil for easy clean-up.
Or, you can use silicone baking mats if you have them.
In a large bowl, add peanut butter, cocoa powder, and sugar, and mix together. Then, mix in the eggs with an electric mixer or stand mixer until it's all blended.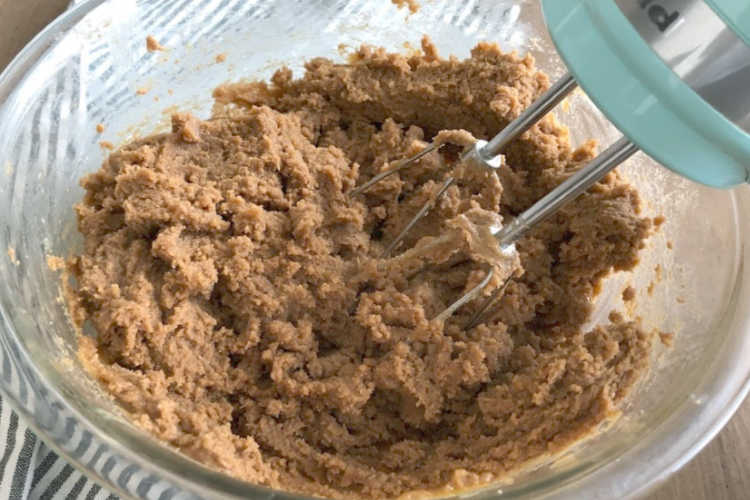 Next, use a cookie scoop or roll the dough into small balls and place on the prepared baking sheets or a silicone mat.
Flatten the cookies slightly with the tips of your fingers or the bottom of a small glass.
With the tines of a fork, press the dough balls lightly, flattening them.
I like to press the fork in each dough ball twice, so that the lines make a cute criss-cross pattern!
If you want, you can sprinkle a little bit of white sugar on top of the cookies for some extra sparkle!
It's not necessary, but it makes the cookies look pretty! If you are making this easy peanut butter cookie recipe for Christmas, add some red and green sprinkles or colored sugar.
You can use different colored sprinkles for any holiday!
Cooking Time
Bake cookies at 350 degrees F for 8 to 10 minutes, or until their edges are slightly firm and golden brown.
You don't want to over bake these cookies.
Once they're done, move the baked cookies onto a wire rack, cooling rack, or separate cookie sheet and let them cool.
If you didn't add sugar on their tops before baking, feel free to add a pinch of sugar onto the warm cookies.
These perfect peanut butter cookies are lightly crisped around the edges and nice and chewy in the center--plus, the fork marks give them some flair!
They're perfect with a cold glass of milk or a warm cup of coffee with cream!
Variations
In the spirit of keeping things simple, I usually leave these 4 ingredient peanut butter cookies as is. They can be enjoyed by themselves, or as part of ice cream sandwiches or peanut butter cookie sandwiches.
Add chocolate chips to make flourless peanut butter chocolate chip cookies, or dip the cookies into melted chocolate to give these classic peanut butter cookies a little pizzaz.
You can use organic or natural peanut butter if that's your personal preference-- just make sure that you're using creamy or smooth peanut butter for the best results.
Crunchy peanut butter won't give the cookies the chewy texture they should have.
How to Store
Store these peanut butter cookies in an airtight container or freezer bag. They can be left at room temperature or refrigerated.
The cookies stay soft and fresh for about 3 to 4 days. For longer storage, you can freeze these yummy peanut butter cookies in a freezer safe container.
May contain affiliate links. See disclosure for more information.
Recipe
4 Ingredient Peanut Butter Cookies Recipe
This 4 ingredient peanut butter cookies recipe without brown sugar and without flour makes the best peanut butter cookies! These easy flourless peanut butter cookies are soft, sweet and melt in your mouth!
Instructions
Preheat oven to 350 degrees

Mix the peanut butter, cocoa powder and sugar together in a large mixing bowl.

Add the eggs, and mix into the peanut butter mixture until fully incorporated.

Use a tablespoon to scoop mixture out and roll into small balls.

Place on an ungreased cookie sheet, and use a fork to flatten each ball, using a criss-cross pattern.

Top with extra sugar if desired.

Bake for 8 to 10 minutes, or until firm around the edges and light golden brown
Notes
Sprinkle extra sugar on cookies after baking for extra sparkle.
Cocoa powder can be left out.
Cookies are done when edges are firm and cookies are light golden brown. Center may still be soft, so don't over bake.
Nutrition information is estimated. Please do your own calculation to fit special diets.
Nutrition
Calories:
131
kcal
Carbohydrates:
14
g
Protein:
4
g
Fat:
7
g
Saturated Fat:
2
g
Cholesterol:
9
mg
Sodium:
69
mg
Potassium:
98
mg
Fiber:
1
g
Sugar:
12
g
Vitamin A:
13
IU
Calcium:
8
mg
Iron:
1
mg
These are hands-down, my family's favorite peanut butter cookies! I hope you enjoy these chewy peanut butter cookies as much as we do!
For more easy cookie recipes, be sure to subscribe to the newsletter!
Post was originally published in 2015 and updated in 2021.