Jalapeno sausage quesadillas are made with spicy sausage, black beans and cheese, with some onions and peppers thrown in for extra flavor. You can whip up this quick and easy protein-packed meal in just a few minutes!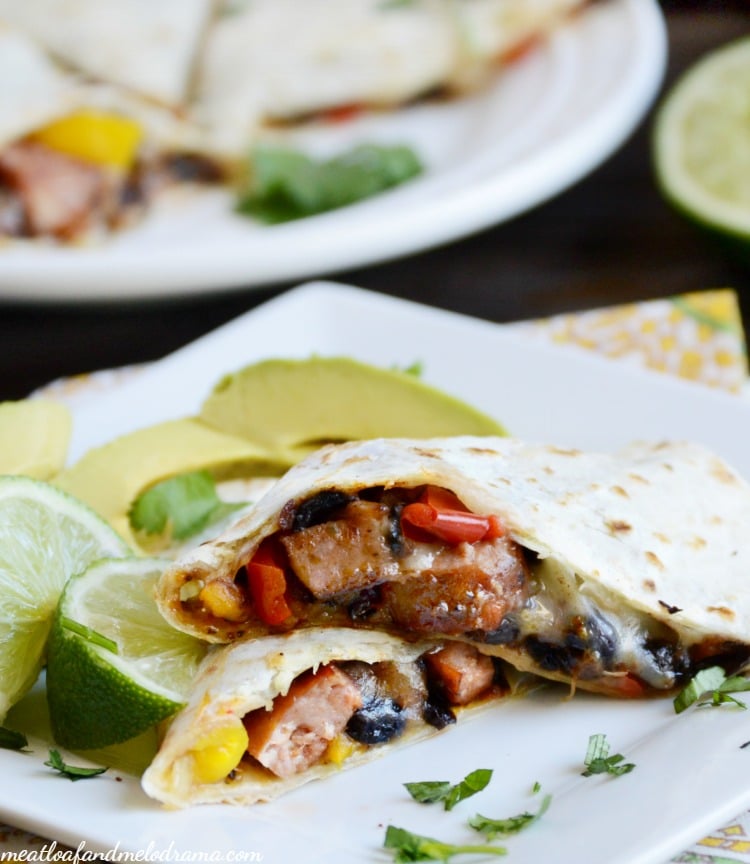 I'm all about quick and easy meals, especially once the weather starts warming up. It's no fun spending time in a hot kitchen when it's hot outside! So, I'm always on the lookout for meals and snacks that I can easily put together and that the kids will actually eat. If you have kids, you know what I mean.
All of my kids love quesadillas, burritos and wraps, even the super picky one. I think I could get them to devour almost anything if I wrapped a tortilla around it!
Needless to say, we tend to eat quesadillas frequently, although I like to switch up the contents. Usually, we'll have chicken, but sometimes, I'll use beef, especially if we have leftover taco meat.
Smoked sausages are fully cooked, and all you have to do is heat them up, which means you can get dinner on the table in no time at all. Since these sausages have jalapeno peppers in them, I thought they would be perfect for quesadillas and a nice change from the usual chicken and beef.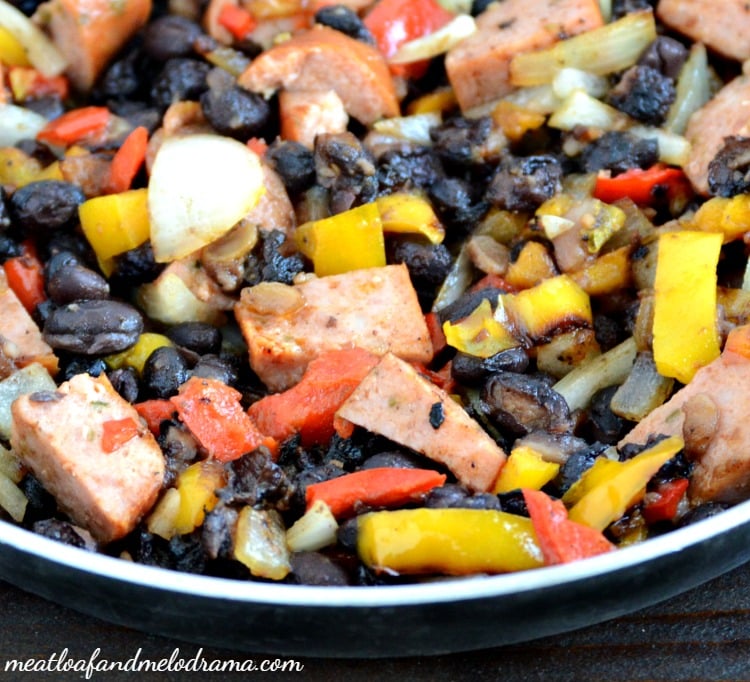 I also purchased a package of large tortillas, cheddar and Monterey Jack cheese, red and yellow peppers, onions and black beans. If you're not a fan of black beans, just leave them out. Personally, I happen to love the texture, so I always use them in quesadillas.
The prep work is easy and fast. Just slice the sausages into bite sized pieces, and roughly chop the onions and peppers. If you want to save even more time, use frozen peppers and onions, instead!
Saute the onions and peppers until they're soft, and then add the beans and meat. I let this cook a little while longer than usual since softer beans work better in quesadillas -- just a personal choice.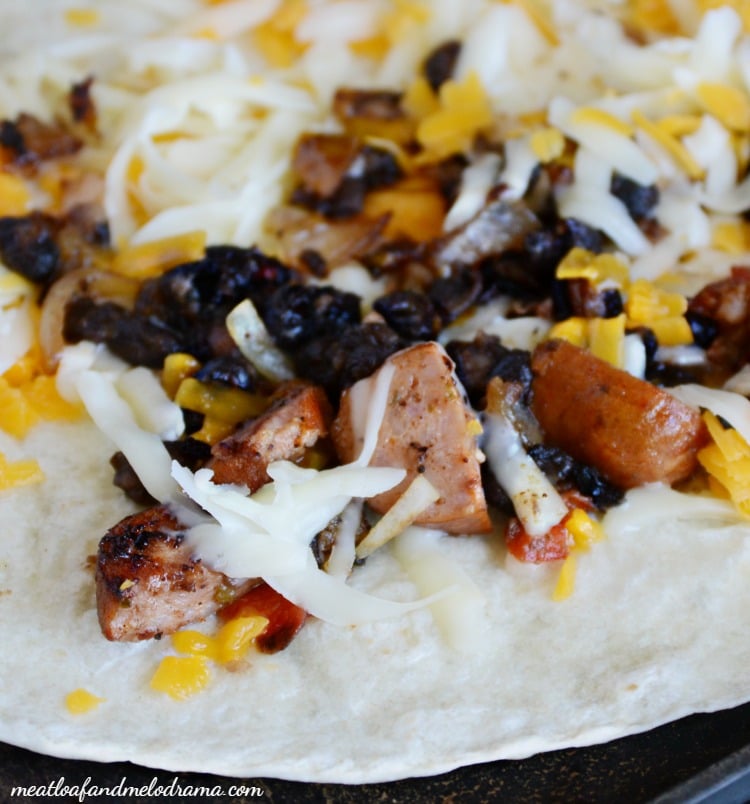 I like crispy quesadillas, so I used my griddle pan to warm up a tortilla with some cheese, and then, I added some of the meat mixture to one side.
When the tortilla is slightly brown, just fold it over the meat and cheese mixture, slice it into triangles, and you're done! You can serve these jalapeno sausage quesadillas with lime, avocados, guacamole, sour cream or any of your favorite toppings.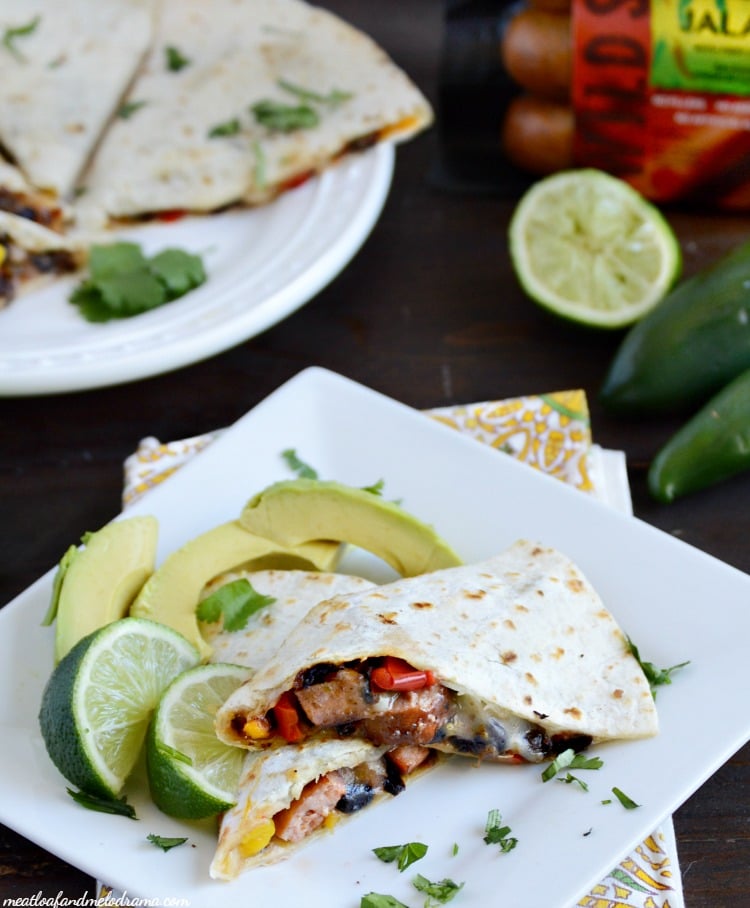 How to Make Easy Jalapeno Sausage Quesadillas
Recipe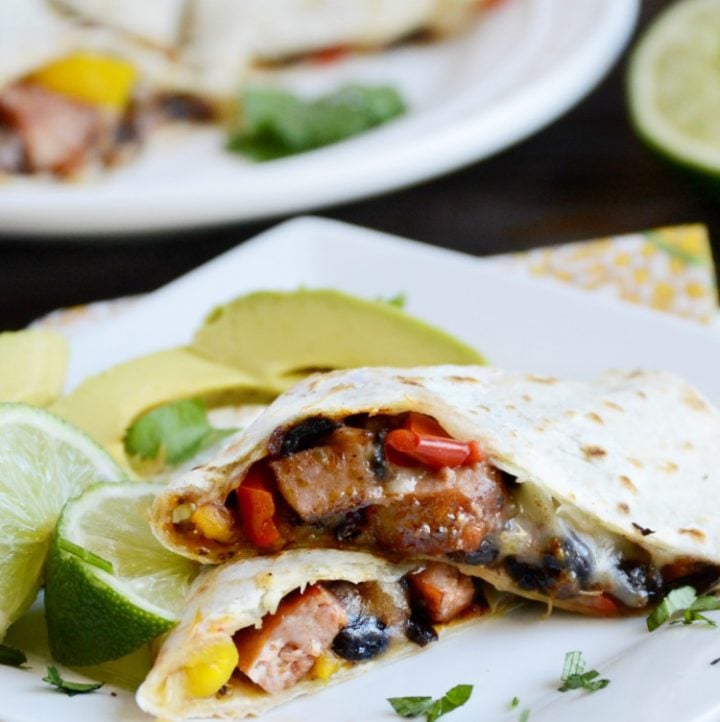 Easy Jalapeno Sausage Quesadillas
Quesadillas filled with jalapeno sausage, cheese, black beans, peppers and onions for a quick and easy meal or snack
Ingredients
4

smoked sausages

sliced thin, jalapeno cheddar flavor if you can find them

½

can black beans

½

cup

chopped onion

½

cup

chopped red and yellow peppers

1

cup

shredded Monterey Jack cheese

1

cup

shredded cheddar cheese

4

large tortillas

1

tablespoon

olive oil
Instructions
In a large skillet, saute the peppers and onions in olive oil over medium heat until soft

Add the sausages and black beans and cook until heated through

Turn heat to low

Place one tortilla at a time on a griddle or large pan over medium heat and allow to brown

Add some of the meat mixture and some cheese to one side of the tortilla, and fold the other side over the meat mixture

Slice into triangles, and repeat with remaining tortillas until meat mixture is gone

Top with avocado, lime, sour cream, guacamole or whatever you want!
Nutrition information is estimated. Please do your own calculation to fit special diets.
Nutrition
Calories:
209
kcal
Protein:
11
g
Fat:
18
g
Saturated Fat:
9
g
Cholesterol:
46
mg
Sodium:
308
mg
Potassium:
68
mg
Vitamin A:
345
IU
Calcium:
276
mg
Iron:
0.4
mg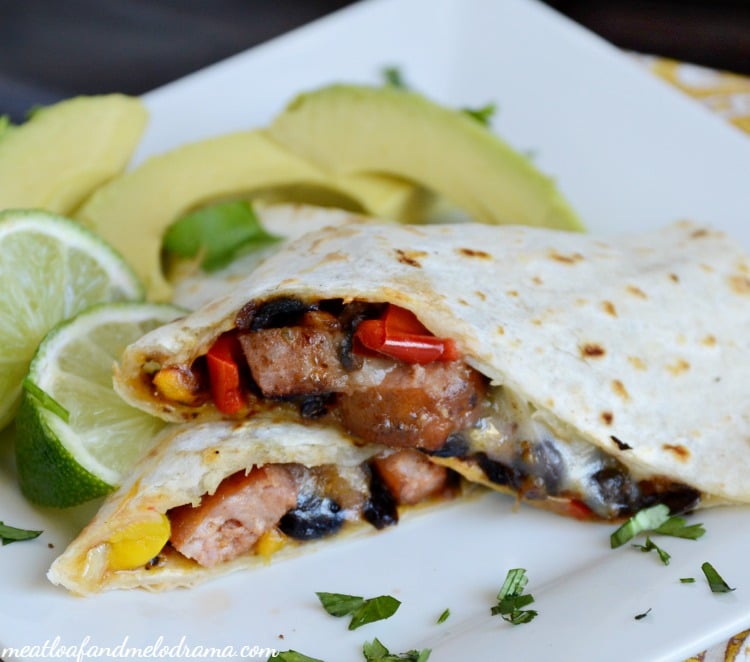 My family and I loved the bold flavor of the sausages. There's just the right amount of heat, and you don't need to add any extra spices. That's another time saver right there! Of course, if you like things super hot, go for it!
I think next time, we might even heat them on the grill and just have sausage sandwiches -- yum!