Grilled pork loin chops with lemon and rosemary are topped with a simple balsamic glaze and are bursting with flavor. Best of all, this easy dinner takes just a few minutes to make!
When the weather is nice, we cook dinner on the grill whenever possible — no surprise there, right? I'm thinking that many of you do the same. Usually we grill chicken or beef, along with a simple side of whatever veggies are in season. So last weekend, I sent the Hubs out to buy some chicken tenders from the local market. I didn't have a definite plan, but I figured I would start out with a basic marinade that included lemon and garlic and go from there.
But apparently, the store was out of tenders, so the Hubs came home with a package of pork loin chops, instead. And that meant that it was time to move to Plan B.
The chops were cut thin, but I figured that marinating them would help to add some flavor and keep them tender.
I put the chops into a large zip-top bag, along with some olive oil, spices, lemon, rosemary and garlic — gotta have garlic! We happen to have two small rosemary bushes in the yard, and since pork goes so well with this herb, I added a couple of springs to the bag.
We also have basil plants that are starting to take off, so I also added a few basil leaves.
If you don't have fresh rosemary, you can always use dried, instead. And if you don't have fresh basil, don't worry about it!
Because the chops were super thin, so we grilled them on a sheet of heavy-duty foil. I made a simple lemon balsamic marinade and we kept basting the chops while they cooked.
If  you don't have balsamic vinegar, or you don't like it, you can leave it out. I just think it adds some extra tang to the sauce.
How to Make Grilled Pork Loin Chops with Lemon and Rosemary
Grilled Pork Loin Chops with Lemon and Rosemary
Grilled pork loin chops marinated with garlic, lemon and rosemary and topped with a simple lemon balsamic sauce
Print
Pin
Rate
Servings:
6
to 8 servings
Ingredients
1

pound

boneless pork loin chops

For the Marinade

1/4

cup

olive oil

6

cloves

garlic

2

springs of rosemary

6

leaves

basil

1

teaspoon

sea salt

1

teaspoon

black pepper

For the Sauce

1/4

cup

lemon juice

1/2

cup

olive oil

2

teaspoons

balsamic vinegar

1/2

teaspoon

sea salt

1/2

teaspoon

ground black pepper

2

cloves

garlic

chopped
Instructions
Put the pork chops into a large zip-top bag, and fill with marinade

Marinate in the refrigerator for at least 30 minutes

Remove pork from bag, and set grill to medium heat

Grill chops on heavy-duty aluminum foil for about 4 minutes per side,(depending upon thickness) and baste with the sauce

Remove chops and cover

Place remaining sauce in a small saucepan, and cook on medium high heat for about 1 minute or until sauce begins to thicken

Pour sauce over pork chops, and serve immediately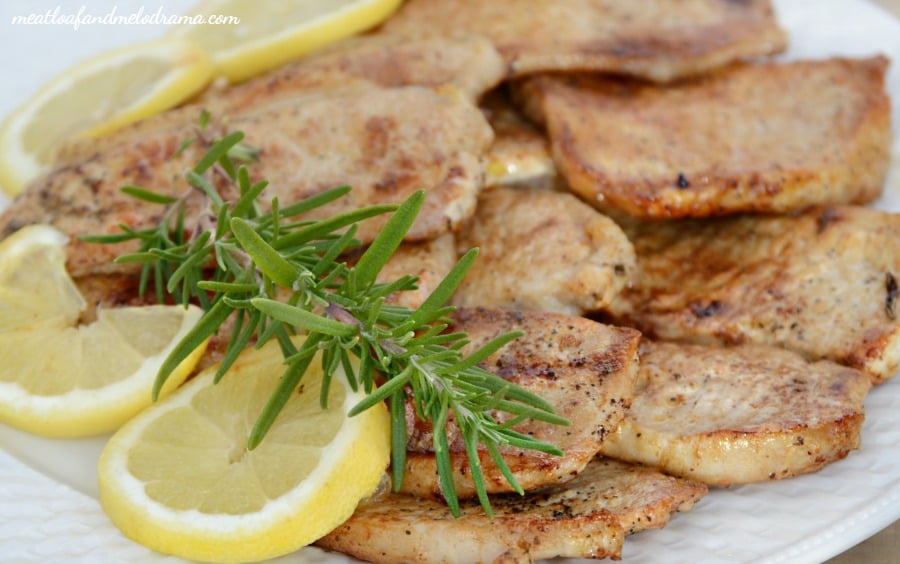 I cooked the remaining sauce and drizzled it over the pork chops right before I served them, but if you don't like a lot of sauce, you can just skip this step. But I have to say that the extra sauce makes the chops even tastier!
If you do decide to use up the extra sauce, make sure to heat it up for about a minute before you pour it over the meat. It's safer that way, and the balsamic vinegar starts to reduce and develop this amazing flavor.
We absolutely loved these grilled pork loin chops with lemon and rosemary! They had tons of flavor, and I loved that dinner was ready in about 30 minutes — definitely my kind of meal.
Happy Grilling!
Sharing At