Instant Pot Hawaiian BBQ Pork Chops are made in the pressure cooker and topped with a sweet and tangy pineapple barbecue sauce. It's a quick and easy dinner that's perfect for busy days!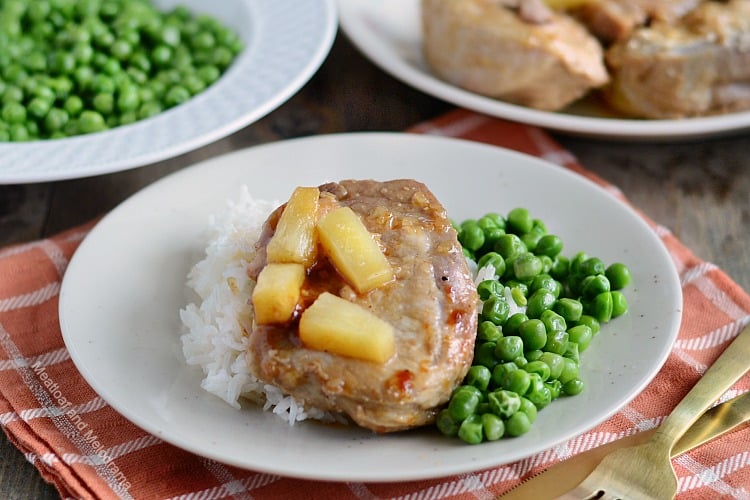 If you're looking for a quick and easy Instant Pot pork chop recipe, you have to try these Hawaiian BBQ pork chops! Just add the ingredients to the pressure cooker, cook, and in less than 3o minutes, you have juicy, flavorful pork chops!
I don't usually describe dinners as dump and go, but this recipe for Instant Pot pork chops really is a dump and go kind of dinner. It's the pressure cooker version of a boneless pork chop recipe I make sometimes on the stove, only I think it's so much easier to make in the Instant Pot. It's one of the easiest Instant Pot recipes you can make!
Personally, I think getting perfectly cooked, tender pan-fried pork chops can be a little tricky. My mom always made baked pork chops with a Shake and Bake or Oven Fry crispy coating -- crunchy, but good. I have a similar version I make with panko bread crumbs, but it's already too hot for that now.
So this Instant Pot boneless pork chop recipe is perfect right now! I usually sear the chops before frying them, and you can do that with this recipe if you want. I was trying to save time and fit all 6 pork chops into the pressure cooker, so I just skipped the searing.
How to make Instant Pot pork chops with Hawaiian BBQ pineapple sauce
I stayed pretty close to my original recipe when I made these pressure cooker pork chops. I added a little oil to the pot, and then I added the pork chops. Like I said, you can sear them first, either on saute or on the stove, but I was going for quick and easy dinner that day!
After the chops were nestled snugly together, I sprinkled them with a mix of dried spices.
Then, I added pineapple juice, brown sugar and barbecue sauce. I just drained a can of pineapple tidbits and used the juice for the liquid. It's about a cup, which is plenty of liquid when combined with the juice from the pork and the sauce. I also threw in some pineapple for extra flavor.
Don't stir everything together. Just keep the thick BBQ sauce on top of the chops, and it'll be fine.
How long do you cook pork chops in the Instant Pot electric pressure cooker?
These chops were pretty thick -- about an inch or so. I cooked them for 8 minutes, which was perfect. If you have thinner chops, you may want to try cooking them for 6 minutes or so. As with so many Instant Pot recipes, you may have to experiment a little until you find what works best for you.
When the pork chops were done, I put them on a serving platter and covered them with foil. This helps keep them juicy and also gives you time to boil the sauce a little to thicken it. You can also make a cornstarch slurry or add a little extra barbecue sauce to the liquid to thicken it up.
You can also add the rest of the pineapple before serving. My kids love extra pineapple!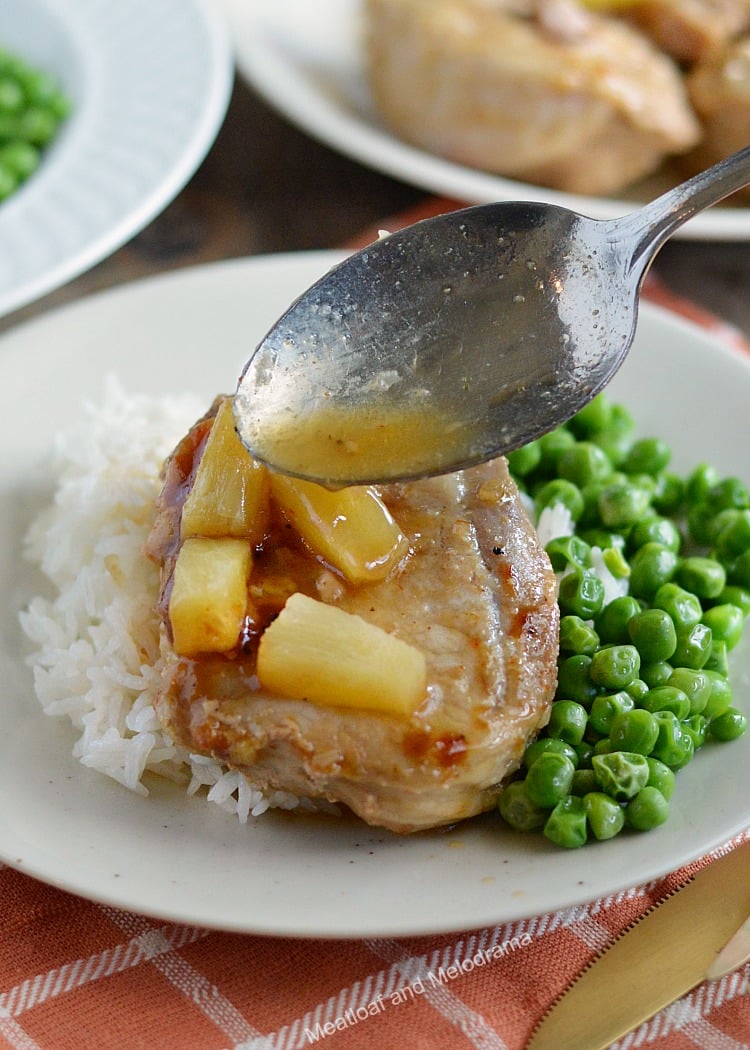 Do you need to add extra water to the pressure cooker?
You need thin liquid to bring the Instant Pot to pressure. In this case, the liquid from the pineapple juice, the thick pork chops and other ingredients is enough. I've made this several times, and it turns out perfect every time!
What do you serve with Hawaiian style pineapple pork chops?
We like to serve ours with Instant Pot jasmine rice. I usually cook that in my 6-quart pressure cooker while the pork chops are in the 8 quart. You can also make couscous, quinoa or mashed potatoes. You can also serve your favorite veggies to round out the meal!
Recipe for Instant Pot Hawaiian BBQ Pork Chops
Recipe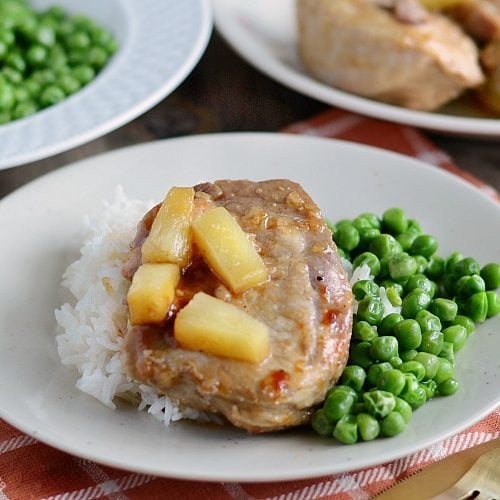 Instant Pot Hawaiian BBQ Pork Chops
Instant Pot Hawaiian BBQ Pork Chops are topped with pineapple and sweet and tangy sauce. Make this quick and easy dinner in the pressure cooker in about 20 minutes!
Ingredients
1

tablespoon

olive oil

6

boneless pork loin chops about 1 inch thick

1

teaspoon

sea salt

1

teaspoon

ground ginger

1

teaspoon

garlic powder

1

teaspoon

dried minced onions

1

cup

pineapple juice from 15-ounce can of pineapple tidbits

½

cup

barbecue sauce

¼

cup

brown sugar

1

cup

pineapple tidbits, plus more, if desired
Instructions
Add olive oil and pork chops to the Instant Pot, and top evenly with sea salt, ginger, garlic powder and minced onions

Pour pineapple juice around the sides and over the pork chops, then add the BBQ sauce and brown sugar. Do not stir.


Cover, and set vent to sealing position, and hit PRESSURE COOK for 8 minutes

After 8 minutes, do a natural release for 5 minutes, then do quick release until pin drops

Remove pork chops to a large platter, cover, and let rest

Hit SAUTE to boil and thicken sauce for about 5 minutes, or add a cornstarch slurry or extra BBQ sauce and boil for even for thicker sauce (optional)

Pour sauce and remaining pineapple over chops, and serve. Garnish with extra uncooked pineapple, if desired
Notes
Recipe was made in an 8-quart electric pressure cooker, using thick boneless pork chops and Heinz Hawaii sweet and smoky BBQ sauce
To make pork chops in a 6-quart Instant Pot, reduce pineapple juice to ½ cup. 
For thinner chops, pressure cook for 5 to 6 minutes.
Nutrition information is estimated. Please do your own calculation to fit special diets.
Nutrition
My family can't get enough of these easy Instant Pot Hawaiian BBQ Pork Chops. I hope you enjoy them as much as we do!