This Instant Pot Chicken Spaghetti recipe made with chicken breasts, spaghetti noodles and cheddar cheese is creamy and delicious. Your whole family will love this cheesy pasta dish, and it's perfect for an easy weeknight dinner!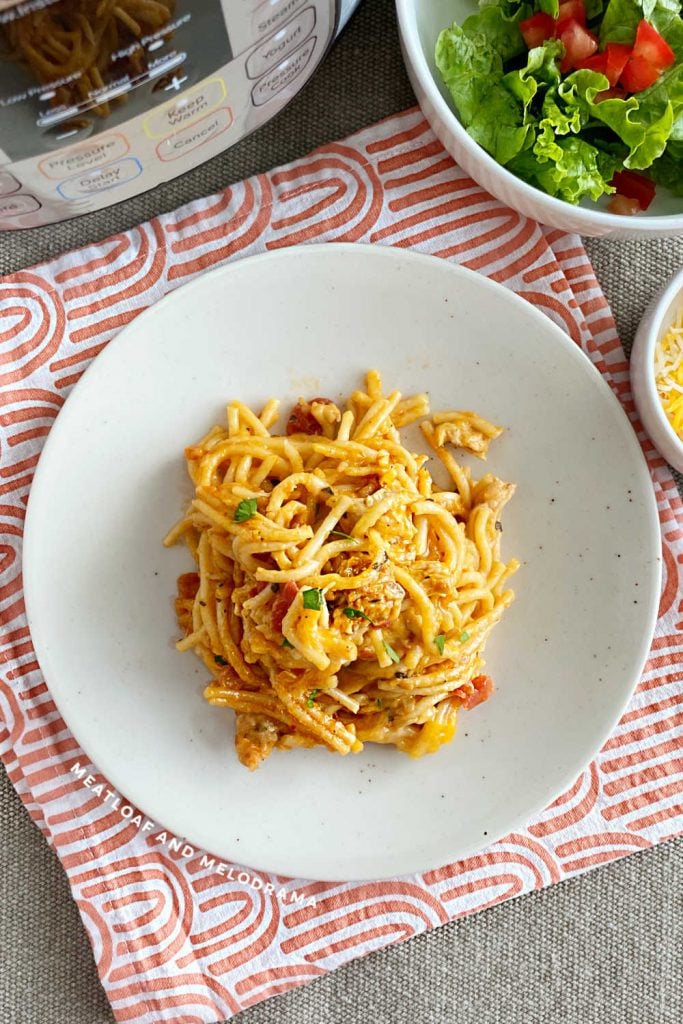 Jump to:
If you like classic cheesy chicken spaghetti, you're going to love this quick and super easy Instant Pot recipe. Creamy chicken spaghetti is a lot like the baked chicken casserole, but it cooks all in one pot for easy clean-up.
Unlike my Instant Pot Creamy Chicken Pasta, there's no tomato sauce or marinara sauce in this recipe. I use diced tomatoes, heavy cream and lots of cheese.
I also updated the recipe with instructions to make it with cream of chicken soup and sour cream. This version is perfect when you don't have cream on hand, but you still get a delicious rich, creamy sauce.
Ingredients
You only need a few simple ingredients to make easy instant pot chicken spaghetti. Chances are, you already have most of them in your refrigerator or pantry:
Chicken breasts -- boneless, skinless
Spaghetti noodles -- thin or regular
Diced tomatoes -- canned
Chicken broth
Heavy cream -- or 1 can cream of chicken soup and ½ cup sour cream
Cheddar cheese -- or cheddar blend or colby
Olive oil -- or vegetable oil or butter
sea salt, black pepper, smoked paprika, minced onions, garlic powder, Italian seasoning
How to Make Creamy Chicken Spaghetti in the Instant Pot
First, cut up your chicken into roughly 1 ½-inch pieces. Then, add olive oil to the bottom of the pot, and when it's hot, sauté the chicken on saute mode for just a couple of minutes in the Instant Pot.
You don't want to cook the meat completely. Just cook until it's no longer pink.
Season the meat as it cooks. If you want, you can save some of the spices to add to the different layers. I like to measure out the seasonings in a small bowl and add some as I go along.
Next, turn the pot off, making sure there isn't any meat sticking to the bottom of the pot. You can add a little bit of the chicken broth to deglaze the bottom of the pot if you need to.
Break up the spaghetti noodles in half. Then, layer them in a criss-cross pattern on top of the chicken.
I used thin spaghetti for this recipe, and it worked really well. It doesn't take as long to cook, and it was perfectly done. If you only have regular spaghetti, it's fine to use that.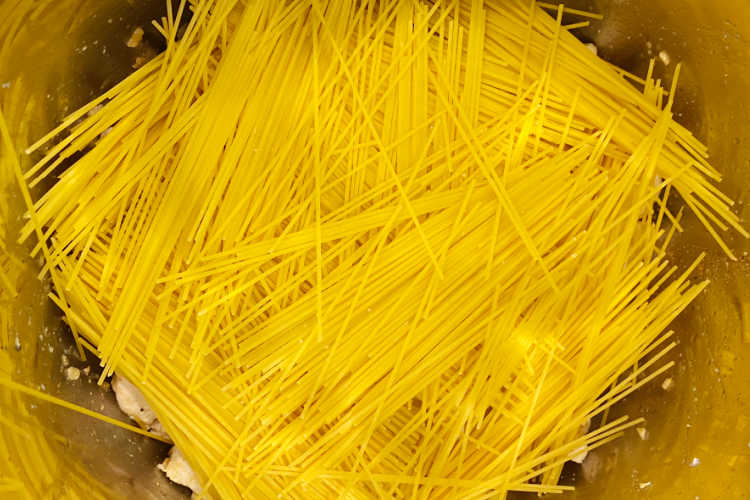 Now, pour chicken broth all over the noodles. Press down with a spatula to get the noodles as covered with broth as you can.
Then, pour the canned diced tomatoes over the noodles. Spread them out to cover the noodles, but don't stir! You'll do that after pressure cooking.
Here's how everything looks. If you are using cream of chicken soup, spoon it on top of the tomatoes, but don't stir! This helps to avoid the burn notice.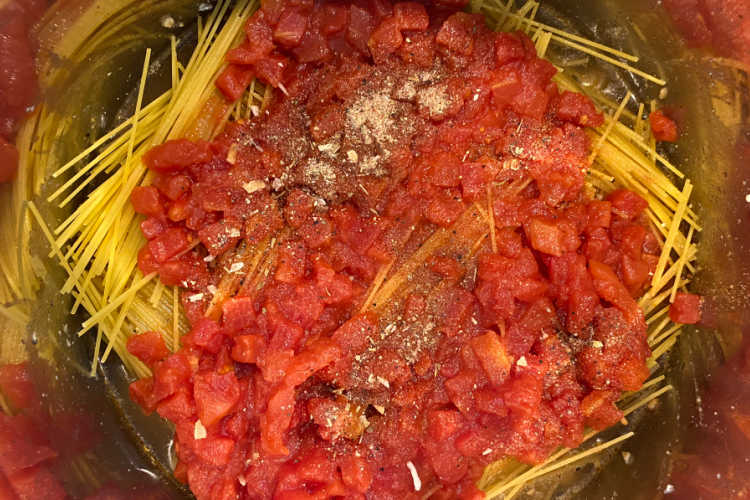 Cooking Time
Now, put the lid on the electric pressure cooker, and pressure cook for 4 minutes on high pressure. The pot will take a few minutes to reach pressure.
Total cook time may vary with individual pressure cookers.
After the pasta is done pressure cooking, do a quick release. I never have trouble with liquids spraying out in my 8 quart, which is what I'm using here.
If you're using a 6 quart or liquid does start spraying, you can do a gradual quick release to prevent a mess all over your kitchen. Never do a natural release with pasta, as it will become mushy.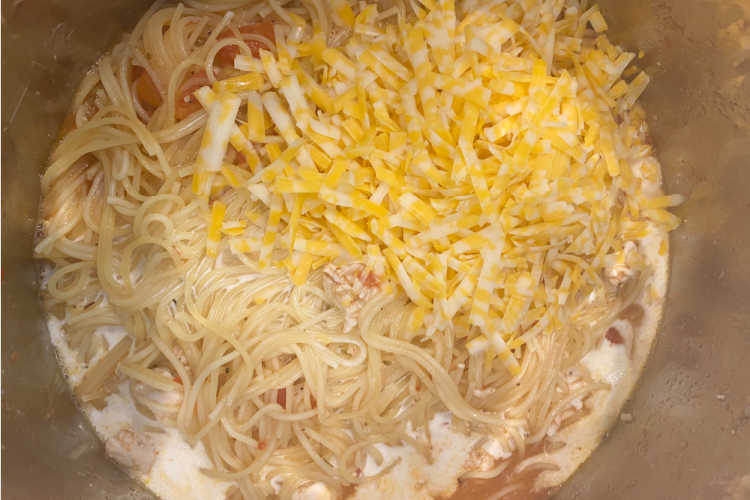 Then, give the spaghetti a good stir, and keep stirring to remove any clumps of spaghetti that may have gotten stuck together. If you're using thin spaghetti, it breaks up very easily.
Add the heavy cream and 1 cup of cheese at a time. Keep stirring until it's all nice and melted. It may look soupy, but believe me, the liquid gets absorbed as it sits.
If you are using sour cream, add it instead of the heavy cream. Then, add the cheese. The cheesy sauce will be thicker than if you are using the cream.
This cheesy chicken pasta is absolutely delicious. It's creamy, flavorful and definitely comfort food.
So, what to serve with chicken spaghetti? All you need is a simple side salad, dinner rolls or maybe steamed broccoli.
Noodle lovers, this one's for you! This creamy spaghetti is already a family favorite and one of my family's favorite Instant Pot pasta recipes! We absolutely love this chicken dinner, and I hope you do too!
Variations
There are so many flavorful substitutions to this easy chicken spaghetti recipe. Use leftover rotisserie chicken to save time or chicken tenders instead of chicken breasts.
Throw in some chopped bacon for extra flavor. Add froze slightly thawed peas or chopped broccoli for a one pot meal.
Make it Mexican by substituting Rotel for the diced tomatoes and using Mexican blend cheese or pepper jack instead of cheddar.
You can also add more cheese if you want this easy meal even cheesier. Just add it one cup at a time for easier mixing. If you have a Duo Crisp or crisp lid or a Ninja Foodi, you can layer cheese on top and broil it. Yum!
How to Store
This chicken pasta recipe makes a lot of food, which is a good thing when you want leftovers for later. Store leftover chicken spaghetti in an airtight container in the refrigerator.
It should keep well for about 4 days. To reheat, place it in a casserole dish, top the spaghetti with cheese, and bake it. You've got a whole different dinner that even picky eaters love!
Make this cheesy chicken spaghetti recipe a freezer meal -- Freeze leftover chicken spaghetti in freezer bags or freezer safe containers for up to 3 months. Or, transfer cooled, cooked cheesy spaghetti to a freezer safe container or individual gallon freezer bags.
Perfect for sharing with friends and family or for meal prep!
Recipe
Instant Pot Chicken Spaghetti
This Instant Pot Chicken Spaghetti recipe made with chicken breasts, spaghetti noodles and cheddar cheese is creamy and delicious. Your whole family will love this cheesy pasta dish, and it's perfect for an easy weeknight dinner!
Ingredients
1

tablespoon

olive oil

or vegetable oil

1.5

pounds

chicken breast

cut into 1.5 inch pieces

1

tablespoon

dried minced onions

1

teaspoon

sea salt

1

teaspoon

garlic powder

1

teaspoon

Italian seasoning

½

teaspoon

ground black pepper

½

teaspoon

smoked paprika

16

ounces

thin spaghetti noodles

broken in half -- 1 regular box

32

ounces

low sodium chicken broth

4 cups

15

ounces

petite diced tomatoes

1 can, undrained

1

cup

heavy cream

3

cups

grated Colby Jack Cheese

or cheddar. Use more if you want

cooked chopped bacon (optional)
Instructions
Hit Sauté on the Instant Pot, and when it reads Hot, add the oil. Then add chicken, and season with dried onions, sea salt, garlic powder, Italian seasoning, paprika and pepper, and cook until no longer pink, stirring frequently

Hit Cancel, make sure no meat is stuck to bottom of pot, and layer spaghetti noodles in criss cross pattern over chicken

Pour chicken broth over noodles, press down with spatula to cover with liquid, and add diced tomatoes over pasta. Do not stir! Place lid on pot, make sure valve is on sealing position, and cook for 4 minutes. Pot will take a few minutes to pressurize. When pot beeps, do quick release or gradual release, then wait for pin to drop and open lid carefully

Stir well, then pour in heavy cream, and gradually add 1 cup of cheese at a time, stirring until fully blended. Add bacon pieces if desired, and allow to sit and absorb some of the liquid before serving.
Notes
Recipe was made in 8-quart Instant Pot pressure cooker, but can be made in a 6 quart without changing amounts.
Thin spaghetti (Barilla) works best here, but if using regular spaghetti, cook for 5 minutes or half the time recommended on box.
If spaghetti sticks together, stir until it loosens up. There will be a lot of liquid, but sauce will thicken up as it cools.
Use 1 can of cream of chicken soup and ½ cup of sour cream instead of the heavy cream. Add the chicken soup over tomatoes before pressure cooking (don't stir) and stir in sour cream after pressure cooking.
Nutrition information is estimated. Please do your own calculation to fit special diets.
Nutrition
Calories:
528
kcal
Carbohydrates:
41
g
Protein:
33
g
Fat:
26
g
Saturated Fat:
14
g
Cholesterol:
114
mg
Sodium:
646
mg
Potassium:
635
mg
Fiber:
2
g
Sugar:
4
g
Vitamin A:
905
IU
Vitamin C:
5
mg
Calcium:
322
mg
Iron:
2
mg
For more easy Instant Pot recipes and other delicious easy recipes, be sure to sign up for the weekly newsletter!
Don't forget to follow me on social media and share this chicken spaghetti Instant Pot recipe if you like it as much as we do!

Recipe originally published in 2020 and updated in 2021