Learn How to Steam Broccoli in the Microwave for a quick, easy and healthy side dish that takes just a few minutes to make. You only need 2 ingredients for this simple recipe!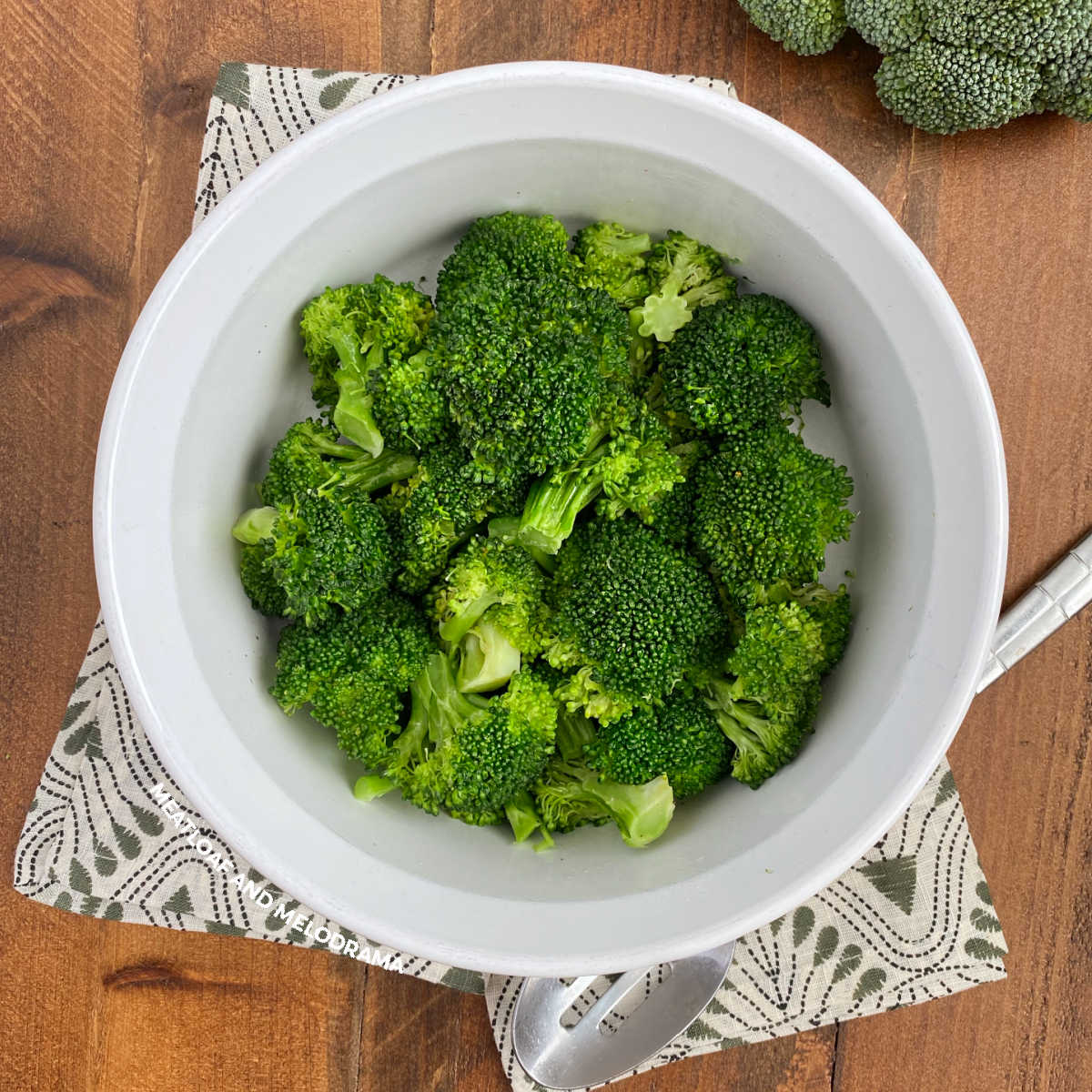 Broccoli is one of my family's favorite side dishes. It goes with just about anything, and it's super easy to make. Sometimes I make air fryer broccoli, but I probably cook broccoli in the microwave more often than anything.
A lot of people frown on this cooking method, but this busy mama would be absolutely lost without a microwave! I use it daily to reheat leftovers and cook vegetables, like microwave baked potatoes, sweet potatoes, green beans, and asparagus, carrots and cauliflower.
They all cook so fast in the microwave, and they turn out perfect every time. What's not to love about that?!
How to Microwave Broccoli
First, you want to rinse broccoli under cold running water. Then, you need to cut it into florets. I like to trim as much of the stem off as possible since it's the toughest part.
You can leave the stems longer if you like. Or, you can save the stems to add to Broccoli Cheese Soup and other soups and stews.
Next, add the florets to a microwavable bowl or serving dish. That's the other thing I love about this cooking method — fewer dishes!
Now, add a couple tablespoons of water. Usually, I just eyeball the water, but it's about 2 tablespoons. These are the only ingredients you really need to steam broccoli in the microwave!
Of course, we like extra flavor. So, I add a little butter and a pinch of salt, pepper and garlic powder. Sometimes, I'll even sprinkle in some soy sauce for extra flavor, especially if Asian food is on the menu.
Cover the dish with a clean paper towel, plastic wrap (with an opening) or a microwave-safe cover. I have a cover that fits over most dishes — super convenient!
How Long to Cook
How long to microwave broccoli depends upon how much broccoli you're cooking and how tender you want it. I usually cook at least 4 heaping cups of broccoli — sometimes more. We like broccoli tender crisp, so 4 minutes is perfect for us.
If I'm making more than that, I'll cook it for 5 to 6 minutes. If you only need a couple of servings, say 2 cups of broccoli, try cooking it for 2 1/2 to 3 minutes.
Keep in mind that when microwaving vegetables, they will continue to cook after you take them out. So, try a lower cook time first. You can always cook them longer if you need to.
How to Store and Reheat
If you have leftover cooked broccoli, store it tightly covered in the fridge. It should keep for about 4 to 5 days. You can reheat it in the microwave by cooking it for 30 seconds to 1 minute or until it's warm. Total time depends on how much you're reheating.
Steam Broccoli in Microwave
Learn How to Steam Broccoli in the Microwave for a quick, easy and healthy side dish that takes just a few minutes to make. You only need 2 ingredients for this simple recipe!
Ingredients
4

cups

raw broccoli

1 to 2 heads

2

tablespoons

water

1

tablespoon

butter

optional

pinch

sea salt, garlic powder, pepper

optional
Instructions
Rinse broccoli, and chop into florets

Add broccoli florets to microwavable bowl, and add water, sea salt, pepper, garlic powder and 1 tablespoon butter if desired

Cover with vents for steam, place in microwave, and cook for 4 minutes. Carefully remove cover, stir and serve
Notes
If you like crisper broccoli, cook for 3 minutes, and add another minute if needed.
Nutrition
Calories:
56
kcal
Carbohydrates:
6
g
Protein:
3
g
Fat:
3
g
Saturated Fat:
2
g
Trans Fat:
1
g
Cholesterol:
8
mg
Sodium:
55
mg
Potassium:
288
mg
Fiber:
2
g
Sugar:
2
g
Vitamin A:
654
IU
Vitamin C:
81
mg
Calcium:
44
mg
Iron:
1
mg
If you like this recipe as much as we do, leave a comment or give me a shout-out on social media! Sign up to receive weekly recipes by email!