Instant Pot Creamy Chicken Pasta is an easy pressure cooker dinner recipe made with chicken and pasta shells in a cheesy tomato cream sauce. This one pot Italian-style chicken dinner takes about 30 minutes to make, so it's perfect for busy days, and it's kid friendly!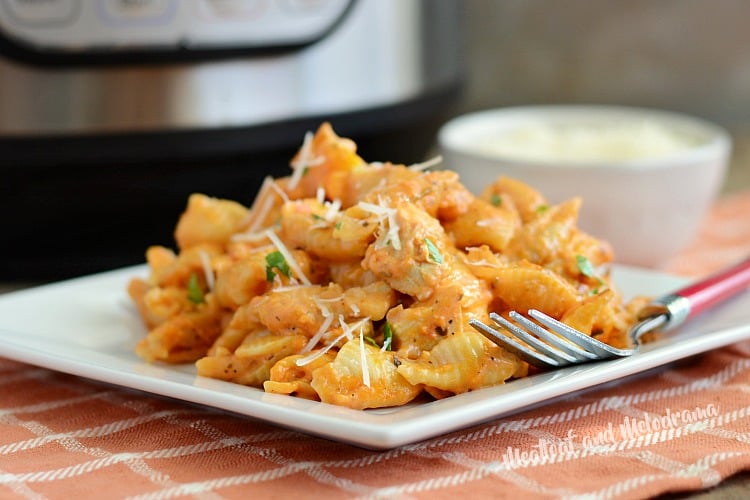 If you're looking for an easy dinner recipe made with chicken and pasta, you're going to love this delicious Instant Pot Creamy Chicken Pasta. It's like a homemade Chicken Helper, and it's super kid friendly. Best of all, it's a one pot dinner, so there's hardly any clean-up for you!
You guys, my family thinks this is one of the best Instant Pot chicken recipes I've ever made. Seriously. I hate to brag — really I do, but when even my picky eaters like what I make for dinner, I know it's good!
This recipe is basically a knock-off of Instant Pot Creamy Shells and Beef, which is one of the most popular recipes on the blog right now. I'm always looking for easy chicken recipes with few ingredients, and that's pretty much how this delicious chicken dinner was born. It's super quick and easy to make, and the only difference between the two recipes is that one dinner is made with ground beef and the other is made with chicken.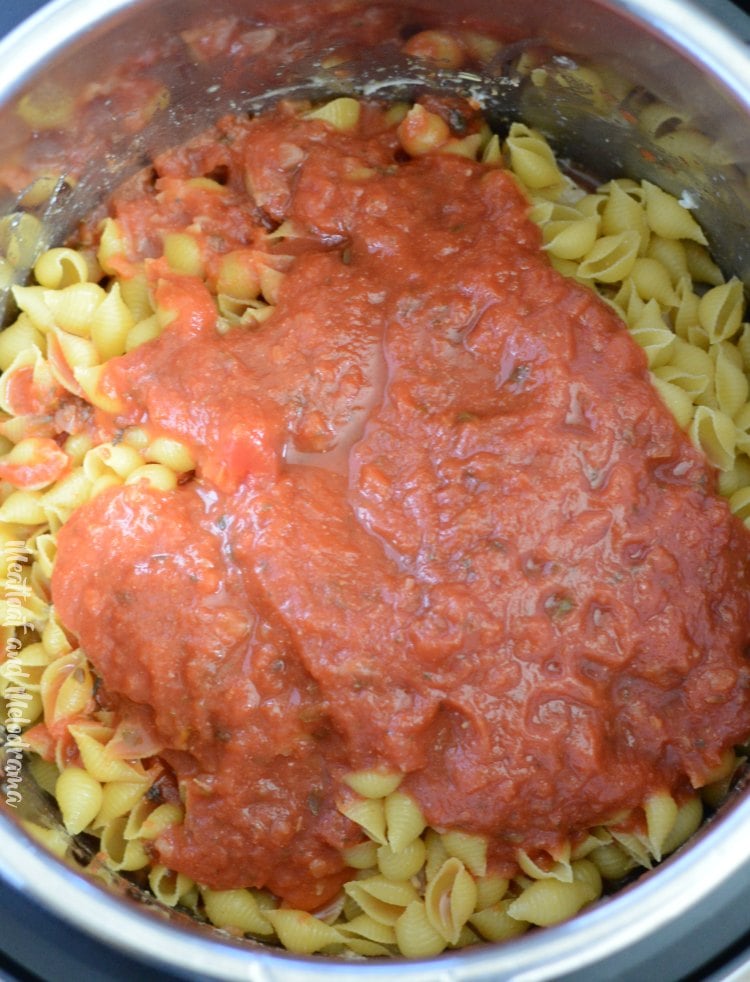 Making this Instant Pot creamy shells and chicken is super simple. All you do is cook the chicken in the Instant Pot on the saute setting until it's no longer pink. Then, you layer the pasta, water and marinara sauce, and let the pressure cooker get to work.
To make it creamy, I like to add some heavy cream and a little bit of Parmesan cheese at the end. And that's all there is to it! Easy peasy, right?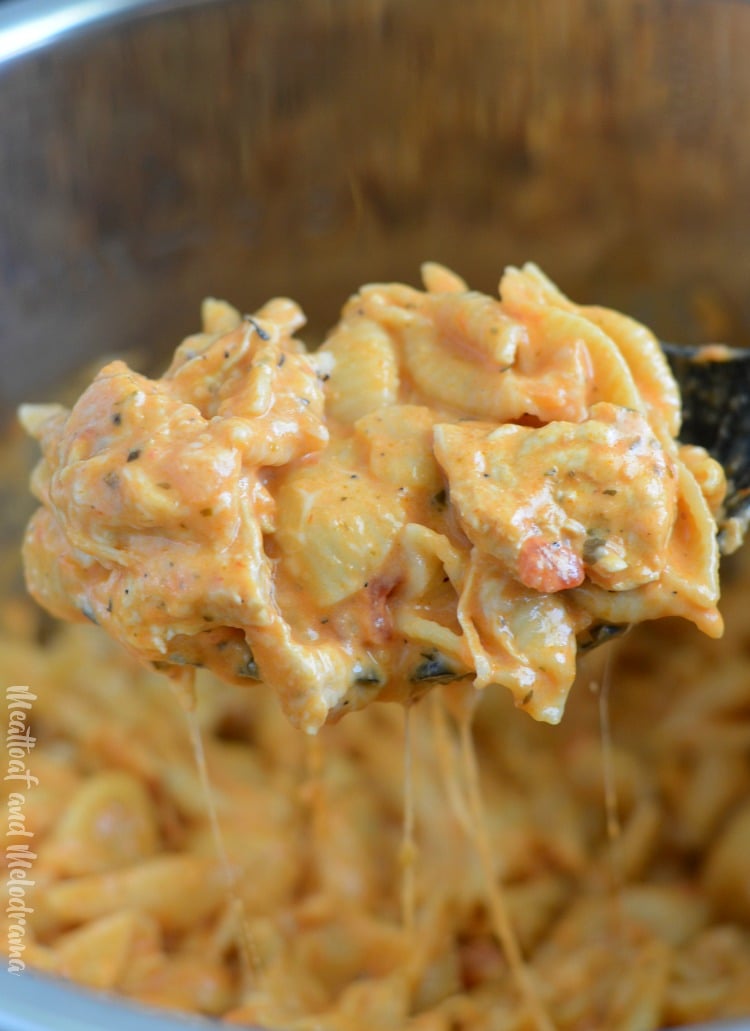 How long do you cook chicken and pasta together in the Instant Pot?
Since we're cooking the cut-up chicken first, you only need to cook the whole dish for 4 to 5 minutes.
Can I use any kind of pasta for this recipe?
Any short, thick pasta would work here. Macaroni or mini penne would be perfect!
Can I use milk instead of heavy cream?
You can definitely use milk here, but the consistency will be thinner.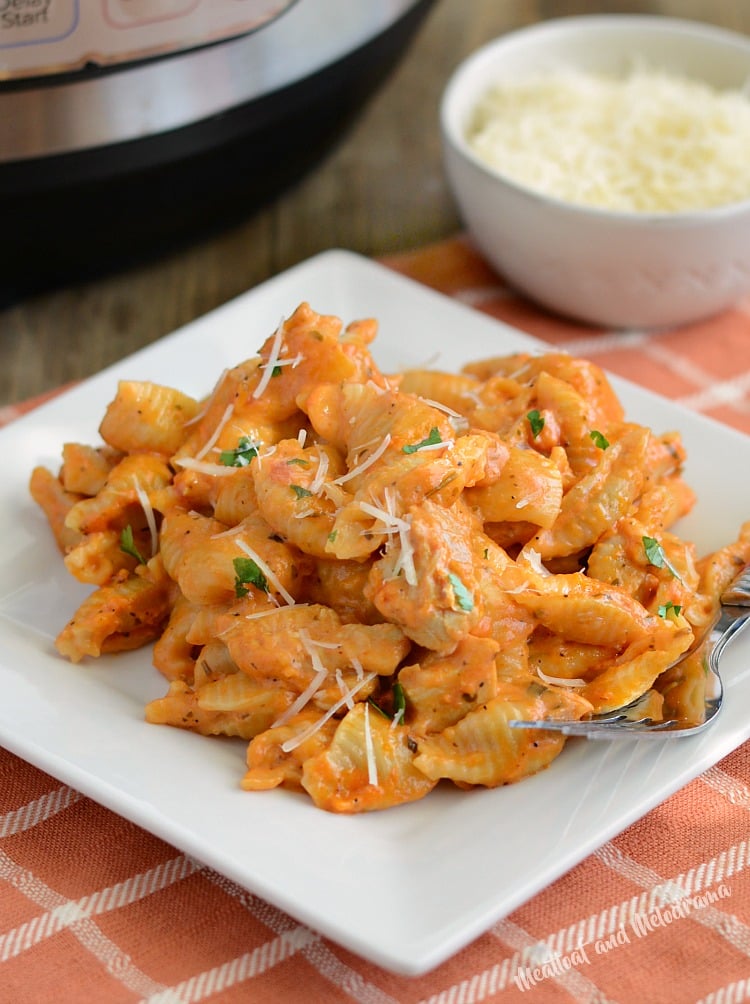 Tips for making Instant Pot Creamy Chicken Pasta
Make sure no chicken is stuck to the bottom before you start pressure cooking. Deglaze the pot with a spatula and extra water, if needed
Use a thin marinara sauce, not a thick and chunky one
Layer the pasta shells, water and marinara sauce, but don't stir it all together
Add extra cream at the end if you like more sauce
Here's a quick video of Instant Pot Creamy Chicken Pasta
How to Make Instant Pot Creamy Chicken Pasta
Instant Pot Creamy Chicken Pasta
Instant Pot Creamy Chicken Pasta is a quick and easy dinner made in the pressure cooker with chicken and shell pasta in a cheesy tomato cream sauce.
Ingredients
1

pound

boneless skinless chicken breasts, cut up

1

tablespoon

olive oil

1

tablespoon

Italian Seasoning

1

teaspoon

sea salt

1

teaspoon

garlic powder

1/2

teaspoon

black pepper

1

16-ounce box

medium shell pasta, uncooked

1

24-ounce jar

marinara sauce

3

cups

water

1 1/2

cups

heavy cream

1

cup

shredded Parmesan cheese
Instructions
Hit SAUTE button on pressure cooker, and when it reads HOT, add olive oil

Add cut-up chicken to hot pot, and cook until chicken is no longer pink, stirring frequently

Add Italian Seasoning, sea salt, garlic powder and pepper, and stir until well coated. There should be plenty of juices from the chicken to deglaze pot and scrape up any chicken that might be sticking to bottom. Add a little water if necessary to make sure no chicken is sticking to pot.

Hit CANCEL, then add uncooked pasta shells, water and marinara sauce on top. Press lightly to make sure pasta is covered with liquid, but do not stir

Cover, turn knob to sealing position, and hit PRESSURE COOK for 5 minutes

When pasta is done cooking, do a gradual quick release, and when pin drops, open lid

Stir in heavy cream and Parmesan cheese until well blended, and serve immediately
Recipe Notes
This recipe was made in an 8 quart Instant Pot pressure cooker, using Barilla brand marinara sauce and medium pasta shells.
For firmer pasta, set cook time to 4 minutes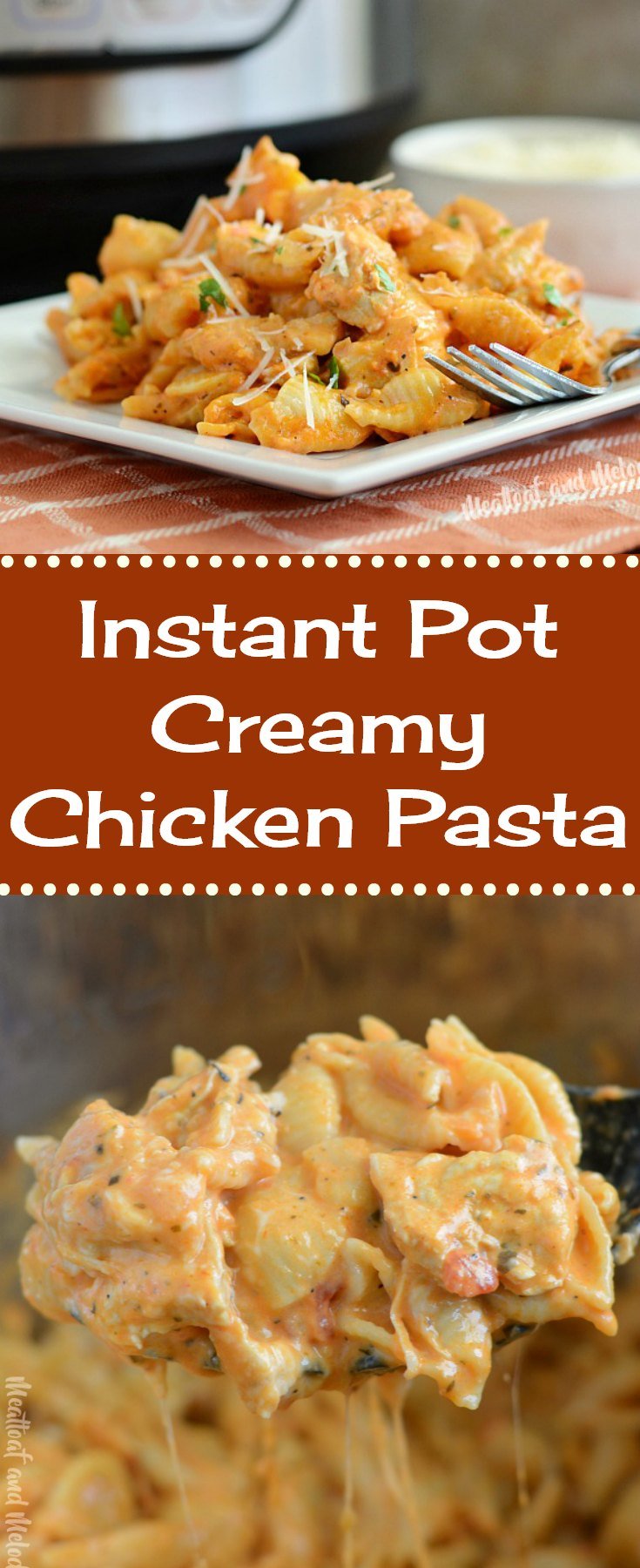 My family devoured this easy Instant Pot creamy chicken pasta in just a few minutes! I hope you enjoy this recipe as much as we do!
Happy Cooking,