Easy Instant Pot Hamburger Soup is made with ground beef, potatoes, carrots or other vegetables cooked in a savory tomato beef broth. Perfect comfort food!
Easy Instant Pot hamburger soup is the pressure cooker version of the ground beef noodle soup recipe I posted last year. I've been converting as many of my stove top recipes to Instant Pot recipes as possible, so I was so excited for this one! I would have made hamburger noodle soup in the Instant Pot sooner, but nobody really wants soup in a hot Phoenix summer!
Hamburger soup is such an easy dinner recipe, and it's definitely one of the easiest Instant Pot soup recipes I've made yet. I eliminated as much of the prep work as possible, so there's not a lot chopping going on. This Instant Pot soup is easy enough to do during the week, and there are plenty of leftovers to enjoy later!
Even though I used egg noodles in the original recipe, I made this hamburger soup with potatoes -- baby potatoes. They're small enough to throw in whole, and you don't peel them. Same with the carrots.
So, you only have to chop up some celery and an onion. But here's a tip -- keep some chopped onions in the freezer! Or, use dried minced onions to make this hamburger soup (or any recipe) easier!
I've made this easy hamburger soup several times already, and even my picky eaters love it. You can mash up the potatoes and carrots to make it thick and stew-like if your kids don't like broth. And, you can add green beans, corn or other veggies to make it a little different each time.
How to Make Instant Pot Hamburger Soup
Start off by browning the ground beef in the Instant Pot. I like to use lean or extra-lean ground beef to avoid draining the grease, but you can drain it if you need to.
Then, add some celery, onions and season the mixture before adding the broth. Make sure no beef is stuck to the pot, and deglaze it using the beef stock if you need to.
Next, add the potatoes and carrots. Since they're so small, just toss them in without slicing. And then, add the beef broth and canned tomatoes.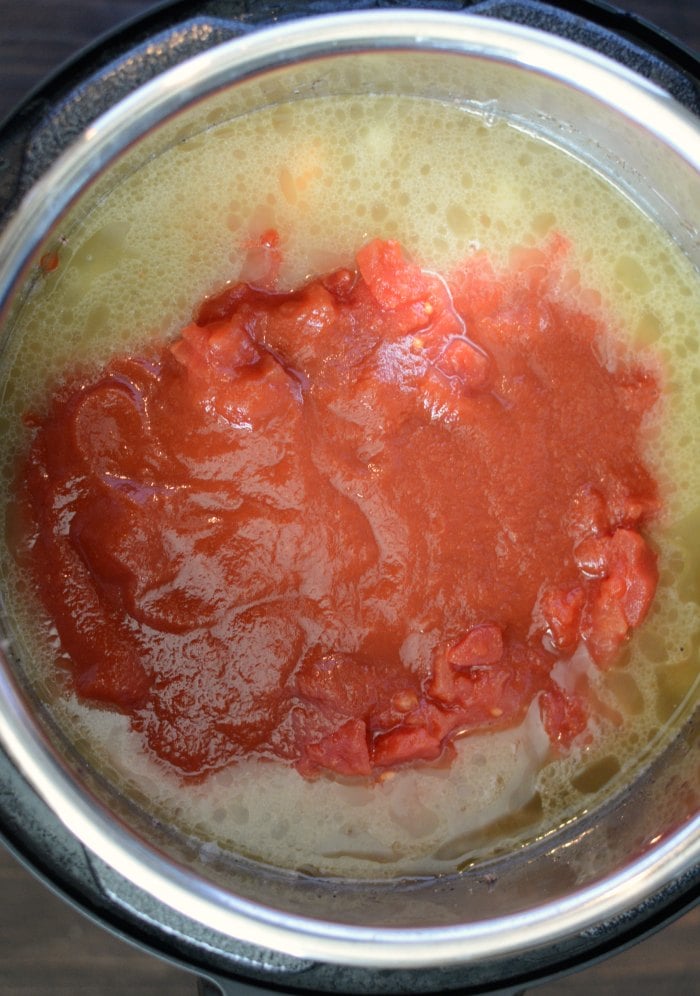 I use both diced tomatoes and tomato sauce in hamburger soup. Actually the first time I made this soup in the Instant Pot, I only had a large can of tomato sauce. I thought it might be too much tomato flavor, but it was so good that I used the same amount the next time.
Pressure cook the soup for 10 minutes with a 5 to 10-minute natural release. Technically, you can do a quick release, but you may end up having to repaint your kitchen -- soups tend to spray everywhere!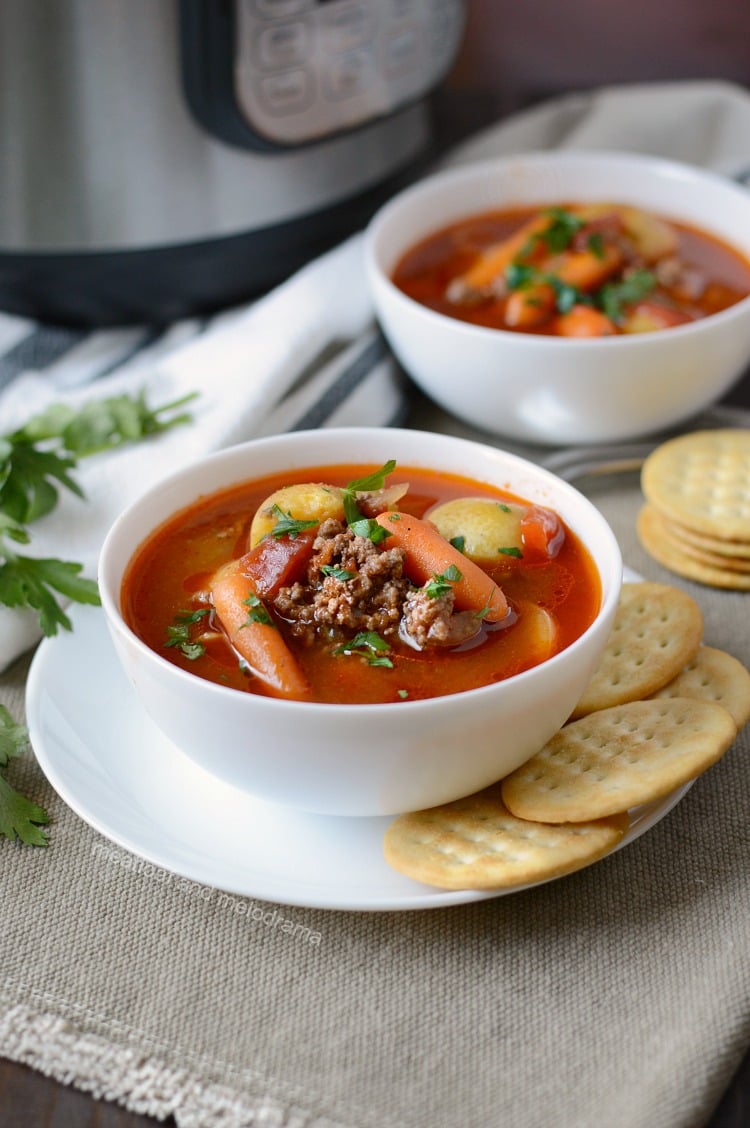 Looking for more Instant Pot ground beef recipes?
Recipe for Instant Pot Hamburger Soup
Recipe
Instant Pot Hamburger Soup
Easy Instant Pot Hamburger Soup is made with ground beef, potatoes, carrots or other vegetables cooked in a savory tomato beef broth. An easy dinner recipe that's perfect comfort food!
Ingredients
1

tablespoon

olive oil

1

pound

lean ground beef

1

small

onion, chopped

2

medium

celery stalks, chopped

1 ½

teaspoons

sea salt

1

teaspoon

garlic powder

½

teaspoon

ground black pepper

1

32-ounce

carton, low sodium organic beef broth

1

15-ounce

can low sodium diced tomatoes

1

16-ounce

can low-sodium or no salt added tomato sauce

1

1.5-pound

bag baby potatoes

½

1-pound

bag baby carrots
Instructions
Turn Instant Pot to SAUTE setting, and when it reads Hot, add the ground beef, break up with spatula, and cook until no longer pink

Add the onion and celery, and season with sea salt, garlic powder and pepper. Cook until onion is slightly soft

Hit CANCEL, then pour in beef stock, and deglaze pot (if necessary) by stirring beef to make sure nothing is stuck to bottom. Layer potatoes, carrots, diced tomatoes and tomato sauce on top -- DO NOT STIR

Cover with lid, turn vent to Sealing position, and hit PRESSURE COOK for 10 minutes

Pot will take a few minutes to reach pressure, then count down and cook. Allow a 10 minute natural release to avoid broth spraying from valve. Then, do quick release by turning valve to venting to release remaining pressure

When pin drops, remove lid, stir and serve!
Notes
Recipe can be made in either the 6-quart or 8-quart Instant Pot pressure cooker without changing ingredient amounts or cooking time.
Add green beans, peas, corn or your favorite vegetables for variety. 
Nutrition information is estimated. Please do your own calculation to fit special diets.
Nutrition
I hope you enjoy this easy Instant Pot hamburger soup recipe as much as we do!