This recipe for Ground Beef Noodle Soup is quick and easy to make and perfect when you're craving hearty comfort food without a lot of work.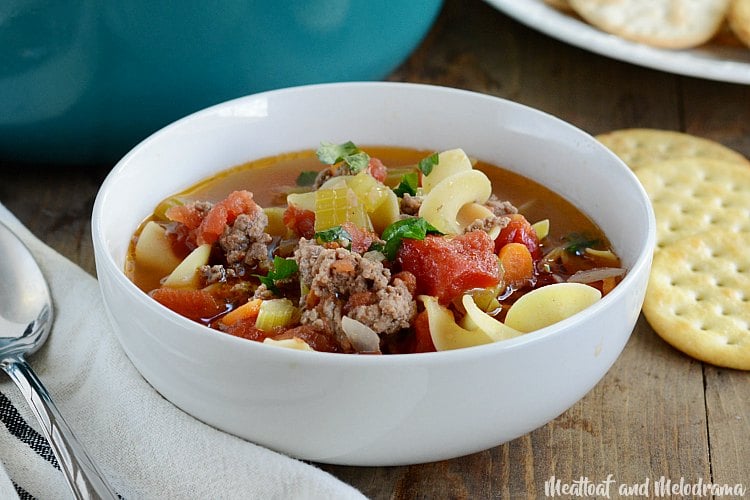 This is a quick and easy way to make the classic beef noodle soup. You could probably call it hamburger soup, since it's made with ground beef, or you could call it vegetable beef soup if you want to add more veggies. Whatever you call it, it's perfect when you're craving a big bowl of comfort food without a ton of work!
Growing up, we used to have made-from-scratch beef soup every now and then. Usually, we had chicken soup, especially if someone wasn't feeling well, so beef soup was definitely a treat. Actually, we probably ate canned soup more often than anything, especially for lunch, so anything homemade was always a treat!
To save time, my grandma would make beef soup using hamburger meat, and honestly, this was one of my favorites. I mean, what kid doesn't like hamburgers?! And this, my friends, is the soup recipe we're talking about today!
I updated the original recipe to add organic low sodium beef broth instead of beef bouillon, and I also added a little bit of chopped garlic. And to make it even easier, I chopped up a couple of baby carrots instead of peeling and chopping the regular kind. Other than that, it's pretty much the same as I remember, which is pretty darn good. Because soup is good food, right?!
Even my picky eaters thought this ground beef noodle soup was delicious. Well, the pickiest eater had some issues, but that's because she doesn't really like any soup at all. She even tried to cover her bowl with a napkin to hide the broth after picking out the meat and noodles! But the rest of the family loved it, and even the Hubs had seconds!
Want to Make Easy Vegetable Beef Soup?
You can change up this basic recipe by adding a cup or so of frozen veggies. Try:
Looking for More Easy Ground Beef Recipes?
Recipe for Ground Beef Noodle Soup
Recipe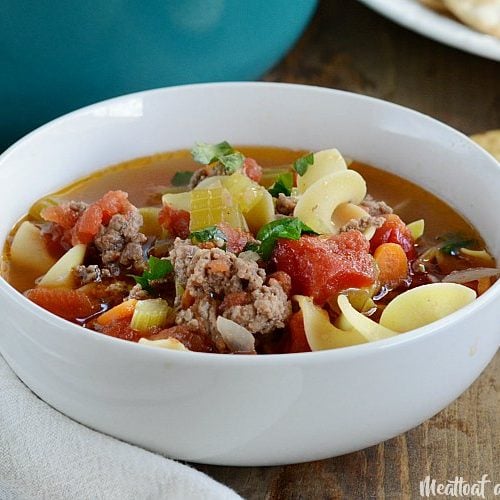 Ground Beef Noodle Soup
An easy recipe for ground beef noodle soup that's loaded with meat, tomatoes, carrots, celery and egg noodles and perfect when you're craving a bowl of hearty comfort food!
Ingredients
1

pound

lean ground beef

1 ½

teaspoons

sea salt

½

teaspoon

ground black pepper

2

cloves

garlic, chopped

½

cup

onion, chopped

2

stalks

celery, thinly chopped

½

cup

packaged baby carrots, thinly sliced

1

14.5 ounce can

low sodium diced tomatoes

2

32-ounce containers

organic low sodium beef broth

1 ½

cups

uncooked egg noodles
Instructions
Brown the ground beef in a large pot or Dutch oven over medium-high heat, and season with sea salt and pepper

Stir in garlic and onion, and cook until slightly soft

Add remaining ingredients, except egg noodles, cover, and cook over high heat until soup starts to boil

Reduce heat, and simmer for about 15 minutes, or until carrots and celery are tender

Stir in egg noodles, and cook until noodles are done
Nutrition information is estimated. Please do your own calculation to fit special diets.
Nutrition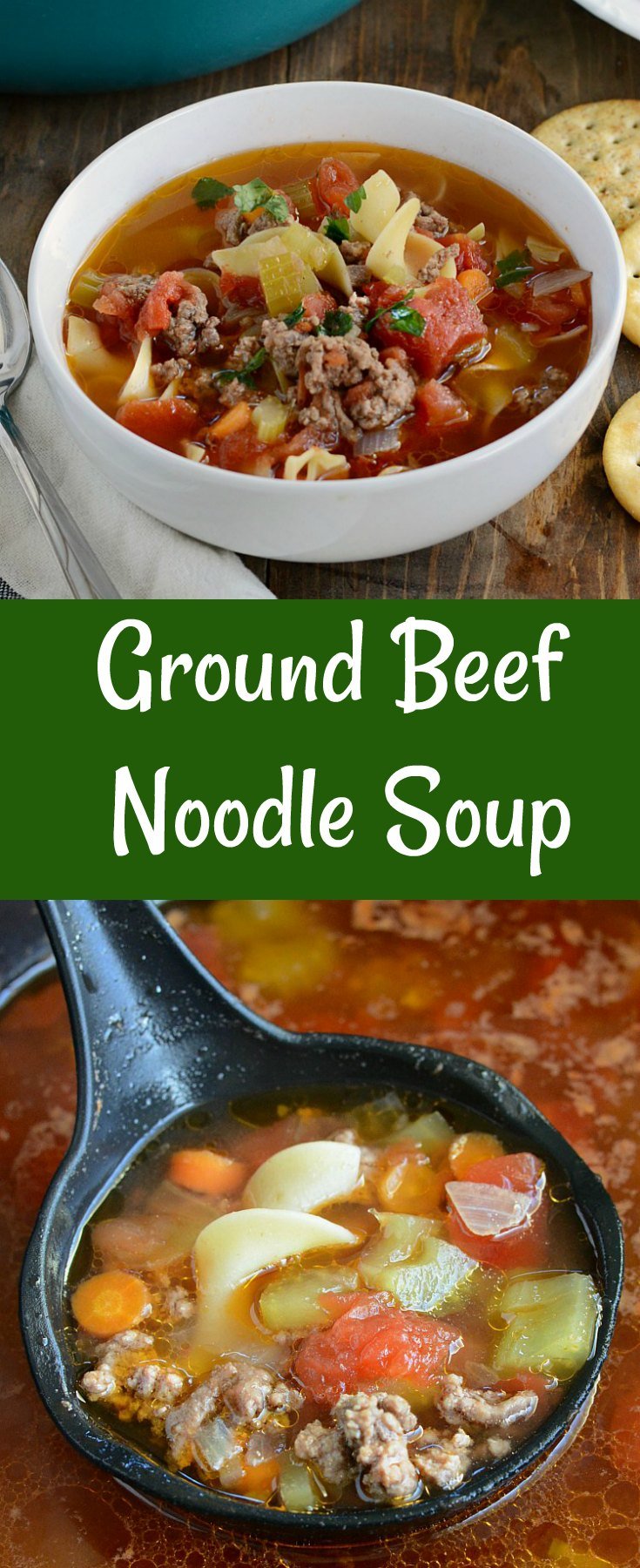 I hope you like this easy ground beef noodle soup as much as we do! This recipe is shared at the Weekend Potluck.
Bon Apetit!