This easy Instant Pot Jasmine Rice recipe is foolproof and lets you make perfectly cooked rice in the pressure cooker in just a few minutes. Serve it as a quick side dish or as part of your main dish!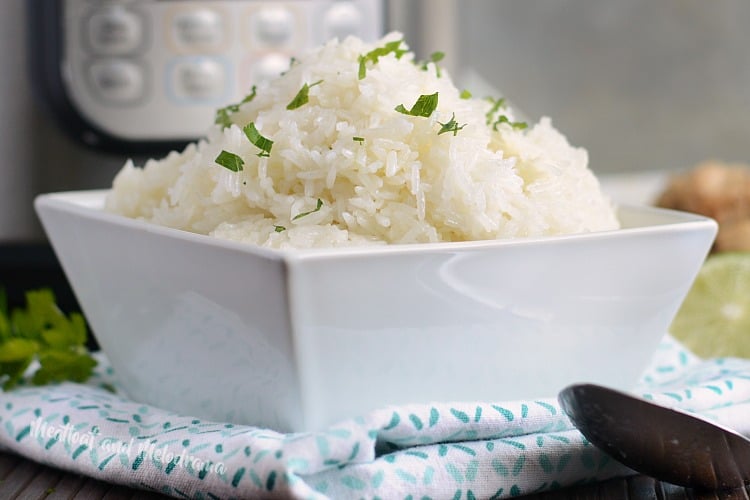 This pressure cooker jasmine rice tastes exactly like the kind you get at your favorite Thai restaurant -- maybe even better. Once you learn to make rice in the Instant Pot, you won't want to make it any other way!
Jasmine rice was the very first recipe I made in my new Instant Pot. I actually chose to make it because I figured it would be easy enough, and it wouldn't be huge waste of time or money if I messed it up. I was completely new to the world of pressure cooking, and I wanted to play it safe.
I chose wisely. The rice was amazing, especially since I grew up on instant rice and never really mastered the art of cooking any other kind. The homemade pressure cooker version of jasmine rice was even better than what we got at our favorite Thai place!
At first, I followed the directions from the little recipe book that came with the Instant Pot. But then, I tweaked the basic recipe for Jasmine rice to make it even better. I like to serve this aromatic and very flavorful rice with Instant Pot Honey Curry Chicken, Salsa Verde Chicken, whole chicken, as well as in burrito bowls or burritos.
How to make jasmine rice in the Instant Pot
Making rice in the Instant Pot is super easy-- no stirring or watching the pot needed. I definitely recommend rinsing it well before you add it to the pot, though. I bought a big fine mesh strainer, which really helps, and the rice won't fall through.
Just measure the rice in a dry measuring cup, dump it in the strainer, and rinse it well. My daughter is now in charge of this part -- She loves swirling the rice around under the water!
Next, I add the rice and a little salt to the pressure cooker. I also like to add some olive oil, too.
Ratio of water to rice
I use a ratio of 1 part rice to 1 part water -- equal parts, or 1:1. Some recipes call for more water, but I think the texture is perfect when the ratio is equal -- not too dry, not too gooey. It has just the right amount of stickiness so the rice won't fall off of your fork.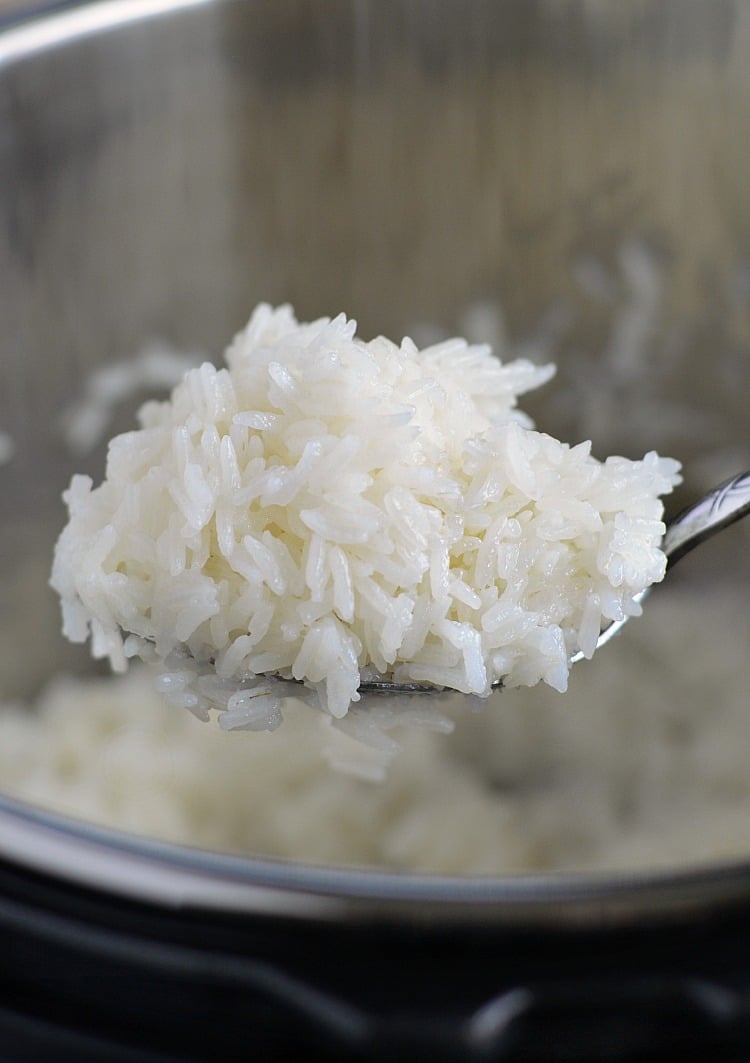 How long do you cook jasmine rice in the electric pressure cooker?
The rice is done after a cooking time of 4 minutes and a natural release of 10 minutes. And that's it, you guys! Perfect jasmine rice every time!
This is for 2 cups of jasmine rice, but the cook time is the same for 3 cups or 1 cup. Oh, as bonus, your house will smell amazing. Think of it as a natural air freshener!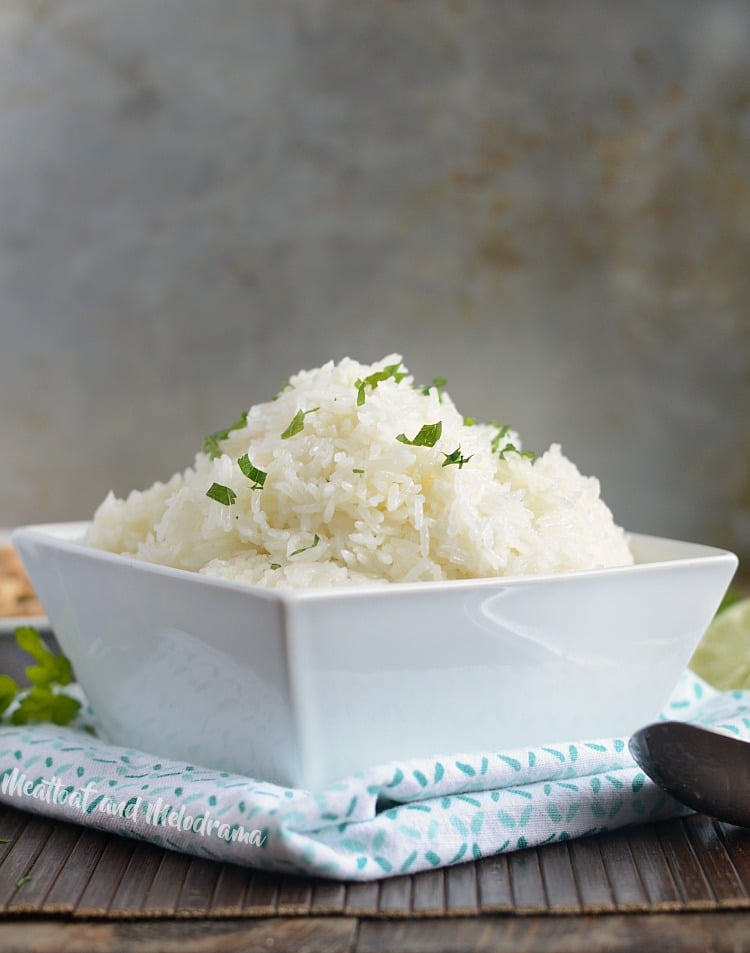 Tips for making perfect jasmine rice in the Instant Pot
Use a dry measuring cup to measure the rice evenly
Use a fine-mesh strainer to rinse the rice before cooking
Use a wet measuring cup to measure the water evenly
Add a little olive oil or vegetable oil when cooking
Recipe for Instant Pot Jasmine Rice
Instant Pot Jasmine Rice
This easy Instant Pot Jasmine Rice recipe is foolproof and lets you make perfect rice in the electric pressure cooker every time!
Ingredients
2

cups

jasmine rice

½

teaspoon

sea salt

2

cups

water

1

teaspoon

olive oil
Instructions
Rinse the jasmine rice thoroughly in a fine-mesh strainer

Add the rice to the inner pot of the pressure cooker, and sprinkle with sea salt

Add the water, and swirl in the olive oil

Cover with the lid, set the valve to sealing, and hit PRESSURE COOK for 4 minutes

Allow a 10 minute natural release, then hit CANCEL, and turn valve to venting to release remaining pressure

When pin drops, carefully open lid, stir rice, and serve
Notes
Recipe was made in 6-quart Instant Pot electric pressure cooker.
Always use care when releasing pressure -- I use a long wooden spoon to turn the pressure valve.
Nutrition
I hope you enjoy this easy Instant Pot jasmine rice as much as we do!
Happy Cooking,