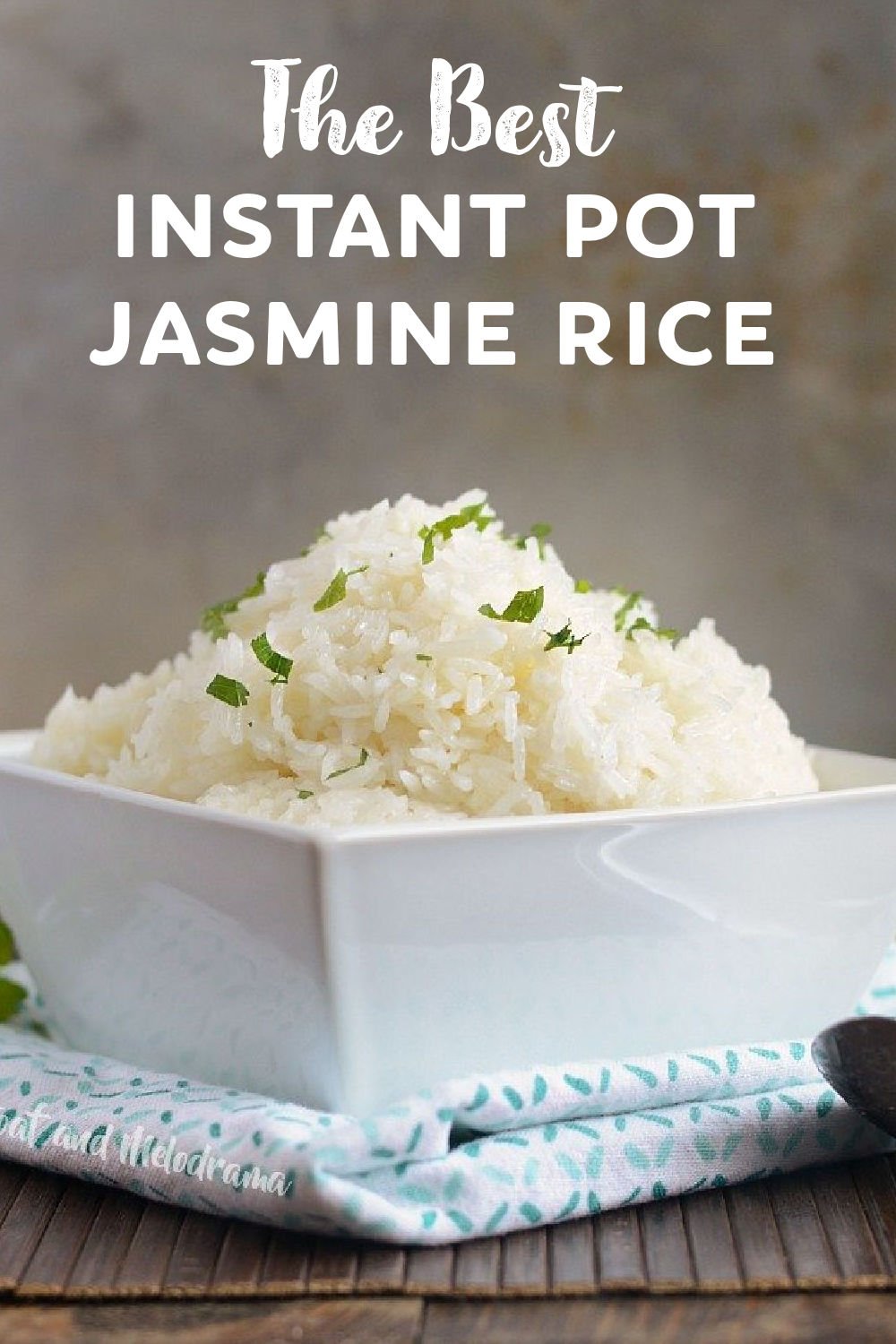 This easy Instant Pot Jasmine Rice recipe lets you make perfect jasmine rice in the electric pressure cooker in just a few minutes. Serve it as a quick side dish or as part of your main dish!
Jump to:
This pressure cooker jasmine rice tastes exactly like the kind you get at your favorite Thai restaurant -- maybe even better. Once you learn to make rice in the Instant Pot, you won't want to make it any other way--not even in a rice cooker!
Jasmine rice was the very first recipe I made in my new Instant Pot. I actually chose to make it because I figured it would be easy enough, and it wouldn't be huge waste of time or money if I messed it up. I was completely new to the world of pressure cooking, and I wanted to play it safe.
I chose wisely. The rice was amazing, especially since I grew up on instant rice and never really mastered the art of cooking any other kind. The homemade pressure cooker version of jasmine rice was even better than what we got at our favorite Thai place!
At first, I followed the directions from the little recipe book that came with the Instant Pot. But then, I tweaked the basic recipe for Jasmine rice to make it even better. I like to serve this aromatic and very flavorful rice with Instant Pot Honey Curry Chicken, Salsa Verde Chicken, whole chicken, as well as in burrito bowls or burritos.
Ingredients
You only need a few ingredients for this Instant Pot jasmine rice recipe. You can get them online or in your grocery store:
Jasmine rice
Sea salt
Water
Olive oil
I use white jasmine long-grain rice for this recipe. While there is a rice setting on the Instant Pot, I don't use it, as it's less exact and sometimes results in mushy rice.
How to Make Jasmine Rice in the Instant Pot
Making rice in the Instant Pot is super easy-- no stirring or watching the pot needed. I definitely recommend rinsing it well before you add it to the pot, though.
I bought a big fine mesh strainer, which really helps, and the rice won't fall through.
Just measure the rice in a dry measuring cup, dump it in the strainer, and rinse it well with cold water.
My daughter is now in charge of this part -- She loves swirling the rice around under the water!
Next, I add the rinsed rice and a little salt to the pressure cooker. I also like to add some olive oil, too.
Rice to water ratio
I use a ratio of 1 part rice to 1 part water -- equal parts, or 1:1. Some recipes call for more water, but I think the texture is perfect when the ratio is equal -- not too dry, not too gooey.
It has just the right amount of sticky texture so the rice won't fall off of your fork.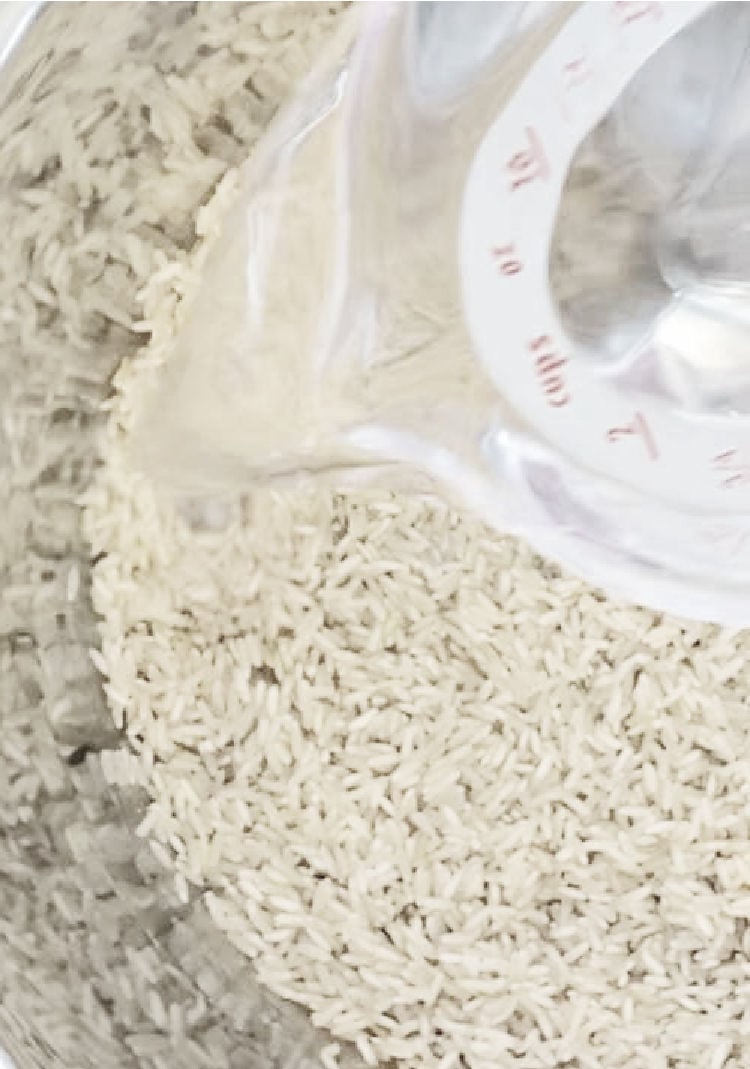 Cooking Time
How long do you cook jasmine rice in the electric pressure cooker?
The rice is done after cooking on high pressure for 4 minutes and a natural release of 10 minutes. And that's it, you guys! Perfect jasmine rice every time!
This jasmine rice Instant Pot recipe is for 2 cups of jasmine rice, but the cook time is the same for 3 cups of rice or 1 cup of rice. Oh, as bonus, your house will smell amazing. Think of it as a natural air freshener!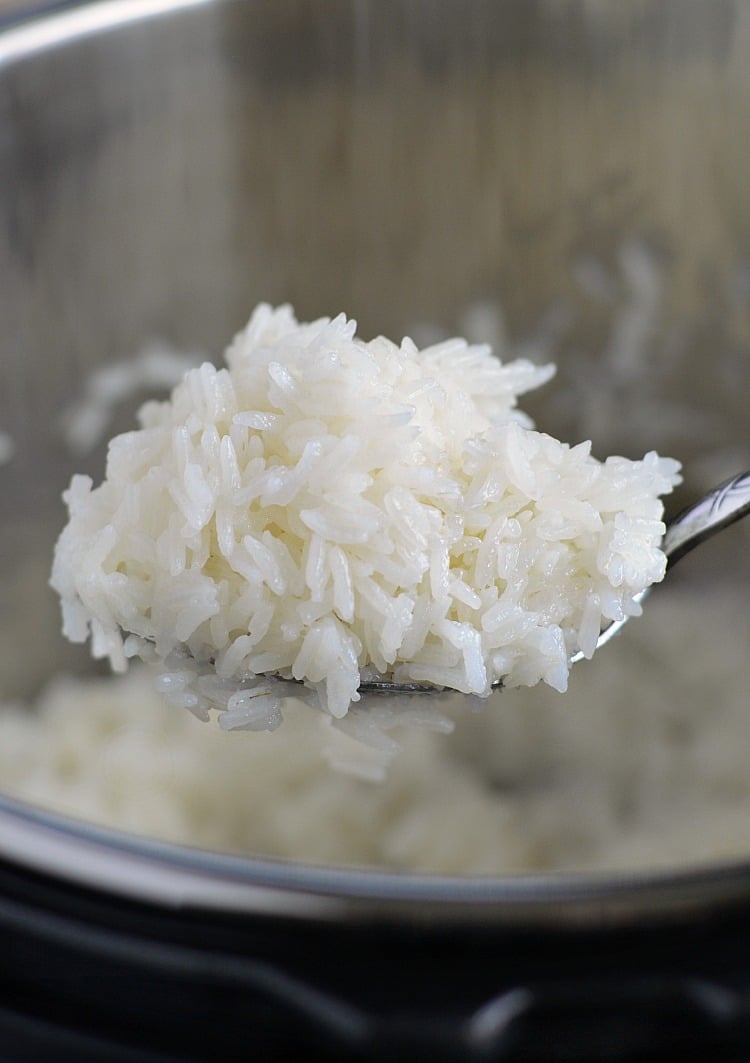 Variations
You can make various types of rice using the Instant Pot.
This recipe uses white jasmine rice, which is a type of long-grain white rice. You can make brown jasmine rice in the Instant Pot, but it will take longer to cook. Check out my Instant Pot perfect brown rice recipe if you want to try it out!
When cooking your rice, use broth instead of water, or a mixture of both, to add a bit of extra flavor.
Vegetable broth or chicken broth will work best. Don't worry, it won't detract from the natural flavor of the rice at all!
You can also use the basic pressure cooker rice recipe to make chicken and rice, teriyaki chicken and rice, kielbasa and rice, Mexican beef and rice and homemade dog food.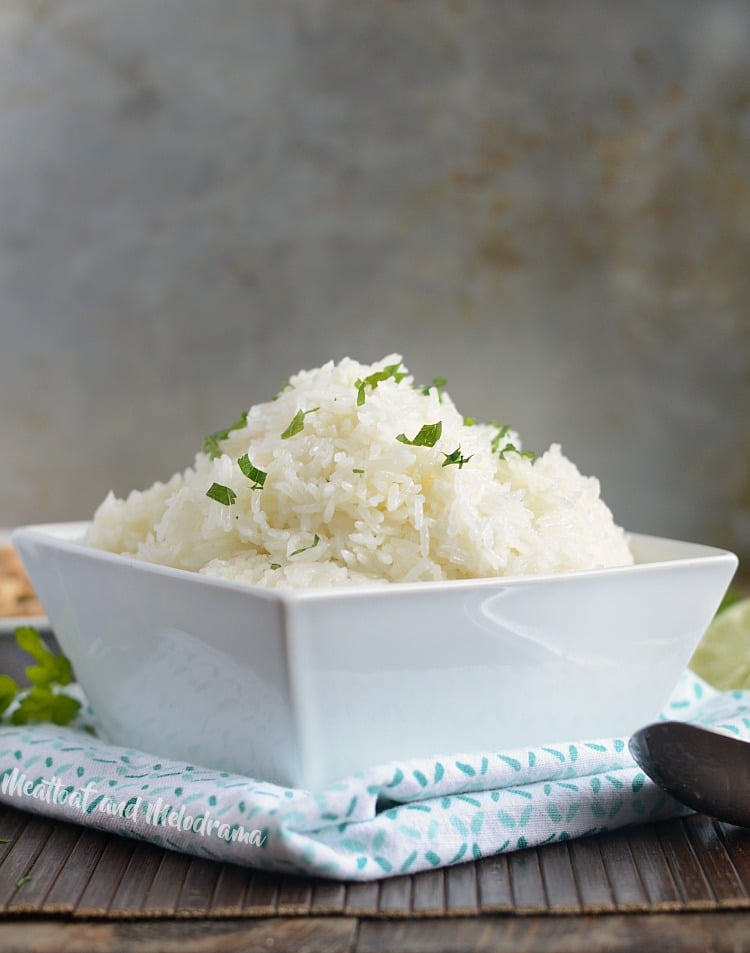 How to Store and Reheat
Store any leftover rice in an airtight container in the refrigerator, where it'll last for 4 to 5 days.
Pro tip: this delicious, fragrant jasmine rice is perfect for meal prep! Make a bunch, refrigerate it, and pull it out whenever you need a tasty side dish of any cuisine.
Do not leave rice sitting out at room temperature for more than an hour, for safety.
It is safe to reheat rice! If microwaving, add a little water if the rice is dry, and microwave until it's steaming hot or 165 degrees f.
Mix the rice around and heat in increments so that it's heated completely.
You can also steam or stir fry leftover rice over the stove. Just make sure it's piping hot!
Cooking Tips
Follow these tips to make perfect jasmine rice in the Instant Pot every time:
Use a dry measuring cup to measure the rice evenly
Use a fine-mesh strainer to rinse the rice before cooking
Use a wet measuring cup to measure the water evenly
Add a little olive oil or vegetable oil when cooking
Remove rice and serve immediately after cooking
May contain affiliate links. Please see disclosure for more information.
Recipe
Instant Pot Jasmine Rice
This easy Instant Pot Jasmine Rice recipe lets you make perfect jasmine rice in the electric pressure cooker in just a few minutes. Serve it as a quick side dish or as part of your main dish!
Ingredients
2

cups

jasmine rice

½

teaspoon

sea salt

2

cups

water

1

teaspoon

olive oil
Instructions
Rinse the jasmine rice thoroughly in a fine-mesh strainer

Add the rice to the inner pot of the pressure cooker, and sprinkle with sea salt

Add the water, and swirl in the olive oil

Cover with the lid, set the valve to sealing, and hit PRESSURE COOK for 4 minutes

Allow a 10 minute natural release, then hit CANCEL, and turn valve to venting to release remaining pressure

When pin drops, carefully open lid, stir rice, and serve
Notes
Recipe has been made and tested in the 6-quart Instant Pot electric pressure cooker and the 8 quart without changing ingredients or time.
Always use care when releasing pressure -- I use a long wooden spoon to turn the pressure valve.
Nutrition information is estimated. Please do your own calculation to fit special diets.
Nutrition
Calories:
139
kcal
Carbohydrates:
30
g
Protein:
3
g
Fat:
1
g
Saturated Fat:
1
g
Polyunsaturated Fat:
1
g
Monounsaturated Fat:
1
g
Sodium:
120
mg
Potassium:
43
mg
Fiber:
1
g
Sugar:
1
g
Calcium:
12
mg
Iron:
1
mg
Recipe first published in 2018 and updated in 2022.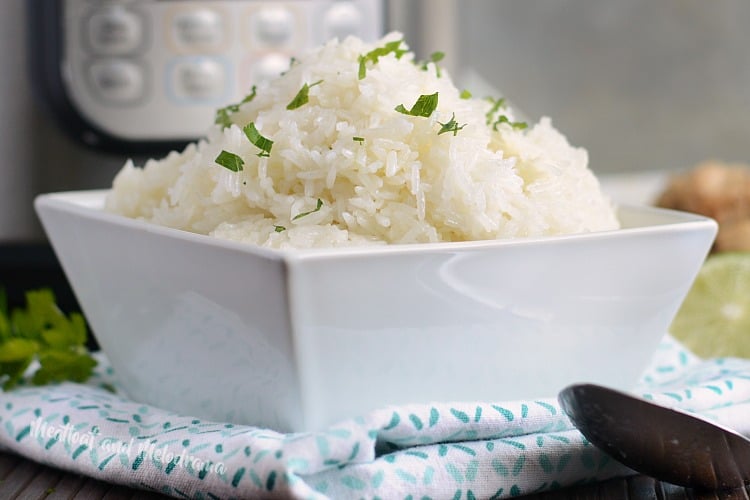 This Instant Pot rice is one of my absolute favorite recipes! It's never been easier to get perfect rice every single time!
After tasting this tasty, fluffy rice, I'm convinced that the Instant Pot is the best way to make jasmine rice! No more stove top for me!
For more Instant Pot meals and easy recipes guaranteed to make your cooking process easier, be sure to subscribe to the newsletter and follow me on social media!
If you like this Instant Pot recipe as much as we do, please leave a star rating and comment!
Happy Cooking,