Make Instant Pot Mississippi Chuck Roast in your pressure cooker in less than 2 hours! This delicious, easy dinner is made with pepperoncini peppers, butter, ranch and beef broth -- no seasoning packets, but it's still tender, juicy and literally melts in your mouth. The leftovers are even better!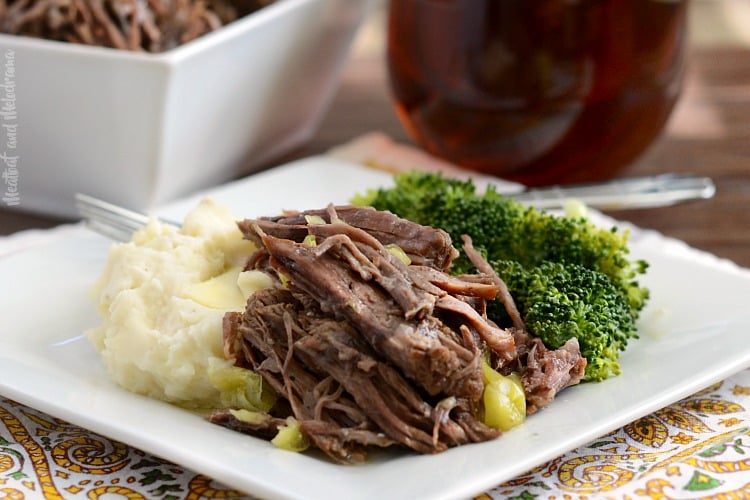 I made this amazing Mississippi pot roast in the slow cooker for the first time almost 2 years ago, and it quickly became one of my family's favorite dinners! If you've ever had a Mississippi roast, you know what I mean. As much as we loved the Crock-Pot Mississippi Chuck Roast, I couldn't wait to try making it in the pressure cooker.
See, I don't always get everything together in time to make a roast in the slow cooker for 4 to 8 hours. So for me, the Instant Pot totally saves the day! I mean, really, making a roast in about 2 hours instead of 8 is definitely a game changer.
The only tricky thing about making roasts in the Instant Pot is figuring out the cook times. But once you get the hang of it, you're good to go.
The first time I made Mississippi roast in the Instant Pot, it was done, but it didn't pull apart that easily. I cooked it for about 50 minutes, thinking that was plenty of time, but it wasn't enough time to break everything down so that the meat was where it should be. I saw a lot of recipes that called for a 90 minute cook time, but that seemed like a lot.
So, after I cooked a huge bone-in pork butt for 90 minutes, which was perfect, by the way, I knew I just had to add a few more minutes for the chuck roast to cook to perfection. I tried 60 minutes of pressure cooking with a 20 minute natural release. You guys, this was the perfect time for a truly melt-in-your-mouth Instant Pot Mississippi chuck roast!
To make a chuck roast in the Instant Pot, you pretty much follow the same basic steps as the Crock-Pot version, with a couple of changes. I cut the roast into smaller pieces so that it would fit evenly into the Instant Pot. This also makes it a lot easier to brown the meat.
You can also sear the roast in a separate skillet, but I love being able to cook the whole Mississippi roast in just one pot. Easy clean-up, right?! After all of the meat was seared, I deglazed the pot with some of the beef broth.
After that, you add the meat back to the pot. Then, you add the remaining ingredients, except for the ranch, and begin pressure cooking.
Most recipes for Instant Pot Mississippi chuck roast call for dried ranch dressing and au jus seasoning packets. That's fine and all, but it's just a little too much sodium for us. I think you can get the same amazing flavor with beef broth and a just a few seasonings.
I also used a little less butter for the pressure cooker version. The Crock-Pot recipe calls for a full stick, but I felt that was way to much in the Instant Pot.
As for the ranch flavor, I like to add some homemade ranch dressing in at the end. And that's it!
I did a natural release the first time for 15 minutes and the next time for 20. Both were good, so just take your pick!
You guys, just look at this juicy pressure cooker chuck roast! The meat literally comes out like this. Seriously!
We like the gravy as is, but if you want thicker gravy, you can make a cornstarch slurry to thicken it up after cooking. Serve it over mashed potatoes for one incredible dinner, and use the leftovers for shredded beef tacos or beef sliders -- yum!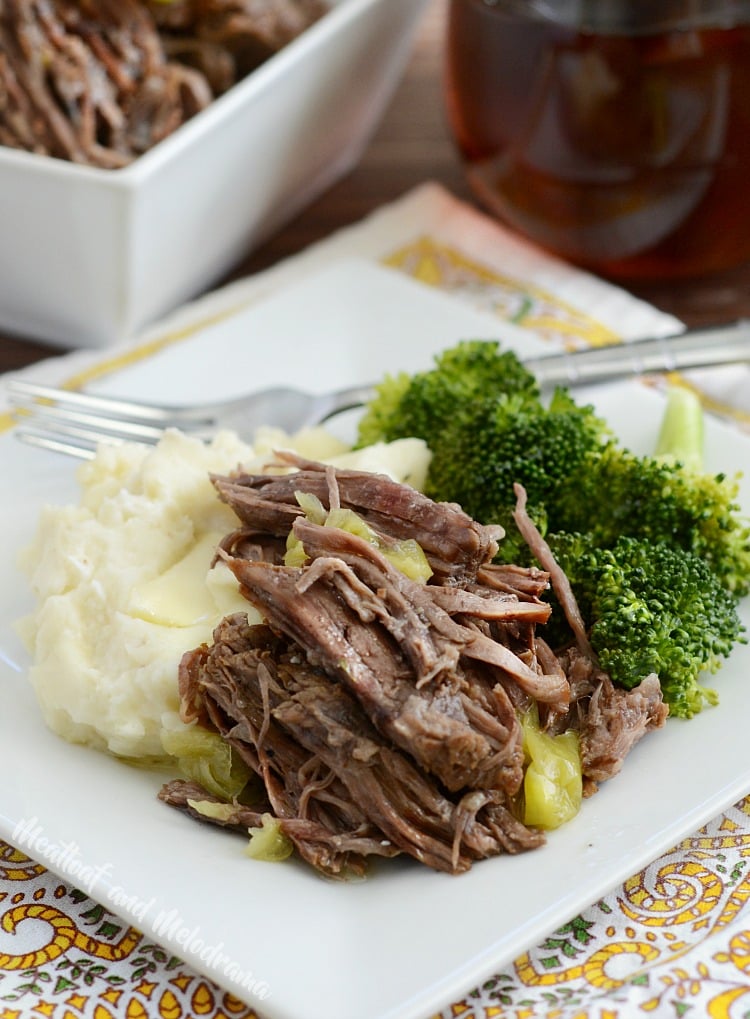 Tips for Making Mississippi Roast in the Pressure Cooker
Cut roast into smaller pieces for even cooking
Sear all sides on saute mode or in skillet to seal in juices
Deglaze pot after searing
Allow a slow release after pressure cooking
How to Make Instant Pot Mississippi Chuck Roast
Recipe
Instant Pot Mississippi Chuck Roast
Tender, juicy Instant Pot Mississippi Chuck Roast is an easy dinner made in the pressure cooker with pepperoncini peppers, ranch dressing and beef broth -- no seasoning mixes! Ready in under 2 hours!
Ingredients
1

tablespoon

olive oil

1

3 pound

chuck roast, cut into 3 large pieces

1 ½

cups

low sodium beef broth

1

tablespoon

dried minced onions

1

teaspoon

sea salt

½

teaspoon

ground black pepper

4

tablespoons

butter, sliced into smaller pieces

pepperoncini peppers

¼

cup

pepperoncini pepper juice

1

tablespoon

ranch dressing
Instructions
Hit SAUTE button on Instant Pot, and when it reads HOT, add the olive oil, and carefully tilt pot to ensure it coats bottom of pot evenly

Add 2 of the chuck roast pieces, and sear for about 2 minutes per side, then remove to a plate. Sear the last piece on both sides, and remove

Hit CANCEL to turn pot off, then add some of the beef broth and deglaze pot with wooden spoon or spatula

Place chuck roast back in pot, and add minced onions, salt, pepper, butter, pepperoncini peppers and juice

Add remaining beef broth, cover, turn vent to sealing position, and hit PRESSURE COOK for 60 minutes

Allow natural release for 20 minutes, then hit CANCEL, do a quick release, then open lid when pin drops

Stir in ranch dressing, transfer roast to serving platter and top with peppers some of the gravy, if desired
Notes
Made in an 8-quart pressure cooker.
Pressure cooking time is 60 minutes, but total time includes searing and natural release. Cook times may vary according with different pressure cookers.
Nutrition information is estimated. Please do your own calculation to fit special diets.
Nutrition
Calories:
164
kcal
Fat:
6
g
Saturated Fat:
3
g
Cholesterol:
12
mg
Sodium:
355
mg
Potassium:
80
mg
Vitamin A:
140
IU
Vitamin C:
0.4
mg
Calcium:
3
mg
My family absolutely loves this Instant Pot Mississippi Chuck Roast! I hope you enjoy it as much as we do!
Bon Apetit, friends!

Sharing at the Weekend Potluck