This Crock-Pot Mississippi Pot Roast recipe uses simple ingredients to make chuck roast fork tender, flavorful and delicious. A family favorite perfect for an easy weeknight dinner or Sunday supper!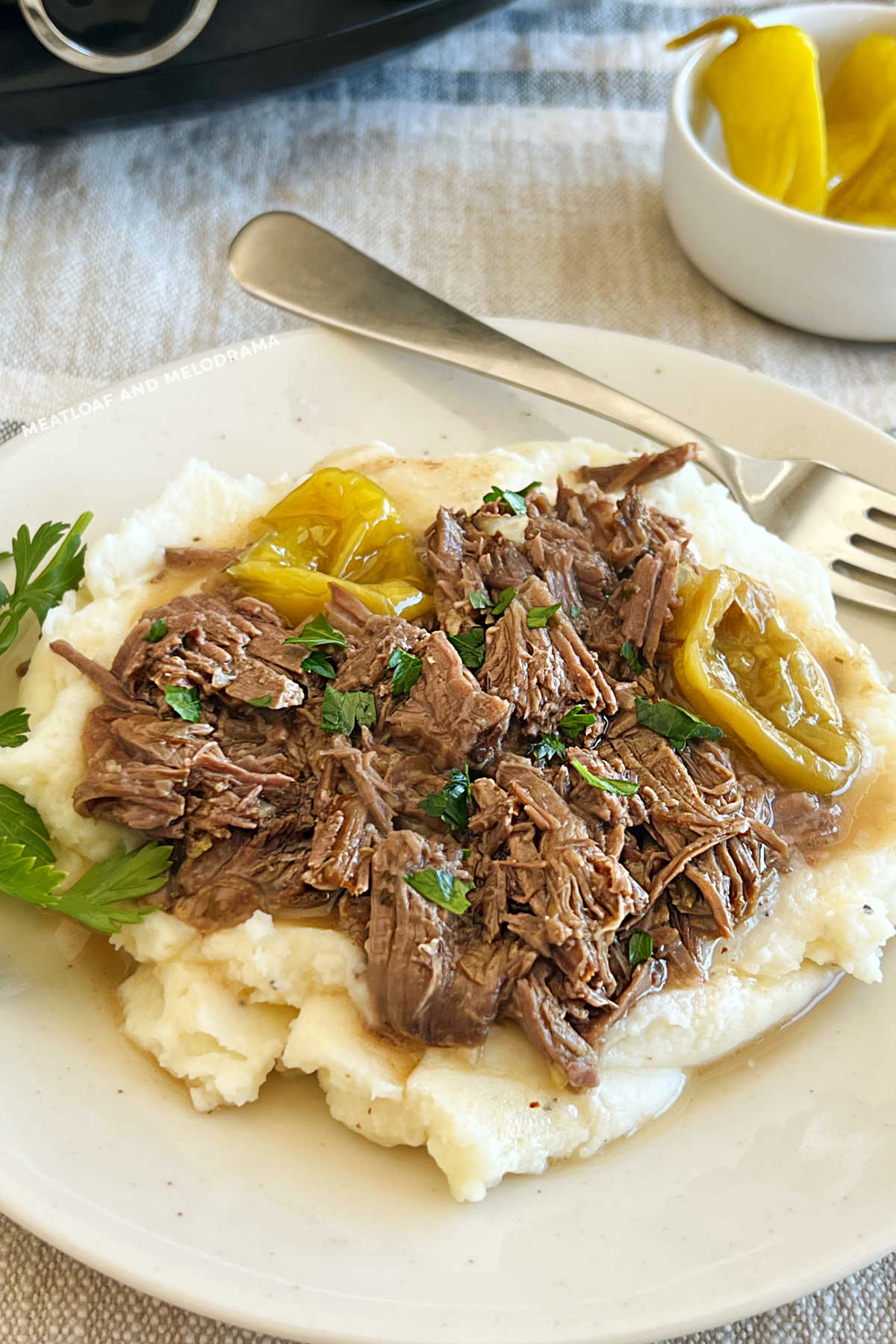 Jump to:
You've probably heard of the famous crock pot Mississippi Roast recipe, and there's a good chance that you've even tried it. Or, maybe not.
I have been making easy slow cooker Mississippi pot roast for years now. I'm all about easy recipes, and it doesn't get much easier than this one!
Sometimes, I'll use healthier ingredients, but my family loves the original Mississippi roast recipe, seasoning packets and all!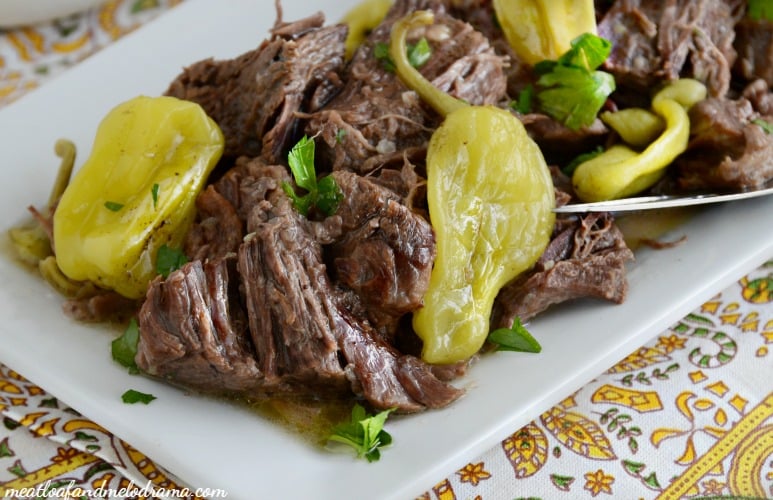 Frequently Asked Questions
What is Mississippi pot roast made from?
Mississippi pot roast is a chuck roast made with a packet dry Ranch dressing, a stick of butter, peperoncini peppers and either a packet of gravy mix, au jus mix or onion soup mix.
Where did Mississippi Roast originate from?
Robin Chapman, from Mississippi, created this recipe from ingredients she had on hand. While she simply called it "the roast" this recipe became famous on Pinterest where it was known as Mississippi roast after it's creator.
Can you cook Mississippi roast on high?
Yes, you can. You just have to cook it long enough for the meat to break down and become tender. While the low setting is ideal, you can get perfectly tender roast on the high setting.
Why is my Mississippi roast not tender?
Most likely because it wasn't cooked long enough. Chuck roast needs to cook until the temperature is around 200 degrees f for the meat to be tender and shreddable. If you have cooked your roast long enough, it's possible that it was just a bad cut of meat.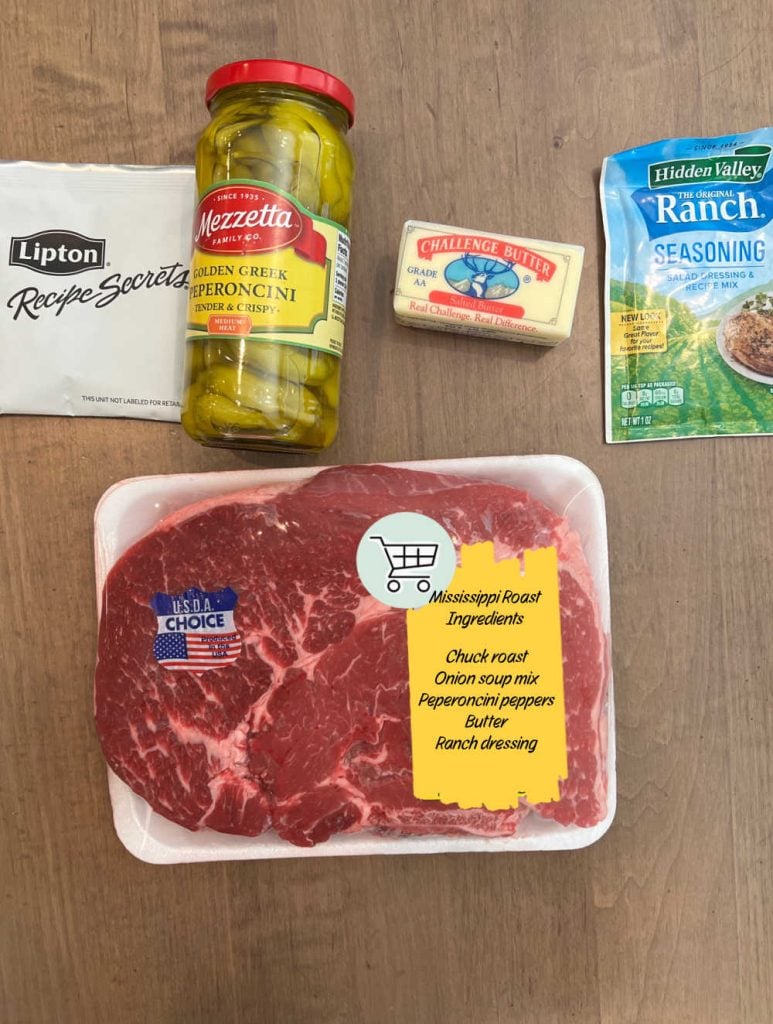 Ingredients
You can find the simple ingredients for crock pot Mississippi pot roast in your grocery store.
Beef chuck roast -- a 3 to 5 pound roast is ideal.
Dry ranch dressing mix -- a package of ranch dressing mix or dip mix will work
Onion soup mix -- or au jus gravy mix or beef gravy mix. I prefer using the onion soup because it adds a lot of flavor.
Butter -- a whole stick of butter, either salted butter or unsalted butter will work
How to Make Crock-Pot Mississippi Pot Roast
First, I like to spray the inner crock with non stick cooking spray. You can use a crock pot liner if you like.
Then, place the chuck roast into the bottom of the slow cooker. Sprinkle the onion soup mix and ranch mix on top of the roast.
Next, place an entire stick of butter on top, and add a few peperoncini peppers and some juice from the jar over the meat. You don't need to add any other liquid since the chuck roast will release plenty of liquid as it cooks.
The first time I made crock pot Mississippi roast, I used more juice from the jar of pepperoncini peppers, which made it a little spicier. Now, I use a little less.
Finally, place the cover on the slow cooker.
Note -- You can sear the roast on all sides before slow cooking if you want. I have taken this extra step before, and I honestly cannot tell the difference either way after the roast has cooked for a few hours.
Cook Time
Cook the roast for 5 to 6 hours on high or 8 to 10 hours on low. The internal temperature should be around 195 to 200 degrees f, according to a meat thermometer.
You should be able to easily shred the meat with 2 forks.
Serving Suggestions
What to serve with this slow cooker recipe? Serve the shredded roast over mashed potatoes or buttered noodles. It is absolutely delicious with the juices poured on top! We love it with a side of green beans or broccoli.
Mississippi roast is low carb and keto friendly. You can serve it over mashed cauliflower for a low carb dinner.
How to Store and Reheat
Store leftovers in an airtight container in the refrigerator for up to 4 days. For longer storage, freeze leftover shredded beef for up to 3 months for best flavor.
Leftover Mississippi pot roast makes delicious sandwiches and beef tacos! Just reheat the meat in the microwave or on the stove.
Substitutions and Variations
There are a few different ways to customize this crockpot Mississippi pot roast recipe.
To make a Mississippi pot roast no packets recipe, use a blend of dried spices and add a small amount of ranch dressing at the end of cooking. You can see the details in the recipe card.
If you're really short on time, try my Instant Pot Mississippi Roast recipe. It only takes a little over an hour to cook in the pressure cooker!
You can make this pot roast without peperoncini peppers, but they help tenderize the roast and add flavor. Try banana peppers or mild peperoncini if you don't like spicy food.
If you can't find a chuck roast, you can use a rump roast. It may not be as tender and shreddable, though.
You can make slow cooker Mississippi chicken by with boneless, skinless chicken breasts.
Recipe
Crock-Pot Mississippi Pot Roast
This Crock-Pot Mississippi Pot Roast recipe uses simple ingredients to make chuck roast fork tender, flavorful and delicious. A family favorite perfect for an easy weeknight dinner or Sunday supper!
Ingredients
3 to 5

pound

boneless beef chuck roast

1

envelope

onion soup mix

1

envelope

dry ranch dressing mix

½

cup

butter

1 stick

½

cup

pepperoncini peppers

plus about ¼ juice
Instructions
Spray slow cooker with non stick cooking spray

Place chuck roast in slow cooker, and add onion soup mix, ranch dressing mix, butter, peppers and juice over roast

Cover, and cook on high for 5 to 6 hours or on low for 8 to 10 hours
Notes
To make without packets, use 1 teaspoon sea salt, 1 teaspoon ground black pepper, 1 tablespoon dried minced onions in place of the packets, and add ¼ cup ranch dressing at the end of cooking. Keep the butter.
All slow cookers are different, so cook times may vary from 4 to 5 hours on high to 8 to 10 hours on low. Roast is done when it is fork tender and shreds easily with forks.
Nutrition information is estimated. Please do your own calculation to fit special diets.
Nutrition
Calories:
347
kcal
Carbohydrates:
4
g
Protein:
27
g
Fat:
25
g
Saturated Fat:
13
g
Polyunsaturated Fat:
2
g
Monounsaturated Fat:
10
g
Trans Fat:
1
g
Cholesterol:
118
mg
Sodium:
715
mg
Potassium:
499
mg
Fiber:
0.5
g
Sugar:
0.3
g
Vitamin A:
323
IU
Vitamin C:
5
mg
Calcium:
32
mg
Iron:
3
mg
The best thing about this Crock-Pot Mississippi Chuck Roast is that you can totally customize it to suit your own tastes. I don't think there's any right or wrong way to make it. All I know is that this recipe is a keeper, and the leftovers really are incredible.
Either way, this roast was tender, juicy and absolutely packed with amazing flavor.
For more slow cooker chuck roast recipes, try my Crock Pot Chuck Roast, slow cooker pot roast or Instant Pot pot Roast.
I hope you love this easy roast recipe as much as we do. My family says it's the best roast they've ever eaten!
For more crock pot recipes and delicious dinners, please follow me on social media and subscribe to my weekly newsletter!