Instant Pot Sausage and Peppers is a quick and easy dinner made in the pressure cooker with Italian sausage, bell peppers and onions in a light tomato sauce. Enjoy as is, or serve over pasta or in sandwich buns for easy comfort food!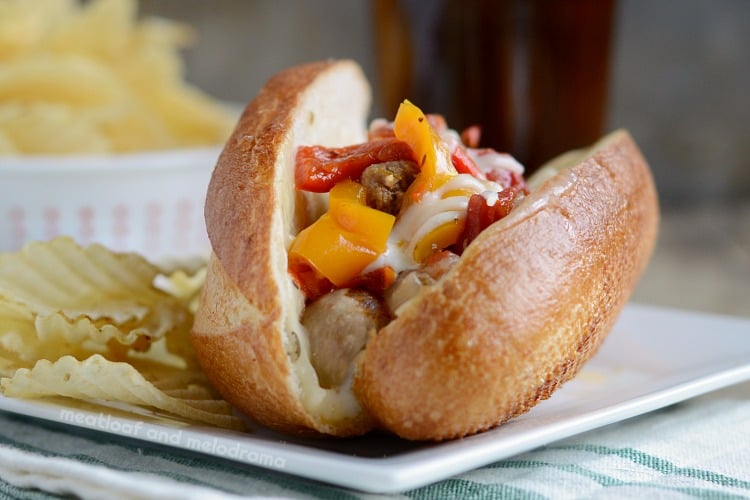 Raise your hand if you grew up eating Italian sausage and peppers! Sausage and pepper sandwiches with caramelized onions and ooey gooey mozzarella or provolone cheese is one of my all-time favorite dinners. And, it definitely qualifies as comfort food.
As much as I love eating sausage and peppers, I don't like cleaning up a messy stove. No matter how careful I am, the sausages tend to splatter. And, you have to wait awhile for the onions to cook down.
Sometimes, this isn't an issue, but on busy days or hot summer days, I don't always feel like standing over a hot stove. I think that's why I'm such a huge fan of easy instant pot recipes!
So, I tweaked my usual recipe for Italian sausage and peppers and came up with this quick and easy recipe for pressure cooker sausage and peppers. You get all of that amazing flavor without the mess and without standing over a hot stove. And, the sausages, onions and peppers cook in record time!
How to make Instant Pot sausage and peppers
You make sausage and peppers in the Instant Pot almost like you do on the stove. Start out by browning the sausages for about 5 minutes on the saute setting. You want to get some nice color without cooking them all the way.
Next, take the sausages out, and place them on a large serving platter. To make the cooking go faster, I like to cut the sausages in thirds. Then, cover them with foil, and deglaze the pot.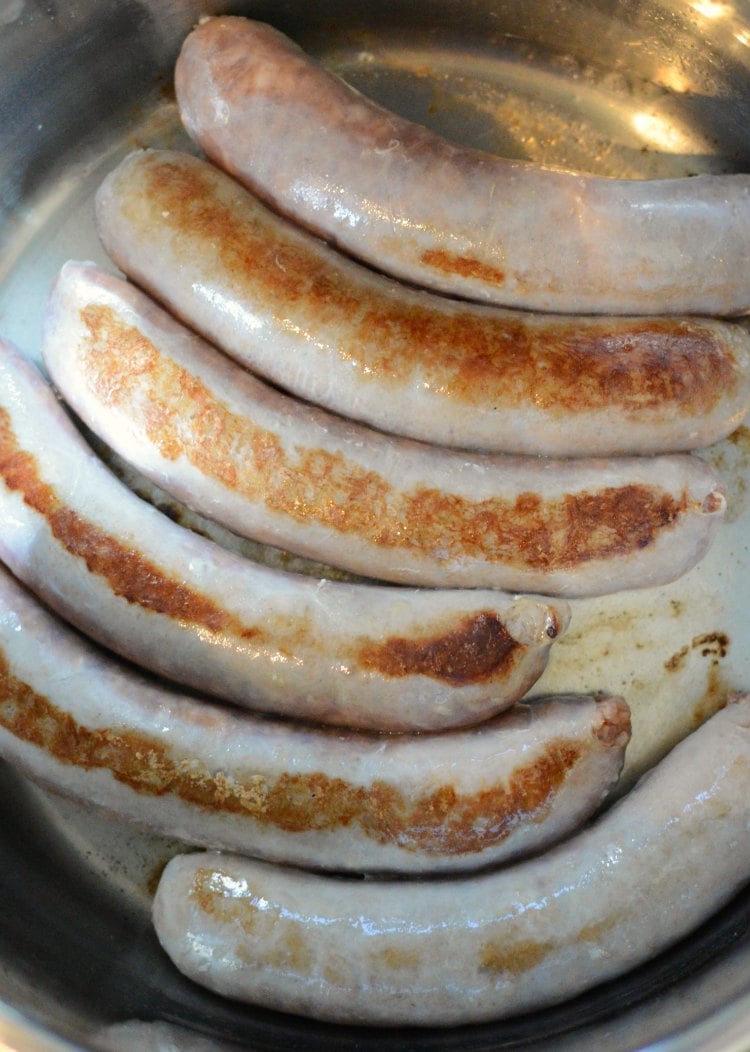 I just add a little bit of water --maybe ¼ cup-- and this is enough to release any browned bits from the sausage. Then, add the onions, and stir until slightly soft. You can cook them longer and get them nice and caramelized, but if you're in a hurry, you just need to get them soft, and let the pressure cooker do the rest!
I don't like super soft peppers, so I just stir them in, add the sausages back to the pot, and add the rest of the ingredients. If you like softer peppers, you can saute them a little longer.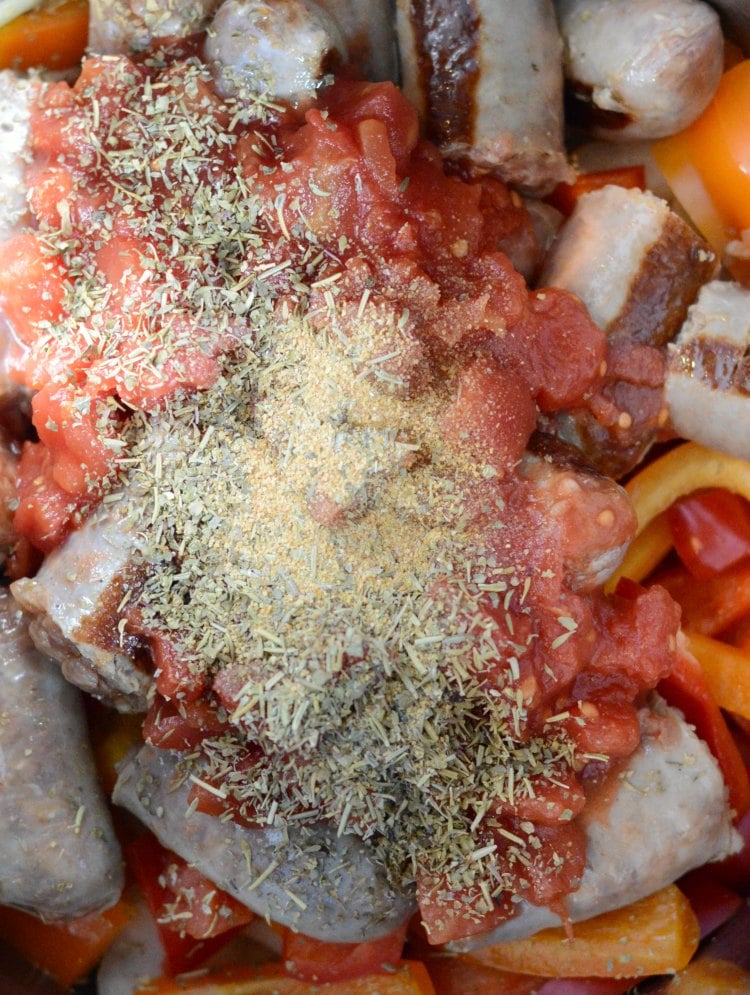 You only need to add a half cup of water because the onions, peppers and sausages will add additional liquid as they cook -- any more water, and the sauce gets very soupy. I made this in the 8-quart Instant Pot, but if you're using a 6 quart, you could easily get away with using just a quarter cup of water.
After just 5 minutes of pressure cooking, dinner is ready! You can now make some awesome Italian sausage and pepper sandwiches, or you can serve the sausages over pasta or eat them just as they are.
To make Italian sausage and pepper sandwiches
Use bolillo rolls or other thick, crusty bread rolls
Place sliced provolone cheese on bottom of cut rolls and bake for a few minutes until cheese is melted
Add sausage, peppers, onions and tomatoes, and top with shredded mozzarella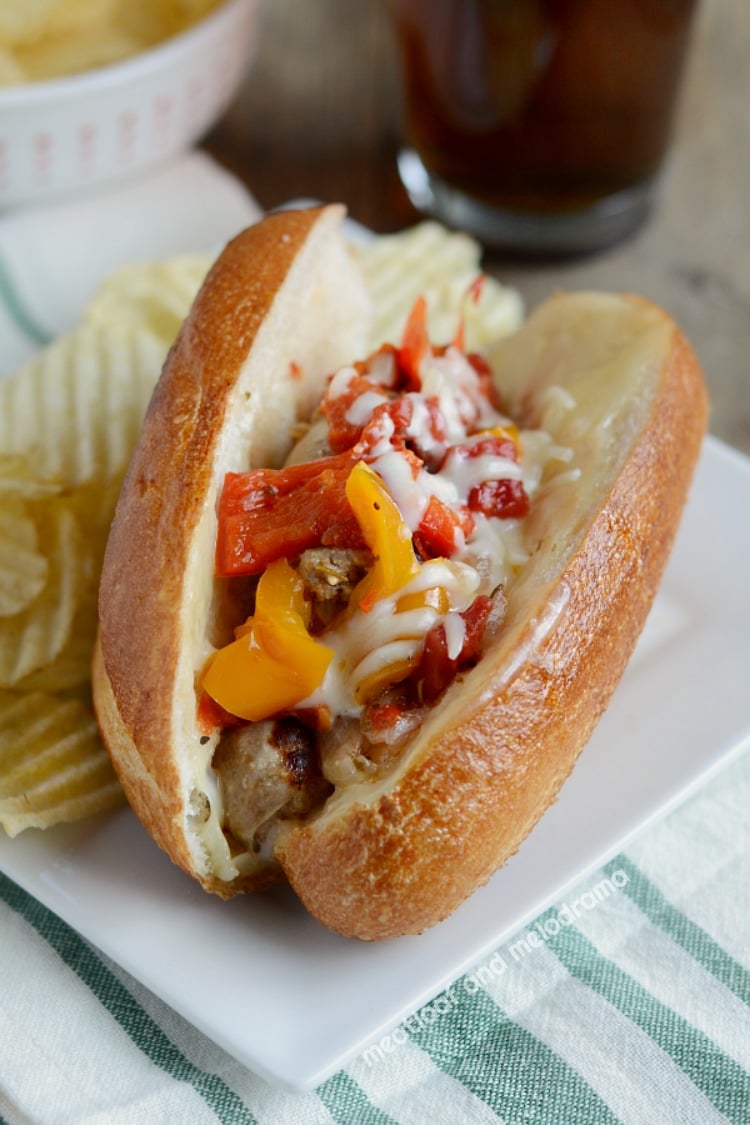 looking for more easy Instant Pot dinner recipes?
Recipe for Instant Pot sausage and peppers
Recipe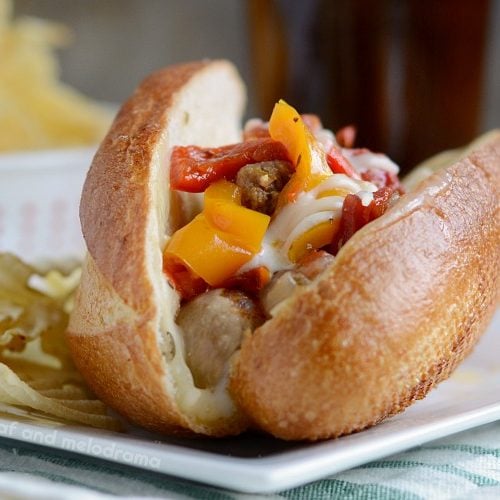 Instant Pot Sausage and Peppers
Instant Pot Sausage and Peppers are cooked with onions and diced tomatoes in the pressure cooker for a quick and easy dinner everyone loves!
Ingredients
1

tablespoon

olive oil

6

Italian sausages

1

large

white or yellow onion, peeled and sliced

3

large

red and yellow bell peppers, seeded and sliced

1

15-ounce can

diced tomatoes

1

tablespoon

Italian seasoning

1

teaspoon

sea salt

1

teaspoon

garlic powder

½

teaspoon

black pepper

½

cup

water, plus more for deglazing pot
Instructions
Hit SAUTE, and when it reads hot, add olive oil and then, add sausages

Cook for about 5 minutes or until brown on both sides

Remove sausages to platter, cut into thirds, cover, and set aside

Add a little water, if necessary to deglaze pot and scrape up browned bits, then add onions, and cook until slightly soft, stirring frequently

Stir in peppers, then hit CANCEL to turn pressure cooker off

Add cut sausages over onions and peppers, then top with undrained diced tomatoes, Italian seasoning, salt, garlic powder and pepper

Pour water around and over sausages, then add lid, and set vent to sealing position

HIt PRESSURE COOK for 5 minutes, and allow a natural release for 5 minutes. Then, do quick release, and when pin drops, open lid, and stir well

Use slotted spoon to remove sausage, peppers and onions and use for sandwiches. Or, serve as is or with pasta
Notes
Recipe was made in 8-quart Instant Pot electric pressure cooker.
If you have a 6 quart, you can use ¼ cup water. 
I recommend wearing oven mitts and using stainless steel tongs to turn the sausages, as they may splatter when cooking on saute.
Nutrition information is estimated. Please do your own calculation to fit special diets.
Nutrition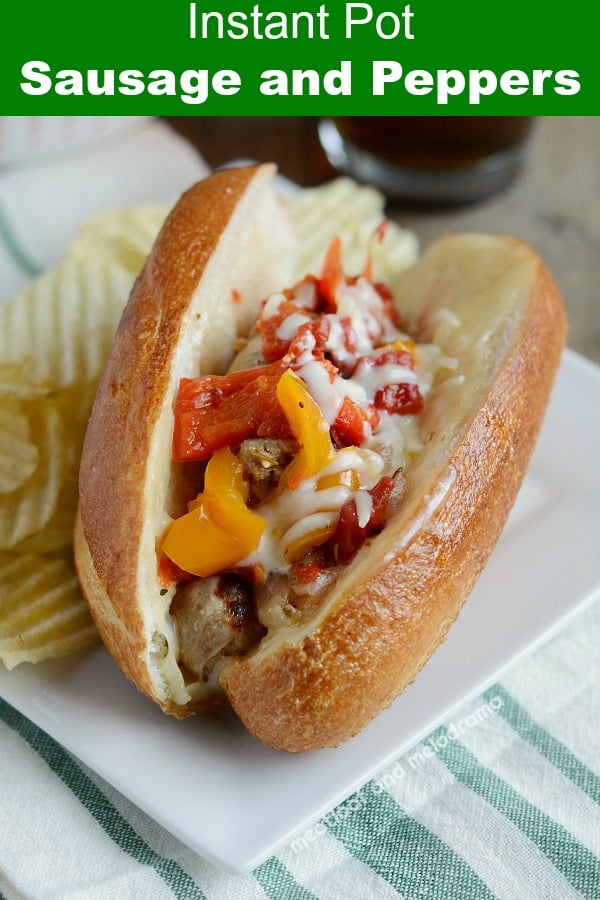 I hope you enjoy these easy Instant Pot sausage and peppers as much as we do!