Instant Pot Spaghetti and Meat Sauce is an easy dinner ready in just 30 minutes. Your family will love this simple one pot ground beef and pasta recipe!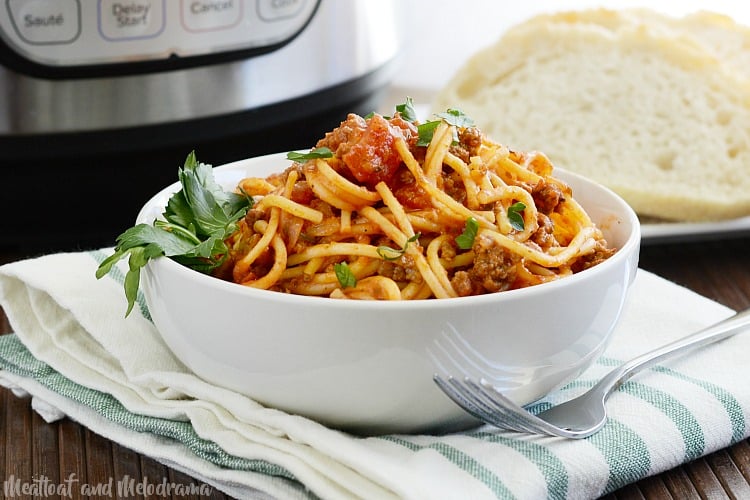 If you're new to the world of pressure cooking, this easy Instant Pot spaghetti and meat sauce is a terrific starter Instant Pot recipe to try. This was the very first dinner I made in the Instant Pot, and it was a huge hit with my family. One bite, and we were hooked!
Actually, Instant Pot jasmine rice was the first thing that I cooked in my new pressure cooker. I wanted to play it safe, so I chose an inexpensive side dish for the maiden voyage, so to speak. I just followed the recipe that was in the little booklet that came with the Instant Pot, and the rice was perfect -- even better than the rice from our favorite Thai restaurant!
So after that win, I decided to try making spaghetti in the Instant Pot. Now personally, I'm kind of a pasta snob. And I'm usually picky about how I cook pasta, especially spaghetti.
But, I'm also all about quick an easy one pot dinners to feed the family. So after looking at what seemed like a billion recipes for Instant Pot spaghetti, I began experimenting.
I tried different amounts of pasta and different types and amounts of sauce until I was finally happy with the end result. And friends, I really, really recommend experimenting like crazy with Instant Pot recipes. What works for me may not work for you, so it may take several tries before you find that perfect spaghetti recipe -- or any recipe, really!
Why this Recipe Works
But this recipe for Instant Pot spaghetti with ground beef definitely works for me, and I think you'll like it, too! It's simple, cooks in one pot, budget friendly and picky eater approved!
This time, I added a can of diced tomatoes after a reader told me she had done this with my Instant Pot creamy shells and beef recipe and loved the result. I used an entire 16 ounce box of spaghetti, and the liquid to pasta ratio was perfect.
I also tried using a little less than a whole box of spaghetti, and I got got the same result without using the diced tomatoes. Like I said, it's all about experimenting.
How to Make Spaghetti in the Instant Pot
To make spaghetti and meat sauce the pressure cooker, just saute some lean or extra lean ground beef. Make sure no browned bits are sticking to the bottom -- You can deglaze the pot with a little bit of water if you need to.
Layer the Spaghetti Strands
The trick to cooking spaghetti in the Instant Pot is to break the noodles in half and layering them in sort of a criss-cross pattern. This way, you can get them all under the liquid, and the noodles won't clump together. Then, add your layered spaghetti, a jar of pasta sauce, the diced tomatoes and water.
How to Avoid the Burn Notice
You may have some spaghetti strands on the very top that stick a little, but they break apart easily once you stir everything up. I just fill up the empty jar of sauce with water and pour it all around the sides and middle of the tomato layer.
Then, I poke it a little with a spatula to make sure the water gets down through the layers and all the pasta is covered. Don't stir it all together or it will be too thick, and you may get the burn notice.
After the pot comes to pressure, it takes just 5 minutes for the spaghetti to cook! I like to let the Instant Pot do a natural release for about 5 minutes, and then I release the steam, using a wooden spoon or cooking tongs -- don't want to risk any burns! And that's it!
There are no messy stoves to clean up and only one pot to wash. Plus, everyone loves the texture of Instant Pot spaghetti!
Tips for Cooking Spaghetti in the Instant Pot Pressure Cooker
Season meat for extra flavor
Deglaze pot and scrape up any browned bits after cooking meat
Break spaghetti in half and layer in pot
Make sure pasta is covered with liquid, but don't stir it together
Stir after pressure releases to break up any clumps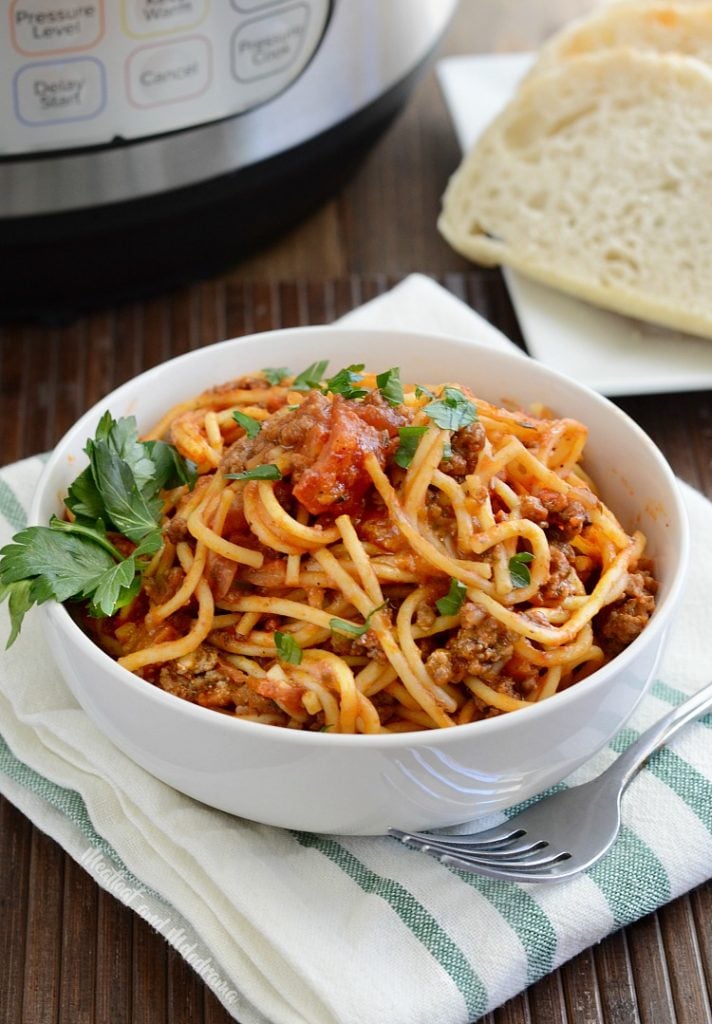 More Instant Pot Pasta Recipes
Recipe for Instant Pot Spaghetti and Meat Sauce
Recipe
Instant Pot Spaghetti and Meat Sauce
Instant Pot Spaghetti and Meat Sauce is a quick and easy pasta dinner made with ground beef and tomato sauce in the pressure cooker. Ready in 30 minutes!
Ingredients
½

yellow onion

, chopped

1

tablespoon

olive oil

1

pound

lean ground beef

1

tablespoon

Italian seasoning

1 ½

teaspoons

sea salt

1

teaspoon

garlic powder

½

teaspoon

ground black pepper

1

16-ounce package

spaghetti

uncooked and broken in half

1

24-ounce jar

marinara sauce

1

can

diced tomatoes

3

cups

water
Instructions
Turn Instant Pot to saute, and when it reads HOT, add the olive oil and onion, and cook until slightly soft

Add the meat, Italian seasoning, salt, garlic powder and pepper, and cook until no pink remains, stirring frequently

Hit CANCEL, and add a little water if needed, to deglaze bottom of pot

Break spaghetti strands in half, and layer on top of meat in a criss-cross pattern

Pour marinara sauce over pasta

Pour diced tomatoes over sauce

Pour water around sides and on top of tomatoes, and push down lightly with spatula to make sure water gets through layers and all pasta is covered

Cover with lid, turn valve to SEALING, press PRESSURE COOK or Manuel on some models, and set cook time to 5 minutes

When cooking is done, let pressure do a natural release for 5 minutes, then hit CANCEL, and do a quick release until pin drops

Open lid, and stir spaghetti and meat sauce together well before serving
Notes
I use Barilla brand pasta and marinara sauce, but any brand is fine, although results may be different depending upon thickness of the sauce.
For al dente pasta, cook for 4 minutes and do a gradual quick release.
To make spaghetti and meatballs, put meatballs on bottom, and layer remaining ingredients on top.
Nutrition information is estimated. Please do your own calculation to fit special diets.
Nutrition
My family is crazy about this kid-friendly Instant Pot spaghetti and meat sauce, and they won't have it any other way now. I hope you enjoy this recipe as much as we do!
Post was originally published in 2018 and updated in 2019