Make Instant Pot Turkey Stock from a leftover turkey carcass with this easy Instant Pot recipe for homemade turkey bone broth. A delicious way to use up Thanksgiving leftovers or turkey from Christmas dinner!
Jump to:
You'll want to save this Instant Pot turkey stock recipe to make turkey carcass soup with your leftover Thanksgiving turkey or Christmas turkey. It's a great way to use up Thanksgiving leftovers or leftovers from any holiday dinner!
I used to make turkey soup from the turkey carcass in a large stock pot on the stove, but making turkey bone broth from a leftover turkey carcass in the electric pressure cooker is a game changer! I've been making this Instant Pot recipe for years now, and it's much faster than using the stove or slow cooker.
To clarify, this turkey bone broth recipe is actually for turkey stock, or turkey bone broth. I found a great explanation on the difference between bone broth, stock and soup for ya! Once you make the stock, you can use that as a base for turkey soup. I have an Instant Pot turkey soup recipe you'll love!
So, definitely save that leftover turkey meat and turkey carcass, including the turkey neck, after the turkey dinner! Just pick as much meat off of it as you can and save the turkey meat for leftovers or midnight snacks! I'm one of those people who prefers noshing on cold turkey over eating it at dinner!
Ingredients
You only need a few simple ingredients for this homemade bone broth recipe. You can find them in most grocery stores or online.
Leftover turkey carcass -- from a cooked turkey. Use the roasted neck bone and turkey wings if you have them, as well.
Water
Sea salt
Black pepper
Celery stalks with leaves
You will also need an electric pressure cooker -- I use my 8 quart Instant Pot so I can fit a larger carcass from up to an 18-pound turkey.
Hot mitts, a large bowl, kitchen tongs and a large mesh strainer are highly recommended.
How to Make Instant Pot Turkey Bone Broth from Leftover Turkey Carcass
The first step in making this Instant Pot bone broth recipe is to remove most of the meat from the carcass or as much meat as possible. Then, place the trivet into the electric pressure cooker. Place the turkey bones on the trivet.
Next, add in the cold water, salt, pepper, and a couple of celery stalks -- leaves and all -- for flavor. Add water up to the max fill line. There's no need to fully cover the bones with water.
For extra flavorful stock, you can add some fresh parsley or bay leaves, but remember, you can always add more seasoning and fresh herbs and fresh vegetables when you make turkey noodle soup.
Cook Time
Cook the turkey carcass in the Instant Pot for 60 minutes on high pressure. This is long enough to get all those amazing nutrients from the bones.
When the pot beeps, allow for a 10 minute natural pressure release -- at the minimum. Then do a quick release to release pressure fully.
You can let it go and do a full natural release, which takes around 30 minutes or longer.
When the pressure is fully released, remove the lid. Then, use a hot mitt to lift the trivet, including the carcass, out of the pressure cooker and into the sink or large bowl. It's very hot, so don't dump it into the trash bag yet.
Place a large mesh strainer over a large mixing bowl, and carefully pour the stock into the bowl. The strainer will catch any leftover turkey bones and anything else you don't want going into your delicious stock.
Allow the stock to cool down for a little bit at room temperature. Then, you can refrigerate the stock or freeze it. The easiest way to remove fat from turkey stock is after it solidifies in the refrigerator.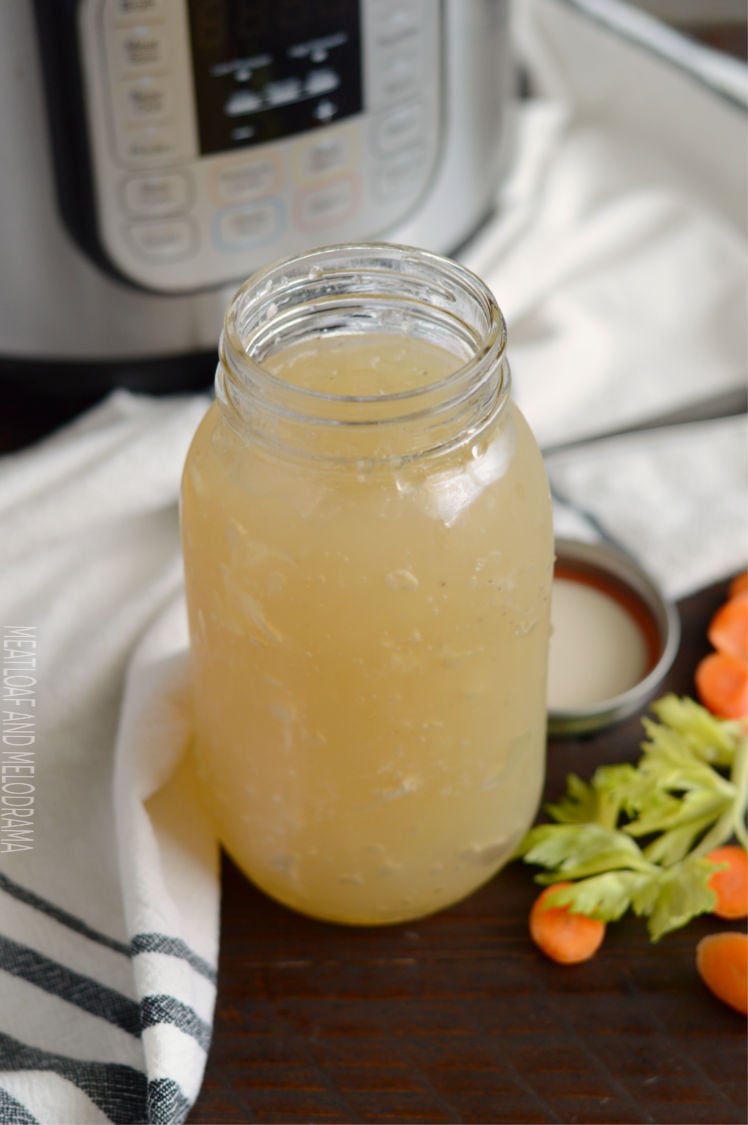 How to Store
Store homemade turkey stock in an airtight container, mason jars or several small containers in the fridge where it'll last for up to five days.
It is total turkey jelly after spending time in the fridge, which is what you want for bone broth. Now, you can skim the layer of fat off! My kids are a little grossed out by the turkey jelly, but this stuff is liquid gold.
And the flavor is perfect!
To freeze the Instant Pot bone broth, place in a ziplock bag, ice cube trays or freezer-safe containers. I like to use freezer bags since you can stack them to save freezer space.
Homemade stock will last up to three months in the freezer, for best taste.
How to Use Turkey Stock
Use the stock to make turkey soup in the pressure cooker or stove top turkey soup. You can use the stock in any recipe that calls for turkey broth or chicken broth, including turkey noodle casserole or leftover turkey stuffing casserole.
FAQ
Can you freeze a turkey carcass for soup?
Absolutely! If you don't have time to make stock right away, just put the bones into a freezer bag and toss it into the freezer until you're ready to use them.
Can you overcook stock in a pressure cooker?
Only if you cook the carcass for hours. 1 hour of pressure cooking is enough time to make homemade turkey stock that is collagen rich and very flavorful.
Recipe
Instant Pot Turkey Stock
Make Instant Pot Turkey Stock from a leftover turkey carcass with this easy Instant Pot recipe for homemade turkey bone broth. A delicious way to use up Thanksgiving leftovers or turkey from Christmas dinner!
Ingredients
1

14 pound

turkey carcass, most meat removed

10

cups

water

1

teaspoon

sea salt

1

teaspoon

black pepper

2

celery stalks with leaves
Instructions
Place the trivet in the Instant Pot, and place turkey carcass on trivet

Pour water into the pot, and add sea salt, pepper and celery stalks

Place lid on Instant Pot, and turn valve to Sealing position. Hit PRESSURE COOK for 60 minutes

Pot will take a few minutes to pressurize, then it will start counting down and cook for 60 minutes. Allow a 10-minute release (or longer if you want) then do a quick release for remaining pressure to drop. Hit CANCEL to turn pressure cooker off

When pin drops, open lid, carefully lift trivet (wear hot mitts), and discard carcass. Pour stock through mesh strainer into a bowl, and separate into smaller containers to refrigerate or freeze

Stock should thicken into jelly when refrigerated. You can skim off the top layer of fat easily and discard before using, or you can use fat in place of oil or butter if making turkey soup
Notes
Recipe was made in an 8-quart Instant Pot electric pressure cooker.
You can use carcass from any size turkey as long as it will fit. If you have a roasted turkey neck and wings, add that, as well. You may have to break up a very large carcass if necessary.
You don't have to completely cover the carcass with water. If you want to add more water, be sure not to go over the max fill line.
Nutrition information is estimated. Please do your own calculation to fit special diets.
Nutrition
Calories:
1
kcal
Carbohydrates:
0.1
g
Protein:
0.04
g
Fat:
0.01
g
Saturated Fat:
0.003
g
Polyunsaturated Fat:
0.003
g
Monounsaturated Fat:
0.001
g
Cholesterol:
0.1
mg
Sodium:
204
mg
Potassium:
4
mg
Fiber:
0.1
g
Sugar:
0.01
g
Vitamin A:
4
IU
Vitamin C:
0.02
mg
Calcium:
7
mg
Iron:
0.02
mg
I hope you enjoy this easy Instant Pot turkey stock recipe! Be sure to leave a star rating and comment!
For more easy recipes, including Instant Pot recipes and holiday recipes, please follow me on social media and subscribe to my weekly newsletter!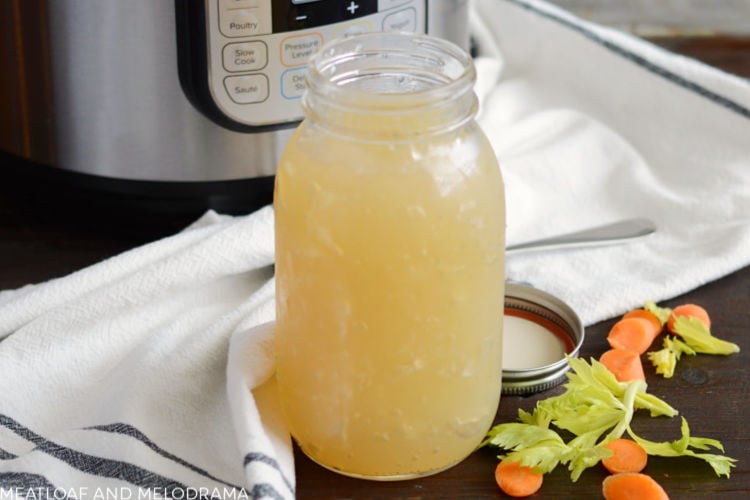 This easy Instant Pot recipe was first published in 2018 and updated in 2022.