Make Instant Pot Turkey Stock from a leftover Thanksgiving turkey carcass with this easy pressure cooker recipe for homemade bone broth.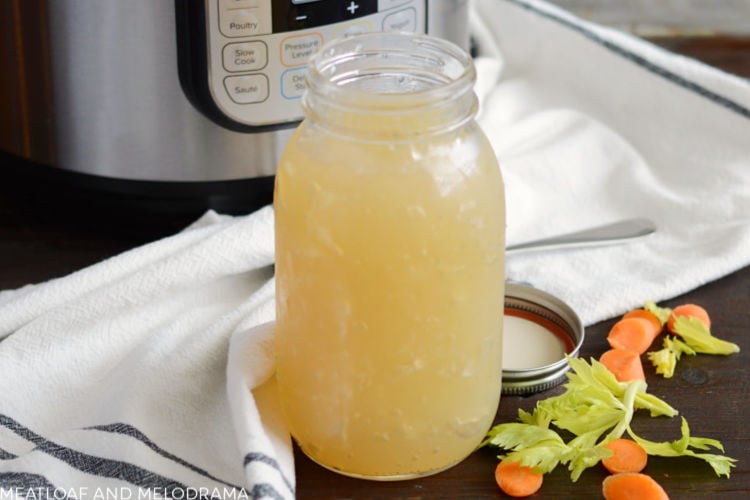 It may be a tad early, but you'll want to save this Instant Pot turkey stock recipe to make turkey carcass soup with your leftover Thanksgiving turkey. I usually make turkey soup from the turkey carcass on the stove, but I wanted to experiment with Instant Pot turkey soup this year.
Right now, my favorite Instant Pot recipes are comfort food -- soup, stews and pasta -- you get the idea. I've also been experimenting with Instant Pot Thanksgiving recipes so that I'm all ready by the big day. I make homemade chicken stock from a whole chicken in the pressure cooker at least once a week, but this was the first time for a turkey carcass.
I wasn't even sure if a turkey carcass would fit in my Instant Pot. We bought a 14-pound turkey, and I pulled out my 8-quart. You guys, that bad boy was definitely up for the job!
How to make Instant Pot turkey bone broth from leftover carcass
To clarify, this recipe is actually for turkey stock, or bone broth. I found a great explanation on the difference between bone broth, stock and soup for ya! Once you make the stock, you can use that as a base for turkey soup. I have an Instant Pot turkey soup recipe coming soon!
So, definitely save that turkey carcass after the feast! Just pick as much meat off of it as you can and save that for leftovers or midnight snacks! I'm one of those people who prefers noshing on cold turkey over eating it at dinner!
Can you freeze a turkey carcass for soup?
Absolutely! If you don't have time to make stock right away, just put the bones into a freezer bag and toss it into the freezer until you're ready to use them.
Place the trivet into the pot, then place the bones on the trivet. I added water, salt and pepper, and a couple of celery stalks -- leaves and all -- for extra flavor. That's it. You can add veggies and more seasoning when you make turkey soup.
How long do you pressure cook a turkey carcass for soup?
I cooked the turkey carcass in the Instant Pot for 50 minutes -- just under an hour. This was long enough to get all those amazing nutrients from the bones. It was total turkey jelly after spending time in the fridge, which is what you want for bone broth. And the flavor was perfect!
When the turkey stock is done cooking, discard the bones, strain the stock, and that's it. Save it in mason jars or small containers, and you're good to go.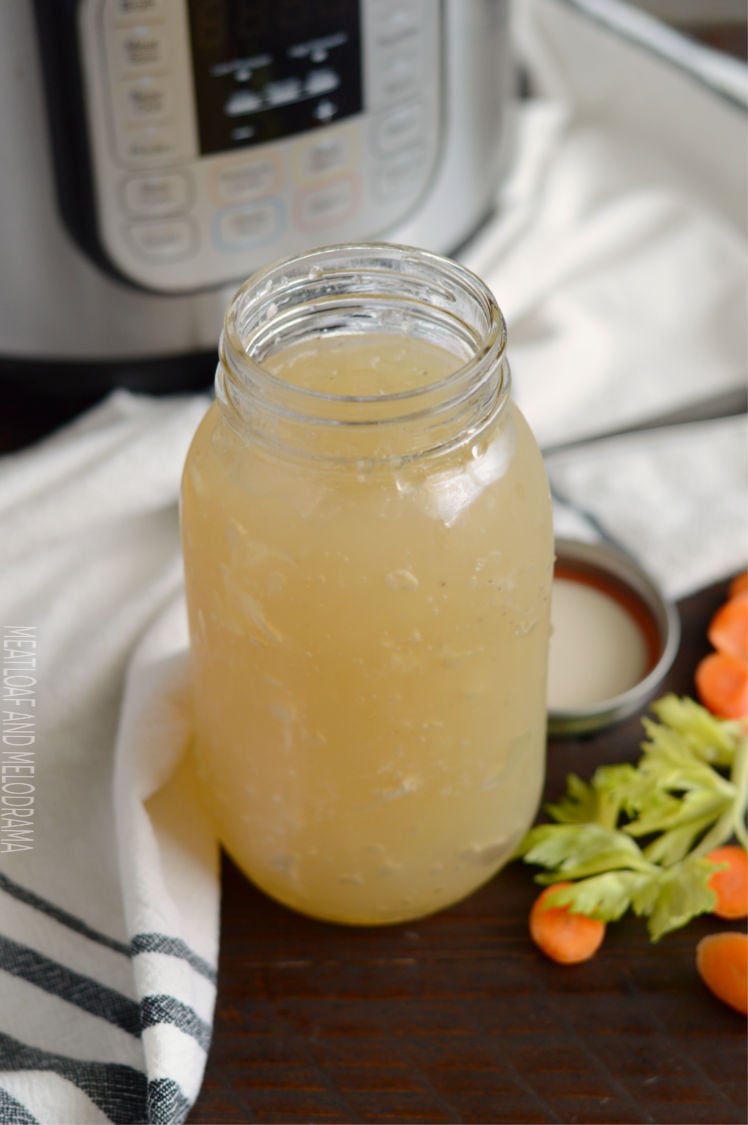 This is what I'm talking about. My kids are a little grossed out by the turkey jelly, but this stuff is liquid gold.
Recipe for Homemade Instant Pot Turkey Stock
Instant Pot Turkey Stock
An easy recipe for Instant Pot Turkey Stock (bone broth) made from a Thanksgiving leftover turkey carcass in the pressure cooker.
Ingredients
1

14 pound

turkey carcass, most meat removed

10

cups

water

1

teaspoon

sea salt

1

teaspoon

black pepper

2

celery stalks with leaves
Instructions
Place the trivet in the Instant Pot, and place turkey carcass on trivet

Pour water into the pot, and add sea salt, pepper and celery stalks

Place lid on Instant Pot, and turn valve to Sealing position. Hit PRESSURE COOK for 60 minutes

Pot will take a few minutes to pressurize, then it will start counting down and cook for 60 minutes. Allow a 10-minute release (or longer if you want) then do a quick release for remaining pressure to drop. Hit CANCEL to turn pressure cooker off

When pin drops, open lid, carefully lift trivet (wear hot mitts), and discard carcass. Pour stock through mesh strainer into a bowl, and separate into smaller containers to refrigerate or freeze

Stock should thicken into jelly when refrigerated. You can skim off the top layer of fat easily and discard before using, or you can use fat in place of oil or butter if making turkey soup
Notes
Recipe was made in an 8-quart Instant Pot electric pressure cooker.
Nutrition information is estimated. Please do your own calculation to fit special diets.
Nutrition
I hope you enjoy this easy Instant Pot turkey stock recipe!