Easy Turkey Soup is made from a leftover turkey carcass and is a great way to use up all that extra Thanksgiving turkey! Add noodles or rice before serving!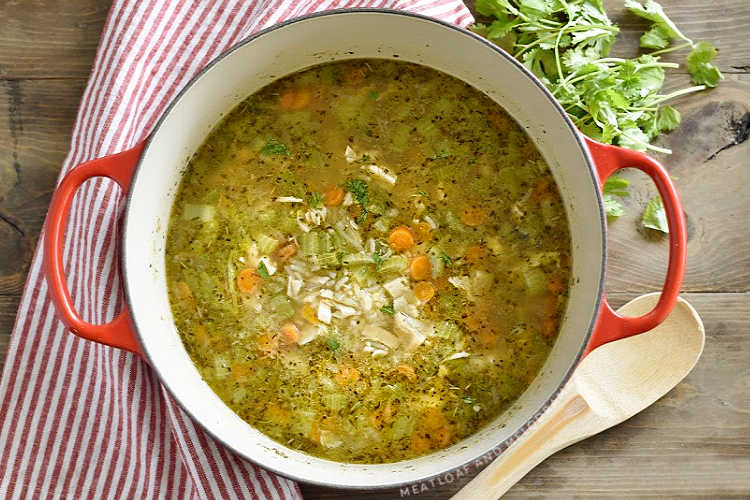 This homemade turkey soup recipe is one of my favorite ways to use up leftover turkey from Thanksgiving or Christmas. You can make your stock from the turkey carcass, and then make this soup from the stock.
Every year, we make homemade turkey stock by boiling the turkey carcass after Thanksgiving. This might sound complicated, but it's actually very easy. And Leftover Turkey Soup is absolutely delicious!
And if you don't have the leftover turkey carcass, that's fine. Just follow the directions for making the soup and use turkey broth or chicken broth.
I updated this recipe after I got requests for a turkey soup recipe with rice or noodles. You can use either one in turkey soup — just add them at the end of cooking or serve noodles on the side.
How to Make Leftover Turkey Soup from a Carcass
Homemade stock isn't complicated–you just remove as much meat as possible from the turkey and place the carcass in a large stock pot filled with lightly salted water.
After the water boils, let the turkey simmer for about a half an hour, and then skim off as much fat as possible. I refrigerate the stock, but you can freeze it if you won't be using it right away. Once the stock is done, you can easily make your own turkey soup.
Since I got an electric pressure cooker, I make Instant Pot turkey stock. It's not as messy as boiling the turkey carcass on the stove, and you can let it cook long enough to make awesome jellied bone broth!
How to Make Soup from Turkey Stock
Add a little oil or butter to a large Dutch oven or pot. Then, cook the onions, celery, carrots and garlic until slightly soft.
You'll want to stir this frequently so that the onions and garlic don't get too brown. You can add more oil or butter if needed.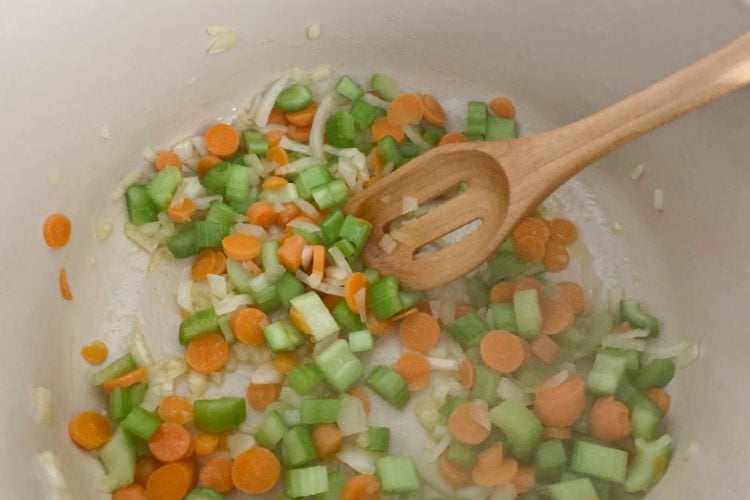 Now, add your homemade turkey broth. If you have jellied bone broth, you might have to add a little water if you like a thinner broth. I usually do, but it's up to you.
If you're using a carton of chicken stock or turkey broth, pour the entire carton in the pot. Season the broth, and let it come to a boil.
If you want plain turkey soup or you're adding cooked rice or noodles, turn it down to a simmer. You can add your cooked turkey at this point.
My family is divided when it comes to eating soup. Some like mostly broth, and some like it loaded with meat, vegetables and pasta or rice.
To make it easier on everyone, sometimes, I'll be nice and serve cooked pasta on the side. Sometimes, I make turkey soup with rice or noodles.
How to Make Turkey Soup with Rice
To make turkey soup with rice, just add a quarter cup of uncooked, rinsed rice after the broth comes to a boil. I use jasmine rice, but you can use your favorite here.
Allow the soup to simmer for about 15 minutes, or until the rice is done. Then, add the turkey.
When to Add Noodles
If you want to add uncooked noodles or pasta directly to the soup, you can add it when your broth boils. Then cook until done, and stir in the cooked turkey last.
Can you Freeze Turkey Noodle Soup
You can freeze leftover turkey noodle soup, but the noodles tend to get mushy. If you're making a big batch of turkey soup, I recommend serving cooked noodles on the side.
Pin Image to Save the Recipe
More Leftover Turkey Recipes
May contain affiliate links. See disclosure for more information.
Easy Turkey Soup Recipe
If you like this recipe as much as we do, leave a comment or give me a shout-out on social media!

Post was first published in December 2013 and updated in December 2019
Reader Interactions