Hello, hello! I have an easy chicken recipe to share today, which is rather odd because normally we would be in the middle of a ham fest right now, in an attempt to use up some Easter leftovers. But I made some lemon chicken last week, and I had to do something creative with those leftovers first. And since I had done a ton of cooking and baking on the weekend, I took the easy way out and made this tasty Lemon Chicken Apple Salad for dinner.



Chicken salad has been around for years and years, but it's also extremely versatile, and it's one of those recipes that is so easy to customize. When I was a teen, I was invited to a ladies' lunch hosted by one of my aunts, and she served individual portions of chicken salad inside hollowed-out tomatoes, which I thought was pretty cool!

Anyway, since I was starting out with leftover lemon chicken, I thought it would be fun to give the chicken salad a lemony twist. I have just the tiniest lemon addiction lately, and I love to incorporate the flavor in as many dishes as possible.

I also added a few drops of lemon juice over the salad for a little bit of extra flavor. And whenever I make this salad, I also like to add a green apple or two for some extra crunch.


Ingredients
3 cups cooked lemon chicken, diced

1 celery stalk, diced

2 green apples, diced

1/2 cup mayonnaise

1/4 cup ranch dressing

1/2 teaspoon Penzeys Sandwich Sprinkle (love this stuff, but you can use any seasoning)

A few drops of lemon juice

Just mix everything together in a large bowl, and refrigerate until ready to serve. Easy peasy! You can also add more or less mayo, depending on how creamy you like your salad.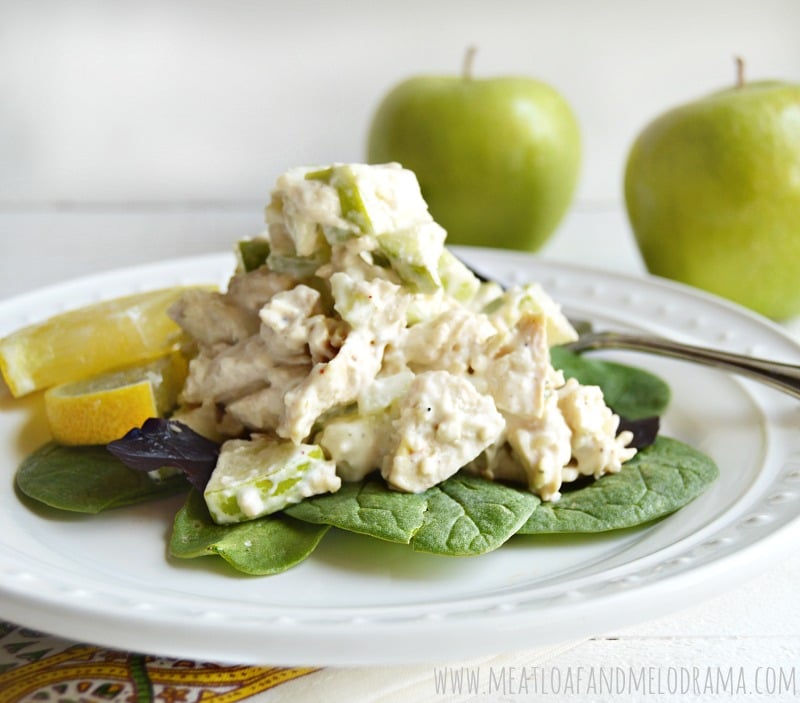 In the summer, I like to add cut grapes to the salad too. The kids and I enjoy it this way, but my husband — not so much. I also serve raisins on the side, and the kids will sometimes mix them right in. It's a little chewy, but they seem to like that.

I usually just serve lemon chicken apple salad over mixed greens, although this makes a great filling for sandwiches too. Or maybe even tomatoes? I'll have to try that sometime.



Do any of you like chicken salad? What's your favorite way to serve it? I'd love to know.

Thanks so much for visiting today!
You May Also Like