Hi Everyone!

It's hard for me to believe, but summer vacation is just about over, and it's time for the kids to go back to school! I'm so not ready. I love having the kids home, and it's always bittersweet to see them off on the first day. To make the transition a little easier, I always pack a note in the kids' lunch boxes for the first few days. Well, only the younger ones still appreciate the notes -- the teens are way past that stage!

Sometimes, the kids need a little bit of extra encouragement and request the notes daily for a few weeks. Because mornings are so busy, I like to have a set of pre-made notes ready to go whenever they are needed. So, maybe that's cutting corners, but I'd rather do that than forget to pack a note and feel bad!

This year, I want to be as organized as possible, so I made a lunchbox note jar to hold the notes.



For this project, I wanted a smooth jar -- not a mason jar. It also had to have a wide mouth so that it would be easy for the kids to reach in and take a note. Hubby teases me about hoarding jars, but this habit does come in handy! I took a clean, empty salsa jar and painted it with red spray paint.


Then, I applied a chalkboard label to the center of the jar. Aren't these labels the cutest things?!
I wanted to jazz it up a little bit more, so I added some yellow ribbon around the top of the jar and applied a cute apple sticker on one side of the chalkboard label. Now, it's all ready for school!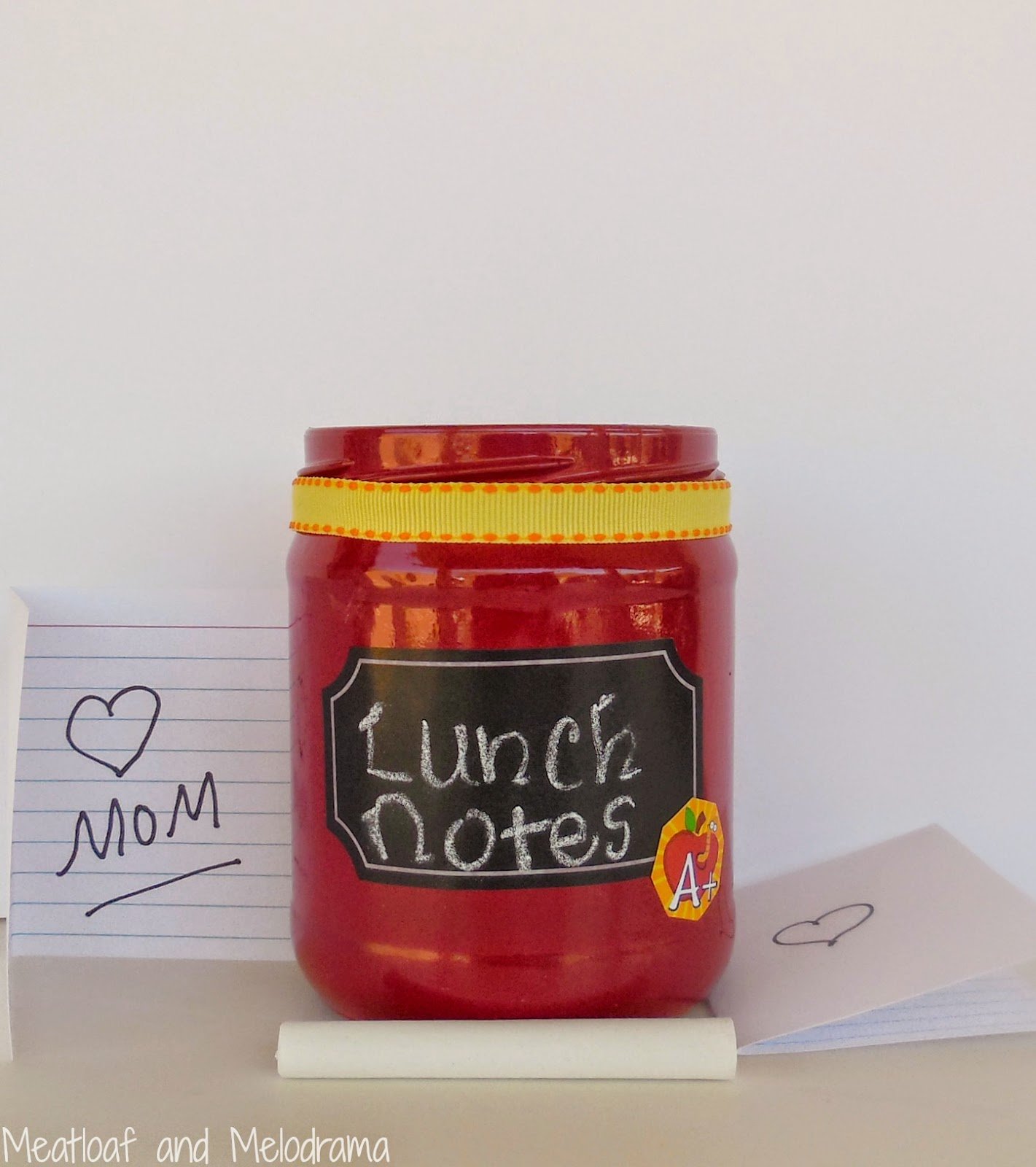 It's perfect for holding the lunchbox notes, and little hands can easily take them out of the jar.

This was another super thrifty craft. The only thing I had to buy was a package of chalkboard labels, and I used a coupon for that. So, the next time you have an empty jar, save it if you can. After all, you never know when it will come in handy!

Thanks for visiting!

Dee 🙂

Sharing At:
I Heart Naptime, DIY Sunday Showcase, Inspiration Monday, Monday Funday, Metamorphosis Monday, Inspire Me Tuesday, The Scoop, Tweat It Tuesday, Treasure Box Tuesday, Twirl and Take a Bow, Take A Look Tuesday, Wow Us Wednesdays, Wonderful Wednesday Hop, Wow Me Wednesday, Worthwhile Wednesday, Whatever Goes Wednesdays, Thursday Favorite Things, Freedom Fridays, Craft Frenzy Friday, Pretty Pintastic, Flaunt It Friday, Lou Lou Girls, Whimsy Wednesdays