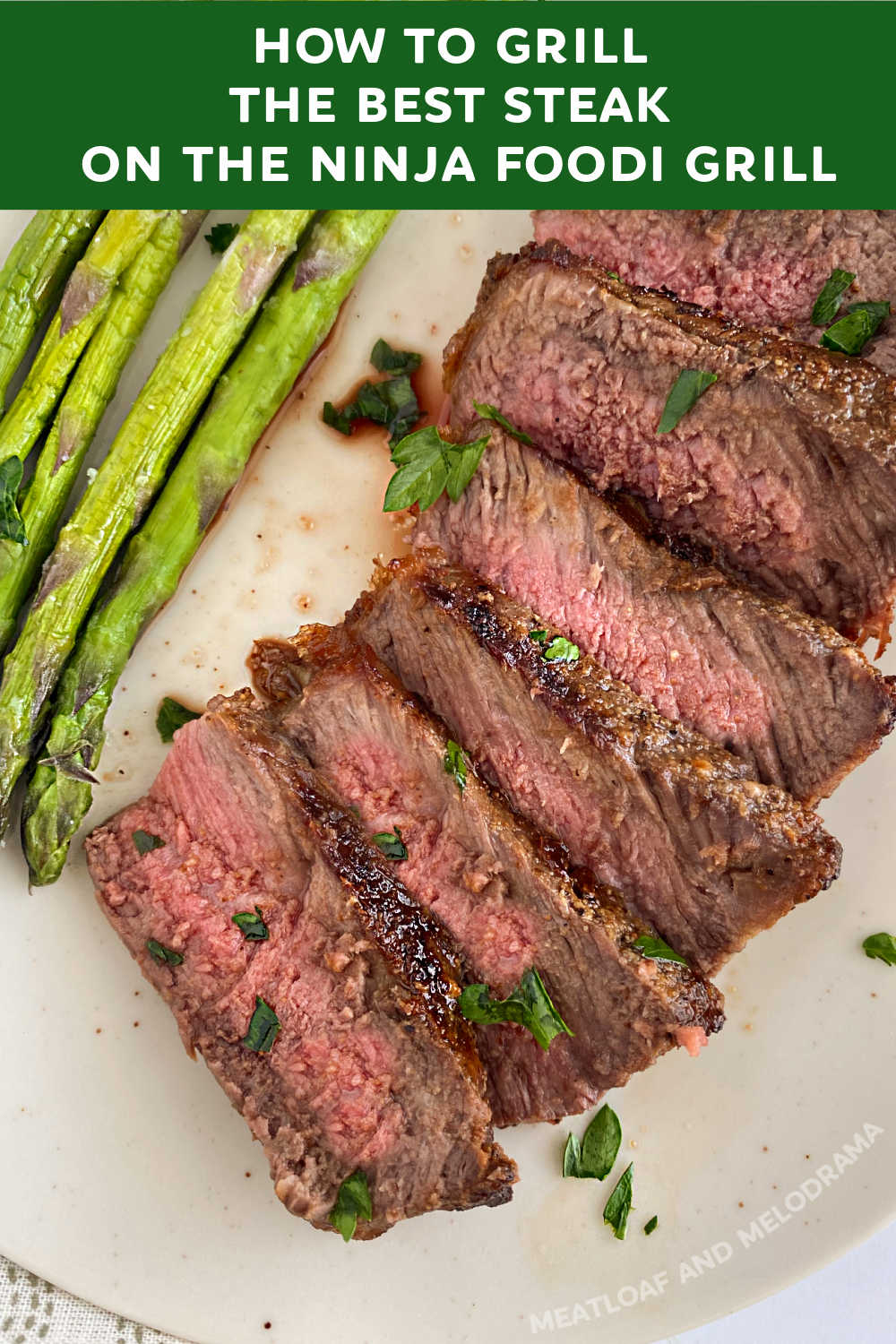 This easy Ninja Foodi Grill Steak recipe shows you how to make the perfect steak on your indoor grill. Enjoy a thick, juicy steak anytime, in any weather, cooked exactly the way you like it!
Jump to:
Nothing beats a thick, juicy steak cooked to perfection, right? As much as I love a good cookout on the outdoor grill, it's not always possible. Especially here in the Arizona desert!
Believe me, it's not fun grilling outside when the temperatures are well over 100 degrees! So, we bought our newest countertop appliance -- the Ninja Foodi Smart XL Grill (6 in 1).
This indoor grill does it all. You can grill, air crisp, bake, roast, broil and dehydrate. So far, I've made grilled chicken, salmon, pork chops, burgers and zucchini in my Ninja Foodi. I've also made crispy air fryer potatoes, Buffalo chicken breasts, sausage and peppers and French fries.
But, we're talking grilled steak today. Thick, juicy, delicious, perfectly cooked tender steak. I use New York strip steak because it works best for our large family. You can fit 4 to 5 steaks on this Ninja grill, depending upon size and thickness of your steak!
Ingredients
You only need a few ingredients to make the perfect Ninja Foodi Grill steak recipe, plus a couple of kitchen tools:
4 New York strip steaks
Avocado oil -- has a higher smoke point than olive oil
Sea salt -- or kosher salt
Black Pepper
Garlic powder
Kitchen gadgets -- Kitchen tongs, hot mitts, meat thermometer, plates, platters
How to Cook Steak on Ninja Foodi XL Grill
First, pat the meat with a paper towel to remove any juices. Next, rub a little bit of avocado oil over each steak.
Then, rub each steak with a mix of sea salt, pepper and garlic powder. You can use your favorite steak seasoning blend here if you don't want to make your own dry rub.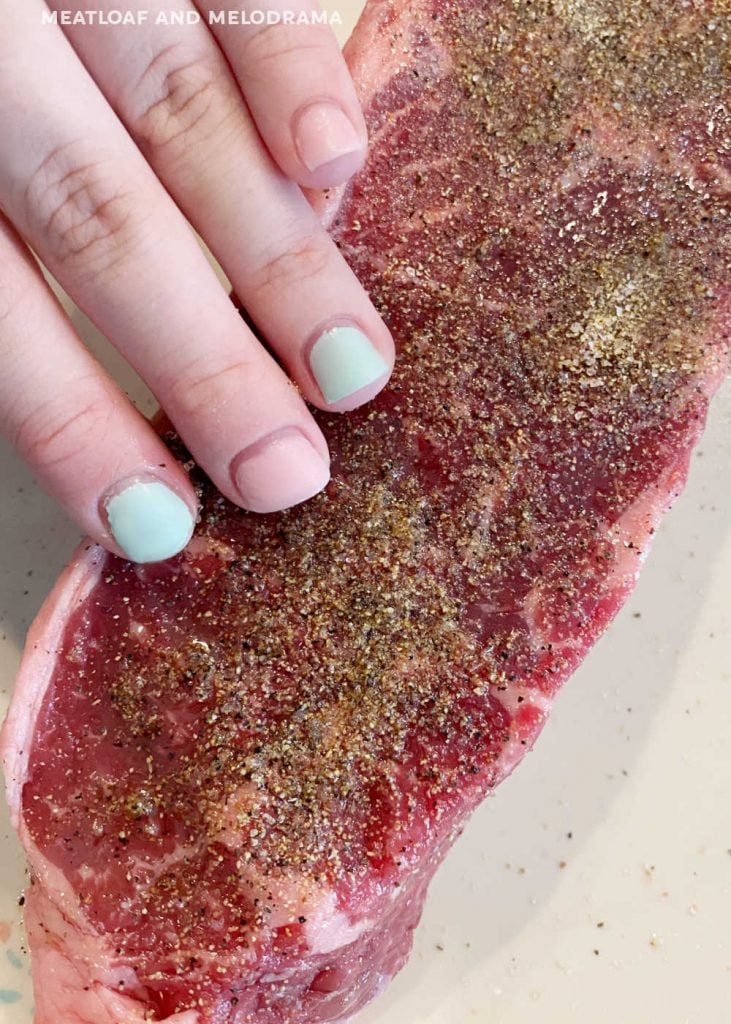 Let the steaks sit on a plate at room temperature while you insert grill grate and preheat the grill. Steaks cook more evenly when they're not super cold right out of the fridge.
Next, insert the Smart Thermometer into the slot on the side of the ninja grill.
What Temperature to Cook Steaks on Ninja Foodi Grill
Then, hit the grill button to choose grill feature. Then, choose the temperature. We want High for ninja foodi steak (500 degrees f). Then press the arrow to choose BEEF.
Finally, press the arrow to choose the degree of doneness or temperature you like your steak cooked to. These are the temperatures that appear on the ninja foodi grill:
Rare 115 f
Medium Rare 125 f
Medium 130 f
Medium Well 145 f
Well 150 f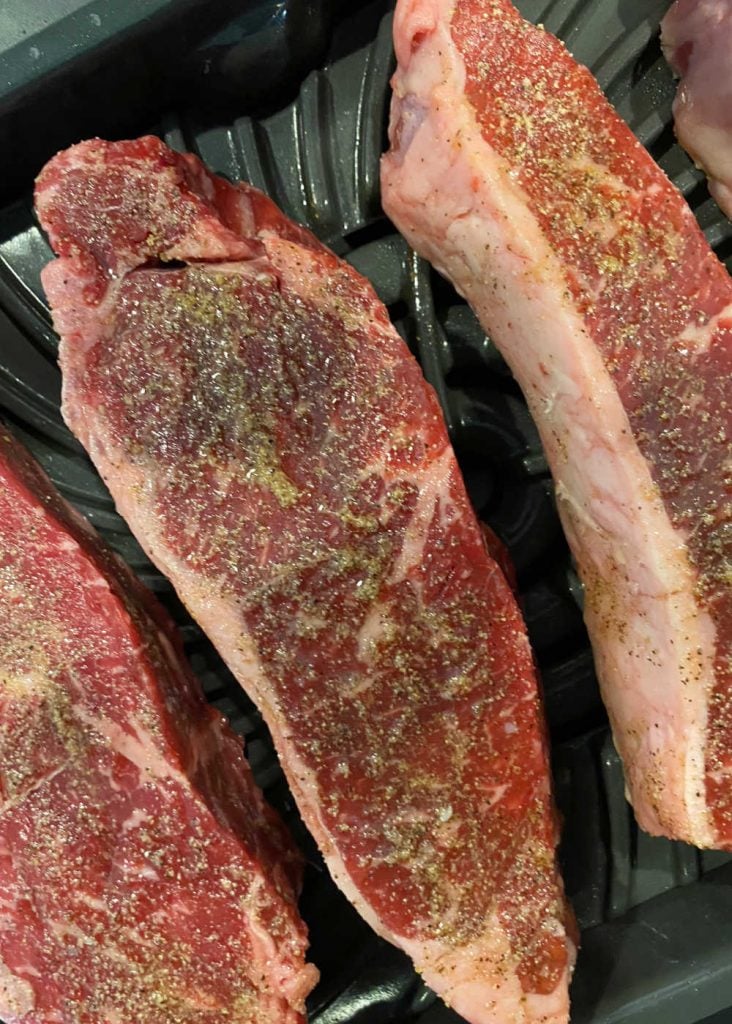 The Ninja Foodi Grill takes about 10 minutes to preheat. Don't skip this step, as that would affect the cooking time.
Place the probe into the thickest part of one of the steaks. When the words ADD FOOD appear on the grill, use cooking tongs to place steaks on the grill.
Note: If you don't want to use the probe, just leave it out and cook to your desired temperature.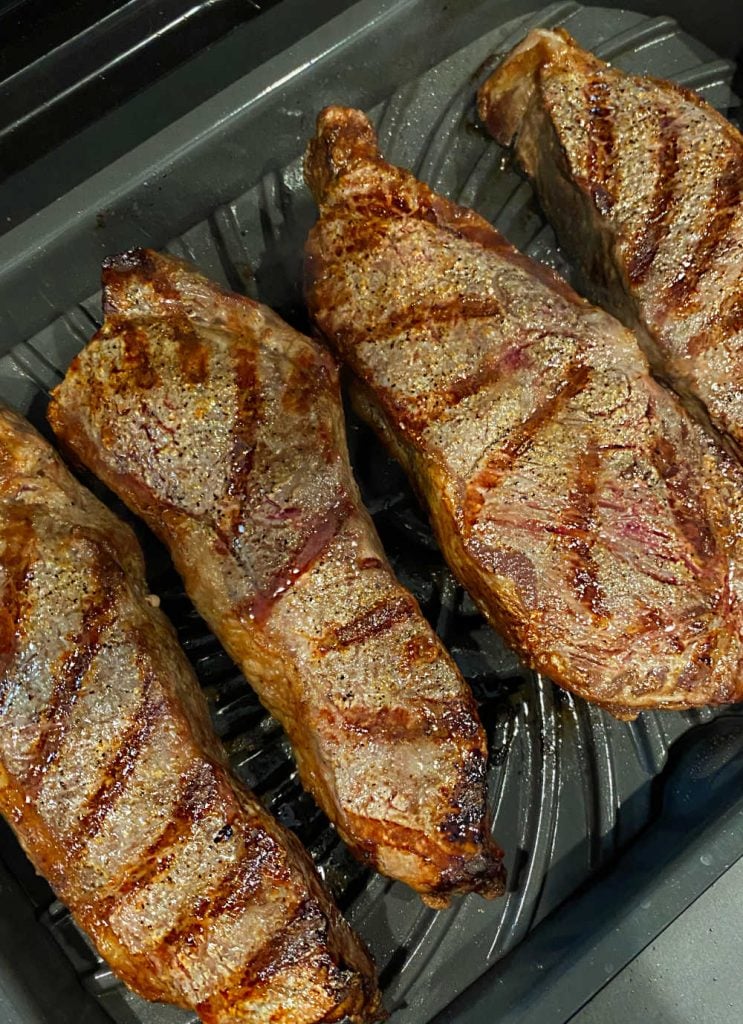 Cooking Time
The total cook time will vary depending upon the thickness of the steak and the degree of doneness you want. The steaks I had were about 1 ½ inches thick.
We like our steaks cooked to medium doneness, so the cook time was about 15 minutes. For 1-inch steaks, the cook time is about 10 minutes and about 8 minutes for ½-inch steaks.
The ninja foodi tells you when to flip the food, around the halfway mark. Open the lid, and use the tongs to flip the steaks. I recommend checking the internal temperature with a meat thermometer about 5 degrees before the steaks are done.
This will allow the temperature to rise up as the steaks rest.
When the steaks are done, use the tongs to remove them to a platter or plate. Use an oven mitt to carefully remove the probe -- it's hot!
Cover the steaks with foil and allow to rest for 3 to 5 minutes. This brings the temperature up and allows the juices to settle so that your steak is nice and juicy!
We absolutely love steaks cooked on the ninja foodi grill! You get gorgeous grill marks, a perfectly seasoned crust on the outside and tender meat on the inside. Our favorite sides to serve with steak are microwave baked potatoes and asparagus or broccoli, and dinner is done!
How to Store
Store leftover grilled steak in an airtight container in the refrigerator. It should keep well for 3 to 4 days. You can use leftover steak to make delicious steak quesadillas!
Recipe
Ninja Foodi Grill Steak
This easy Ninja Foodie Grill Steak recipe shows you how to make the perfect steak on your indoor grill. Enjoy a thick, juicy steak anytime, in any weather, cooked exactly the way you like it!
Ingredients
4

steaks

1

tablespoon

avocado oil

2

teaspoons

sea salt

1¼

teaspoons

garlic powder

1

teaspoon

ground black pepper
Instructions
Rub the steaks all over with avocado oil

Season the steaks on both sides with sea salt, garlic powder and pepper, and place on a large plate at room temperature while you preheat the grill

Place grill rack in grill. Insert temperature probe in slot, and choose PRESET. Press GRILL button, choose HIGH temperature, press BEEF and choose your preferred doneness. Press start

When grill reads ADD FOOD, insert temperature probe into thickest part of steak, and place steaks on grill

Close lid. Turn steaks over when prompted by the grill or when you prefer to.

Remove steaks from grill when cooking is done. Carefully remove probe, using hot mitt. Place on a plate, cover and allow to rest for 3 to 5 minutes before serving.
Notes
For best results, consult the manual and charts, and follow directions that come with your Ninja Foodi grill or XL grill.
For this recipe, I used New York strip steaks about 1 ½ inches thick, cooked to medium, about 15 minutes to cook.
I recommend checking the internal temperature with a meat thermometer about 5 degrees before desired temperature is reached, according to display on the grill.
Nutrition information is estimated. Please do your own calculation to fit special diets.
Nutrition
Calories:
505
kcal
Carbohydrates:
1
g
Protein:
46
g
Fat:
35
g
Saturated Fat:
15
g
Polyunsaturated Fat:
2
g
Monounsaturated Fat:
18
g
Cholesterol:
138
mg
Sodium:
1281
mg
Potassium:
624
mg
Fiber:
1
g
Sugar:
1
g
Vitamin A:
37
IU
Vitamin C:
1
mg
Calcium:
19
mg
Iron:
4
mg
By the way, you can use your favorite cut of steak for this recipe -- ribeye steak, filet mignon, sirloin -- whatever you prefer. The cook times will vary, but the technique and seasonings remain the same!
So, is the Ninja Foodi Grill Xl worth it? Definitely yes!
For more easy and delicious recipes and Ninja Foodi Grill recipes, be sure to sign up for my weekly newsletter!