This Easy Microwave Baked Potato recipe makes soft, fluffy potatoes with crispy skins in minutes. Perfect for loaded baked potatoes or a quick side dish on busy nights when you don't have time to bake or air fry your spuds!
Jump to:
There's nothing like a thick, juicy steak served with a baked potato, right?! But oven-baked potatoes take an hour to make, and who has time for that -- especially in the summer? Growing up, we always made baked potatoes in the microwave instead of the oven, and it's still my favorite way to make a quick baked potato!
In addition to potatoes, I also cook broccoli, carrots, cauliflower, asparagus, green beans and sweet potatoes in the microwave. They all come out perfectly cooked every time!
Even though I also like to make baked potatoes in the Instant Pot, microwaved baked potatoes are much faster. All you do is set the timer, hit start, and you have the best soft, fluffy baked potatoes in just a few minutes!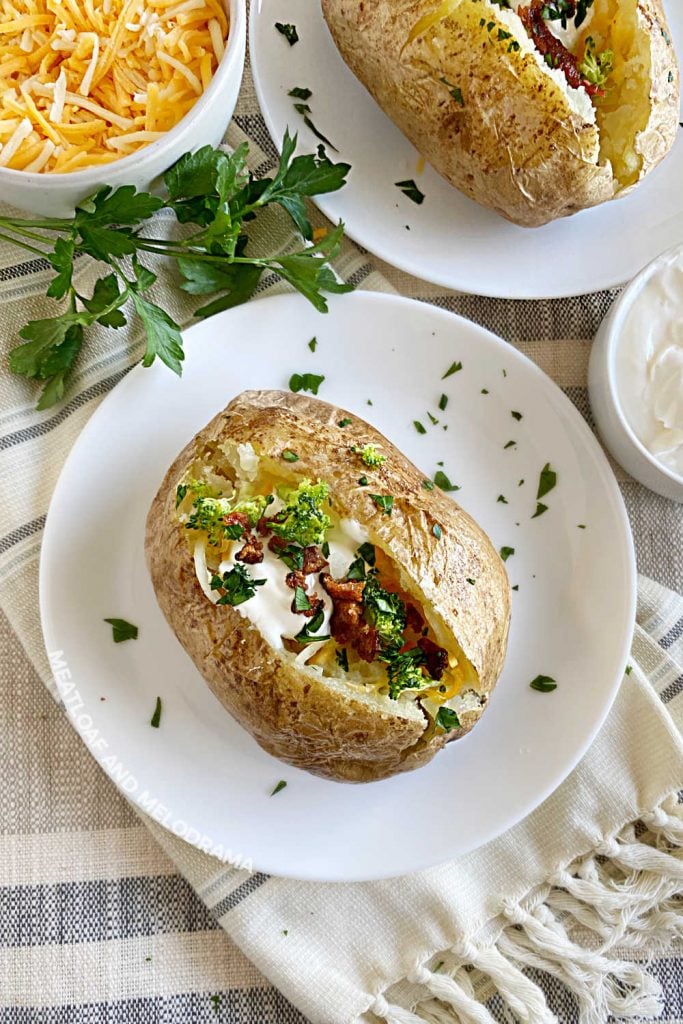 Ingredients
You only need one ingredient and a few household items to make baked potatoes in your microwave:
4 russet potatoes or how many you need
Olive oil -- for crispy skins (optional)
Sea salt -- for flavor
Fork -- to poke holes in potato
Kitchen brush -- to clean the potatoes
Microwave safe plate
Foil -- to cover after cooking
Oven mitt -- to hold the hot plate
Pair of tongs -- to handle the hot potato
Best Potatoes
First of all, we're using russet potatoes, also known as Idaho or "baking" potatoes. I think these make the best baked potatoes. You can find them in 3 sizes -- large, medium and small.
When picking out potatoes, look for ones that are as even and firm as possible. Avoid ones with bruises or cuts or soft spots.
Size Matters
I usually go for the medium potatoes, which are about 4 to 5 inches long. These are perfect as a side dish. If I use the really large ones, I cut them in half before serving -- They're huge!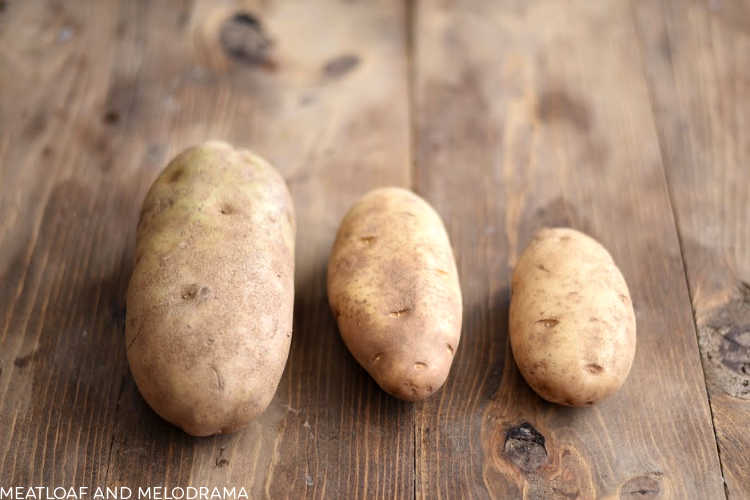 How to Cook Baked Potatoes in the Microwave
Like I said, cooking potatoes in the microwave is super easy. But, there are a few tricks to getting soft, fluffy microwave baked potatoes that are evenly cooked without hard spots.
How to Clean
First, you want to scrub the potatoes well. The best way to do this is with a kitchen brush under cold running water. Then, pat them dry with a paper towel. Note, that you can use a wet paper towel to scrub the potatoes if you don't have a brush.
Next, use a fork to poke holes all over the potato, about 5 times each. This helps steam escape when cooking.
Then, set the potatoes evenly on microwave-safe plate, and place in the microwave. No need for plastic wrap or any covers. Now, you're ready to cook 'em!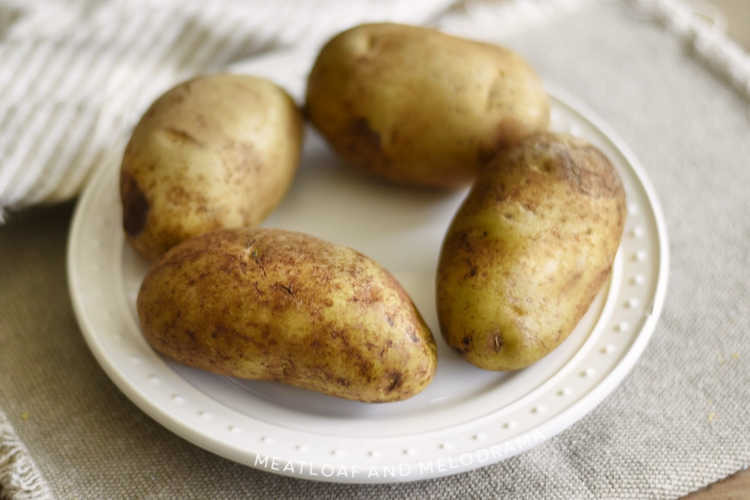 How Long to Cook
How long it takes to cook baked potatoes in the microwave depends on how many you're cooking and how large they are. The cook time also varies depending upon the wattage of your microwave.
The best way to cook potatoes evenly is to cook for just a few minutes per side, instead of cooking for, say, 10 minutes at once.
Flip the potatoes over, cook for another few minutes, and check for doneness. You should be able to easily stick a fork into the potatoes when done.
Small potatoes (4 inches) — 4 minutes per side for a total of 8 minutes
Medium potatoes (5 inches) — 5 minutes per side for a total of 10 minutes
Large potatoes (6 inches or more) — 15 minutes total. You may have to turn the potatoes 3 times.
If you're only cooking one medium potato, try cooking it for 3 minutes on one side and 2 minutes on the other side. If you have 2 medium potatoes, 8 minutes total works well for us.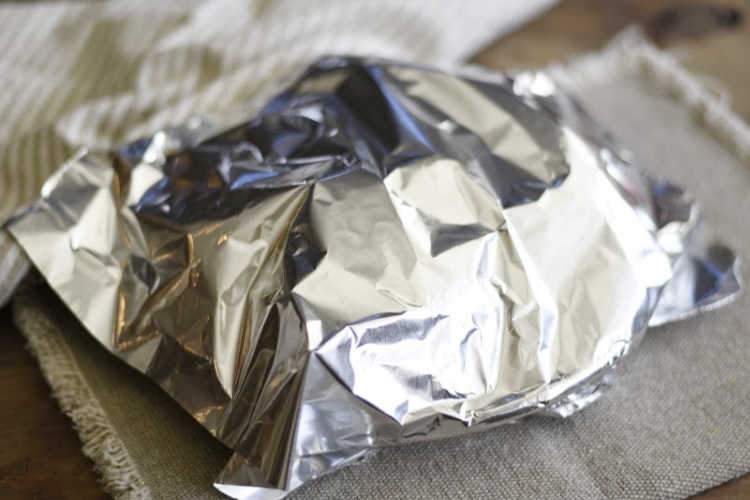 After cooking, carefully remove the plate, using oven mitts -- It will be hot! Cover with foil, and let the potatoes rest for about 5 minutes. The potatoes continue to cook while covered, so even if they don't seem as soft as you like, they should be softer after resting.
How to Get Crispy Skins
This step is purely optional, but it does give you steakhouse-style baked potatoes. Place the cooked potatoes on a baking sheet, brush them with a little olive or vegetable oil, and sprinkle with sea salt.
Then, broil for about 5 minutes or until the skins start to get dark and crispy. As a plus, this also makes the insides of the potatoes even fluffier!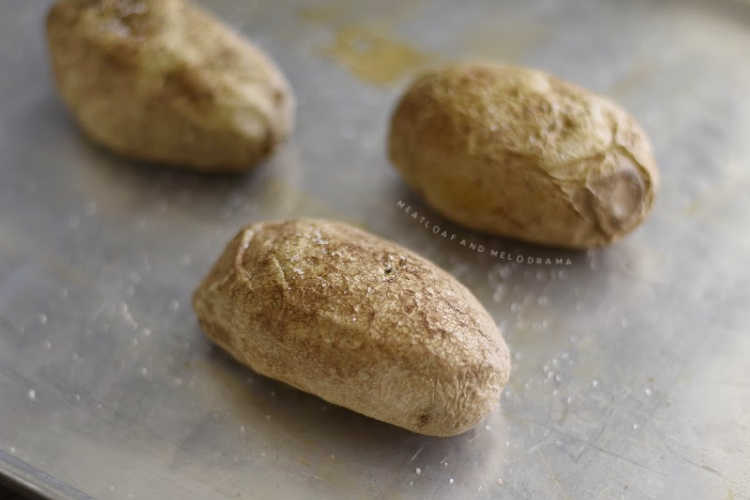 To cut the potato, make a vertical cut lengthwise, using a sharp knife. To get the fluffy insides to pop up, make a short horizontal cuts on each side of the larger cut. Press gently on each side until the insides rise up -- don't apply too much pressure.
And that's all there is to making a baked potato in your microwave! But don't stop there. Make a baked potato bar for loaded baked potatoes or add your favorite toppings for the best baked potatoes ever!
Butter
Sour cream
Bacon bits -- real, please!
Raw broccoli
Shredded cheese
How to Store and Reheat
Store any leftover baked potatoes in a covered container in your refrigerator. They should keep well for 3 to 4 days. You can reheat them in your microwave, air fryer or toaster oven.
Recipe
Easy Microwave Baked Potato
This Easy Microwave Baked Potato recipe makes soft, fluffy potatoes with crispy skins in minutes. Perfect for loaded baked potatoes or a quick simple side dish!
Ingredients
4

medium

russet potatoes

1

teaspoon

olive oil

optional

1

teaspoon

sea salt

optional
Instructions
Scrub potatoes well under running water, and pat dry

Use fork to poke holes evenly over potatoes

Place potatoes on a microwave safe plate, and cook on full power for 5 minutes. Turn potatoes over, and cook for an additional 5 minutes. Potatoes should be cooked through and soft when poked. If not, cook in 1-minute increments until done

Remove from oven, and cover with foil for about 5 minutes or until ready to serve

Optional -- For crispy skins, rub olive oil over cooked potatoes, place on baking sheet, and sprinkle with sea salt. Bake in 400 degree oven until skins are crispy
Notes
For small potatoes, cook for 8 minutes -- 4 minutes per side.
For large to extra large potatoes, cook for 15 to 18 minutes.
For one medium potato, try cooking for 3 minutes before turning over and cooking for another 2 minutes.
Microwave cook times vary with wattage. Cook times were tested with 900 watts.
Nutrition information is estimated. Please do your own calculation to fit special diets.
Nutrition
Calories:
177
kcal
Carbohydrates:
38
g
Protein:
4
g
Fat:
1
g
Sodium:
592
mg
Potassium:
888
mg
Fiber:
2
g
Sugar:
1
g
Vitamin C:
12.1
mg
Calcium:
28
mg
Iron:
1.8
mg
I hope you enjoy these easy microwave baked potatoes as much as we do!