Learn How to Microwave Asparagus in just 3 minutes with this easy recipe. Steamed asparagus is a quick, healthy side dish perfect for spring. It pairs beautifully with your favorite main dish and tastes absolutely delicious.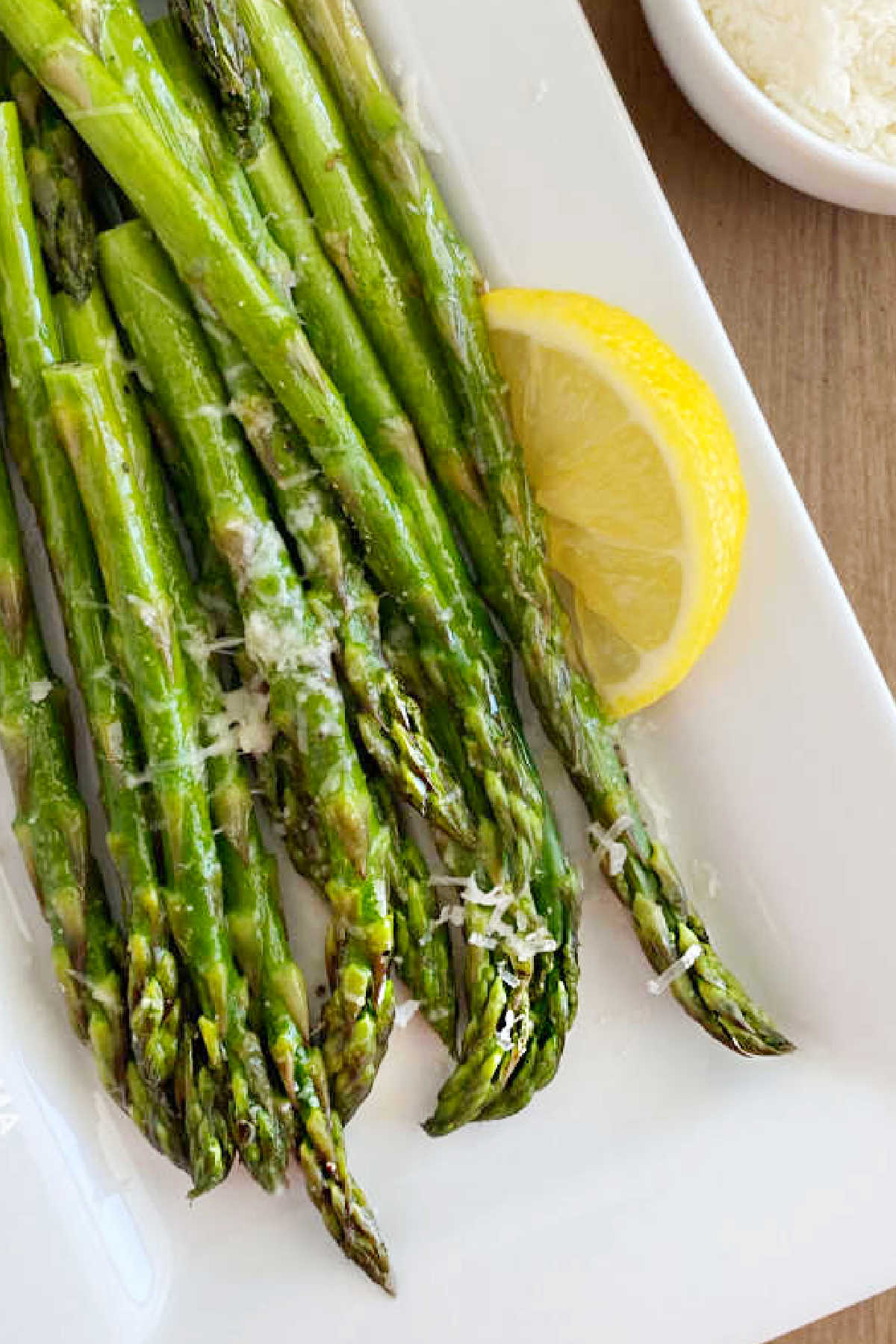 Jump to:
We have been cooking asparagus in the microwave oven for ages. It's the best way to cook fresh asparagus for a simple side dish and our favorite way to cook many fresh vegetables.
Microwaved asparagus is a super easy side dish and takes just a few minutes to make. Even though I love making Sautéed Asparagus with Bacon and Prosciutto Wrapped Asparagus for Easter and other special occasions, the microwave cooking method is the easiest way to get tender asparagus in minutes.
Some of our other favorite microwave recipes are Baked Potatoes, Sweet Potatoes, Broccoli, Green Beans, Carrots, ramen noodles and Cauliflower.
Ingredients
There are just a few simple ingredients in this easy recipe. Find them in your grocery store or farmers market.
Fresh asparagus
Butter -- for extra flavor
Seasonings -- sea salt, ground black pepper, garlic powder
Water -- to help steam asparagus in the microwave
How to Cook Asparagus in the Microwave
I used one bunch of asparagus for this microwave asparagus recipe, but the same method applies for 2 or more bunches. I usually make 2 bunches at once for the whole family. Tip -- Choose medium to thin stalks for even cooking!
First, rinse the asparagus under cold running water. No need to pat it dry. The excess water droplets will help build up steam as the asparagus steams in the microwave.
Next, trim the asparagus to remove the woody ends. You can hold each end in your hands and bend the stalks until they break. Or, cut about 1 ½ to 2 inches off at the bottom. No need to have them perfectly even unless you want to.
I usually bend the asparagus to get an idea of where they should be cut. Sometimes, it looks like too much will get cut off, so I'll leave a little more of the stem on.
Then, place asparagus into a microwave-safe baking dish or microwave-safe bowl. They don't have to be in a single layer, but you may have to toss asparagus during the cooking process if you do have a double layer.
Add a tablespoon of butter and toss in a pinch of sea salt, garlic powder and pepper.
I add 1 teaspoon of cold water, but you don't have to add extra liquid if you don't want to.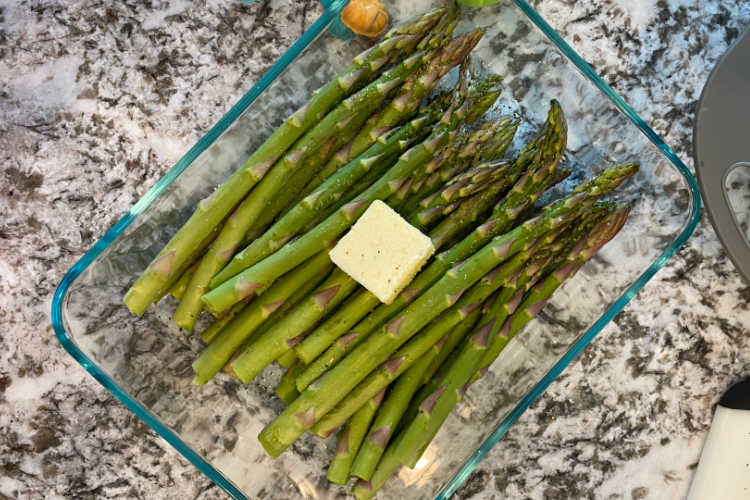 Place the dish in the microwave, and cover, making sure to allow some steam to escape during the cooking process.
I use a plastic microwave cover for this, but you can use a paper towel, damp paper towels, microwave-safe dish or plastic wrap.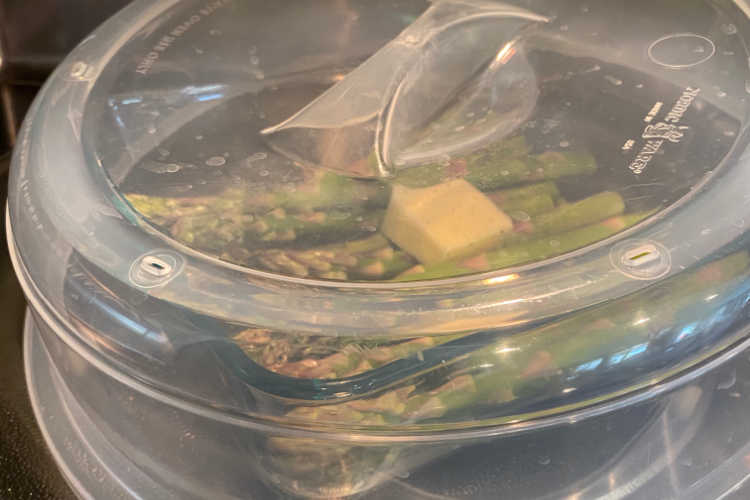 How Long to Steam Fresh Asparagus in Microwave
Steam 1 bunch of asparagus in the microwave for 3 to 4 minutes on high power. 3 minutes will give you tender crisp asparagus. Cooking it for 4 minutes will make it even more tender.
I usually cook 2 bunches of asparagus for 4 to 5 minutes. The perfect cook time will vary with your microwave wattage.
Keep in mind that food continues to cook after microwaving, so don't cook it for too long. It's better to try a shorter cook time and add another minute if you want!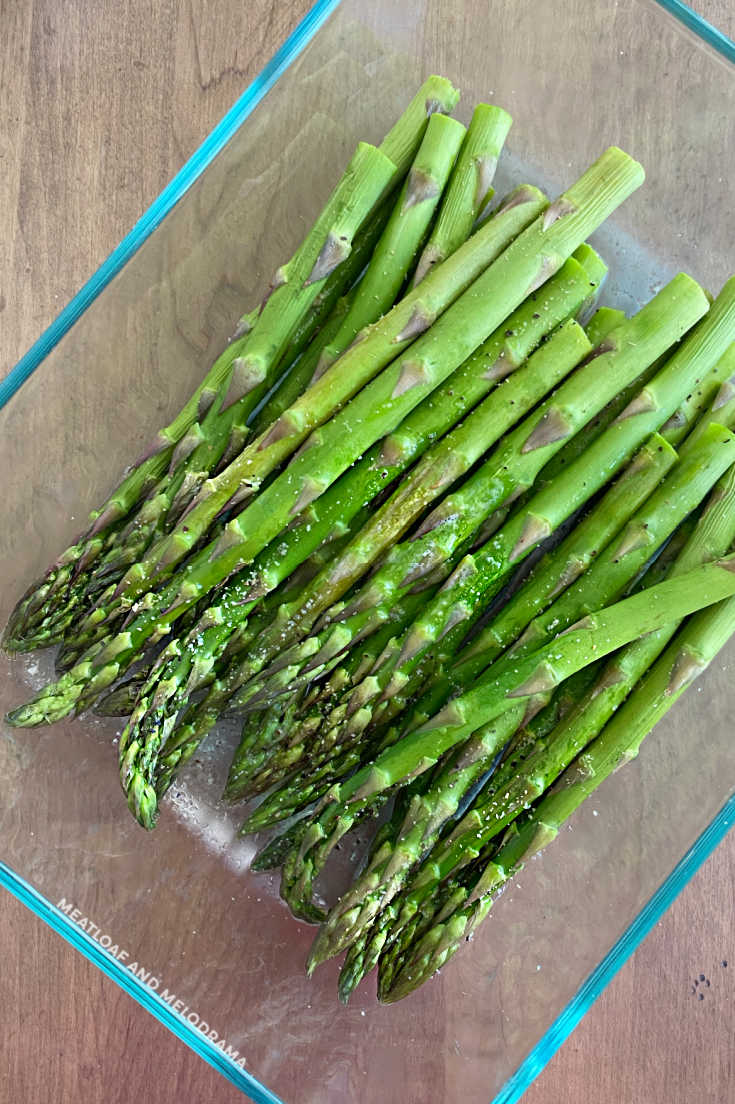 For extra flavor, squeeze a little fresh lemon juice and sprinkle freshly grated Parmesan cheese over the cooked asparagus. This part is completely optional, but so good!
How to Store and Reheat
Store leftover asparagus in the refrigerator for up to 4 days in an airtight container. It doesn't take long to reheat -- maybe 30 seconds in the microwave is all you need.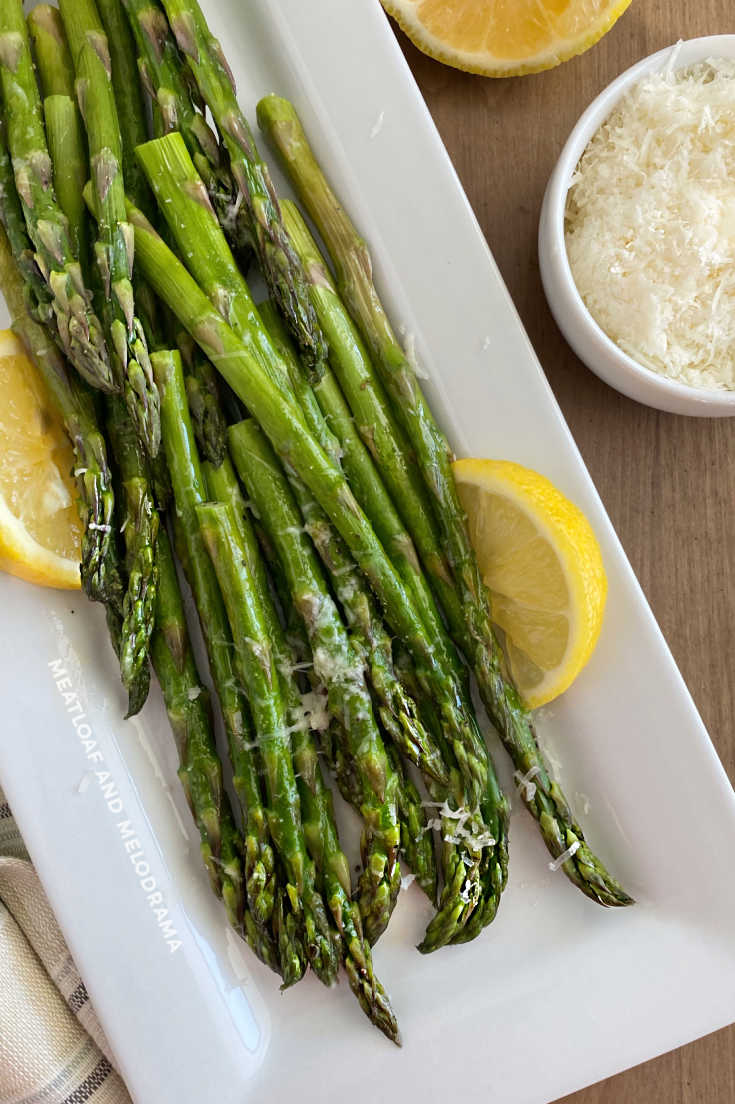 Expert Tips
Choose medium to thin asparagus stalks for even cooking and best flavor. Thick asparagus spears are more fibrous and harder to chew.
Always use a microwave-safe dish for microwave cooking.
Cook asparagus for the shortest recommended cooking time. You can always add a few seconds to the cooking time if needed.
Recipe FAQ
Is it safe to cook vegetables in the microwave?
Yes, it's perfectly safe to microwave vegetables. They retain more nutrients this way because the cooking time is so short.
What's the best seasoning for microwave asparagus?
Keep the seasonings simple and light with a little salt and pepper and garlic powder. Or, jazz up plain asparagus with butter, a squeeze of fresh lemon and grated Parmesan cheese for amazing flavor!
Recipe
How to Microwave Asparagus
Learn How to Microwave Asparagus in just 3 minutes with this easy recipe. Steamed asparagus is a quick, healthy side dish perfect for spring. It pairs beautifully with your favorite main dish and tastes absolutely delicious.
Ingredients
1

bunch

fresh asparagus

1

teaspoon

cold water

1

tablespoon

butter

optional

pinch

sea salt, pepper, garlic powder

optional
Instructions
Rinse asparagus under cold water, and trim off ends

Place in microwave safe dish. Optional -- add 1 teaspoon water, 1 tablespoon butter and pinch of sea salt, garlic powder and pepper

Place dish in microwave, cover, making sure to vent for steam. Cook for 3 minutes for tender crisp and 4 minutes for softer texture
Notes
For 2 bunches of asparagus cook for 4 to 5 minutes.
All microwave ovens are different. Perfect texture and cook time varies with wattage, power, make and model.
Nutrition information is estimated. Please do your own calculation to fit special diets.
Nutrition
Calories:
48
kcal
Carbohydrates:
4
g
Protein:
3
g
Fat:
3
g
Saturated Fat:
2
g
Trans Fat:
1
g
Cholesterol:
8
mg
Sodium:
27
mg
Potassium:
228
mg
Fiber:
2
g
Sugar:
2
g
Vitamin A:
938
IU
Vitamin C:
6
mg
Calcium:
28
mg
Iron:
2
mg
I hope you enjoy this easy asparagus recipe as much as we do. Microwaved asparagus is a family favorite around here!
If you do try this delicious side dish, please leave a star rating and/or comment.
For the latest recipes and easy recipes anyone can make, be sure to sign up for the weekly newsletter and follow on social media.

This easy asparagus recipe was first published in 2021 and updated in 2023.