This Steak Quesadilla Recipe made with leftover steak, melted cheese, onions and peppers on a crispy tortilla is quick, easy and delicious! Skip takeout and save money when you make quesadillas at home for a simple lunch or dinner!
Jump to:
My family loves having quesadillas for a quick lunch or easy weeknight dinner. But these are not your average cheese quesadillas. I make chicken quesadillas, BBQ chicken quesadillas, Caprese chicken quesadillas or chicken and black bean quesadillas. Sometimes, I make sausage quesadillas or ham quesadillas. And sometimes, I make beef quesadillas with leftover steak.
We almost always have some steak leftover after grilling. On its own, leftover steak is not enough for a whole meal. But when you add plenty of cheese and serve it on crispy tortillas, it is!
So, this simple steak quesadilla recipe is a budget friendly way to stretch out leftover steak to feed the whole family and enjoy the best steak quesadillas!
Ingredients
What goes in a steak quesadilla? You only need a few simple ingredients for this leftover steak quesadilla recipe.
Cooked steak -- We prefer New York or ribeye. You need about a cup to 2 cups steak
Cheese -- I prefer a blend of cheese. Mexican Blend cheese, cheddar cheese, Colby Jack cheese and Monterey Jack cheese work well.
Onion -- yellow onion or white onion for flavor
Bell pepper -- either a red bell pepper or yellow bell pepper to add flavor, color and crunch
Jalapeño pepper -- optional, but adds spice
Taco seasoning -- I use homemade taco seasoning but a packet of taco seasoning will do
Large flour tortillas -- They work better for quesadillas than corn tortillas
How to Make Steak Quesadillas
First, cut the steak into bite-sized pieces. Then, chop your onion, pepper and jalapeño pepper, if using. Time saving tip -- Keep chopped onions in the freezer for easy prep!
Next, sauté the onion, jalapeño pepper and bell pepper in a large skillet on medium heat until slightly soft.
Then, add the steak and taco seasoning, and cook until the steak is just heated through. You don't need to add more liquid since too much liquid in the steak mixture will make the quesadilla soggy.
Set the meat mixture aside. Then, heat a griddle or skillet with a little bit of olive oil, avocado oil or vegetable oil. Rub a little oil over the surface with paper towels -- you only need a little bit!
Place a tortilla on the skillet for a few seconds. Then, flip over. This helps the cheese melt faster.
Add about a half cup cheese to half of the tortilla. Spoon about a third of the meat mixture over the cheese. Then, top with a little more cheese.
Next, carefully fold one side of the tortilla over so that the ends meet. Gently press down with a spatula to help the cheese melt.
Flip the folded tortilla over to crisp up the second side.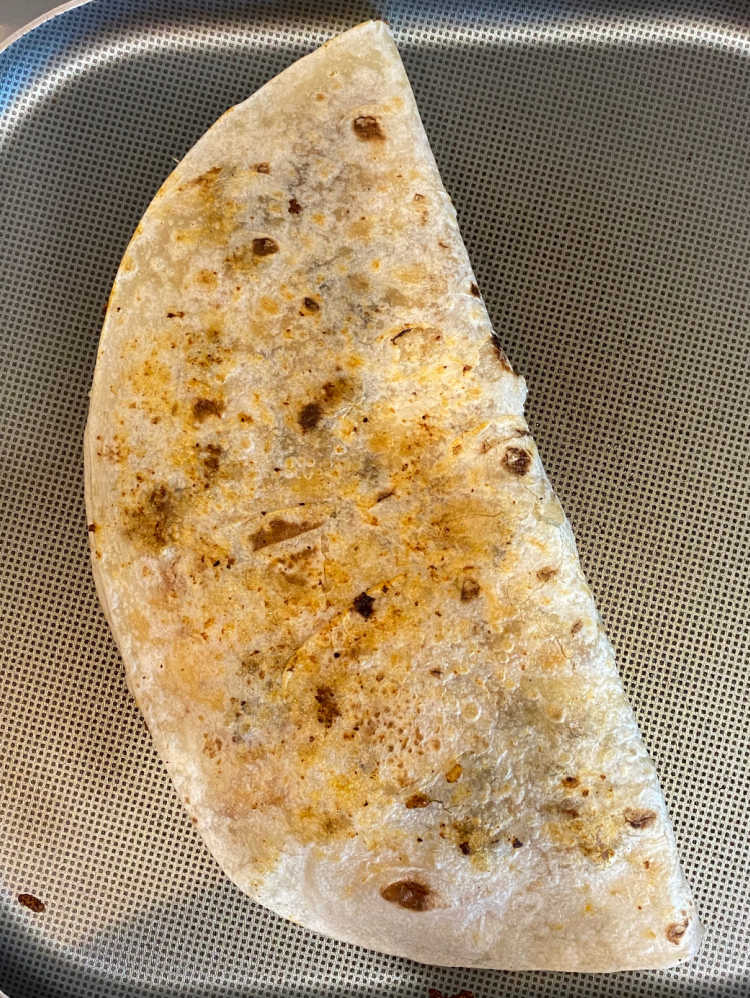 When both sides of the quesadilla are brown and crisp and the cheese is melted, remove it to a plate and serve immediately or place in oven to keep warm.
Repeat the process twice more with the remaining tortillas and meat mixture. You should have enough for 3 quesadillas.
Use a pizza cutter or sharp knife to slice the quesadillas. You can cut them into thirds or fourths.
Quesadilla Toppings
These beef quesadillas are delicious on their own. But, they're even better with delicious toppings. We like homemade salsa, homemade guacamole, pico de gallo, homemade queso and sour cream. Yum!
How to Store and Reheat
Store leftover steak quesadillas in an airtight container in your refrigerator for up to 4 days. You can freeze leftover quesadillas for up to 3 months.
The best way to reheat a quesadilla so it stays crispy is to warm it up in a pan on the stove. If you aren't picky about the texture, you can reheat the leftover quesadilla in your microwave.
Recipe Variations
Use your favorite kind of steak in this steak quesadilla recipe. Flank steak and skirt steak are great options if you don't have leftover steak. Just cut the meat into thin strips and cook the steak strips in a large skillet. You can also cook steak on an indoor grill if you have one.
To stretch steak leftovers even further, add black beans, corn and more fresh veggies to this steak and cheese quesadilla.
Season the steak with garlic powder, black pepper, salt and ground cumin if you don't have prepared taco seasoning.
FAQ
How do you cut leftover steak for quesadillas.
Cut leftover steak into small bite sized pieces. 1-inch pieces are perfect for reheating steak for quesadillas quickly.
Should I butter my quesadilla?
You don't have to. You can add rub small amount of oil on the skillet before cooking the quesadilla to make it extra crispy and get a gorgeous golden brown crust.
How do you keep quesadillas warm without getting soggy?
The best way to keep quesadillas warm after cooking is to place them uncovered in a single layer on a baking sheet in the oven at 275 to 300 degrees. They don't stay as crispy, so it's best to eat them right after cooking if you can.
Recipe
Steak Quesadilla Recipe
This Steak Quesadilla Recipe made with leftover steak, melted cheese, onions and peppers on a crispy tortilla is quick, easy and delicious! Skip takeout and save money when you make quesadillas at home for a simple lunch or dinner!
Ingredients
1

tablespoon

vegetable oil

or olive

1

bell pepper

1

medium

jalapeño pepper

seeded and finely chopped

½

cup

onion

chopped

1

cup

cooked steak

cut into bite sized pieces

1

teaspoon

taco seasoning

3

cups

shredded cheese

Mexican blend

3

large

tortillas

burrito size
Instructions
Heat the vegetable oil in a medium skillet on medium heat, and sauté peppers and onion until just soft. Add steak and taco seasoning, and heat until warm. Set aside

Heat tortilla in a skillet or griddle on 1 side until just warm. Flip over, and add some of the cheese, and spoon about ⅓ of the meat mixture on half of the tortilla. Add more cheese over the chicken

Fold the tortilla over the meat mixture, and press down with spatula to flatten. Flip over if needed, and heat until tortilla is golden brown and crisp on both sides. Remove to a plate and cut. Repeat 2 more times with remaining ingredients
Notes
Use Mexican blend cheese or blend of cheddar, colby, Monterey Jack or mozzarella. Use more cheese if desired.
Skip the jalapeño pepper if you don't want added spice.
Nutrition information is estimated. Please do your own calculation to fit special diets.
Nutrition
Calories:
491
kcal
Carbohydrates:
17
g
Protein:
33
g
Fat:
32
g
Saturated Fat:
18
g
Cholesterol:
102
mg
Sodium:
716
mg
Potassium:
357
mg
Fiber:
2
g
Sugar:
4
g
Vitamin A:
1549
IU
Vitamin C:
44
mg
Calcium:
459
mg
Iron:
2
mg
I hope you enjoy these delicious steak quesadillas as much as we do. My whole family is crazy about them!
If you try this recipe, please leave a comment and/or star rating.
For more leftover steak recipes, leftover makeovers and easy dinner recipes, be sure to sign up for the weekly newsletter and follow on social media.

Published in 2021 and updated in 2023.