Pepperoni Pizza Dip is an easy appetizer that is basically crustless pizza. This warm cheesy dip is the perfect low carb game day snack and a favorite food for cheese lovers anytime!
Cheesy pepperoni dip or pepperoni pizza dip is one of the most delicious warm dip recipes you can make. This cheesy dip has cream cheese, pizza sauce and mozzarella cheese with a layer of crispy pepperoni slices on top.
I have been making pepperoni dip for years now, and it's definitely a family favorite. We serve this easy snack on game days, holidays and family game night.
It's super easy, and you can even make pizza dip in your microwave or air fryer. ThIf you're a pizza lover or cheese lover, this cheesy pepperoni pizza dip is for you!
Warm Spinach Artichoke Dip, Cheesy Ground Beef Taco Dip and Easy Hot Bean Dip. Check them out!
Ingredients
You only need a few simple ingredients for this pepperoni pizza dip recipe. You can find them in your grocery store or online:
Cream cheese -- brick-style cream cheese, not cream cheese spread
Parmesan cheese
Pizza sauce or marinara sauce
Italian seasoning -- for extra flavor
Mozzarella cheese
Pepperoni slices -- or mini pepperonis
How to Make Pepperoni Dip Recipe
First, preheat your oven to 400 degrees f. Next, spray a pie plate or shallow baking dish or casserole dish with non stick spray.
Spread the softened cream cheese on the bottom of the pie plate. Then, top it with about half of the grated Parmesan cheese and Italian seasoning.
Next, you add the marinara sauce, and spread it evenly over the cream cheese mixture.
Top the sauce with shredded mozzarella cheese and the remaining Parmesan cheese.
You can add more cheese if you feel like it. This easy pizza dip is all about the cheese, so the more, the better!
Add the pepperoni slices on top of the cheeses. Then, sprinkle Italian seasoning on top of the pepperoni.
You can space the pepperoni slices evenly over the cheese. Or, add extra pepperoni if you like.
Cooking Time
Bake the pizza dip in the preheated oven for 10 to 15 minutes. The exact time depends on how hot your oven is.
When the cheese is melted and bubbling, the dip is ready to eat! Let it sit at room temperature for a bit, and then dive right in!
What to Serve with the Dip
So, what to serve with pizza dip? We serve this irresistible dip with toasted bread rounds, pita chips or crusty bread.
To keep this cheesy appetizer keto friendly and low carb, you can serve celery sticks, cauliflower, broccoli or carrot sticks.
Or, simple dive into the cheesy goodness with a fork or spoon. Dive right into this big pizza pie, and watch all of that glorious gooey cheese stretch as far as it can go. Now, that's amoré!
Variations
You can easily change the basic pizza dip recipe to suit your tastes. Top the dip with cooked Italian sausage crumbles or ham and pineapple.
Or, make a meatless cream cheese dip and add your favorite blend of cheeses here. Cheddar cheese, pepperjack cheese, and Mexican blend are always a huge hit!
Make it a veggie lover's crustless pizza with bell pepper slices and olives. Black olives, mini bell peppers, and red or green onions are some favorite veggies.
You can also cook pizza dip in the microwave until the cheese melts. It's good, but you won't get crispy pepperoni and that gorgeous golden cheese on top!
How to Store
We never have leftover pepperoni dip around here. But, if you do, just store it in an airtight container in the refrigerator for up to 4 days.
If you want cold pizza dip, dig in! Otherwise, you can reheat the dip in the microwave for a couple of minutes. Or, reheat it in the oven until warm.
Recipe
Pepperoni Pizza Dip
Pepperoni Pizza Dip is an easy appetizer that is basically crustless pizza. This warm cheesy dip is the perfect low carb game day snack and a favorite food for cheese lovers anytime!
Ingredients
4

ounces

cream cheese

1

cup

marinara sauce

2

cups

shredded Parmesan cheese

2

cups

shredded mozzarella cheese

1

tablespoon

Italian seasoning miz

slices

Pepperoni

as many as you like
Instructions
Spread the cream cheese into a shallow baking dish, and top with half of the Parmesan cheese and Italian seasoning.

Spoon the marinara sauce over the cheese layer and spread until cheese is covered.

Add mozzarella cheese and remaining Parmesan cheeses and spices, and top with sliced pepperoni.

Bake at 400 degrees for 10 to 15 minutes or until cheese is bubbling and pepperoni is crisp.

Allow to cool just slightly, then serve.
Notes
You can add more cheese if you want a cheesier dip.
You can also heat the dip in the microwave or oven style air fryer.
Nutrition information is estimated. Please do your own calculation to fit special diets.
Nutrition
Calories:
198
kcal
Carbohydrates:
3
g
Protein:
14
g
Fat:
15
g
Saturated Fat:
9
g
Polyunsaturated Fat:
1
g
Monounsaturated Fat:
4
g
Cholesterol:
48
mg
Sodium:
611
mg
Potassium:
139
mg
Fiber:
1
g
Sugar:
2
g
Vitamin A:
583
IU
Vitamin C:
2
mg
Calcium:
349
mg
Iron:
1
mg
There's something incredibly addicting about diving into the melty cheese with a piece of crusty bread and watching the cheese stretch longer and longer when you pull the bread out.
At least my family thinks so -- They even have contests to see whose cheese will stretch the longest. Yep, we're weird that way!
Recipe published in 2015 and updated in 2022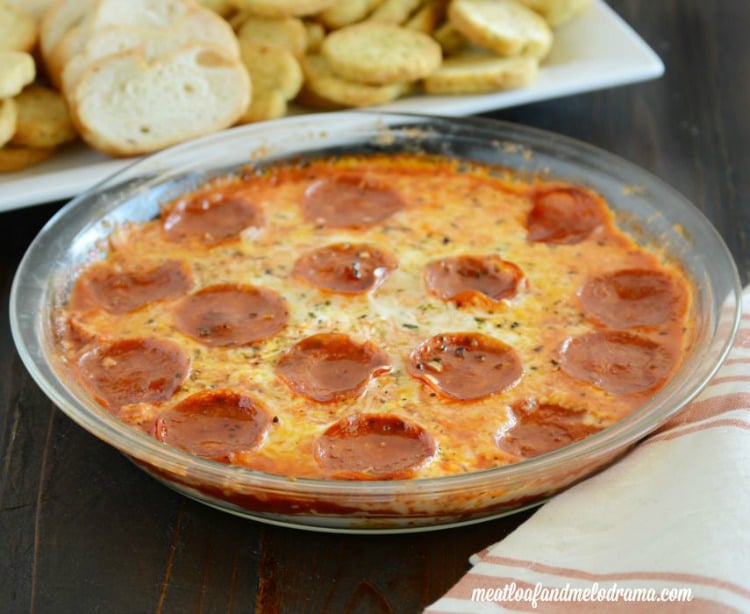 I hope you enjoy this easy pepperoni dip recipe as much as we do. My family thinks it's the perfect appetizer for football season or holidays and an easy delicious meal anytime.
If you like this cheesy goodness as much as we do, please leave a comment and star rating!
For more simple dip recipes and easy meals, be sure to follow along on social media and sign up for the weekly newsletter!