Orange Jello Fruit Salad is an easy retro side dish or dessert that's cool, creamy and perfect for holidays, parties and potluck dinners. This recipe is a family favorite that always goes fast!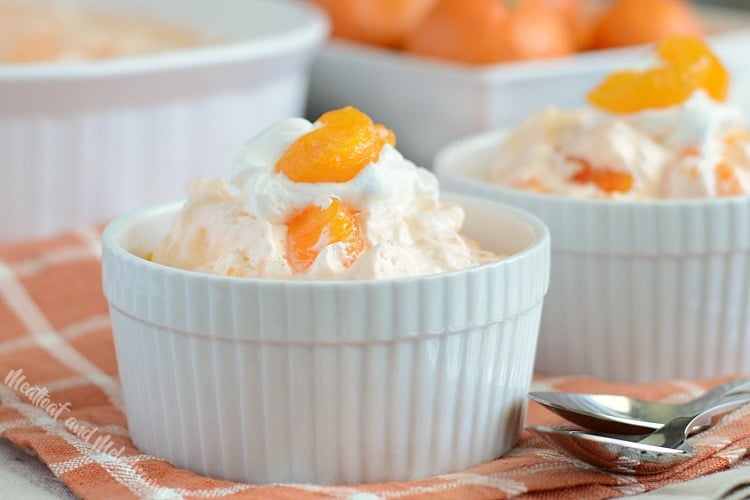 When I was going through my grandma's recipe collection the other day, I found this recipe for orange Jello salad. It's similar to the Strawberry Jello fruit salad I made last year for Easter, except that you use orange flavored gelatin instead of strawberry. And, instead of adding sliced strawberries, you add mandarin orange slices!
Whenever there's a holiday, there's a family dinner, right? I always like to include a couple of vintage recipes with our holiday dinners because I'm a sucker for retro recipes, and I'm just sentimental like that. Plus, my family loves them!
This orange Jello salad is super simple and only has 4 ingredients. It's made with Cool Whip, mandarin orange slices and, of course, the Jell-O gelatin and water. I've seen some recipes that add cottage cheese and pineapple, but this one is about as simple as you can get!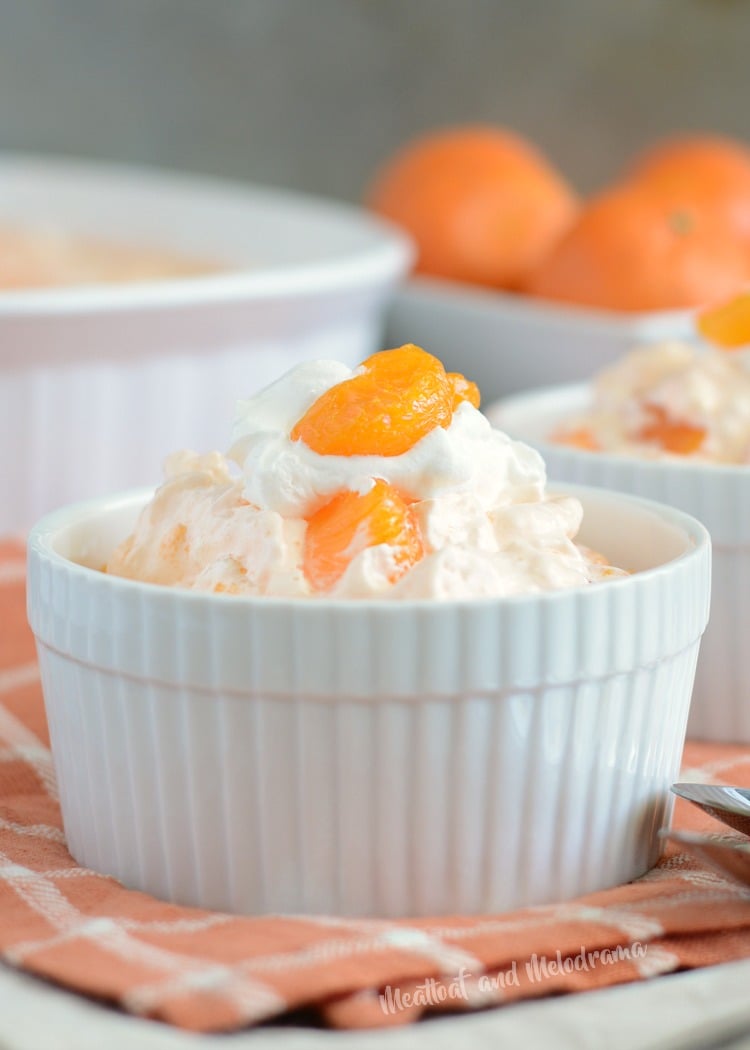 Personally, I'd say that this is more of a dessert than a salad since it's on the sweet side and almost tastes like an orange creamsicle! But that's just me being picky. It really doesn't matter what you call it, as long as you and your family enjoy it!
You can serve Orange Jello fruit salad at Easter, Thanksgiving, Christmas or at any kind of potluck dinner, church supper or picnic. I usually think of this as more of a spring or summer recipe, but like I said, it's a classic side dish for any holiday or family gathering.
Tips for making Orange Jello Fruit Salad
Drain the oranges, pat dry and keep them in the fridge until you're ready to use them
Cut the oranges in half if you want smaller pieces of fruit
Use a hand mixer for best results, but a wire whisk works, too
Looking for more Jello salad recipes?
Recipe for Orange Jello Fruit Salad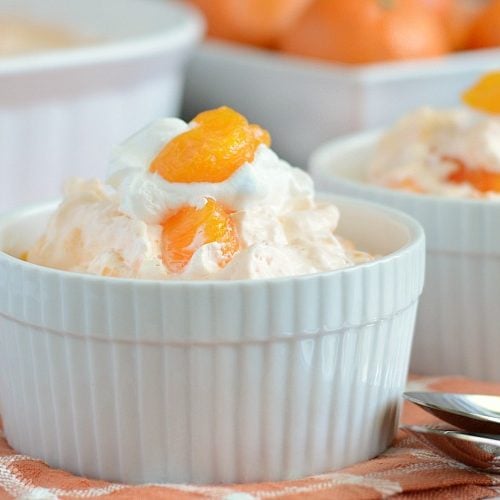 Orange Jello Fruit Salad
Orange Jello Fruit Salad is a retro side dish or dessert recipe made with Cool Whip and mandarin orange slices. It's perfect for holiday dinners and potlucks and picnics!
Ingredients
1

6-ounce box

orange Jell-O gelatin, or any brand

2

cups

hot water

1 ¾

cups

cold water

1

8-ounce container

whipped topping, Cool Whip

1

15-ounce can

Mandarin oranges, drained
Instructions
Add jello to a large bowl or casserole dish, and mix in the hot water until powder dissolves

Mix in the cold water, and place in refrigerator for about 1 hour or until partially set

When jello is partially set, mix with hand mixer on low (or wire whisk) until mixture thickens, and stir in Cool Whip, and mix well

Fold in Mandarin orange slices, and place in refrigerator until ready to serve. Keep refrigerated
Nutrition
My family loves this easy orange jello fruit salad. I hope you enjoy it as much as we do!
Happy Cooking,